A western-style kitchen with modern and high-quality products in a luxury condominium. Supplied.
Cambodia has many types of properties suitable for investors seeking residential property investments; such as villas, flats, shop​​ houses, apartments, and condos. However, finding the right properties for the right tenants can be time-consuming if you don't have an understanding of the current rental market supply and demand. 
Here are some handy tips from Realestate.com.kh on things to consider before buying a rental property for future returns in Cambodia.
Target tenant versus target rental returns
It is vital that you know who your target tenants are: Cambodian or expatriate. They are two very different targets with different tastes and financial means.
If you target local middle-income Khmer families, you may consider buying a flat house in a Borey project in the suburbs or a shophouse in the inner city with both residential and retail capacity. Expect lower returns for these properties than you might get from foreigners renting condos or villas - but expect more security in this income; as demand for these properties is high compared to supply.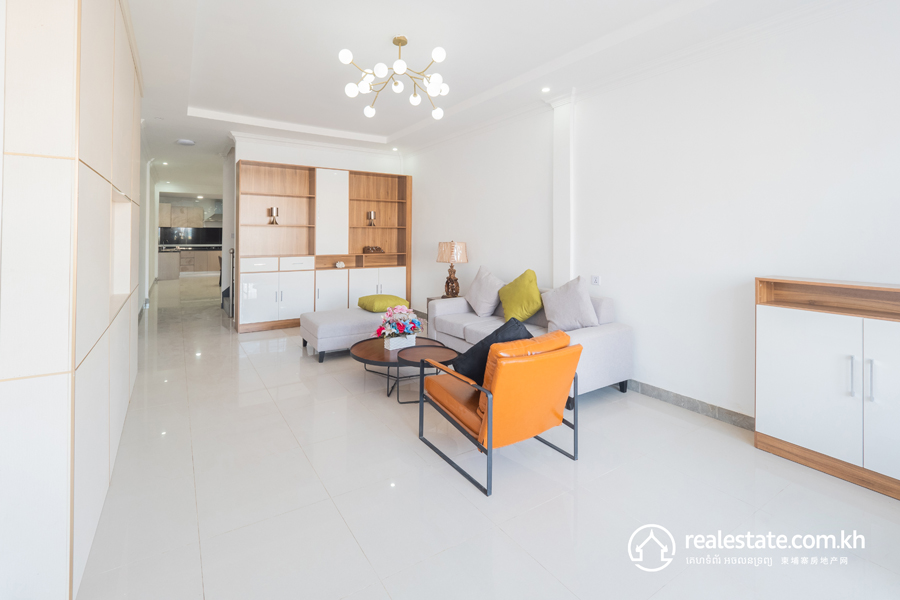 The living room of a flat house within a Borey project in Phnom Penh. Supplied.
You might consider affordable houses like a flat house with purchase prices between $70,000 and $100,000. Buying a flat house in the suburbs of Phnom Penh will earn anywhere between $350 and $550 per month in rental returns.
For renovated one and two-bedroom flat houses around central Phnom Penh, you can earn between $450 and $550 per month. As a general rule in Cambodia, affordable rental properties tend to attract more tenants than expensive ones.
However, if you aim to get higher rental returns, you can buy a shophouse in a prime location in central Phnom Penh such as Daun Penh, Chamkarmon, or along a major wet-market where purchase prices are around $3-$4,000 per square meter. You can then rent this space for an average of $1,500 per month. This is because a shophouse has a high potential for retail businesses, especially if it has corner parking spaces.
If you want to target foreign nationals for more lucrative rental returns, you should consider buying a condo or high-end villa in the heart of the city for anywhere between $120-$700K. This can bring you between $1000 - $4000 per month in rental returns, depending on quality, location, and amenities.
With a heavy supply of condos entering the Phnom Penh market, however, it's advisable to focus on location, quality, and other unique features to make sure that your asset will actually generate the rental returns you are seeking.
Inspect the past rental returns of similar properties closely, and get advice from more than one agent and/or developer.
Do you want to know more about Cambodian property valuations?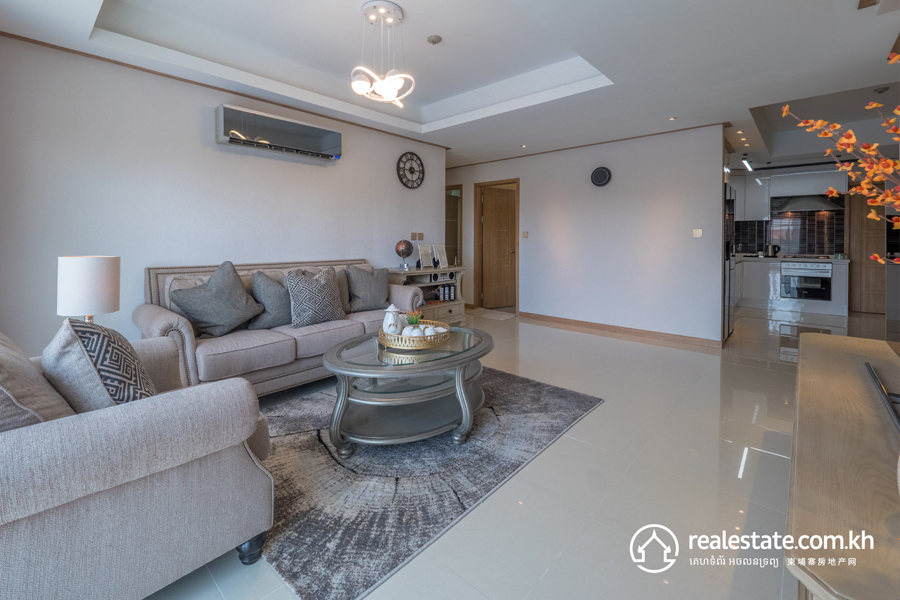 The living room with a sleek interior design within a high-end condominium. Supplied.
Alternatively, look at budget condos (around $40- $80K purchase price) in the less-central districts of Phnom Penh as these types of properties are able to be rented by Cambodians working in the city, although at a smaller monthly rate than expats are willing to fork out. But these assets should have a safer rental return.
Look for bargain condos in areas like Toul Tum Poung (TTP) also known as Russian Market, Steung Meanchey, or Toul Kork. Local renters are happy to live in these areas of the city, close to their workplaces or schools.
Sen Sok, Chbar Ampov, and Chroy Changvar are also seeing many new development projects popping up, and buying rental property in this area as residential property investment is likely to get good monthly returns from locals or expats.
This is also an asset that will appreciate in the coming years if you consider reselling. Make sure you get the appropriate property title so that your ownership is guaranteed.
Now that you have a better idea of property investment opportunities, you get started by checking out our list of Phnom Penh residential properties for sale.
Location and Safety
Tenants, especially expats, tend to consider safety and security when they decide to rent a residential property.
Boeung Keng Kang, Tonle Bassac, Toul Kork, Daun Penh and Toul Tum Poung are among the most secure locations in central Phnom Penh. But for Cambodian nationals, location is second only to price; therefore, they seem less concerned about security compared to foreigners.
Furthermore, you should buy rental properties in areas with amenities such as schools, hospitals, restaurants, entertainment services, and convenient access to business and commercial establishments.
Make sure you are investing in an area where there is a high and sustainable rental demand in the future.
Real estate agent advice
Finding a good real estate agent before buying a rental property is crucial for you as a buyer because the real estate agent will guide you towards the right sector of the market for your needs and financial means.
In addition, the real estate agent is aware of the history of a property - and its actual potential for rental returns. They will be able to help you lease the property if you want a full-service approach to your investment.
Stay up-to-date on the real estate industry in Cambodia and get real-time updates on real estate news as they happen. Download the Realestate.com.kh App now on both iOS and Android.

Article by: