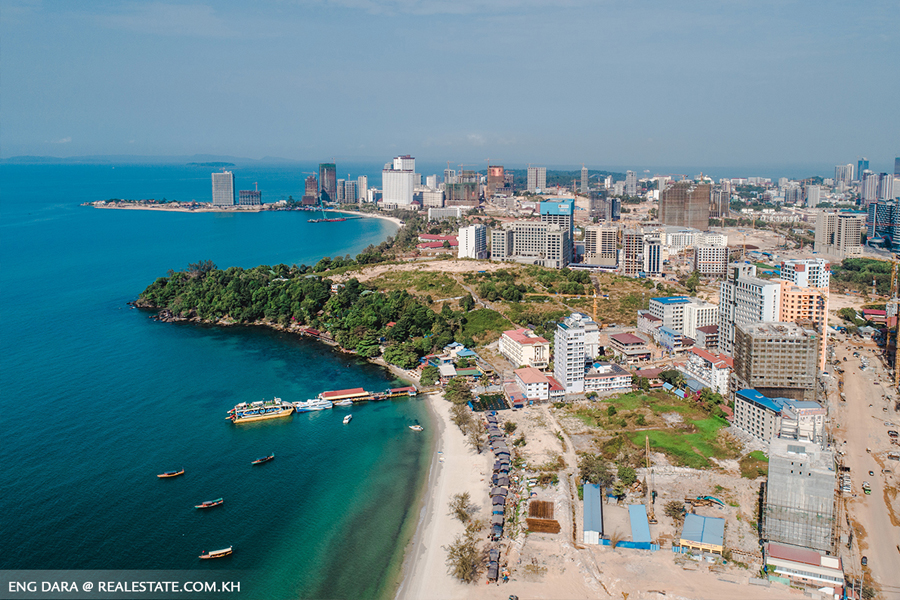 (Aerial view of the beach and under-construction buildings in Sihanoukville / Realestate.com.kh)
Holiday Home & Investment
Cambodia can be attractive to investors when comparing the purchasing power of their capital against other countries. There are a number of projects offering guaranteed rental returns over periods ranging from 4 to 9% over a term of 2-5 years. Other offers may exist in the marketplace with even greater returns.
While the average rental returns may not equate to those achieved in your country of origin, the lower market entrance costs, fees and services combined with the local purchasing power of your dollar, puts Cambodia on your investment portfolio. Whether you enjoy the hustle and bustle of city life or the beachside lifestyle opportunities abound for those investors wishing to combine the flexibility of having a holiday home while receiving an income in your absence.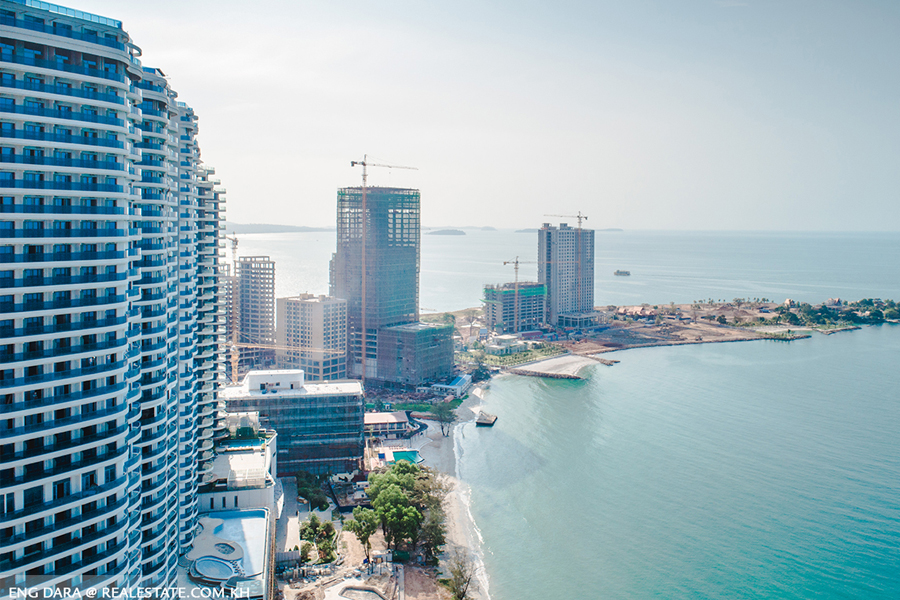 (High-rise residential projects in Sihanoukville / Realestate.com.kh) 
There are a number of avenues available to investors While in its infancy in Cambodia, investors can benefit from project-based Rental Management Agreements, engage the services of a 3rd Party Property Management Company or use a trusted associate to manage the short term letting of your property. Although Airbnb is both legal and active in Cambodia, foreign investors should consider that the subletting of your property or properties may be considered "working" in Cambodia, with the challenges that designation presents.  
So, what are your options? 
Foreigners are 100% eligible to own a freehold condominium in Cambodia under certain conditions.  The Cambodian Foreign Ownership Property Laws (legislation passed in 2010), allow foreigners to buy and own properties in Cambodia on the 1st floor or higher of a condominium. The property must possess a strata title and cannot exceed 70% of foreign ownership.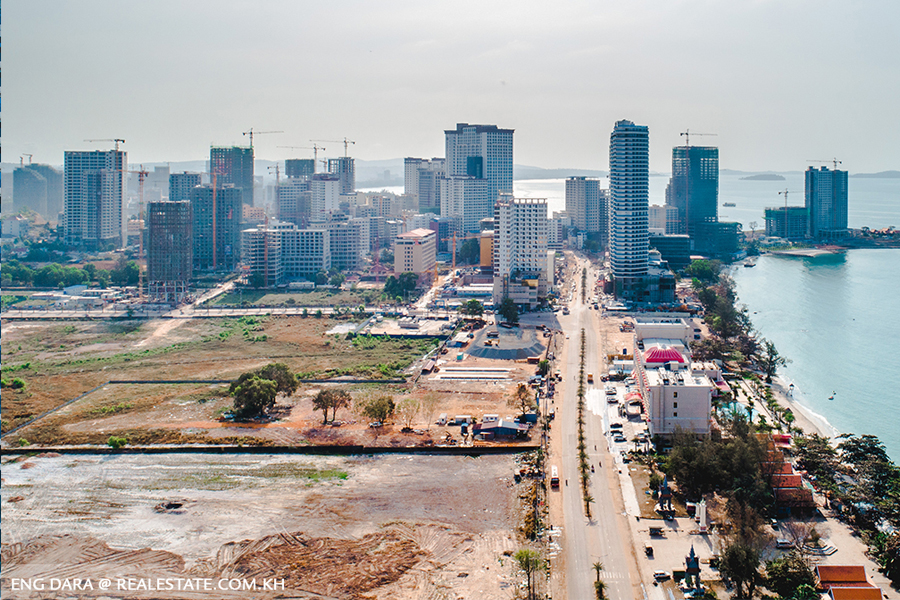 (The skyline of Sihanoukville city / Realestate.com.kh)
If you don't want to invest in a condominium, there are a number of options with regard to purchasing your retirement dream
Option 1: Forming a Company with a Cambodian Citizen
The safest method by which foreign nationals can purchase real property within Cambodia is to form a limited company in partnership with a Cambodian citizen
Option 2: Purchase plus long-term rental
This method allows foreign nationals to purchase real property and register the Title Deed in the name of a Cambodian citizen. This method may not give you either the peace of mind or make the opportunity to "flip" the property feasible.
Option 3: Registering Real Property with a Cambodian Citizen
This method is very similar to Option 1 but requires 100% trust in the Cambodian citizen.
Option 4: Marriage to a Cambodian National
Foreign buyers who are married to a Cambodian national can register their property using the name of their spouse on the Title Deed.
Option 5: Acquisition of Honorary Cambodian Citizenship
A foreigner may be granted honorary Cambodian citizenship if he or she donates a significant sum of money to the Royal Government of Cambodia for the purposes of benefiting the people of Cambodia.

Stay up-to-date on the real estate industry in Cambodia and get real-time updates on real estate news as they happen. Download the Realestate.com.kh App now!

Article by: