1: ABOUT CAMBODIA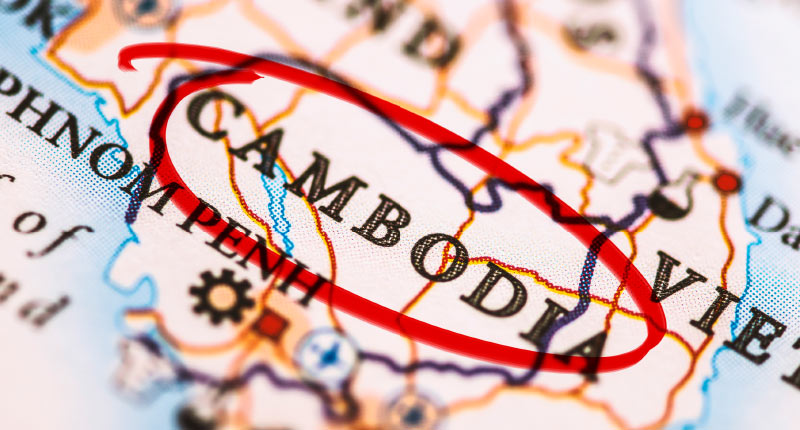 1.1 LOCATION
Cambodia, ofcially known as the "Kingdom of Cambodia," is located in the southern portion of the Indochina peninsula in Southeast Asia. The country occupies a total area of 181,035 square kilometers and is bordered by Thailand to the northwest, Laos to the northeast, Vietnam to the east, and the Gulf of Thailand to the southwest.
There are three main economic centers in Cambodia: Phnom Penh (the capital city), Siem Reap and Sihanoukville. Other larger cities include Ta Khmau, Takeo, Sisophon, Kampong Cham, Poipet, Battambang, and Kampot.
1.2 DEMOGRAPHICS & CULTURE
1.2.1 Population & Demographics
Cambodia's population is growing at a rate of 1.6 percent per annum and early this year the population surpassed 16 million.2 The largest of the ethnic group is the Khmer, who comprise more than 90 percent of the population. Minority ethnic groups include the Chinese, Vietnamese and the Cham Muslims.3 Cambodia is also a popular destination for Western expatriates.
Over half the population is under the age of 25, and for Cambodian nationals the median age is 24.9 years old.4 This disproportionately youthful demographic is a direct consequence of the Civil War period of the 1970s and 80s.
In recent years, the Cambodian government is becoming more active in developing this younger workforce by improving access to education and fostering new skills,5 as the current labour force has the potential to ofer 30 years of productivity. Similarly to Vietnam, this extended period of economic productivity, in combination with greater access to education and employment opportunities, will continue to stimulate GDP growth over the coming years.
1.2.2 Languages
Khmer is the ofcial language, however English and Chinese are both widely spoken throughout the country. The level of English in main centers makes the market considerably easier to navigate than neighbouring nations such as Thailand, Vietnam and Laos.
1.2.3 Culture
Approximately 95 percent of the population is Buddhist, and Buddhism is constitutionally recognised as the ofcial religion of Cambodia.7 However, the Buddhist institutions do not hold as much social and political power in modern times as in neighbouring Thailand or Laos.
Cambodian society remains highly hierarchical based on age and social position. Moreover, the family unit remains strong compared to more economically developed Asian societies. Major cities such as Phnom Penh are, however, seeing changes as the new generation focuses more on career growth over more traditional values.
Cambodia has one of the highest numbers of public holidays in the world, with most of these revolving around Buddhist observances. Last year, for instance, 27 public holidays were observed. One more holiday was added to the list this year, the "Day of Remembrance", observed on May 20. This brings the total up to 28 public holidays per year.
The culture has a strong sense of work-life balance, which is refected by the long list of public holidays. However, pressures of commerce are beginning to alter this mindset in major urban centers, especially in areas where foreign businesses are established and concentrated.
1.2.4 Expatriates
There are approximately 150,000 expatriates currently living in Cambodia, with the majority living in the capital city of Phnom Penh. This fgure includes Asian expats along with Western expats. This data is primarily anecdotal as there are no ofcial fgures. Neither the Ministry of Foreign Afairs nor other government agencies have given any hard data. However, due to the increase of foreign investment and statistics surrounding occupancy of condominiums and new developments, it can be safely said that this fgure is rising.
Cambodia has also been named one of the most valued retirement destinations in Southeast Asia by the Global Retirement Index. The index seeks to compare and contrast retirement destinations around the world for retirees, taking into account factors such as low rent and food costs, availability of healthcare and ftness services and extendable visas.
1.2.5 Visa Requirements
In order to enter Cambodia as a foreigner, a visa is required. There are diferent tiers and requirements depending on the length of stay and plans while inside the country.
Tourist Visa, one month (E-Visa): An E-Visa is granted to foreigners upon arrival at the airport. This is valid for one month and the cost is US$35. A passport photo should be prepared before arrival, or an additional fee of $1 will apply.
Long Term Stay Visa (EB-Visa): In order to apply for an extension of stay (EOS), a foreigner must apply for an EB-Visa. The cost of an EB-Visa depends on the length of stay. A six-month EB-Visa will cost $160, whereas one year will cost $290.
Working Visa/Foreigner Work Permit: An EOS for an EB-Visa will only be granted once, and in order for a foreigner to extend further they must obtain a work permit. Work permits are only available with evidence of employment in the country such as a letter from an employer or a sponsor.15 After a work permit is obtained, it will allow the foreigner another EB-Visa but also incurs fees for the permit, application fees and health certifcate (or a larger fee if a health certifcate is waived).
Extending an EB-Visa without a work permit: However, without a work permit, a three-month, six-month or 12-month extension can still be granted if a foreigner can produce a formal letter from an employer guaranteeing that a work permit covering the following year will eventually be arranged. The letter needs to be signed and stamped, and should contain the following information: full name, date of employment, job title, passport number and address of the company.
1.2.6 Cost of Living
The cost of food, accommodation, healthcare and other amenities in Cambodia is extremely afordable compared to more developed markets. Meanwhile, the overall quality and diversity of these commodities is rising steadily. This year, the cost of living in Cambodia was on average 37.1 percent less expensive than in the US.
Soft infrastructure to support the growing expatriate population and rising local middle class, such as international-standard schools, hospitals, shopping and entertainment centers are developing rapidly, especially in Phnom Penh, Siem Reap and Sihanoukville.
1.3 CURRENCY
The county's ofcial currency, the Khmer riel (KHR), was introduced in 1980. However, the US dollar (USD) is the most commonly used currency of Cambodia, as 80 percent of deposits and credits in the banking system are made using USD. Despite the predominance of USD, Cambodia is only considered partially dollarized as the USD circulates concurrently with the riel as a legally acceptable tender.
1.3.1 Dollarization
Between 1991 and 1992, the United Nations Transitional Authority in Cambodia (UNTAC) was established as one of the United Nation's largest and most expensive operations of all time, at a total cost of $1.7 billion. The operation sought to implement democratic governmental institutions and align the fnancial and political systems of an unsettled Cambodian system with international norms.
While the success of this mission remains highly disputed, USD fooded the economy and created a shock for the National Bank of Cambodia. The infux of USD, alongside a lack of confdence in a local economy that was facing hyperinfation, led to the acceptance of USD as a viable currency in the country. The riel has nonetheless remained stable since 1998, hovering at a value of 4,000 to 4,200 against the dollar.
Dollarization continues to allow convenience to international investors wanting to move their money in and out of Cambodia, and allows a resilient currency for investments. This sets the country apart from other Asian counterparts such as Malaysia and Indonesia who prefer to trade solely in their local currency.
While there have been murmurings from the fnancial community in recent years about removing the dollar in favour of a riel-only economy, it seems unlikely that Cambodia will completely drop the dollar in the near future given the confdence the status quo ofers investors and locals alike.
1.3.2 Cash Economy
Cambodia is an economy that is driven by the use of cash, regardless of the size of the transaction. Credit cards and electronic payment options are also on the rise in order to allow convenience in consumer transactions.
Traditional methods of holding wealth, such as gold and land banking, remain popular among the older generation. However, the younger generation and emerging middle class generally trust banks as the preferred mode of storing wealth and are very quick to utilise online payment methods.
1.3.3 Ease of Transfer
Unlike many countries around the world, Cambodia has no currency exchange controls or limitations put in place by the government. Moreover, there are no restrictions on remittances or the transfer of profts in and out of the country, so long as transfers are administered through registered financial institutions.
Most transactions in Cambodia are conducted and denominated in USD, with remittances being subject only to the applicable withholding taxes. This continues to ofer convenience to international investors because of the relative stability and strength of the USD.