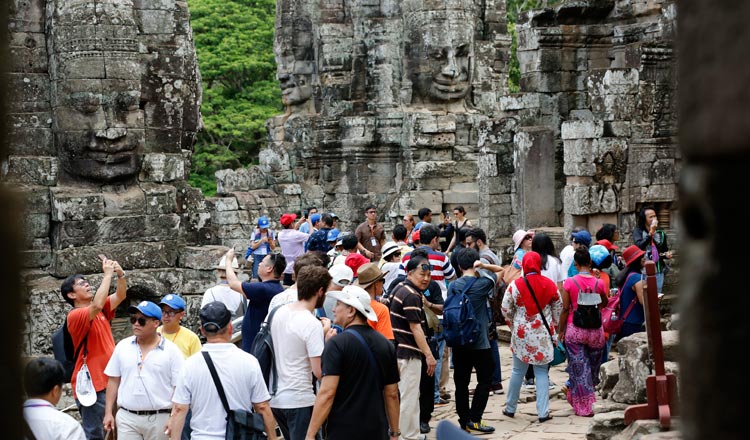 (Cambodia welcomed 3.3 million holidaymakers during the first half of the year, an 11.2 percent hike, according to the latest data from the Ministry of Tourism. - Khmer Times. Photo by Khmer Times)
This year's Cambodian Tourism Investment Forum features multiple panels discussing the multiple facets of tourism growth in the country. The Ministry of Tourism, together with the Cambodia Tourism Federation adopted the theme of "Setting The Stage For Growth" aimed to give players in the industry the chance to drive investors', and other stakeholders confidence in the country's flourishing tourism sector.
The 2nd Cambodian Investment Forum started yesterday, with today being the last day, at the Sofitel Phnom Penh's Phokeethra Golf Club. The forum attendees are welcomed by H.E. Khuong Sreng, Governor of Phnom Penh. While the event's official opening remarks are delivered by H.E. Dr. Thong Khon, Minister of Tourism.
The forum is attended by a mix of representatives from Cambodia's public and private sectors. Topics of interest such as Tourism Markets & Investments, Infrastructure, Enterprise Development, and the growing Chinese market within the country were discussed on the first day of the forum with more topics set later.
The 2nd day of the event will discuss additionally important aspects of Cambodia's tourism industry. Tom O'Sullivan, the CEO of Realestate.com.kh will be one of the main panelists for Real Estate Investment: Priorities & Opportunities - aimed to give attendees an insight in the latest developments and upcoming opportunities in Cambodia's expanding real estate sector.
Forum organizers have also allotted time for forum attendees to network within the event. With the contribution of the tourism sector in Cambodia's overall economic growth, the 2nd Cambodian Investment Tourism Forum is expected to attract more investments and opportunities in the country.
If you're interested in learning more about the development of Cambodia, download our Investment Guide 2019
Find out more about our Cambodia Real Estate Awards 2019 here.

Article by: