Today, most expats in Cambodia end up in the capital. Siem Reap is another leading destination for those relocating to the Kingdom. Furthermore, the nation's top tourist draw, the Angkor Wat complex, makes Siem Reap top on most people's lists. Realestate.com.kh is happy to bring you an expat guide to Siem Reap
Make sure to check out the video to see what one of the country's top agents has to say about life in Siem Reap. 
Still on the fence about where to live? We have a whole host of location profiles for areas across the Kingdom. 
Putting Siem Reap on the map
First, a little background: From around 800 AD to 1430 AD, the Kingdom covered most of Southeast Asia. Not only that, but it also produced amazing temples such as Angkor Wat and Bayon near Siem Reap. Indeed, it was a global city a thousand years ago.
Interestingly, the Angkor Empire began as a Hindu empire and only later became Buddhist. Because of this, most of the architecture at Angkor Park depicts Hindu imagery. The heritage of this era is a point of pride for most Cambodians.
Unfortunately, the Khmer Kingdom began declining around the 14th century. Soon after, the capital was moved to Phnom Penh, where it remains to this day. Siem Reap is anything but boring, however. It holds wonders untold.
Come one, come all
Of course, Siem Reap's reputation as a tourist capital means it attracts both visitors and expats. Many expats move there in order to start businesses such as hostels, restaurants or tour companies. What's more, English is widely spoken because of all the Western visitors who pass through. 
Visiting the ancient temples here is only scratching the surface. There are sights, amenities, and attractions. You will never get bored.
Finding work in Siem Reap
The tourist industry, of course, employs many expats in Siem Reap. Guesthouses, bars, and restaurants occasionally hire expats. Many others start their own businesses.
Non-profit organisations often have roles that expats fill. Contracts are usually one to three years and staff members usually come from both Cambodia and across the world. 
Teaching English is another possibility in Siem Reap. There are a wealth of international schools and they are often looking for native-speaking professionals with TEFL certifications. 
Housing types
It can be a bit daunting at first to try finding a house in Siem Reap. First, though, you should zero in on what kind of place you want to get.
Shophouses
Two- and three-bedroom flats inside traditional shophouses are one of the most common arrangements for expats in Cambodia. Many are split into two levels with kitchen and living areas below and bedrooms with en-suite bathrooms above. 
Flats
New buildings are popping up around Siem Reap. Complexes will usually have common parking areas. Units will resemble typical apartments in the West with a full range of furnishings. 
Because many buildings are new, it is helpful to have an agency in the know, such as Hunter Estate.
Apartments
Full-service apartments look similar to the condominium units described above, however, buildings will have more luxury features. 
Pool, fitness centre, 24-hour security, internet connection and housekeeping services are often part of the package with apartments in this category. Because of this, many expats who maintain an active lifestyle often opt for these types of spaces.
Villas
These freestanding houses are often used for businesses, but occasionally one will pop up on the renter's market. They can be expensive, but if you have a large group and want more seclusion, this can be a viable option. 
Villas can be found both furnished and unfurnished and most have spacious balconies and small gardens. Prices vary based on size and location.
Mario Tan, the director of sales and marketing with Hunter Estate said that in nearly all categories of housing, expats can expect to spend around $400 per person on monthly rent. 
Thankfully, we have thousands of listings on Realestate.com.kh and you can peruse real estate for rent in Siem Reap all you want.
There's something going on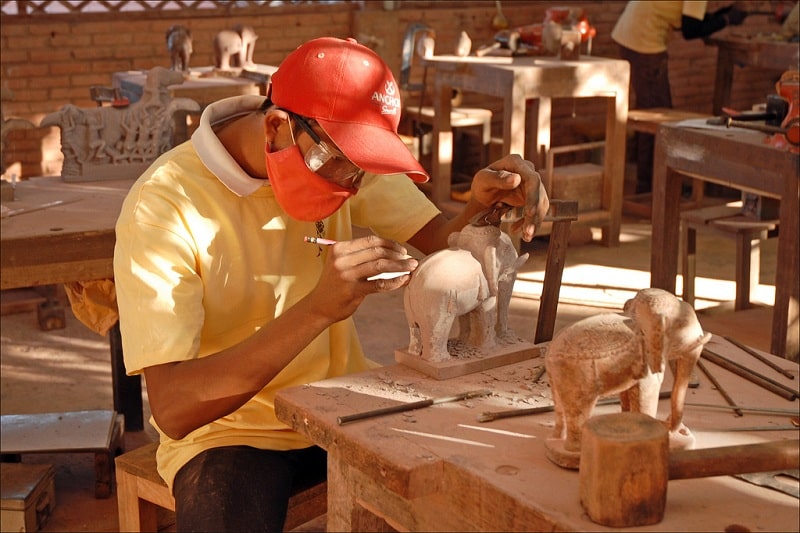 There's an anomaly in Siem Reap. It seems to have become the fine arts centre of the country. Maybe it's because of the majesty of Angkor Wat, or many the easygoing lifestyle. Either way, it's somewhat of a bohemian paradise. One Eleven Gallery and Mirage are just a couple of places where exhibitions and art events happen in town. 
Land of foodies
The fact that hoards of tourists pass through here every year means there will be tons of food options. Haven is a great option if you want something fancy. Otherwise, head to Sita Sousdey which even offers vegetarian options.
Miss Wong is great for an evening cocktail or perhaps go to Siem Reap BrewPub if you want something on tap. To be sure, Siem Reap has nearly every cuisine represented.
Finally, we can't forget about Pub Street. A night out in Temple Town wouldn't be complete without a stop at one of the haunts on this tourist focused strip.
Amenities
Despite not being the biggest city in Cambodia, Siem Reap has plenty to offer. Convenience stores are dotted around the city. They can be perfect for simple groceries. 
Additionally, there are supermarkets like Lucky or Thai Huot where you can stock your pantry. If you're adventurous and want to shop on a budget there's nothing quite like the wet markets around town, however. Hit up Psar Chas for fresh Cambodian produce.
As for health services, most expats opt to go to Royal Angkor outside of town for any medical issues. There are also a number of international-tier pharmacies in town that have medicine. U-Care is one of the most popular.
Leaving on a jet plane
There are hundreds of exciting things to do in Siem Reap besides the Angkor Wat complex. Nature lovers can take tours up Kulen Mountain and see rushing waterfalls. Taking a day trip to the Tonle Sap, one of the world's most famous lakes, is a must. You can even sign up to take a pottery class.
Siem Reap has a bustling international airport. This means that travelling around the region is simple. Routes to Bangkok, Hanoi, Singapore, Kuala Lumpur and many other places run almost every day of the week. 
The geographic location of Siem Reap is a boon for travel. Buses to major cities in the region are cheap and great if you want to experience all the views of the countryside.
See it for yourself
Siem Reap is a gorgeous town. No matter what you read you will need to see it for yourself. So, check out the video at the top that Realestate.com.kh made with the help of Hunter Estate. They focus on helping expats find the perfect housing in Temple Town.
Realestate.com.kh, Cambodia's home of real estate, has the most up to date information for buyers, sellers and property enthusiasts! Sign up for our newsletter today and stay up to date with the latest info…