Cambodia is a Buddhist nation with over fifteen million people, famous for their infectious smiles, and their respectful and welcoming nature. Sihanoukville, the country's foremost beach destination, presents some of the most unbeatable natural surroundings, temples and religious relics, French Colonial architecture, as well as some of the most beautiful white-sand beaches and islands in the region. It has also emerged as an important tourism and trade hub with Sihanoukville Autonomous Port, Cambodia's sole deepwater seaport and an important trade gateway to other parts of Asia and beyond.
With the rapid development and importance of the coastal region of Sihanoukville, investors are starting to enjoy some early-mover opportunities in Cambodia's prime beachside city rated by the New York Times as number 13 in its top 52 places to visit in 2018. Independence Beach, Ochheuteal Beach, and Otres Beach are some of the most famous beaches in Sihanoukville.
New Nordic, one of Thailand's most renowned property developers, has likened Sihanoukville to Pattaya 10 years ago, and recently entered the Cambodia market with a four-star hotel investment project. The New Nordic Sunshine Hotel & Resort is leading the market in satisfying demand for more hotel rooms to cater to the booming tourism industry.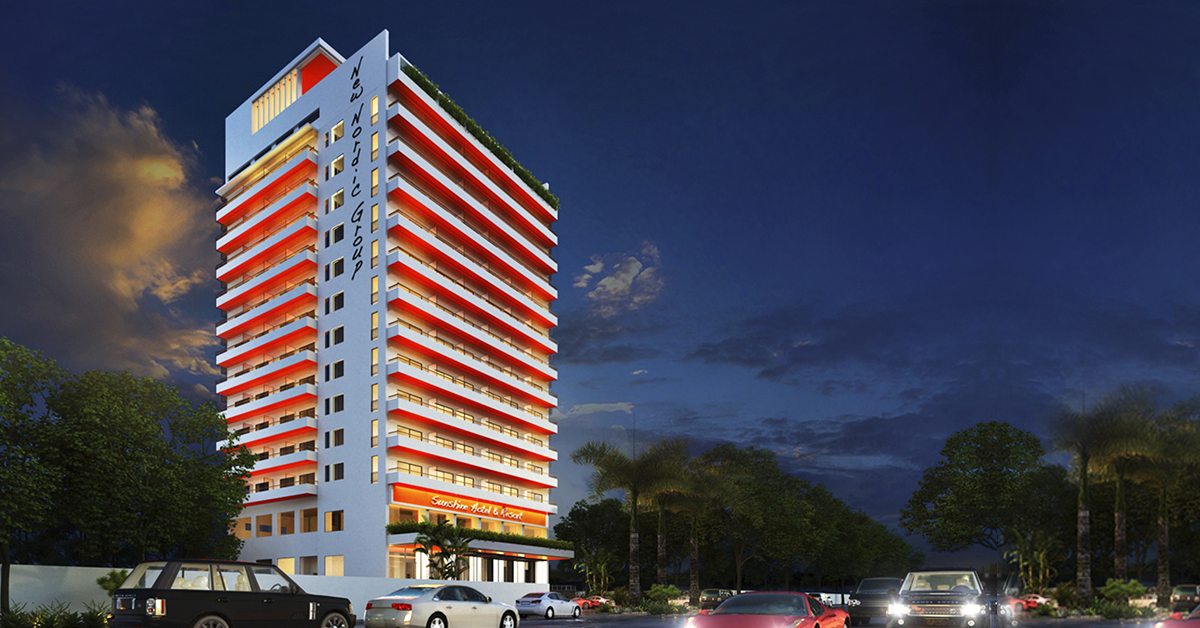 Established in 2009, New Nordic is one of the top developers of condominiums, villas, hotels, and apartments in South East Asia. It operates more than 1,000 rooms and associated facilities across the Mekong region. Phuket Water World and New Nordic Residence, both in Thailand, are just a few of its iconic developments. New Nordic has its own construction, property management, and service staff divisions; providing world-class end-to-end development services.
Under the expert management and guidance of Founder and CEO Kurt Svendheim, New Nordic has grown its property portfolio quickly in the last decade. New Nordic has expanded its global operations in Norway, Thailand, Hong Kong, Singapore, and now, Cambodia. The New Nordic Sunshine Hotel & Resort of Cambodia follows the company's expansion in the Mekong region.
New Nordic offers buyers several investment options that allow them to reap returns while ceding property management and maintenance to the developer. You can sit back and relax and wait for investment returns, while New Nordic takes care of and rents out the property. It is worth noting that the company is known for putting a great amount of expertise in its projects and investment areas.
The New Nordic Sunshine Hotel & Resort in Cambodia will have 136 studio-type, one-bedroom, and two-bedroom apartments spread over 15 floors. It will be built on a 1,523 sqm lot, a few minutes walk to Golden Lions Roundabout and Ochheuteal Beach. It will also be a full-service resort with an excellent array of amenities such as a restaurant, spa, conference rooms, gym, swimming pool, and rooftop bar.  
Its location also means easy access to the beach and close proximity to Sihanoukville's CBD, restaurants, markets, shopping centers, casinos, bars, and transportation hubs.
The New Nordic Sunshine Hotel & Resort is just the beginning of New Nordic's foray into Cambodia. Expect to see many more of New Nordic's projects coming Cambodia's way in the future.
Realestate.com.kh is proud to bring back Cambodia's biggest Property & Lifestyle Market Expo which will be held on 7th and 8th August at Koh Pich Exhibition Center.
Booth sales and sponsorships for Home & Lifestyle Expo 2020 are open. 
For more information, please contact:  
Nin Kang (Khmer/Chinese)
+855 78 637 323
+855 93 552 305
nin.kang@realestate.com.kh
Tyler Stuart (English)
+855 12 599 699
+855 81 599 669
tyler.stuart@realestate.com.kh