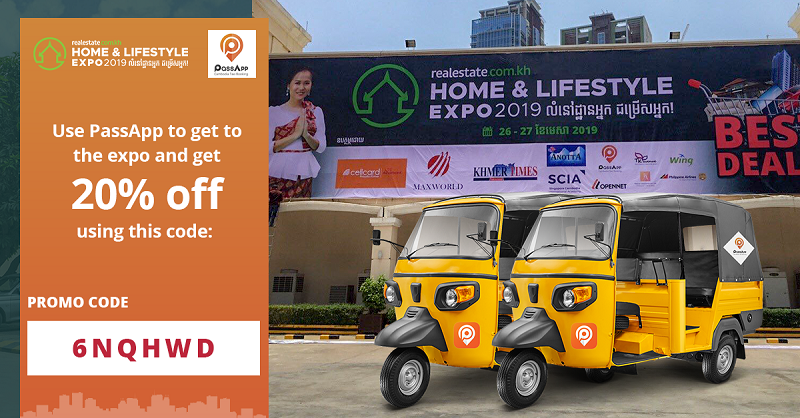 Friday is set to go down in history for the real estate industry in Cambodia. The Home & Lifestyle Expo 2019 opens at Koh Pich Exhibition Center for two days of fun and frenzy. Keep reading to hear how Passapp will take you there in style.
Over 100 exhibitors are at the venue showing off condos, boreys, houses and much more. Indeed, there will also be car companies, home decor, banks, food, and much more. There will be plenty of prizes, both for buyers and regular attendees. And don't forget about the full schedule of expert-led seminars. See the whole schedule of speakers here.
One of the partners of the event, local ride-hailing firm Passapp, wants to help everyone get to the event. That's why they've offered up ride codes for 20% off for expo attendees. Use the code in the picture above or find additional codes on Realestate.com.kh's Facebook page.
"Passap is easy and flexible. It's the #1 taxi app in Cambodia and we are proud to be sponsoring the Home & Lifestyle Expo 2019," said Passap Marketing Manager Luy Lavy.
A weekend of fun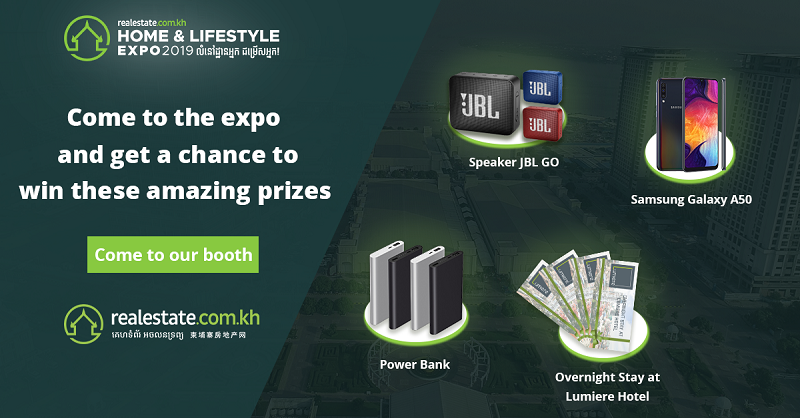 Realestate.com.kh will be giving away tons of prizes during the two-day event. Anyone can win, so bring all your friends for a better chance at going home with goodies. Register now so you don't have to wait in line when you arrive. There are three ways you can register for express entry:
Fill out the official signup form.
Even easier: Chat with Realestate.com.kh on Facebook and follow the chatbot instructions under "Event Registration".
Add Realestate.com.kh on WeChat.
Finally, it is sure to be a weekend of fun. There will be free food and drinks, coffee, car test drives, and even a giant dinosaur you can snap a selfie with.
Don't miss out on the fun! Sign up and head over to Koh Pich now!