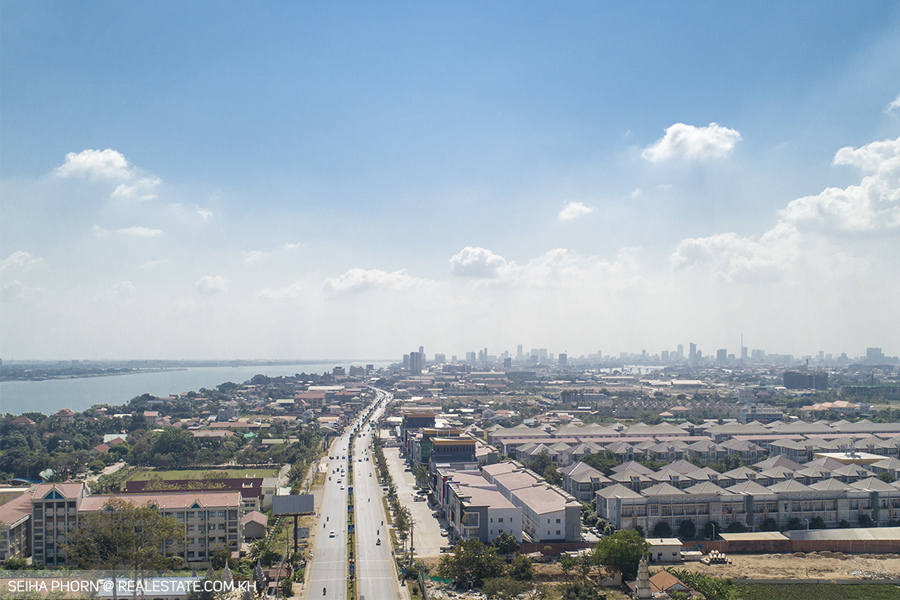 (Aerial view of a Borey complex in Chroy Changvar district/ Seiha Phorn) 
Before buying a house within a Borey, there are a few tips you can consider to avoid any possible problems in the short and long term.
What can I expect from a Borey for sale in Cambodia?
Borey is characterised by a group of low-rise residential properties located in a gated community. These include villas, flats, townhouses, shophouses, and even the occasional condominiums. 
Borey developments have a variety of properties that cater to both individuals and families. It typically has its own infrastructure and services which include roads, water, electricity, and waste management. But the biggest selling point of a Borey is its huge space and security. It also generally has a quieter scene because of its exclusivity.
Buying a home within a Borey development is a good option because it means that your new home will be surrounded by all the right infrastructure, such as water, electricity and appropriate road systems. It should also mean that the community is secure and contains common areas for your family to enjoy. The downside is added costs compared to stand-alone properties, a possible waiting period before you can move into your new home, and also the potential dangers of buying into a Borey project that doesn't fulfill all its promises.
Where are most of the Borey for sale located?
Major Borey developments are located on the outskirts of Phnom Penh city - and very few are located in the inner-city districts. This is because they require more land to set up and this is hard to find in the already-heavily-congested districts of the city. They are also increasingly appearing in other major provinces, such as Siem Reap, Sihanoukville and Battambang.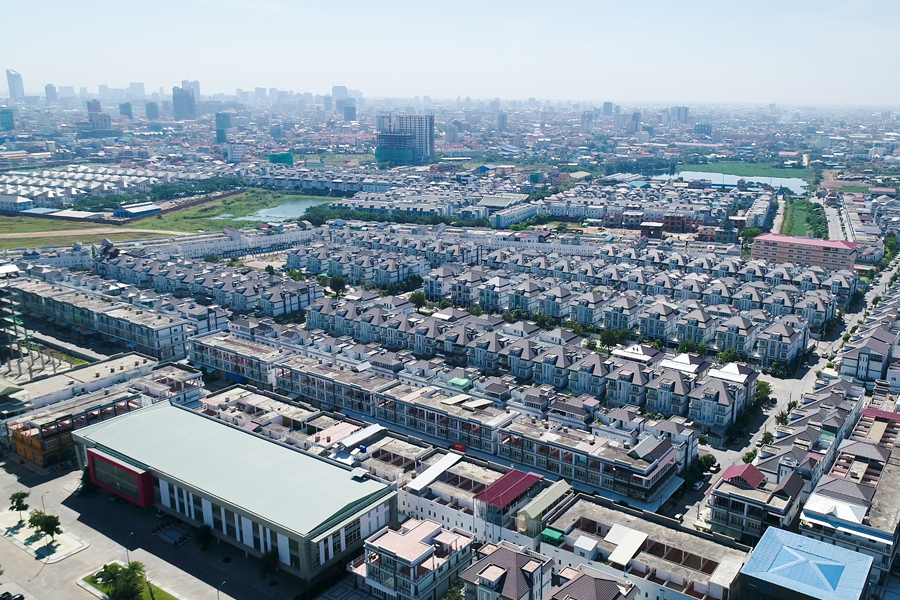 (A Borey complex in Sen Sok district, one of the districts in Phnom Penh popular for this type of gated-community development / Realestate.com.kh) 
Meanwhile, more and more new Borey projects are being launched near main highways outside of the cities, particularly in areas with significant industrial activity and factory-worker populations.
A Borey developer can take land that is totally undeveloped (farmland, rice paddy and lakes) and lay the base infrastructure for a new mini-city. For this reason, the boom in Borey developments is essentially creating new areas of the city suitable for residential properties. For the developer, by developing the necessary infrastructure, they can transform the land and increase the price per square meter dramatically after the project is complete.  
Can I buy a Borey home if I'm not a Cambodian citizen?
Foreigners are not allowed to buy homes in Boreys because these are predominantly landed properties. Article 8 of the Land Law states that "a foreigner who falsifies national identity to become an owner of land in Cambodia shall be punished as determined under article 251 of this law. Any property bought under these circumstances will be seized as state property without compensation from the state." Yet, some boreys do have condominium units available with strata titles fully applicable to foreign buyers. Also, foreign buyers could consider buying a Borey home that is landed via a Cambodia nominee.

I'm Cambodian. Can I legally buy a house for sale inside a Borey?
Cambodian citizens will be able to purchase landed properties in Borey developments with no issues as long as they satisfy the legal and financial obligations.
What documents should I look for when choosing a new house in a Borey development?
Many developments will pass themselves off as Boreys. But these fake projects don't have the necessary approval and documentation. They simply call themselves "Borey" in their marketing drive. Buyers need to check for five vital documents to ensure the quality and credibility of the Borey development.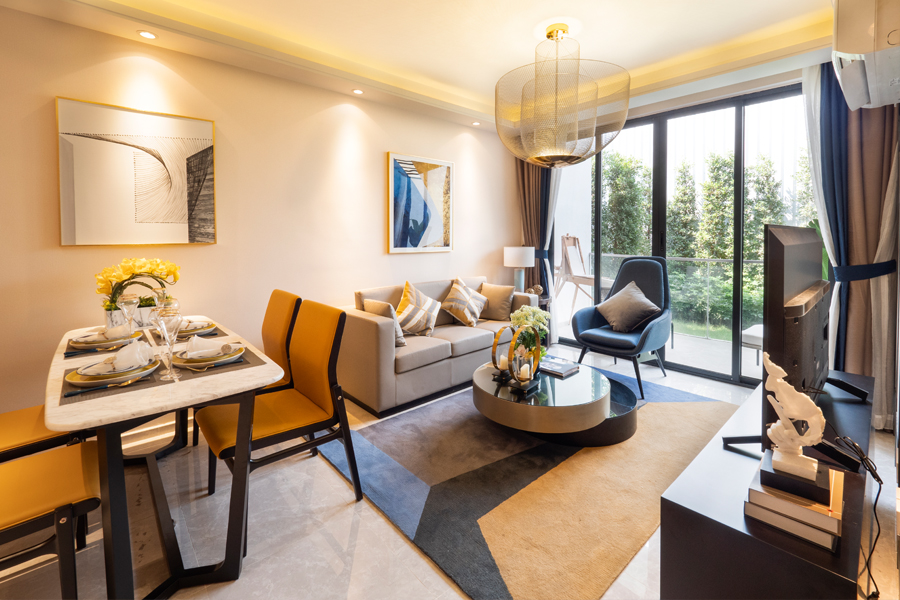 (A sleek interior design a house in one of the Borey developments in Phnom Penh / Realestate.com.kh)
These 5 crucial documents are the hard title, company registration, approved master plan, construction license and Borey License.
Hard Title: You have to look at two classifications of hard titles when dealing with Boreys.The first is the hard title for the whole Borey development. This is called a master title - and will cover the entire piece of land on which the project sits. The second one should be hard titles that are subdivided for each residential unit included in the Borey. These are called individual titles. A legitimate Borey development should be able to produce both of these hard titles to potential buyers. If they can't show this, don't put any money down until they do.
Development Company Registration: Development companies will need to register themselves to gain approval from the necessary ministries to proceed with construction. However, construction is not always a sign that they've been approved. You can ask to see their company registration just to make sure both the project and the developers can proceed legally.
Master Plan Approval: The Ministry of Land Management will need to approve the developer's Master Plan first by the Ministry of Land Management before construction begins. A credible developer will be able to provide you with it or at least show you a copy.
Construction License: The construction company then goes through a thorough background check with the Ministry of Land Management. Boreys must have a single registered construction company building the units and infrastructure to ensure consistency and quality throughout the development. Once this has been cleared, the construction company is then given a license.
Borey License: The Ministry of Economics and Finance releases the license for the Borey once everything is in order. This means that the developer has satisfied the requirements of the government in terms of quality, design, sales plans, and documentation.
Should I buy in a property inside a Borey for sale with a hard title or a soft title?
In reality, you can buy with a soft or hard title. Most importantly, you have to look to make sure that the developer has a main hard title.
Ms. Lay Solida, Lawyer at CBL Law Group, said that "Borey projects should be legal and recognised by related ministries. The most important thing is that the Borey project has the main hard title."
Boreys must have hard titles for the whole development area. Hard titles give an assurance that the developer fully and rightly owns the development of land. You can go the extra mile by checking if there are any pending legal issues with respect to the hard title. These specific sets of documentation serve as your protection for you and your investment.
Mr. Dara has just bought a house in a Borey in Phnom Penh. He said he's already familiar with the above mentioned documents. He explained, "I have just bought a house in Phnom Penh. I chose to pay an installment with the project owner. And for now, there is no hard title issued or even a soft title. It's just a buy-sell agreement letter. There is a guarantee to be issued after payment is completed. And if I want a hard title, I need to process the documents myself."
Kheang Puthy, CEO Sleuk Rith Realty, told a local news agency, "We need to check all the legal documents, like ownership title, construction license, and agreements from the related ministries. You'll be safe when you buy a Borey that has all the documents."
But what if the Borey for sale has a hard title for the entire development but still only gives you a soft title?
Mr. Cheng Soknov, Loan Staff at the ACLEDA Bank, is optimistic. He said that it "is not a problem if you just have a soft title when you buy in a Borey project, the most important thing is that the Borey project is legal. We can make a hard title later."
If the master title is hard, then hard titles can be made for individual properties bought by customers. It is still the most secure option to make sure you have an individual hard title for your home section. This can be achieved, but it will cost you 4% of the property price. Once you get this though, you can live without fear of any title issues moving into the future.
(A modern kitchen in a show house in a Borey project in Phnom Penh/ Realestate.com.kh) 
Why is a master plan for the Borey for sale so important?
Every development project needs to have a master plan. And it's important that the buyer should know as well. Before the development projects get the other licenses, they also need to have a detailed plan to show to the ministry to monitor whether the development would be successful or not in the future.
In some cases, the ministry must conduct research on sales strategy because sometimes the owner will not make a deep study of the market and surrounding area to see if the project is likely to be absorbed by the market.
Socheata also said that "if that project sold out lower than the market price, we (the ministry) can meet with the owner to consider selling prices compared to the costs and other expenses for the project sold out at a reasonable price."
What's the importance of Boreys having a construction license, registration certificate, and a Borey license?
The Ministry of Economy and Finance and the Ministry of Land Management, Urban Planning and Construction have made announcements together that some of the construction projects are not registered with the relevant ministries so as to contribute to the development of the real estate.
Ms. Chan Socheata, the Head of the Office of Business Management Housing Development at the Department of Industry and Finance, said that "generally, before the issuance of the license for any project development, the ministry evaluates through its checklist to find out whether the development has a clear and strong source of income, capital, collateral, land title, and other assets that support their project"
Socheata advised, "All project developers have to get a license from the Ministry of Economy and Finance. And this is something that any buyer should seriously consider before buying residential properties off-plan, whether condo or Borey. Keep in mind to ask whether that project has got a license in order to protect your own benefit and not waste money with unnecessary trouble."
Overall, if we buy any project that does not have a valid license, it's very risky. And when those projects have a valid license, it's useful to create a solid basis for the financial system, prevent financial crises, make a strong regulation for buyers and sellers in the real estate industry, and have a clear guarantee from responsible developers and buyers especially to protect and prevent risks when the company goes bankrupt.
Should I check the licence of the developer?
There are still concerns about some developers only registering a legal construction licence through the local government and not on the national level. This can be very troublesome for buyers in relation to either the ownership of the land or the house because of the possibility that the National government won't honor your local registration.
So, before deciding to buy a house from any project, make sure it's legal and they possess the following other legal documents such as master plan and hard title.
What are the types of Borey Development Budget Plans?
Generally, there are three types of Borey development budget plans. The first is when a project owner uses their own capital as investment. The second is when the project owner partners up with a bank. The third is when the project owner collects money from customers first in order to start the construction (off-sale plan).  
The first situation is the safest for the buyer - because it means that the developer has sufficient capital to complete the project even without pre-sales to buyers and/or the financial support of the bank. Having said that, a project in partnership with a bank is also common in the Cambodian market and should be no real cause for concern if the developer has a good reputation and track record, and partners with a reliable and well-respected bank.
The third scenario should, however, raise some worries for the buyer. If the project doesn't sell as fast as the developer expects, it may be halted or slowed down. In which case, if you have bought a unit presale, you may not get your new home when you expect it. And in the worst-case scenario, you might never get it at all. Also, if a developer runs out of money as the project nears completion, shared facilities within the Borey may suffer and not be built to the original promises made to early buyers - such as roads, security and community areas.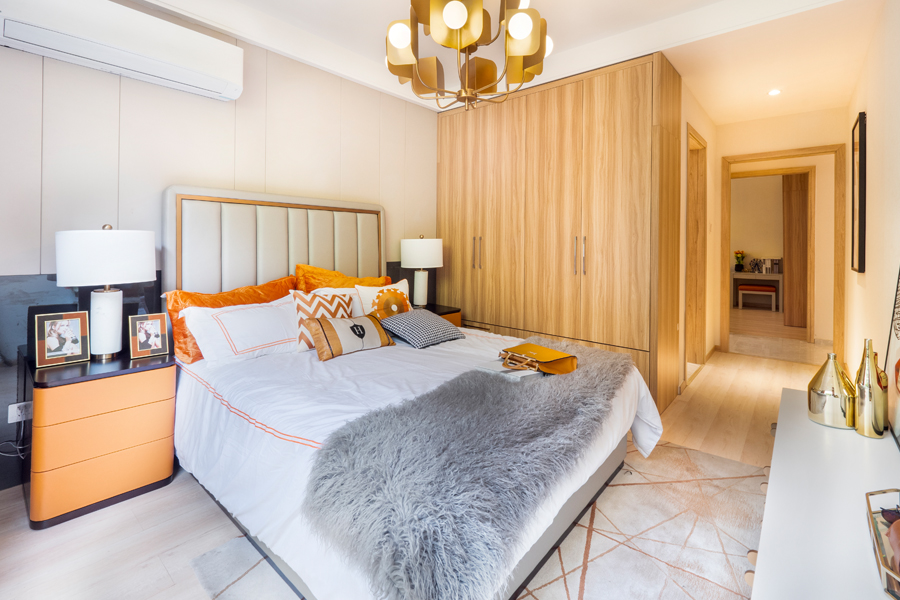 (A fully-furnished and decorated master bedroom in a completed Borey project in Phnom Penh / Realestate.com.kh) 
Should I pay for my new Borey home with an installment scheme?
Economics editor of BTV, Mr. Yin Leangkong warns against the usage of installment schemes. He continues, "In fact, some developers use payment methods that don't require a deposit. It means that customers can redeem their properties once the project is completed." But he also stressed that "installments may take approximately 5 to 10 years to pay. And pay costs can exceed the sale price."
It is a buyer's decision to choose which payment method suits them. The installment plan entails a higher price than the normal and requires you to wait and pay for the construction until after the project is completed.  The money gathered is either allocated for the construction or for marketing.
Should I purchase from a Borey before construction is finished?
Paying before completion of the project can be an advantage. The farther away it is from the completion date, the smaller the property price is. But when a project developer has to wait for money from the client to complete construction, the buyer should consider the capital and budget plan of the project. It could be riskier when you buy that kind of project because it might not have enough money and go bankrupt if clients don't come in soon enough.
If the developer received loans from the bank for the project, this gives customers the confidence to buy the property because banks have strict requirements and protocols before they approve a loan.
Are Home Loans Available?
It would be helpful to check if there are loan agreements available to assist you financially if you're not able to afford the full price immediately. This gives you the flexibility to pay at a pre-arranged and a more comfortable pace. And it doesn't drain your savings in one transaction.
There are several home loans available but different banks offer them at different interest rates as well. But sometimes Borey developments also partner with local banks for these home loans. So, it's best to check with both your local bank and the developer to see what your options are. Consider your home loan options before you agree to buy - not afterward!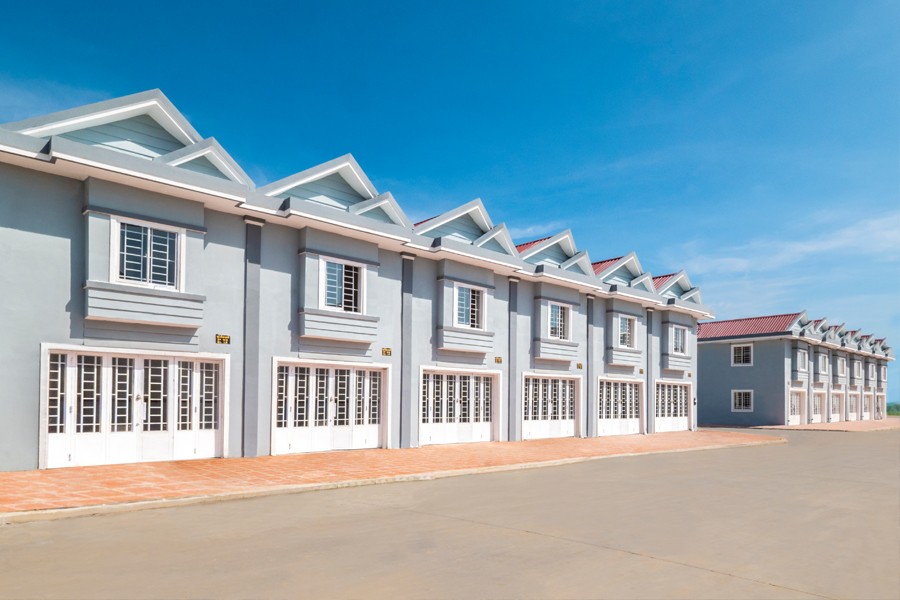 (Row houses in Borey VIP in Dangkao district, Phnom Penh / Realestate.com.kh) 

Should I get a loan from the bank or from the developer?
If you get the loan from the bank, you can normally get up to 70% of the property price. But you need to have a stable income and collateral. The interest rates start at 7% per annum, with a loan term of up to 15 years. Borrowers are sometimes required to make a 30% down payment of the house price.
It's easier to get a loan directly from the Borey developer. You don't need collateral, an income statement, or down payment. You just have to make sure that you have a stable income to pay. But they will also be very quick to take back your asset if you fail to pay.
When you get the loan with banks, they will investigate your financial capacity. They will also need to investigate whether the Borey is a safe investment or not. This is harder to satisfy for the buyer - but it may pay off in the long run.
Boreys may offer easier loan terms, but you have to face more risks than a loan with the bank.

Article by: