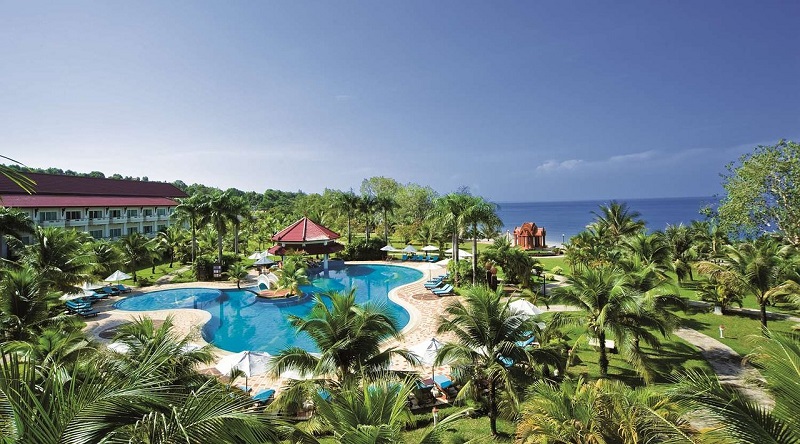 A green-filled view of Sokha Beach Resort in Sihanoukville. Photo courtesy of TripAdvisor.com
Cambodia's tourist arrival record is set for another breakthrough year in 2019 as data from the Ministry of Tourism projects a substantial increase from 2018's 6.2 million total recorded arrivals. Between January to September 2019, there have already been 4.8 million international tourists arrivals in Cambodia, this figure is 10% higher compared to the same period in 2018.
This year-over-year increase has not been lost on Cambodia's hotel sector. Hotel investments have increased to accommodate the growing demand - projected by the government to reach 15 million by 2030 - has hoteliers scrambling for the piece of the growing industry. Hotels in Cambodia can mainly be found in Phnom Penh, Siem Reap, and Sihanoukville.
Data from the Ministry of Tourism shows Phnom Penh has surpassed Siem Reap in terms of tourist arrivals by air. 70% of tourists to Cambodia arrive by air every year.
Knight Frank, a real estate consulting firm, has recorded 83 hotels with more than 50 rooms operating in Phnom Penh. The recent additions to these came in between January 2018 to June 2019, with 6 hotels having a total of 773 rooms. This brought the total rooms available at 11,120. This growth is largely fueled by Chinese tourists arriving in Phnom Penh and has resulted in high-class hotels popping up to meet their demand for luxury accommodations.
Knight Frank estimates that considering the shift in the tourist market, the supply of hotels post-2019 will be skewed towards the high-end at 40%, followed by the mid-tier at 38%, and economy-budget at 22%.
A photo of the pool from the Pavilion Hotel in Phnom Penh. Photo courtesy of Cambodiatourism.co
Siem Reap, on the other hand, is still dominated by mid-tier boutique hotels to accommodate a market with more modest tastes. But this is also starting to see shifts as more Chinese tourists arrive. Knight Frank has noted a total of 85 hotels (more than 50 keys) with a total of 11,848 rooms available. Boutique hotels are not included in this count.
The hotel market's competition in Siem Reap is notably more competitive than in Phnom Penh. According to Knight Frank, 4 new hotels are opening in the future with a total of 740 rooms. The same report estimates that the recorded supply of hotels post-2019 will also be skewed the high-end at 58% and mid-tier at 42%.
Sihanoukville is a relatively new entry into Cambodia's hotel industry. Boutique hotels have operated in the province for years but the city only got itself on the map with the surge of Chinese investments mainly starting in 2015.
Sihanoukville is comparatively more modest than in Phnom Penh, primarily due to it being a beach-and-resort destination. As of June 2019, Knight Frank reports that there are 46 hotels operating in Sihanoukville with a total of 5,238 rooms. The report estimates that the future supply of hotels in the city will mainly be mid-tier at 46%, high-end at 32%, and economy-budget at 22%
Sihanoukville is set to surpass Phnom Penh in terms of total hotel rooms around 2021 at over 13,000 available hotel rooms, signifying hoteliers' confidence in the province's tourism prospects.
Stay up-to-date on the real estate industry in Cambodia and get real-time updates on real estate news as they happen. Download the Realestate.com.kh App now!

Article by: