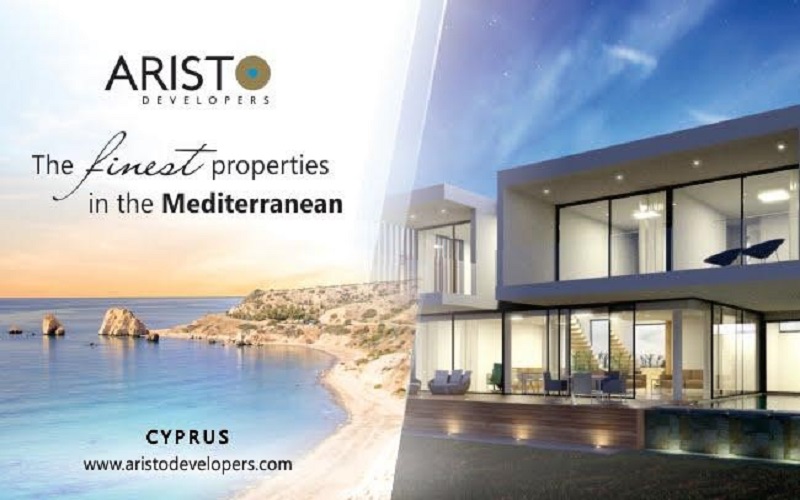 Make sure you book an appointment to visit Aristo Developers at this years Realestate.com.kh Expo to learn about investing in the Cyprus property market & unlocking visa free travel to over 150 countries! 
For over Four decades, Aristo Developers has been the preferred choice for establishing long-lasting property partnerships in Cyprus. As an award-winning property developer, we are able to offer the most comprehensive real estate solutions, for you and your clients, with the widest range of freehold properties in the most prime locations throughout Cyprus.
Aristo Developers Overview
Over 40 years of experience in Property Construction and Real Estate

Over 300 island wide developments with 35 projects currently in the market

Over 14,000 satisfied clients

Large-scale investment opportunities

Representative offices in China, Egypt, Greece, UAE and Vietnam

Extensive network of partners around the globe

Guaranteed delivery dates and title deeds

Excellent after-sales and customer services including property management, landscaping, maintenance, rentals and re-sales
Introducing Cyprus

As the safest country in the European Union, and one of the best countries to relocate globally (Knight Frank), Cyprus is an attractive place to do business and a unique place to reside. Real Estate in Cyprus has proven increasingly popular to foreign investors which consist of 25% of the island's investors. Individuals looking to invest through Real Estate, take advantage of Cyprus':
The most favorable incentives in the area of property taxation:
- Zero Property Tax
- Zero transfer fees
- 5% reduced VAT policy for first property purchase
- Zero inheritance tax
- Low Capital Gains Tax

The future of Cyprus is extremely positive. Significant gas reserves in Cyprus' exclusive economic zone and the creation of the largest European casino in Cyprus will contribute significantly toward the growth of the island's economy, and will attract high net worth individuals and tourism.  The island has already established itself as a premier golfing destination with four international golf courses currently operating and more are planned, both to meet growing on-island demand and the requirements of quality tourism.  Cyprus has also become increasingly popular for integrated luxury yachting marinas which have attracted a new caliber of world-class tourists and investors. 

Cyprus Investment Programme and Permanent Residency Programme
Today, the island of Cyprus offers the simplest, fastest and most efficient programmes globally for obtaining Cyprus Citizenship and Permanent Residency through property investment.  
Cyprus Citizenship:
Examined within 8 months 

Minimum property investment of € 2 million (plus vat)

Government donation €150,000 (as of 15 May 2019)

Covers the whole family including dependents and investor's parents

Visa-free travel to 158 countries

The freedom to live, work and travel within the European Union

Valid for life
Cyprus Permanent Residency:
Issued within 2 months

Minimum property investment of € 300,000 (plus vat)

Covers the whole family including dependents and parents of main applicant and spouse

Easy access within the EU

Valid for life
Please book a private appointment with us to find out more about real estate investment in Cyprus and the Cyprus Investment Program for Citizenship and Permanent Residency. 
Cambodia Real Estate Show, 4th – 5th October 2019 
At Nagaworld Hotel, Phnom Penh, Cambodia 
Booth No. 48
Email: mily.bonanza@aristodeveloeprs.com
Mobile: +855 (0) 98 67 67 82
Want to find out more about housing types in Cambodia? Read our Investment Guide 2019.
Reminder: It is free to enter the Realestate.com.kh EXPO 2019 at NagaWorld. Register now for express entry.