Phnom Penh, Cambodia: Tens of thousands of property buyers, investors, real estate agents, developers and more flocked to NagaWorld Hotel over the weekend where the country's biggest property show, Realestate.com.kh EXPO 2019, was held.
Realestate.com.kh Expo 2019 earns a magnificent triumph
The Realestate.com.kh EXPO 2019 is a series of real estate exhibitions organised by the country's leading property search platform, Realestate.com.kh. The show was once again the country's top real estate event of the year, according to Tom O'Sullivan, CEO of Realestate.com.kh.
"This is another milestone moment for our company and the team at Realestate.com.kh. Our latest event, the Realestate.com.kh Expo 2019 was our most successful property sales event yet, we are still totalling final numbers but we have certainly doubled attendees compared to last year and broke the record of $30 million in property sales. Our primary data shows we appear to be well over $40 million in property sales so far" Mr. O'Sullivan said.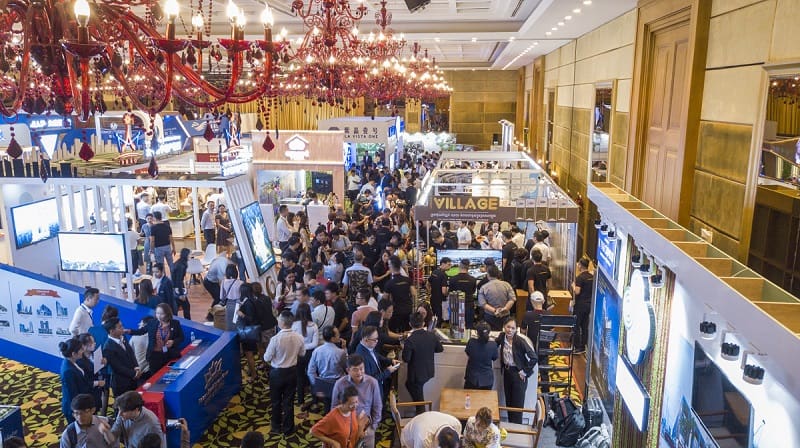 The Realestate.com.kh Expo 2019 was well-organised and named the biggest gathering of industry experts, developers, agents, financers, legal experts, local and international investors and homebuyers to date, according to the event's participants and speakers.
Experts-led seminars help the public to understand the country's real estate development better
It brought together more than 20 real estate and legal experts to talk about real estate-related topics and the industry's current trends. To name a few: Cambodian real estate mogul Okhna Sear Rithy, Chairman of Worldbridge Group who gave the opening remarks, Oknha Cheng Kheng, Chairman and CEO of CPL Cambodia, Ms. Catherine Chan, Executive Director of Urban Village and Mr. Li Min, CEO of Prince Real Estate Group.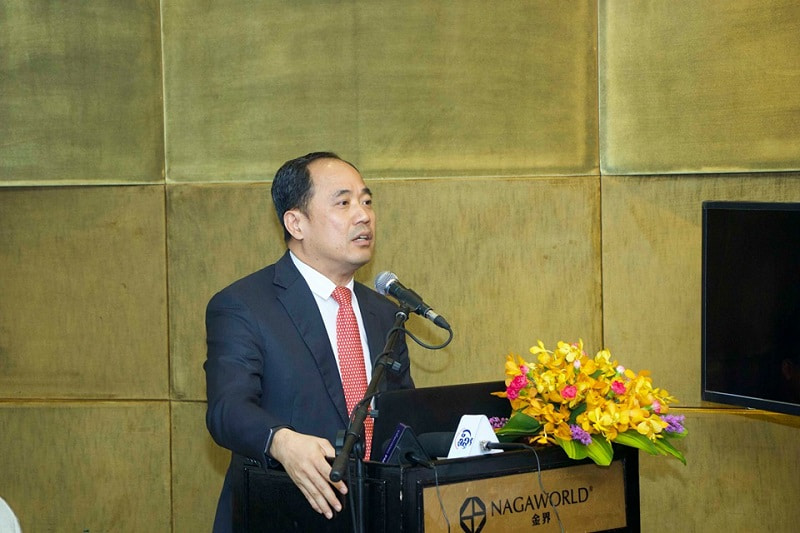 The claim was also echoed by Mr. Marc Townsend, Chairman of CBRE Cambodia and one of the guest speakers at the seminar. He said the event was "well-attended, well-organised and CBRE Cambodia will be back next year."
Catherine Chan, Executive Director of Urban Village, one of the exhibitors at the Realestate.com.kh Expo 2019 said the event was "good and crowded". She added that the event helped raise branding awareness for her Urban Village project and the company will participate again in the next expo.
One of the standout exhibitors this year was Prince Huan Yu Real Estate (Cambodia) Group, which closed more than 70 deals worth more than a whopping $15 million, said the company's planning manager, Mr. Li Yan Jin.
Realestate.com.kh Expo 2019 holds the country's best property show of the year
Prince Huan Yu Real Estate in total sold 48 units of office space of Prince Huan Yu Center in Phnom Penh and 24 condo units of Prince Golden Bay in Sihanoukville. On top of that, the company received 168 leads, 68 of which were Cambodians, Mr. Yan Jin added.
Another well-performing exhibitor was Morgan Group, which sold 50 condo units of its riverfront condominium Morgan EnMaison. According to the group's planning manager, Mr. Yao Chao, 17 of the 50 units were purchased by Cambodians, and the total closed deals were worth about $7.5 million.
Urban Village is another project that performed really well at the expo. The company sold 10 units on spot and closed 100 more deals in the past week which worth $10 million in total, Ms. Catherine Chan said.
Toul Kork Lane had also closed two deals amounting to nearly $130,000.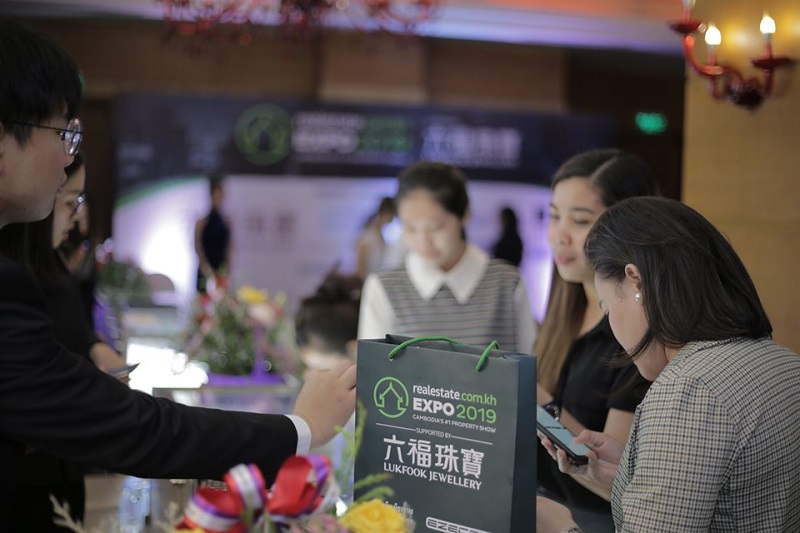 Realestate.com.kh Expo 2019's generous sponsors
Realestate.com.kh Expo 2019 was made possible with the generous support of LukFook Jewellery Cambodia, a Hong Kong-based jewellery company with thousands of retail outlets across China and Southeast Asia.
Also joining to sponsor the show were international logistics giant ZTO Express, Ezecom, LZ Sea View Residence, Cellcard, The Khmer Times, Netease, Lumiere Residence, YuanDao Architecture, Snowbell Hotel, and CDF-Cambodia Duty-Free.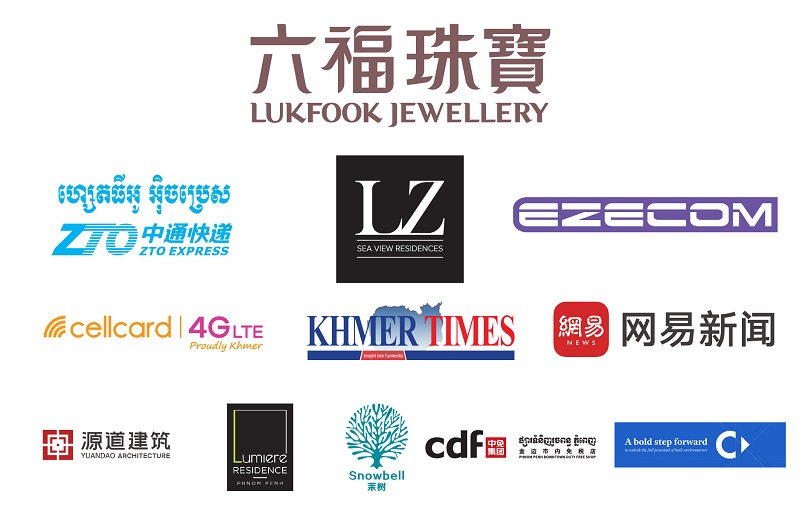 Exhibitors at Realestate.com.kh Expo 2019
The companies that presented at the Cambodia Realestate.com.kh Expo 2019 were Aru-Me Metal, Prince Real Estate Group, Prince Huan Yu, Prince Jin Jia, Victory Bay, La Vista One, Urban Village, Bel Air, Creed (Zelkova), Aristo Developers, SH Condo, M Residence, Chief Bank, North Park Condominium, The Penthouse, Beyond Design, HLG (Harvey Cambodia Co., Ltd.), Pafillia Property Developers, Leptos Estate, MAA Architecture & Design, Oxley Emerald, Orkide Villa, Le Bassac, E-Power, Yi Fung Real Estate, Huateng (Cambodia) Investment Co. Ltd., New Landmark, Unicom Scienceplastic, C-Herald Property Service, Huaye, HYO, Morgan, R&F, KH Land, International Top Agent (ITA), Toul Kork Lane, Baoli Mansion, The Bund, CBRE, WanHao, Wealth Mansion, FDD Real Estate, Century 21 Cambodia, and Zenearth.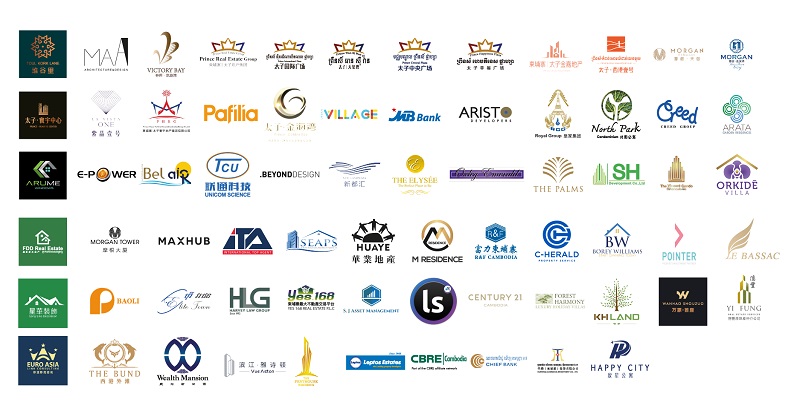 Media Partners
Media companies presented at Realestate.com.kh Expo 2019 include: Thmey Thmey, Property Area Asia, Fresh News, CTN, MYTV, Khmer Times, Sabay, Biz Khmer, B2B Cambodia, Eurocham, Britcham, Amcham, Koh Santepheap Daily, Love FM, Sing Meng, Gold Zone Media, Nice Tv, Grep Tech, CDF, Fang.com, Enjoy Cambodia, Angkor Today, Jian Hua Daily, Commercial News, The Cambodia China Times, Tnaot App.
The next marquee event from Realestate.com.kh in its event series is the Cambodia Real Estate Awards, which is held in conjunction with the CVEA and the Ministry of Economy & Finance on December 2019. Sponsorship and entries are now open!
If you're interested to sponsor the event please call:
Nin Kang (Chinese/Khmer)
+855 78 637 323 / +855 93 552 305
Tyler Stuart (English)
tyler.stuart@realestate.com.kh
+855 12/81 599 669
Want to find out more about housing types in Cambodia? Read our Investment Guide 2019.
Article by: