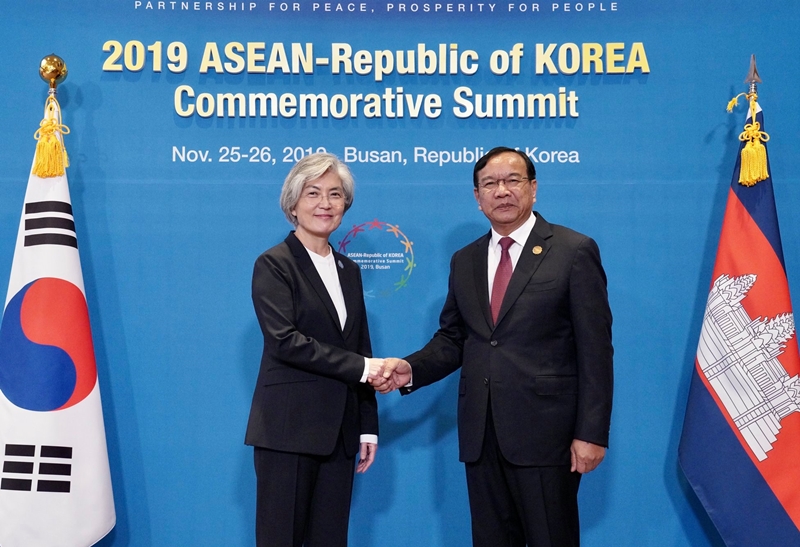 (South Korea's Minister of Foreign Affairs, Kang Kyung-wha with Cambodian Minister of Foreign Affairs, H.E. Prak Sokhonn during the ASEAN-ROK Summit 2019 in Busan. Photo courtesy of South Korea Ministry of Foreign Affairs/)
Cambodia recently secured $700 million in infrastructure development loans from the Republic of Korea. The loans were committed by the South Korean government during the recently concluded ASEAN-ROK Summit 2019 held in Busan, South Korea last November 25 to 26, according to the AKP.
H.E. Prak Sokhonn, Cambodian Minister of Foreign Affairs and International Cooperation, expressed his gratitude to South Korea for committing to support infrastructure development in Cambodia through their financial loans to be distributed throughout 2019-2023.
Aside from infrastructure development loans, Cambodia and South Korea recently signed documents indicating increased cooperation in the fields of agriculture, tourism, law enforcement, and trade - which includes a study on the feasibility of a Free-Trade Agreement (FTA) between the two nations.
Cambodia was also represented by its Minister of Foreign Affairs in the first Mekong-ROK cooperation during the summit. The event is one of the major highlights of the summit as the Mekong-ROK cooperation is elevated to a ministerial level. As of 2018, trade between the Mekong countries (Cambodia, Laos, Myanmar, Vietnam, Thailand) and South Korea amounted to $84 billion.
Stay up-to-date on the real estate industry in Cambodia and get real-time updates on real estate news as they happen. Download the Realestate.com.kh App now on both iOS and Android.
Interested in investing in Cambodia? Check out our Cambodia Investment Guide 2019 to learn more!

Article by: