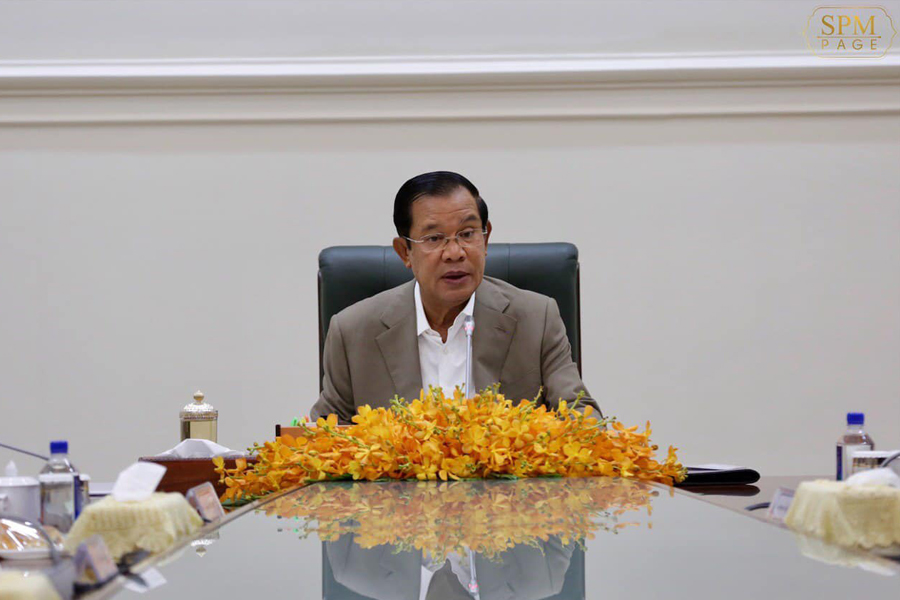 (Prime Minister Hun Sen led an inter-ministerial meeting at the Peace Palace / Facebook)
Since the global outbreak of COVID-19 in late January, the Cambodian government has been monitoring and has been enacting step-by-step measures to mitigate the economic effects of the pandemic.
Back in February, the government announced a 4-month exemption of taxes from hotels and guesthouses in Siem Reap which will be in effect from February to May 2020. The move comes as a response to countries, especially China, restricting travel abroad. According to figures cited by the Khmer Times, the government has indicated that tourists are already down by 60% early in this year.
This tax exemption was also extended to tourism-related businesses such as airlines, tour agencies, and other businesses part of the hospitality industry. The 3-month tax waiver will apply from March to May 2020 in order to help businesses keep afloat during the pandemic.
The government also decided to waive the 4 percent stamp tax on all residential properties valued less than $70,000 in a move to stimulate the real estate and construction sector amid the epidemic fear of COVID-19. The real estate sector has seen massive growth over the years and is starting to feel the effects of public fears due to the outbreak.
Prime Minister Hun Sen, in preparation for COVID-19 outbreaks in the Kingdom, has slashed government expenditures by up to 50% to allocate funds for the Kingdom's medical and economic needs.
On Monday during a press conference at the National Assembly, the Prime Minister appealed to landlords to temporarily reduce rents or allow people to pay their rents on later dates in a bid to help business owners and renters whose incomes are affected by the outbreak.
The premier also called for micro-finance institutions to defer microloan payments or slash interest rates altogether to ease the financial burdens on people.
He said, "the state will not interfere the affairs between private sector and private sector, but the state would like to appeal to the private sector to understand each other including the bank sector to defer the payment."
As COVID-19 grows as a national concern, the Cambodian government has prepared a $400 million war chest to combat its effects on the economy. According to a Khmer Times report, the Ministry of Health has also set aside $30 million to purchase the necessary medical supplies to support medical frontliners and treat patients infected by the virus.
A state of emergency bill is currently being drafted by the government to prevent more people from being infected by the virus in the Kingdom. A formal announcement is expected on April 3, 2020.
Stay up-to-date on the real estate industry in Cambodia and get real-time updates on real estate news as they happen. Download the Realestate.com.kh App now!

Article by: