Marc Townsend – Managing Director of CBRE Cambodia & Vietnam – recently tackled the question, "Is Cambodia's Residential Market a Target for Investment?"
His presentation included updates on the status of the condominium market in Cambodia. He talked about the upcoming supply and the various sources of activities in the market. He also compared the residential market of Cambodia with its neighboring countries. Townsend's discussion focused mainly on Phnom Penh. He also touched a bit on the retirement sector.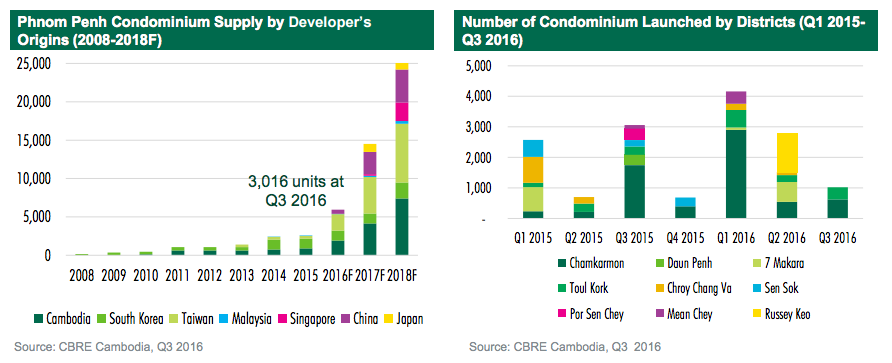 Condominium Activity in Cambodia's Residential Market:
Townsend mentions that there will be around 7.6 billion dollars coming into real estate in Q3 of 2016. And some of these investments are to develop different condominium projects. He explains that most of these investments are coming in from countries like Taiwan, South Korea, Malaysia, and Singapore.
China remains to be one of the biggest investors in the country. Townsend says that most of the projects are "mainly mixed-use with some component of commercial property." He states that there is a dramatic increase in the sizes of these projects and their speed of delivery.
Townsend continues to say that "particularly, as the infrastructure improves, the ability to sell these units, off the plan – because it's all off the plan – is obviously very important." But he clarifies that this is not the first cycle for Cambodia. He recalls, "The first cycle was when CBRE opened its office about 8 years ago, we had the first movers which were mainly South Korean developers doing high-rise
projects. So, this is the second time around. The first market blew out relatively quickly after 2008. Again, a mixture of oversupply and just a little bit of resistance about moving it from townhouses, row houses, villas into high-rise and mid-rise properties."
He says that demographics have changed. The population is getting younger and that resistance is slowly disappearing. He also says that the secondary market is also softening.
Residential Market Projects:
Townsend says that land prices in Cambodia are relatively lower than in Vietnam. He explains that it may be due to Cambodia having fewer projects and a more availability of land, or because Cambodia has higher margins.
But he also states that "for the moment though, you've just got traffic to cope with and not pollution. It will come as your industries start to change."
He also notes the changing number of residential units and explains that "if you divide the size of the project by the number of project, you can see it." He adds that "five years ago, a big project was two or 300 units. Now you can see projects here of up to a thousand units at a time."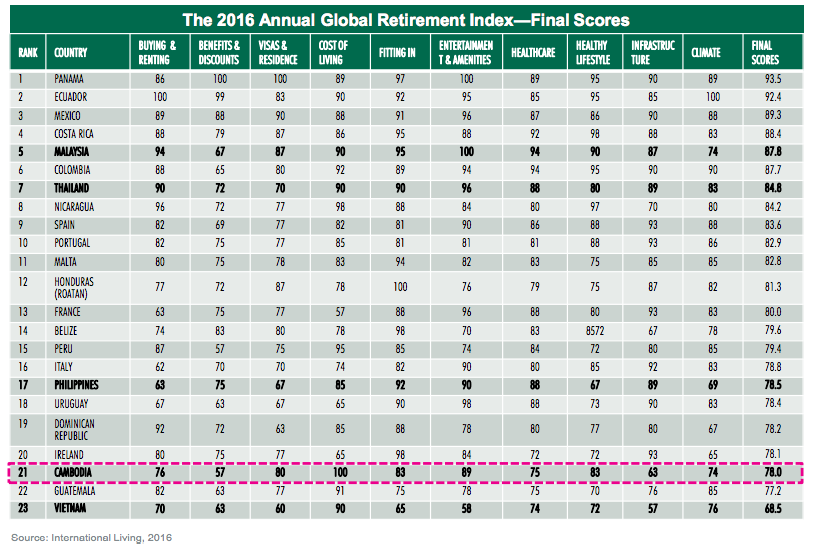 Retirement Market in Cambodia's Residential Market:
Townsend says that Cambodia is an attractive area to settle down. This is because it has a lower cost of living than other popular areas for retirees. But he warns that Cambodia still has to work on medical, travel, and infrastructure concerns in order to attract more mature investors like Malaysia. He states, "We weren't trying to prove anything here because we were just trying to see whether there was a market that was sustainable. Malaysia's gone a long long way to trying to attract retirees with their silver-hair visa. And Cambodia is just starting. And it's interesting where it possibly could go. As long as you get the right type of retirees."
He explains that cost of living is one of the main selling points for normal expats. But this isn't always the case for all ages. He says that "a lot of it comes down to medical. And if you're in good health, it's not something that you worry about. But obviously, as you get older, the ability to have just a simple consultation, ten minutes with a private practitioner/general practitioner – in your own language – and knowing that the pharmaceuticals you're buying over the counter are safe, again, these are issues that Cambodia has yet to overcome."
Townsend closed his presentation by saying that "as long as the organization is happening, as long as the infrastructure's still going in, we're confident about the mid to long-term future of the Cambodian market."
Do you want to know more about the Cambodian real estate market? Stay tuned for daily updates on our news section!