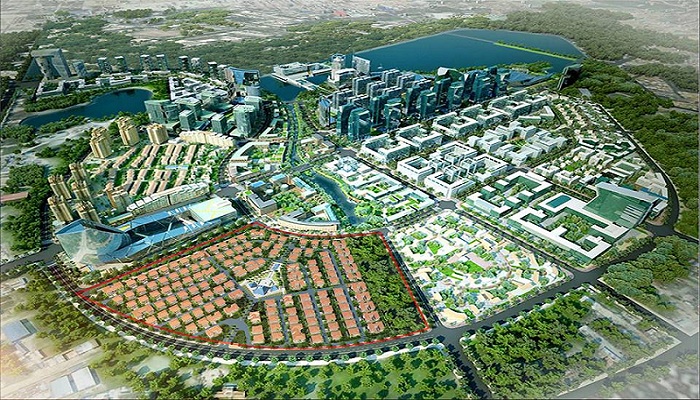 Just a decade ago, the Camko City was merely a lake area of Phnom Penh, Boeng Pong Peay. At that time, it was considered as the Northern end of Toul Kork, which has been traditionally a wealthy residential area. However, so far, the scene has dramatically changed, transforming into Northern center of the capital.
Since the first satellite city planning was approved by the government in 2005, World City Co., Ltd., the developer of CamKo City introduced a global standard of residential, commercial, and business complex for the first time in the property market. The development has been slowed down due to external turmoil such as global economic recession, financial crunch and partners' financial difficulties. However, we now witness that the area has strongly settled down as one of sought-after places.
Some of the luxury villas in R2 Secret Garden project are being completed one by one, and ready for move-in.These finest properties will add more value to the existing residential area.
Furthermore, commercial activities are becoming livelier. The shops along the Angkor Boulevard, a 30-meter wide road at the center of CamKo City, are recently occupied by more business owners, and they seem to enjoy prosperity with the increased number of residents and visitors.
World City Co., Ltd. has resumed suspended condominium projects, and now is rigorously preparing to launch new upcoming projects.
Regarding to the new projects, Mr. LEE SeungHyung, Senior Vice President of CamKo City mentioned, "Now, our follow-up projects are under careful planning and preparation. The market, in particular investment sentiment and demand trend, has changed. Our next projects will be responsive to this diversified demand."
"As population continues to increase in this region, there is a strong need for large scaled commercial, business facilities and amenities. Accordingly, an attractive commercial complex and high-street area is under planning for the C10 plot between R1 condominium and R2 Secret Garden villas. Also, in the M6 plot just north of R1 condominium, a mixed development of medical center, office spaces, serviced residence and retail is already planned. These new projects will begin one by one in an appropriate manner," added by Mr. LEE.
Lastly, the contribution to National Housing Policy is one of the biggest interest of the developer as well. Increase in housing demand and lack of affordable housing supply are raising significant social concerns. It is said that, reflecting the demand, a mid-ranged residential complex is already prepared in CamKo City and waiting for the launch.
Also in the surrounding area of CamKo City, within Sen Sok and Russey Keo, noticeable developments have got into full swing. To the West of CamKo City, the second AEON Mall recently commenced the construction with the completion expected in 2018. At the North end of CamKo City, a renowned Australian International School Phnom Penh (AISPP) is about to complete the construction. In addition, large number of various high-profile residential projects are already completed and on process nearby.
With all these developments both within CamKo City and the surrounding area, and along with Phnom Penh's expansion,we expect to witness and enjoy the area's further transformation into the global-standard satellite city, as initially sculpted by CamKo City.
View the latest new developments on Realestate.com.kh!
This story was featured in the September 2016 print edition of PROPERTY VIEW magazine, produced by the CVEA. Realestate.com.kh is very proud to support the CVEA's Property View publication. For more information about joining the Cambodian Valuers and Estate Agents Association (CVEA) please click here. And, if you are interested in advertising placement or advertorial in the next edition of Property View Magazine, please contact Mr. Virith via email: virith007@yahoo.com Or call: 078 959 567  or 098 66 26 68