On the Thursday 24th March 2016, The River Premium Developments (Cambodia) proudly announced the groundbreaking of their latest project, Center City Ta Khmao, onsite at the showroom complex the Ta Khmao riverside area.
The ceremony was graced by the presence of most honorable guests H.E. Hun Manet, Lieutenant General of the Royal Cambodian Armed Forces, and H.E. Mao Pherun, Governor of Ta Khmao. Over 500 guests from the public and media were present for the groundbreaking ceremony.
As stated by H.E. Hun Manet at yesterday's groundbreaking ceremony, "Center City Ta Khmao is a true landmark of development in Cambodia, which the Royal Government of Cambodia considers as the leader in economic growth, increasing the employment rate and GDP. I highly appreciate the effort of the Tang Kung Group and other investors that have made this significant investment in Cambodia." As announced yesterday, Phase I construction of the Center City Ta Khmao project is now underway. The River Premium Developments are accordingly currently pre-selling the commercial shop houses of the mixed-use development. Phase II details will be revealed in the coming months. Center City Ta Khmao is a joint venture between Tang Kung Group and a Malaysian investor who also developed the Riverside Group in Melbourne, Australia. The Tang Kung Group brings over 16 years in the real estate industry. Center City Ta Khmao will be the pioneering development of Ta Khmao City, the complex being centrally located along Tonle Bassac riverfront in Ta Khmao.
As noted by The River's Chairman, Oknah Tang Kung, "Ta Khmao was our firm's natural choice for development as we firmly believe residential development will grow toward Ta Khmao primarily because this area is highly flood resistant."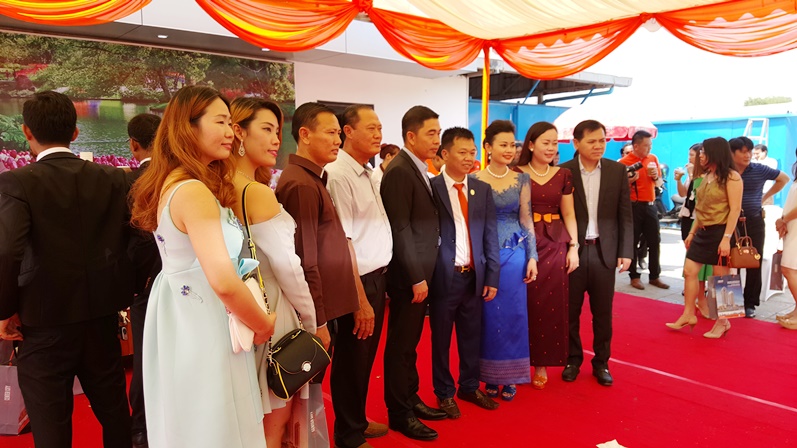 "We see Ta Khmao as the most sustainable region for development in the near future. Phnom Penh central city will soon face overcrowding, infrastructural limitations and traffic congestion, and also higher risks of flooding. Thus, Center City Ta Khmao is a smart investment moving forward into the future of this great city."
The City Center Ta Khmao project incorporates residential, commercial (with office and retail space) and leisure amenities all in a single complex. Center City Ta Khmao will cover 15,463 square meters with a modern architectural design of two 27-story towers totaling 484 condominium units, surrounded by a 68 unit commercial complex, 2-story shopping mall, 3-story car park and one level dedicated entirely to leisure amenities. Residential units will range from studio to 3 bedrooms.