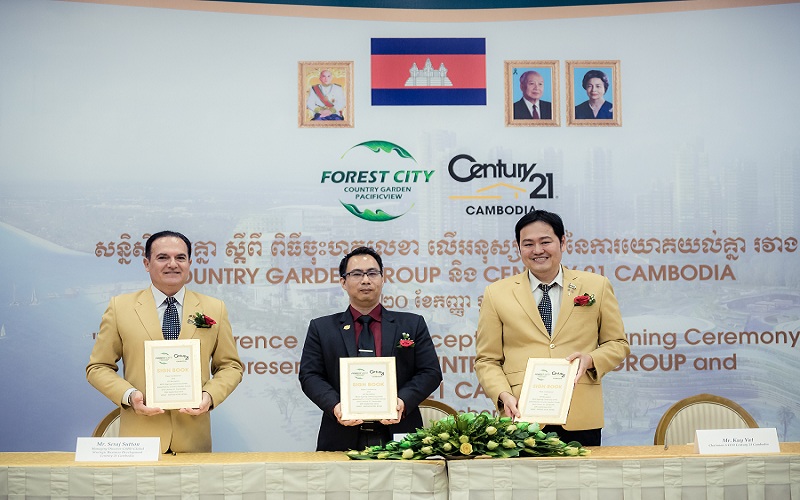 On the 20th of September, 2016, Century21 Cambodia officially signed an MOU with the Country Garden Group: a Forbes' Fortune 500 Company, incorporated in 1992 and headquartered in Guangdong, China. Country Garden was listed on the Hong Kong Stock Exchange in April 2007, and currently employs 70,000 employees through 238 subsidiaries.
The MOU offers Century21 Cambodia and all national franchises rights to market and sell the Forest City project. The MOU will also give Century21 Cambodia the exclusive rights to handle all sales inquiries for the Forest City project that are generated by the entire Century21 International Families network. Finally, the MOU allows Century21 Cambodia to introduce the Country Garden Group to opportunities within the Cambodian market.
The Forest City project is a joint venture between Country Garden Group and a company controlled by the Johor Government, Malaysia. In total, the Malaysian-based project has around 5,000 acres of land, which makes it roughly two thirds the size of Macau. Valued at $100 Billion, Forest City's ongoing development will last 30 years, creating 220,000 jobs opportunities for Malaysians. While an ongoing development, some phases are already available for occupancy.
China and Singapore are the main foreign investors of Iskandar Malaysia thus far due to its convenient access to Singapore. Forest City is located just two kilometers from the border, with new entry points by land and by sea enabling a seamless connection. In fact, residents can enjoy 24 hours shuttle bus services to and from Singapore. A self-constructed highway also provides quick access to Kuala Lumpur and the Johor Bahru CBD.
Mr. Kuy Vat, Chairman and CEO of Century21 Cambodia, stated that Century21 Cambodia has great faith in the Forest City project given that Country Garden is one of China's largest development companies, and listed by Forbes as a fortune 500 company in 2007. Country Garden has over 500 projects around the globe and collects annual sales revenue of over $20 billion.
"The reputation of this company and this project made it easy for Century21 Cambodia to agree on the partnership," says Kuy Vat. investors overseas."
Mr. Seraj Sutton, Managing Director of Global Strategic Business Development (GSBD) at Century21 Cambodia, said "Our main focus is strategically thinking globally. This means proactively promoting Cambodia investment opportunities to the global market, but also promoting the global real estate investment opportunities in Cambodia for local investors. Furthermore, also promoting overseas real estate investment opportunities to the international
Mr. Caleb Loh, Business Development Director of Country Garden Pacificview SDN BHD stated that, "the secret to our company's huge success around the world has always been in the quality of our partners. Hence. Century21 Cambodia are an ideal company for us to work with on this project."
Forest City has been announced as a duty free zone by the Malaysian government, with areas that enjoy import duty and goods and service tax exemption. Tourism and MICE, education and healthcare are also qualified for corporate tax exemption for the first 5 years.
Iskandar Malaysia, the location of Forest City, is the most successful out of the five economic corridors in Malaysia. In 2014, Malaysian Prime Minister Najib Razak announced that "the economic zone in Johor has secured $47 billion investment, of which 51% or $23.8 billion has been realized."
For residential buyers, the project offers a seafront living paradise, with 100% freehold landed and high-rise apartments - at a quarter of Singapore's prices. Forest City is surrounded by the world's second largest mangrove reserve, ecological wetlands and other natural resources; together with 10 kilometers of lush coastline. Ranging from 2 to 4 seaview bedroomed apartments and landed properties, Forest City has already generated more than $1.5 billion in sales within just 6 months.
Forest City will be the first city of its kind worldwide, where horticulture covers the facades of the buildings, creating a natural eco-barrier which conserves energy, purifies the air and reduces noise pollution. It also utilizes an advanced multi-layered urban planning concept in which parks and recreational spaces spread around the city cover over 20 kilometers squared.
There is no vehicle traversing the city surface, instead railways connect the whole city and roads, flyovers and parking space are docked underground, meaning total separation of pedestrians from vehicles.
Seraj Sutton notes that a lot of the populations of investors around the world, including Cambodia, are looking to diversify their portfolio. That is why Century21 Cambodia are creating opportunities for Cambodian property investors to invest in world-class overseas projects: Seraj Sutton stated, "Forest City fits perfectly in our "Complete Global Vision and Strategy."
When finding investors for Forest City, Century21 Cambodia is aiming to leverage partnerships in countries like Cambodia, China, Hong Kong, Macau, Taiwan, Malaysia, Indonesia, Vietnam, Singapore, Japan, Korea, Thailand, France, India, Australia, Canada, and USA.
Find out more about this exciting investment opportunity today with Century21 Cambodia.