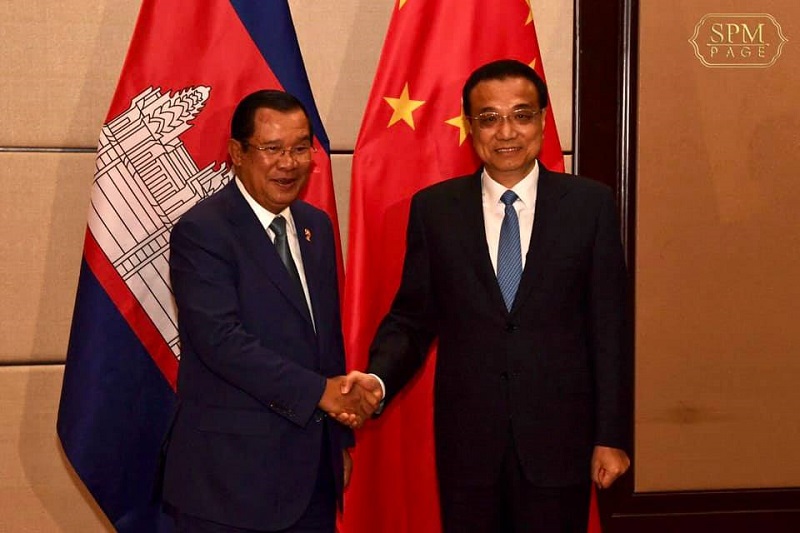 (Cambodian Prime Minister Hun Sen shakes hands with the premier of the People's republic of China at the 35th ASEAN Summit in Thailand. Facebook Page)
China and Cambodia recently announced plans to begin a cooperative project to tackle poverty alleviation in the country. The two nations recently signed a Memorandum of Agreement (MoA) through China Foundation for Peace and Development (CFPD) and Cambodia's Civil Society Alliance Forum (CSAF).
The endeavour is set to tackle poverty in a selected village in the country and eventually serve as the China-Cambodia friendship model village.
The two government foundations selected a small remote village called Tanorn in the Bati district of Takeo province about 60 km south of Phnom Penh.
In an interview with Xinhua, CFPD's Secretary-General, Xu Jianguo said, "[The project will] mainly focus on designing and improving village roads; providing family clean water; providing health care support; developing agricultural sector including husbandry, reviving traditional handicrafts and improving public environment; as well as vocational training,"
CFSP Secretary-General Xi Jianuo was accompanied by CSAF Chairman Kemreat Viseth during a visit to the rural village, a day before the signing of the MoA.
The visit, and the upcoming improvement project, were welcomed by the local officials and residents alike. "We're ready to cooperate with this project since it's very important to help reduce poverty in our village," said Kheav Sophal, the deputy governor of Bati district.
Tanorn village is currently home to 120 families with 567 people. Most people in the village work in rice fields and garment factories while others migrate to Phnom Penh to work mainly in construction.
CSAF's planning and project director Chea Monyrith said the project would commence in December 2019 and was expected to be completed in 2022.
If you're interested in learning more about the development of Cambodia, download our Investment Guide 2019.
Find out more about our Cambodia Real Estate Awards 2019 here.

Article by: