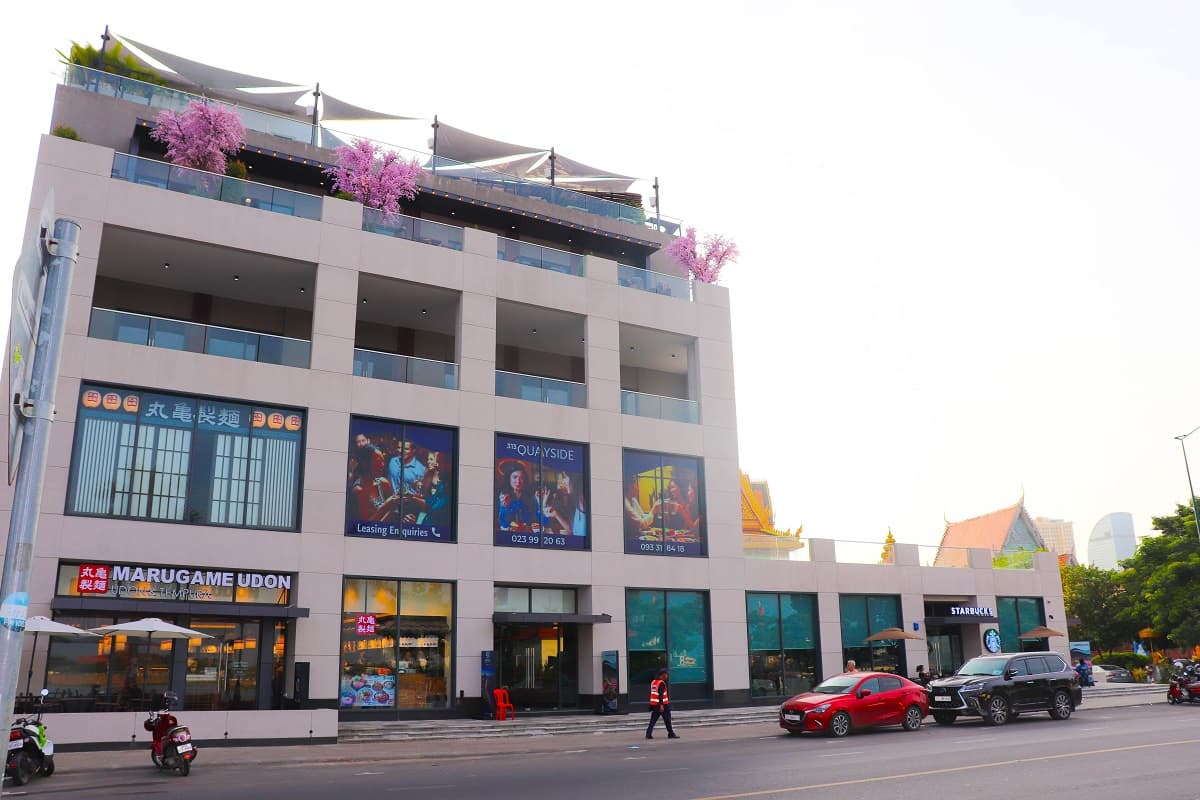 Quayside 313 is a relatively new and popular retail center in the Riverside area of Phnom Penh. Photo from The Mall Company.
The year 2020 was an economically tough year for a majority of retailers in the Kingdom. According to The Mall Company (TMC), a commercial real estate and retail specialist in Cambodia, Food & Beverage stores accounted for 58% of Phnom Penh retail space vacancies recorded by Q4 2020. The F&B category is followed by fashion retailers second at 21% and health & beauty stores third at 9% over the same period.
Food and beverage stalls, especially in retail malls, largely rely on foot traffic for revenue. The lack of shoppers visiting Phnom Penh malls for most of 2020 negatively affected sales volumes causing a number of F&B retailers to suspend operations.
With no new retail project deliveries in Q4 2020, a total of 370,781 sqm of retail space was logged at the end of 2020. According to TMC, the looming COVID-19 threat created a poor retail environment where store sales saw record-low levels for much of 2020. TMC further explains this resulted in a total of 16,247 sqm of retail space vacancy in 2020, an 85% increase from the 8,760 sqm of retail space vacancy recorded in 2019.
The retail spaces in Chamkarmon made up 4,825 sqm or 30% of total retail vacancies in 2020. The district is followed by Meanchey at 16%, 7 Makara at 14%, and Toul Kork at 12%. When it comes to retail formats, Community Malls saw the most vacancies in Phnom Penh measured at 9,565 sqm or 59% of the total retail space vacancy in 2020. Retail spaces in Shopping Malls fared comparatively better having only seen 3,091 sqm of its retail spaces vacated in 2020.
"Retail stores in shopping malls like AEON have strong and well-financed brands, operators, and franchises; Community Malls generally speaking, less so," said Simon Griffiths, Managing Director of The Mall Company.
Despite an 85% increase in vacancies, TMC's report explains that this could be an opportunity for well-capitalized retailers to secure prime locations that were previously unavailable or prime locations in new projects and attempt to negotiate favorable rents at lower rates than pre-COVID-19 levels.

Article by: