Phnom Penh: Hotel Okura Co., Ltd. has just announced a contract with TEHO Development Cambodia Pte Ltd. to facilitate development and management of  "The Okura Prestige Phnom Penh," set to launch 2019. The 40 floor, 250 unit hotel will be part of The Bay project. Located just 17 kilometers from the Phnom Penh International Airport, the Bay complex will provide the hotel with lush views across the city, Tonle Sap and the Royal Palace.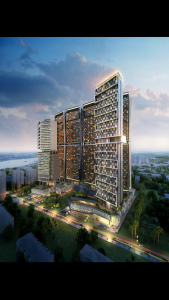 Hotel Okura Co., Ltd. is a big player in the hospitality-related industries. The Japanese company is also involved in hotel management through Okura Nikko Hotel Management Co., Ltd., currently operating three hotel groups. Hotel Okura will be the first Japanese hotelier to enter the high-end hospitality market in Cambodia, the nation seeing more and more visitors for leisure and work related travel every year.
"We are greatly honored to bring our hotel to Phnom Penh, Cambodia's vibrant center of economy and commerce and a hub between Ho Chi Minh City and Bangkok," said Toshihiro Ogita, President of Hotel Okura. "We hope that visitors and locals alike will love The Okura Prestige Phnom Penh and that our brand will flourish alongside the people of Cambodia and ASEAN," said Ogita.