After defining high-end taste in Russia, China and Thailand, an Italian luxury home-décor company aims to conquer the villas market of Cambodia's rich.
Greeted by gold-gilded tables, intricately carved gold-leaf headboards, and polished tiles of marble and ceramics, one would feel as though they had just stepped into a magical place reminiscent of the Winter Palace in St. Petersburg or an oligarch's lavish home.
In actual fact, this place strikes much closer to home.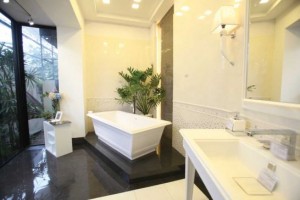 With its palatial and baroque items on display at the launch of their showroom on November 22, Azza Décor is the first of its kind in Phnom Penh; a luxury home-décor company specializing in Italian interior design, mainly in the market for furniture and lighting, tiles and bathroom furnishing and kitchen fittings. Every distinctive product has a "Made in Italy" tag, while its exclusive brands boast of names like Versace (Ceramics), Valentino, Bastianelli Home, and Socci, amongst many others. Marco Cipriani, area manager for CIAC Group which supplies furniture to Azza Décor, explained that, "our first market all over the world [for this style of furniture] is the Russian market, as the Russian people love to buy these types of gold leaf furniture." However, at $165 per pop for one Versace Ceramic tile-piece or $10,000 for a Versace sink, the question is whether such ornate and lush furniture is prohibitive here in Phnom Penh. "Since our expansion in other Asian countries like China and Thailand, we feel it is time that this kind of furniture comes into the interior market in Cambodia," Cipriani said.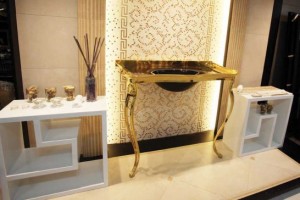 Minea Prach, Azza Décor's sales and marketing manager, explained that the Phnom Penh launch was due to the exponential growth in the construction sector and an increasing appetite for luxury goods among a few. "Our main target audience is the high-end niche market of those who own private residences or villas," Prach said. The influx of foreigners and foreign businesses in Phnom Penh does seem to complement the opening of such a company. Azza Décor seemingly fits in with the high-end residences, exclusive condominiums and villas that have been springing up over the past few years. Lorenzo Martini, founder of architecture and interior design company Lorenzo Martini Design Studio, offered his insight on the home décor style that appeals most to Cambodians, as well as how luxury interior décor companies will fare in the Cambodian market. In reference to what style of interior design piques the locals' interest, "Cambodians with a budget manage to implement what I would say a Neo-Baroque, or Transitional Classic [style]," Martini said.
"People would call it 'classical', but is a classical style with exaggerated curves, patterns and textures, heavy to the sight, which draws on baroque but while sharing its power, it doesn't share its elegance. It's a style that is popular in most developing countries," he continued.
On how high the demand for such a niche market is here, Martini said that it is tempting to affirm a high demand given the number of showrooms showcasing luxury furnishing in Phnom Penh. However, this pertains only to a pocket of very wealthy people who may not have an idea of what defines a real luxury product. Therefore, many end up purchasing overpriced products without much discernment. "I'm happy to see [Azza Décor] stepping up the game, and will give a run for their money to many other shops currently selling average products at high prices under the pretense it is luxury," Martini said. There is no such pretense at Azza Décor, with each product guaranteeing its authenticity of quality and branding. Partly echoing Prach's words, Martini said, "I don't see the market as being ready for luxury commercial projects just yet, I think luxury products are almost exclusively employed in high-end private residences." Azza Décor currently works closely with luxury housing developer The Bay, managed by the TEHO Group, in supplying materials to them. Having sold a considerable number of products before and during the launch to owners of private villa residences in BKK 1, Borey Orkide, and Borey New World, Azza Décor looks set to make waves in this small, but powerful, pocket of Phnom Penh's elite.
Hanamariya Halim, Phnom Penh Post, Post Property