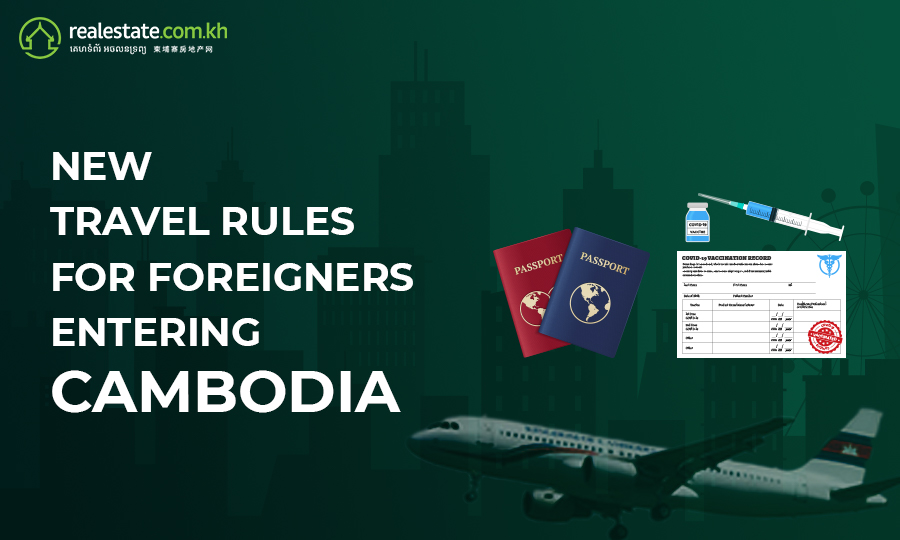 The Royal Cambodian Government abolished quarantine requirements for fully-vaccinated travelers coming to Cambodia. To give you an overview of the travel landscape in the Kingdom, this guide will answer the following questions:
What were Cambodia's quarantine restrictions?
Who can enter Cambodia following the new travel policy (as of November 15)?
What documents do I need to enter Cambodia (as of November 15)?
What COVID-19 vaccines does Cambodia recognize?
DISCLAIMER: Policies will likely continue to be adjusted as Cambodia's doors open to international business/tourism once again. Realestate.com.kh will be updating this article whenever new directives are announced. You can similarly check B2B Cambodia for more updates on new travel measures and other business news in Cambodia.
What were the previous quarantine restrictions?
For some period of time, inbound travelers to Cambodia have had to go through 2 weeks of quarantine, with a number of changes put in place throughout 2021. This still required necessary COVID testing, proof of an existing business visa, deposits for quarantine, etc.
More recently, travelers could select from Cambodian Alternative State Quarantine (ASQ) – which provides better quality hotels and food (which had been one of the biggest recurring complaints) but at a higher fee. Regardless, it was still 14 days of quarantine which put off potential business and investor visitors to Cambodia, and no tourist visas have been issued for the better part of 15 months, so international inbound tourism was near to non-existent.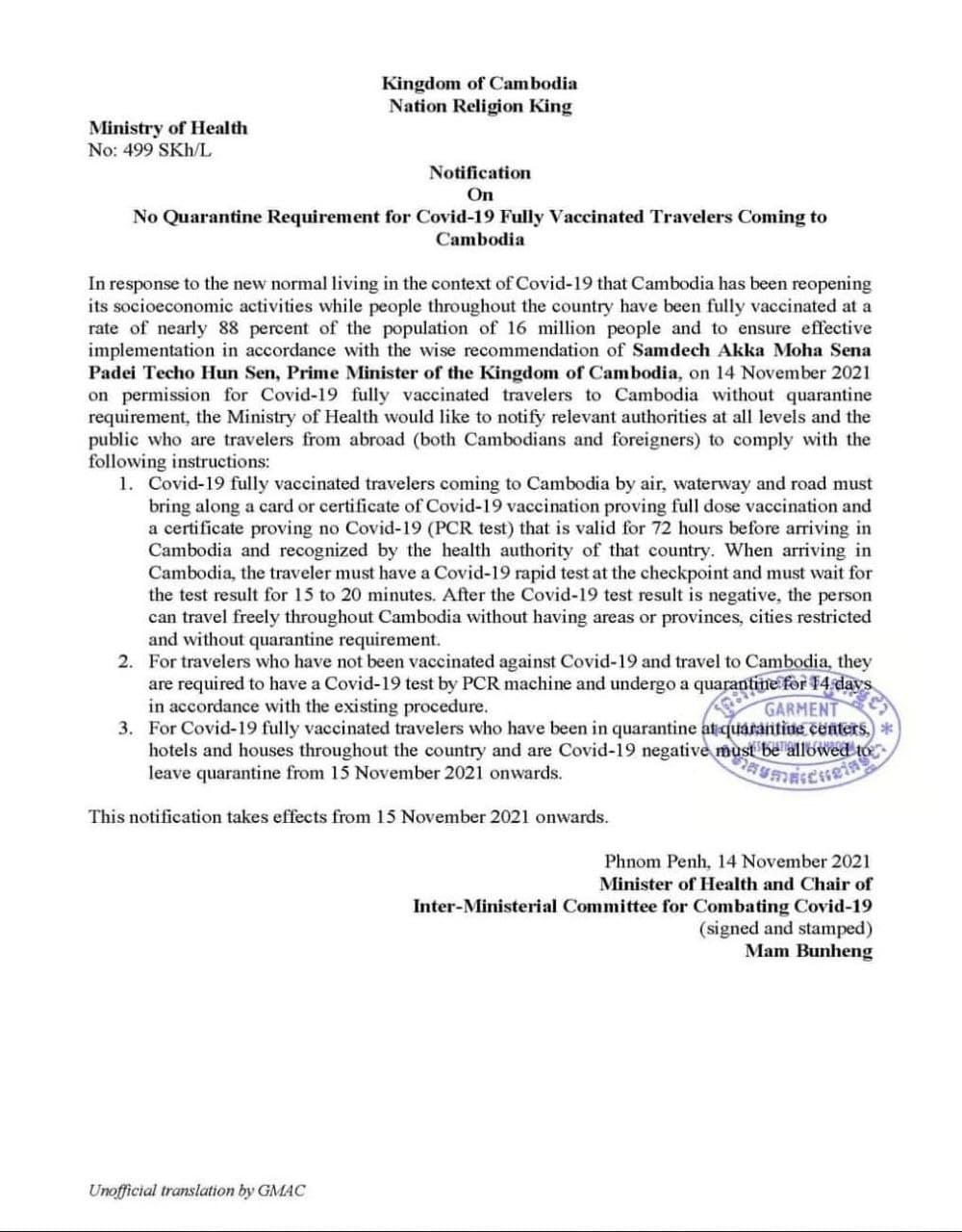 In October-November 2021, the government streamlined requirements to 3-day, 7-day, and 14-day quarantine and set up the Validation Application on Guarantee/Invitation (VAGI) where inbound foreign investors can have a shorter (3-day) quarantine period - this was the policy prior to the new rules allowing for a full reopening made effective on November 15, 2021. This round of easing entry has also led to the VAGI system being suspended.
As of November 15, fully-vaccinated travelers will no longer be required to undergo any quarantine stays nor pay deposits. On the other hand, non-vaccinated travelers will have to go through the previously mandated 14-day quarantine and other requirements.
In March 2022, the government made more sweeping changes to its incoming travel requirements. The first and most important is the abolishment of the required 72-hour PCR test from incoming travelers. Second, is the removal of the rapid-tests conducted in international ports for inbound travelers. Third and certainly not the least, is the reinstatement of the Visa-On-Arrival for foreign travelers (encompassing land, sea, and air travelers).
SUMMARY OF NEW COVID-19 RELATED REQUIREMENTS FOR FOREIGN TRAVELERS, AS OF MARCH 2022
For fully vaccinated travelers:
COVID-19 Vaccination Card/Certificate
NOTE: While a FORTE COVID-19 insurance is no longer required, there are instances where airline staff will ask you for one. It's advisable to get one just in case OR bring a copy of the official announcement from the Cambodian government (found above)
For non-fully vaccinated/unvaccinated travelers:
Pre-flight COVID-19 PCR test no more than 72 hours prior to arrival in Cambodia
Vaccination Card/Certificate (if non-fully vaccinated)
Upon arrival in Cambodia, passengers will have a Rapid Antigen Test, and wait approximately 15-20 minutes for the test results
Alternative State Quarantine (ASQ) booking or $2,000 cash deposit upon arrival

The $2,000 cash deposit is only required if the traveler does NOT have an ASQ booked
Alternative State Quarantine Hotels
These are the hotels accepting advanced booking for alternative state quarantines:
Are there curfews in Cambodia?
As of December 1, 2021, there are no curfews in place within Cambodia. In fact, the government has (finally) reversed the ban on bars, KTVs, discos, and other businesses considered "high-risk" as of posting.
VAGI Certificates Cambodia (suspended as of November 15, 2021)
Registered companies have invited an inbound business visitor to Cambodia, that company will need to apply for a VAGI Certificate to confirm "a technical expert or consultant".  Then an E-type (Ordinary/Business) Visa from the Cambodian Embassy needs to be applied for and if successful they could potentially only need to stay 3 days in quarantine in the Kingdom.
If an assistant or family members are able to join, will depend on whether the company inviting the "technical expert or consultant" is willing to apply for VAGI Certificates for them too.
Applications for VAGI Certificates can be made here: https://vagi.registrationservices.gov.kh/
It was also reported on 19 October 2021 by the Khmer Times that the "Ministry of Economy and Finance has officially launched a system for requesting certificates of guarantee and invitations for travelers, investors and technical staff" for the new measures.
The guarantee and invitation mechanism (Validation Application On Guarantee/Invitation) has been suspended as of November 15, 2021.
Work Permits for Cambodia
The Cambodia Visa and Work Permit Group (Facebook) also discovered that a newly added feature in the WP application portal has been added, intended to allow for the application of a Cambodian Work Permit from overseas and costs KHR 520,000 (appx. USD $130). This is a direct result of the new directive on entry to Cambodia from October 18, 2021.
Work Permits can be applied for here: https://www.fwcms.mlvt.gov.kh/
Not all EB EOS holders are required to have a WP, ie. non-working dependent spouse/children, non-working foreigners married in Cambodia to a Cambodian citizen.
Cambodia Tourist e-Visas 2021
News confirmed on October 19 2021 that Cambodia had also reintroduced the e-VISA (Electronic Online Tourist Visa). E-visas can be applied for here: https://www.evisa.gov.kh/
Fee: USD $30 + $6 processing fee
Validity for use to enter Cambodia: 3 months
Period of Stay granted upon arrival: 30 Days
Application Processing Time: 3 Days
Visa-On-Arrival Reinstated as of March 2022
The Royal Government of Cambodia reinstated the issuance of Visa-On-Arrival for foreign travelers arriving via land, sea, or air.
What vaccines does Cambodia accept?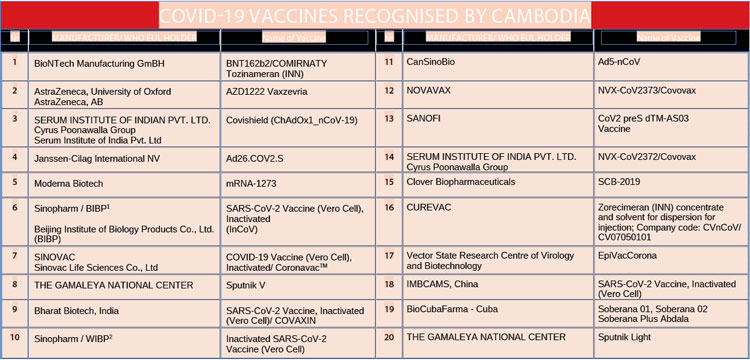 Recipients of these vaccines must have proof (card/certificate) of their vaccination on their person upon arrival in Cambodia.