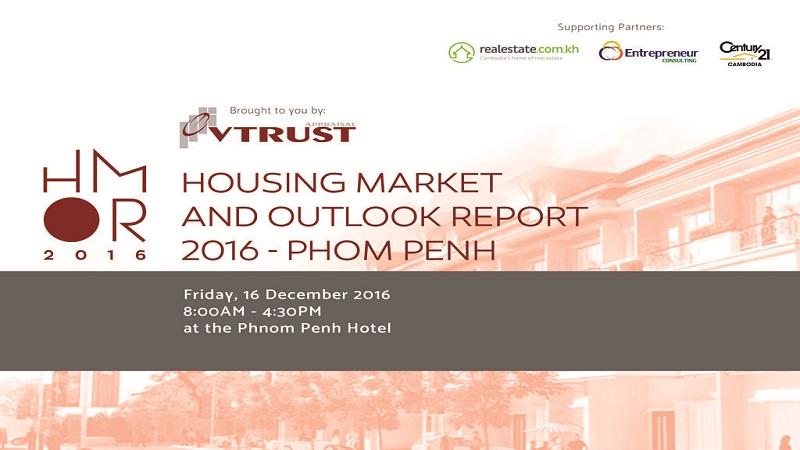 Phnom Penh's landed housing developments are a fast growing subsector of the real estate market, and recent research findings record that there are currently up to 400 gated landed housing developments of all scales scattered across the capital city of Phnom Penh.
This Phnom Penh housing supply is being driven by rapid growth in the local population and family households, meaning this sector of housing demand is estimated at about 6,300 units per annum in Phnom Penh alone.
In light of this, VTrust Appraisal Co., Ltd. has conducted a comprehensive survey "Housing Market & Outlook Report 2016 – Phnom Penh", the result of which will be released to the public on the 16th of December.
The market survey results being presented at this seminar will provide crucial information for real estate and construction professionals, the banking and home loan sector, developers, investors and policymakers.
Realestate.com.kh is proud to be a supporting partner of this event.
Housing Market & Outlook Report 2016 – Phnom Penh:
When:
Friday, 16 December, 2016: 8:00am – 4:30pm
Where:
Phnom Penh Hotel (Monivong Boulevard)
Who:
Mr. Sim Hoy Chhoung, C.E.O, VTrust Appraisal Co., Ltd.
Mr. Hoem Seiha, Director of Research, VTrust Appraisal Co., Ltd.
Dr. Sopon Pornchokchai, Ph.D., D.FIABCI, CRS, MRICS, and president of AREA
Mr. Chrek Soknim, CEO of Century 21 Mekong
Why:
Insightful statistics, indicators and information regarding landed Phnom Penh housing market are crucial for developers, bankers, real estate players, policy makers, and other interested stakeholders.
Fee:
Participatory fee is US$193 per individual (ONLY until 5 December 2016!), with study materials and full lunch provided. regular Pricing is US$237 per participant.
Language:
English, with spontaneous Khmer interpretation
Download Full Program
Contents
Historical and Cumulative Supply of Phnom Penh Housing, by year since 2000
New Supply of Phnom Penh Housing in 2016
Supply by Types of Phnom Penh Housing, Location, Zone, Developer
Market Performance, Number of Units Sold, Sold by Type, Location, Developer
Local Demand and Affordability for Housing Survey Results
Mapping of Phnom Penh Housing Development Projects
Number of Units Released by year since 2000
Sold Prices by Type, Location, Quarterly Pricing Analyses
Housing Market Outlook onto 2017
Industry Conclusion and Recommendations
Contact Information:
Ms. Chhoeurn Sonita, General Manager, Entrepreneur Consulting,  Tel: (855)-12-90-63-40/ (855)-86-777-734/ (855)12642466 | email: entrepconsulting@gmail.com hsrealestateconference@gmail.com | Website: hmor-pp.weebly.com | office: #113 (Parkway Square), 2nd floor, Mao Tse Tung Blvd, Tuol Svay Prey 1, Phnom Penh, Kingdom of Cambodia