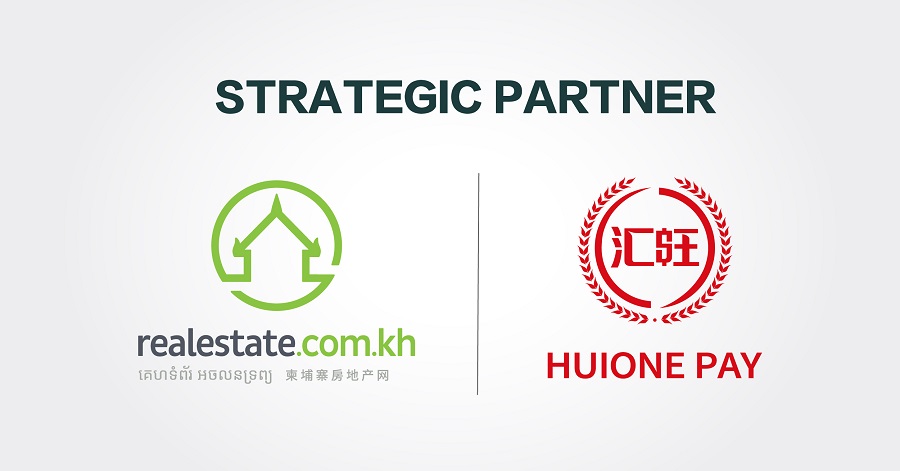 JULY 2020 - Realestate.com.kh and HuiOne Pay announce the formation of a strategic partnership that seeks to benefit both parties within the Kingdom of Cambodia. 
Established in 2009 Realestate.com.kh, has grown to be the leading real estate platform in Cambodia. Which has over 20,000 properties for sale and rent from leading agencies and developers throughout Cambodia, with hundreds of thousands of local and international property hunters visiting the website and app each month.
HuiOne Pay is an online payment platform adhering to continued financial technology innovation. As an online payment platform, it recognizes Cambodia's increasing adoption of online payment methods and seeks to deliver high-quality online financial services for users in Cambodia. HuiOne Pay uses its expertise derived from the robust Chinese economy to develop Cambodia's own online financial service portfolio.
Realestate.com.kh and HuiOne Pay formed their partnership to maximize the benefits of mutual interests in the Kingdom's real estate industry. The partnership also seeks to identify new business opportunities through continued collaboration, associated strategies, and the provision of business needs.
Part of this strategic partnership involves, but not limited to:
Joint online and offline marketing campaigns
Join offline marketing events
Distribution platform cooperation
Payment business cooperation
With both established digital platforms cooperating, Realestate.com.kh and HuiOne Pay firmly believe in developing their respective businesses' scope, identify new opportunities, and ultimately, thrive in Cambodia's growing economy.
Realestate.com.kh Sales and Marketing Contact:
Nara Tang
+855 86 644 903
HuiOne Pay Sales and Marketing Contact:
James Hu
+855 23 230 800