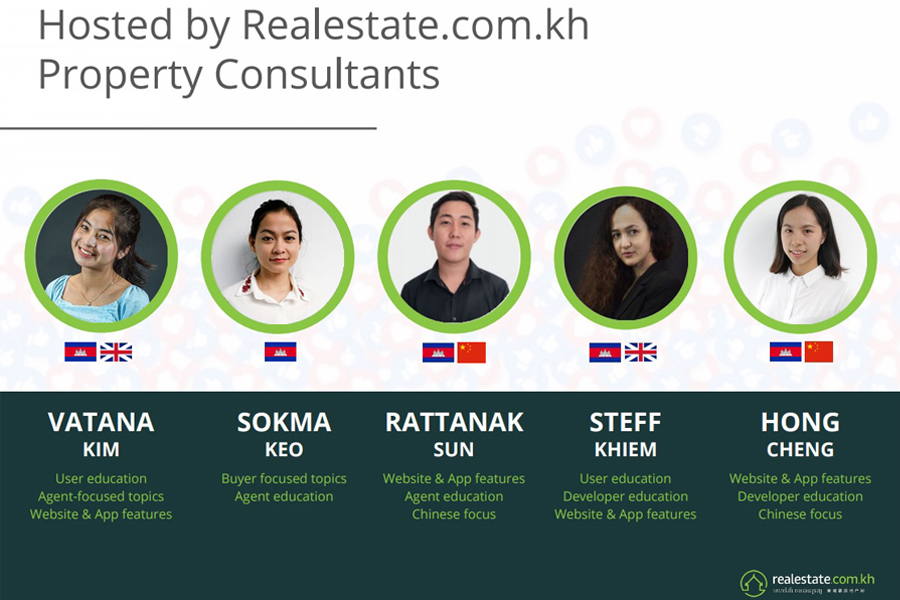 Realestate.com.kh Livestreaming is a new way for buyers and investors to get the latest news about Cambodia's real estate market. It is the first dedicated property-focused live stream series on Facebook hosted by a professional team at Realestate.com.kh. Catch the latest market updates every Thursday at 1pm on the Realestate.com.kh Facebook page.
Every week, new guests are invited to talk about different topics that provide property seekers, and the larger real estate industry with knowledge on topics ranging from buying homes, choosing agents, applying for a home loan, or even comparisons between different residential properties - and everything in between. This series is all about teaching buyers how to buy their next home or their next big real estate investment.
Upcoming Realestate.com.kh LIVE topics
The first property-focused livestream aired on March 26, 2020. In case you missed that episode, it's a definite must-watch as it talks about how to buy and sell property on Realestate.com.kh during the COVID-19 outbreak in Cambodia.
A series of new topics are already lined up for Realestate.com LIVE! Check out the schedule down below:
| | |
| --- | --- |
| Dates  | Topics  |
| April 2 | How to search for property online via realestate.com.kh  |
| April 9 | New realestate.com.kh website & App feature- new PDP + booking  |
| April 16 | How to inquire about the property - Chat - Form  + Home Finder  |
| April 23 | Buying your first home in a Borey or a Condo development  |
| April 30 | Working with agents to find the property you want  |
| May 7 | What to buy: Should I get a Borey or Condo?  |
| May 14 | How to search for rentals on realestate.com.kh  |
| May 21 | Investing in real estate in Cambodia |
| May 28 | How to sell my property on realestate.com.kh  |
| June 4 | How to find a serviced apartment on realestate.com.kh  |
All shows will be streamed live at 1 pm on Realestate.com.kh's Facebook page.
Do you have any other topics you want us to talk about? Call us: 092 92 1000 or email: info@realestate.com.kh
Are you an agent or a developer looking to share your market insights, and getting the word out for your properties and/or services? Take the lead in the industry and get interviewed live as our resource person at the livestream. Share your experience and promote your brand and your properties as our Featured Agent or Developer of the Week. You can even live stream directly from your showroom or office and provide a walkthrough of your property and tell our audiences about the unique features and benefits of your property.
Realestate.com.kh LIVE reaches over 11,000 people every stream, and is likely to rise in the coming weeks! Not to mention, Realestate.com.kh reaches over 300,000 users through its website, social media, and email database. Be our next featured agent or developer today!
If you're interested in sharing your brand and knowledge with us, let us know.
For more information, please contact
Kim Vatana (Khmer)
+855 12 879413
vatana.kim@realestate.com.kh
Alex Sing (English)
+855 15 583420
+61 434 644 957 (WhatsApp)
Alex.sing@realestate.com.kh
Stay up-to-date on the real estate industry in Cambodia and get real-time updates on real estate news as they happen. Download the Realestate.com.kh App now!

Article by: