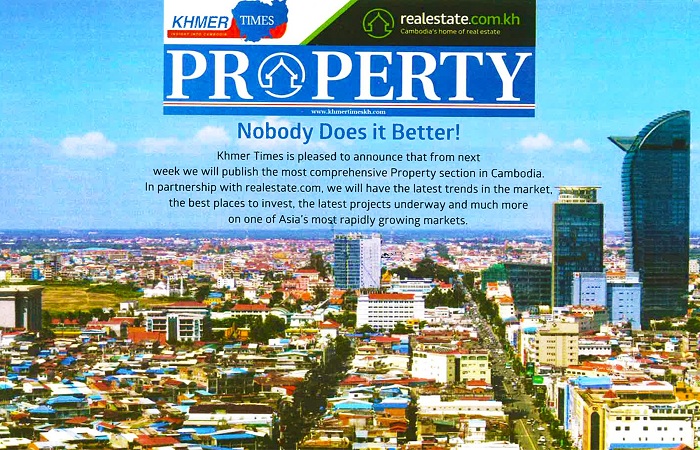 To introduce ourself to the readers of the Khmer Times: Realestate.com.kh, established in 2009, is the leading website for property buyers and sellers in Cambodia. Our website lets users search for properties online based on location (sangkat & khan), property type and price range. People interested in buying or renting can see photos, special features, floor plans, video walkthroughs, property locations, 360 degree tours, and all other necessary information they need before physically visiting the property. When they are ready to find out more, they can call or email the property seller through our website.
We are not real estate agents, and we do not collect commission on sale - we simply connect the buyer and the seller.
Realestate.com.kh also works with a variety of banks, insurance companies, law firms and valuers - to offer it's users a one stop property shop. We have over 45,000 property listings for you to browse through, including over 300 new development condo, office and borey projects.
People might be surprised by our decision to partner with Khmer Times to co-produce a property liftout in the first place, considering we operate a real estate portal and we are forever championing 'online' and 'digital' as the future of marketing - which it is, by the way… However, Realestate.com.kh's mission is to provide the public with the most convenient source of real estate listings in Cambodia and to provide our clients with the best source of real estate sales and rental leads. And this mission extends beyond our online portal to new technologies and marketing initiatives. A prime example of this is our own magazine: the "Cambodia Real Estate" magazine, which we print 15,000 copies quarterly and distribute widely across Cambodia. We know how important it is to market Cambodia and Cambodia real estate overseas, to attract foreign investors, and online is the most effective and the cheapest way to do so. But we also understand that our clients want to attract the local market and expats living in Cambodia. And the reality is, that even though we are experiencing rapid growth in internet penetration in Cambodia, there are still local buyers and renters that are primarily print focused consumers. And if we can provide more value to our clients by co-producing a print publication such as the Khmer Times Property Liftout we will and well, we have. We really do pride ourselves on playing our part in educating the Cambodian real estate market, and the Khmer Times partnership is just another way we can achieve this mission. On top of this the Realestate.com.kh/news blog is the top ranking online news source for real estate infiormation, news and buyers/sellers advice. Whilst at one end of the spectrum your customers want to relax at Browns whilst reading the Khmer Times, those same customers may decide they are interested in viewing properties in more detail online. By providing both channels, we aim  to make that experience as convenient, educative and immersive as possible. In keeping with Realestate.com.kh's mission, this leads to happier, better-informed customers, higher quality leads and more sales for our clients.
We are extremely proud to begin this relationship with the Khmer Times and look forward to becoming Cambodia's most respected and comprehensive real estate news source - both online and in print.
For advertising rates in the Realestate.com.kh/Khmer Times Property Liftout, please call our friendly local team on: +855 017 436 756 / 069 436 756