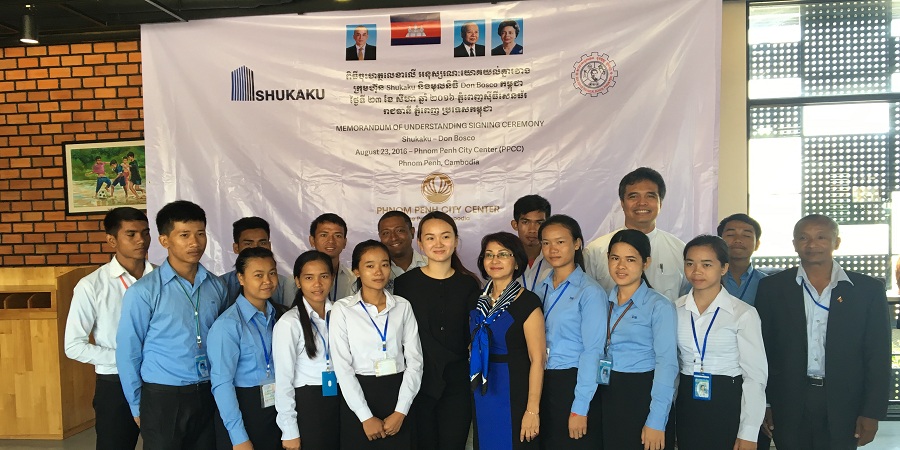 Phnom Penh, 23 August 2016 - SHUKAKU INC. signs MOU with the DON BOSCO Foundation in order to equip young Cambodians with the skills to build the Cambodian of tomorrow.
Under this partnership, the Phnom Penh- based Real Estate Company and the master developer of the Phnom Penh City Center (PPCC) will grant scholarships to 20 students from the Don Bosco Technical School over two years tuition, and sponsor a brand new computer lab at the Don Bosco campus.
The Memorandum of Understanding (MOU) with the Don Bosco Foundation will pave the way for a two-year partnership worth more than $69,000.
The Don Bosco school is an educational non-profit organization that provides free vocational training to young Cambodians from disadvantaged backgrounds.
Roel Soto, Country Representative of the Don Bosco Foundation, said: "We are grateful to Shukaku Inc. for aiding us in our efforts to fight social exclusion through practical education and skill building."
He added, "These scholarships will equip young Cambodians with real-life-proof technical skills and knowledge, crucial learning and development, all of which will enable us to build the Cambodia of tomorrow, today."
The company will also sponsor a brand new computer lab comprising of more than thirty computers at the Don Bosco campus. This is another effort that is part of Shukaku's commitment to enhance IT literacy across Cambodia and provide a conducive learning environment for the students of Don Bosco.
Michelle Lau, Executive Director of Shukaku Inc., said, "This signing is only the beginning of what we hope will be a fruitful and long-term partnership with the Don Bosco Foundation. I continue to be truly inspired by Don Bosco' s core values of inclusiveness, generosity and excellence - and I trust our relationship will strengthen over the years as we find more opportunities to help Cambodians unleash the full potential of Cambodia." Ms. Lau also underlined that this partnership is only "the first of many to come." Under Shukaku's new "Sustainable Growth Initiative," the company's comprehensive community engagement and empowerment program will aim at making a tangible contribution to the communities in which it operates. The program will help build a collective vision to a future of share prosperity through various and long-term income –generation initiatives.