---
The Sihanoukville real estate market offers great variety to property seekers, Cambodia's foremost beach-side resort destination.
Take a look at Realestate.com.kh's range of seaside properties on the Sihanoukville real estate market, perfect for launching tourism ventures or securing the beach front view of you and your family's dreams. Check out the latest breed of luxury condominiums shooting up in the Sihanoukville real estate market, serviced apartments and opulent french inspired villas located in the central city; or, if your budget's a bit smaller, the host of affordable apartments, flats and borey houses outside of the inner-city are plentiful on the Sihanoukville real estate market. If you are looking for prime retail space on the Sihanoukville real estate market, industrial property or serviced offices for your business, Sihanoukville has a growing number of offerings and more and more new developments are appearing every day. The proximity of the city to the Sihanoukville deep sea port is attracting industrial investors and manufacturers at a rate previously unseen. The city is compact and manageable for a first time buyer, with very encouraging rules for foreign investors.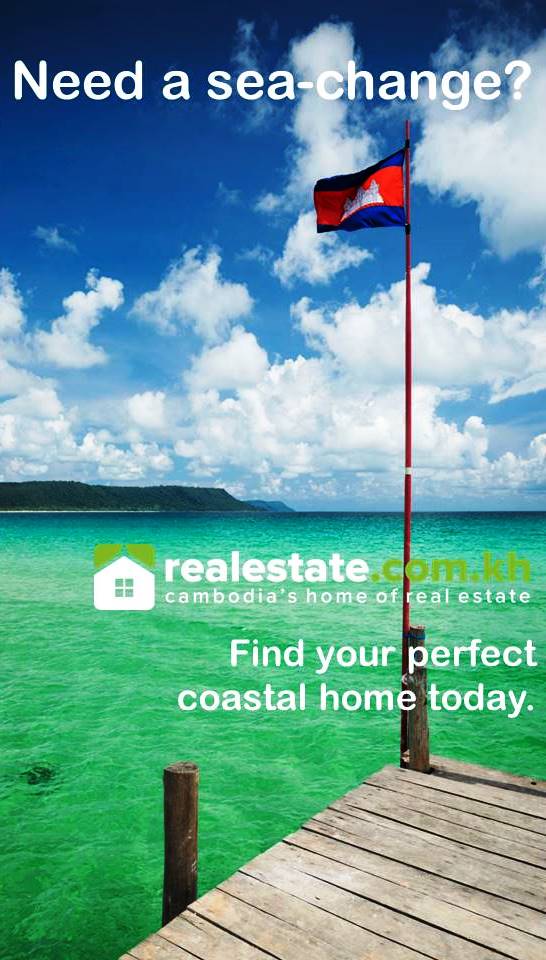 Commercial Property on the Sihanoukville Real Estate Market:
As Cambodia's only port city, industry is booming in Sihanoukville of late as companies increasingly choose to open processing, manufacturing and assembly operations as near as possible to the deep sea port in order to ease costs of import and export. The labour market in Sihanoukville is also cheaper than in Phnom Penh, and supposedly easier to retain. This sector will only expand as the port is set to increase its capacity hugely by 2020. Offshore oil also exists in Sihanoukville. 
Read more about that here.
Resort/Retail Properties on the Sihanoukville Real Estate Market:
The islands off the coast of Sihanoukville are being sold to large scale resort developers, and a number of luxury hoteliers are also being granted exclusive property rights to large stretches of Sihanoukville's beaches. These rights are being awarded despite often being already occupied by smaller hospitalities operators and local residents. What this means for real estate investors in these tourism hot spots is that you should be especially careful purchasing beachside or island property in Sihanoukville, as any new beach or island based business or home appears unable to totally guarantee their land title. There is apparently a risk that that land could be sold again without your consent, or possibly even an appropriate payout, as a number of occupants and vendors have already experienced in the last ten years. One way to protect against this risk is to always ensure due diligence when checking the legitimacy of titles and/or lease agreements when investing in these popular areas, or, alternatively, prospective Sihanoukville retailers can branch away from the beach hot spots where property titles are more dependable.
Office Space 
on the Sihanoukville Real Estate Market
:
Serviced offices hardly exist in the Sihanoukville real estate market, such as the type available in Phnom Penh. Villas are widely available for low prices, however, and easily converted to business purposes.  Standards of building quality and connected utilities and infrastructure vary hugely across the Sihanoukville real estate market, particularly with older buildings such as villas. So before renting or purchasing any property make sure it meets all of your necessary infrastructural criteria. 
Read more about that here.
Residential Property on the Sihanoukville Real Estate Market:
There are a variety of apartments for rent in the Sihanoukville real estate market, available for short or long term leases, or purchase. Recently, some new, high-end condominium developments are also appearing. This means
opportunities now exist for foreigners to own property
in Sihanoukville. There are a various array of grounded houses/villas for rent in Sihanoukville also. Location will influence the rental or purchase price dramatically, as high property prices continue to rise around tourism and industrial epicenters of the Sihanoukville real estate market.