SUPREME HOLDINGS & HOSPITALITY (INDIA) LIMITED, part of the JATIA GROUP of India, recently visited the Kingdom to explore investment opportunities in the Cambodian real estate and prime hotels market.
Supreme Holdings has been incorporated in India since 1982 and became a public listed on the Mumbai stock exchange in 1994. Supreme Holding's business and ownership interests have largely been in 5 Star Hotel development and operations, Real Estate Development (including land bank acquisition), Trading, Food and Beverage, and various other ventures.
Their group portfolio in India includes Asian Hotels Limited, a five star hotel operator - established in 1980 and operating since 1983. There are three five star hotels under Asian Hotels Limited's umbrella, respectively in Delhi, Mumbai and Kolkata, with a total room capacity of 1234 rooms. Asian Hotels is a public listed company on the Bombay Stock Exchange and is also the first Indian hotelier to collaborate operationally with Hyatt International Hotels. Other companies include: Westlife development: Sole Franchisor of McDonald's in West and South region of India, Pudumjee Paper Products Limited: Manufacturing of speciality paper products, Bell Ceramics: Manufacturing of vitrified tiles. Belmac Residences is a latest project of the Jatia group, a high-end residential development project in Pune, India. The construction of the Belmac Residences project has just started and estimated to be completed in 30 months. The project construction cost is estimated to be INR 4200 million (US$70 million). The Belmac Residences project, on completion, will house 240 boutique apartment units in six low-lying towers, each 50 meters high. The development envisages a host of modern lifestyle amenities, including full clubhouse, sports centre, swimming pool and idyllic landscaping of the complex grounds. Further, all units at Belmac Residences will include high quality finishes and interior décor.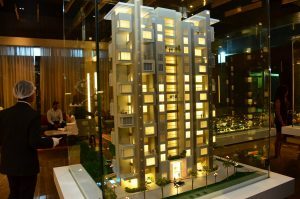 Supreme Holdings owns 26000s/m of prime development land in the center of the city of Pune, which is located about 150 km south of Mumbai. This will become the location of Belmac Residences. Pune is the second biggest city of Maharashtra State, the well known cultural and education centre of India, in particular in the fields of Information Technology and Software development, and also Industrial development in outskirts of city. Off-plan buyers of Belmac Residence apartments will only need to pay 20% upfront on signing. The remaining 80% is paid on completion of the construction and full possession by the buyer. This offers huge investment potential for Indian buyers, and low upfront capital in the short term - all of which is secured by a highly reputable development company. Supreme Holdings also offers various competitive financing options for those considering taking home loans in India to support their investment. Supreme Holdings offers finance options with various banking partners, including ICICI, HDFC, SBI, AXIS and LnT Finance.
NEED MORE INFO ABOUT BELMAC RESIDENCES OR THE JATIA GROUP?
Please contact Ivanna Investments Ltd., the local sales partner for Belmac Residences in Cambodia. Email: ipanjwani42@gmail.com; Office Address: Canadia Tower, 18th Floor, Room #1808.