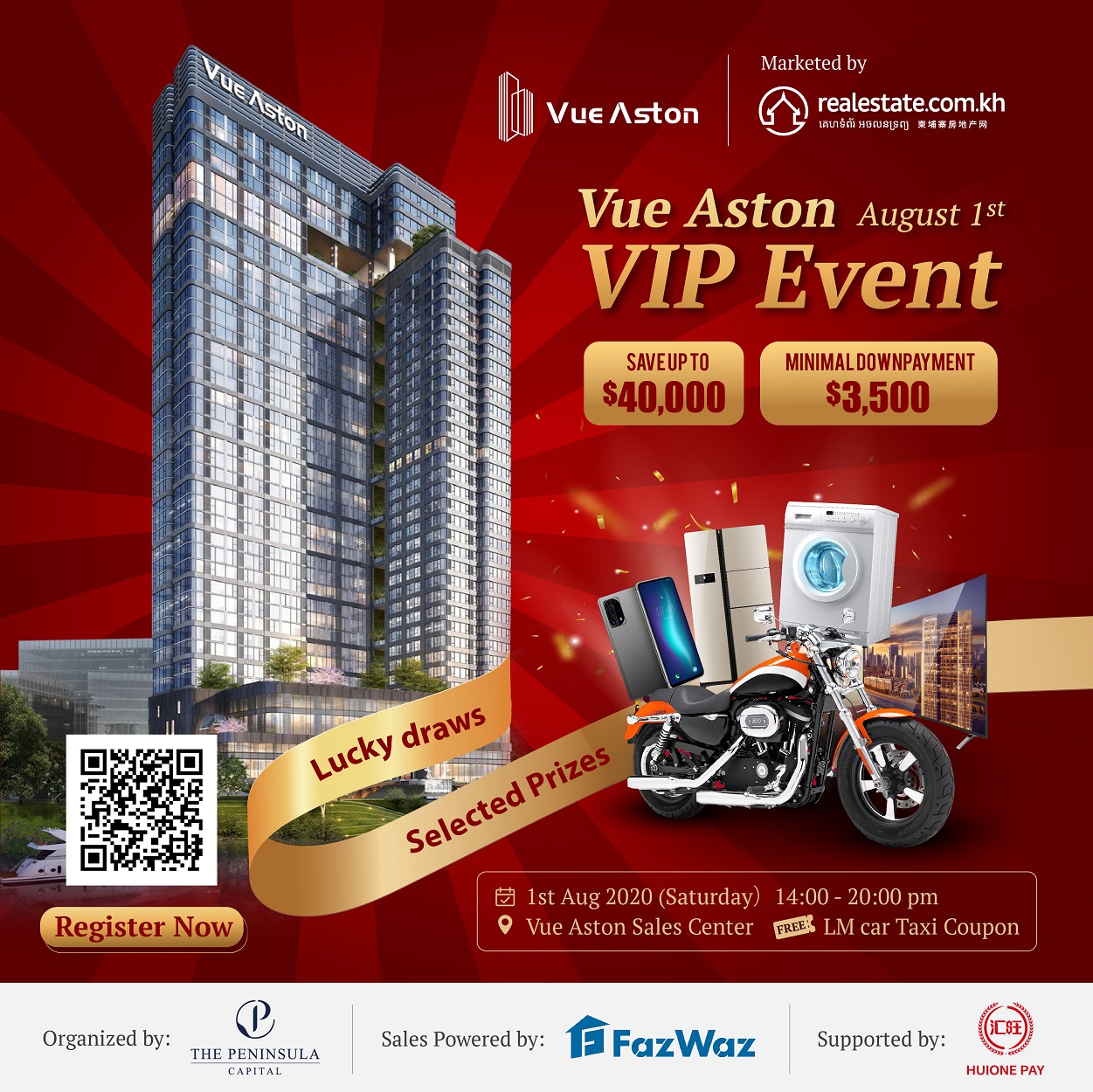 The Vue Aston, a high-rise residential development in Chbar Ampov district, will be hosting an exclusive VIP sales event on August 1st. The event will offer participants the opportunity to purchase property at the Vue Aston with savings up to $40,000 along with the chance to win additional prizes such as iPhones and motorbikes.
The Vue Aston VIP sales event is organized by Peninsula Capital, in partnership with Realestate.com.kh, FazWaz, and HuiOne Pay. The event will be held in the Vue Aston Sales Center on August 1, 2020 and will start from 14:00 to 20:00.
The Vue Ason is a 38-storey residential project developed by Peninsula Capital. It was designed by HKS Architects and Golden Mantis Decoration Company, both firms being known for their luxury interior design portfolios.
The Vue Aston is one of the newer developments within the growing Phnom Penh metro. The Vue Aston offers a total of 895 units and with space up to 101 sqm, offering a wide range of unit types and sizes that can accommodate the city's myriad of residential preferences.
Its location in Nirouth sub district of Chbar Ampov places its residents away from the hustle and bustle of downtown while granting them the benefits of living in a modern urban environment. The Vue Aston itself complements its comfortable residences with facilities designed to enhance residential living such as fitness centre, sauna, and swimming pool.
The Vue Aston, being a high-rise development, offers a fantastic and unobstructed view of the Mekong River. The development is located in the newly developing Norea Island where an upcoming bridge that will connect it to Koh Pich will soon be built.
Aside from its attractive starting prices, the Vue Aston offers investors a guaranteed rental return (GRR) of 35% over the period of 5 years. Interested buyers can also avail of payment terms and bank loans to purchase property at the Vue Aston.
The project is increasingly surrounded by many cafes, shopping malls, banks and restaurants, with more commercial developments coming in the next few years.
The Vue Aston's VIP sales event is open to all interested property buyers and investors. To participate and get savings on purchase, participants are required to register on the official Vue Aston VIP sales registration site.


Article by: