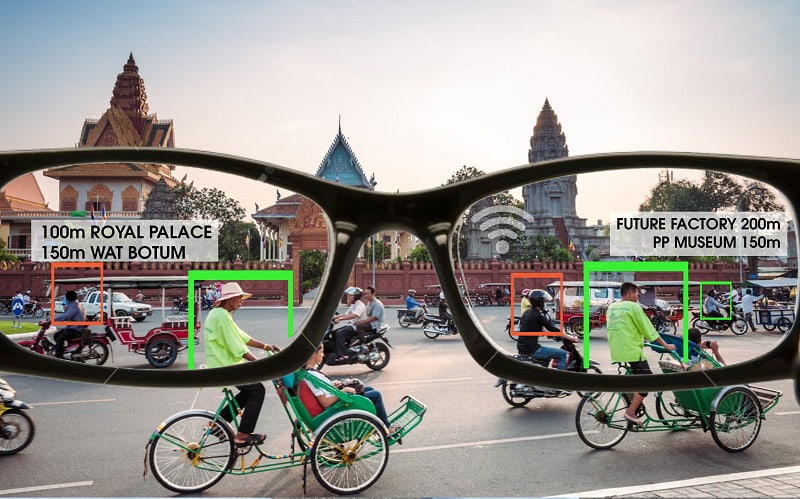 (A rendering shows how augmented reality could be used in Phnom Penh. Supplied)
In one of the fastest developing cities in the region, we are set to see what an equally fast-growing technology sector may mean for the future of cities everywhere.

We are about to enter a world of opportunity where the virtual can be overlaid on the physical city around us. In the 1980s, there was an idea that the virtual world would replace the real world. This seems unbelievable now. Nevertheless, there are many places where the virtual and physical worlds cross paths.

New technologies are being released that let people experience their surroundings, communicate and visualise space on a completely new level. Architects, designers and city planners need to work with software engineers and coders to embrace a new way of shaping the environments we inhabit.
The failure of Google Glass
Does anyone remember Google Glass? They were lenses that essentially allowed users to get heads-up displays as if they were playing a video game. However, the associated products were huge flops.

But maybe Google Glass was just ahead of its time. After all, video calling technology has been around since the 1920s. It took until the introduction of Apple's Facetime app for the iPhone in 2010 for the tech to see widespread use.

Make no mistake, when the next release of a Google Glass-like product is announced with adequate hardware and software integration, it will transform our world and impact numerous areas of work and life.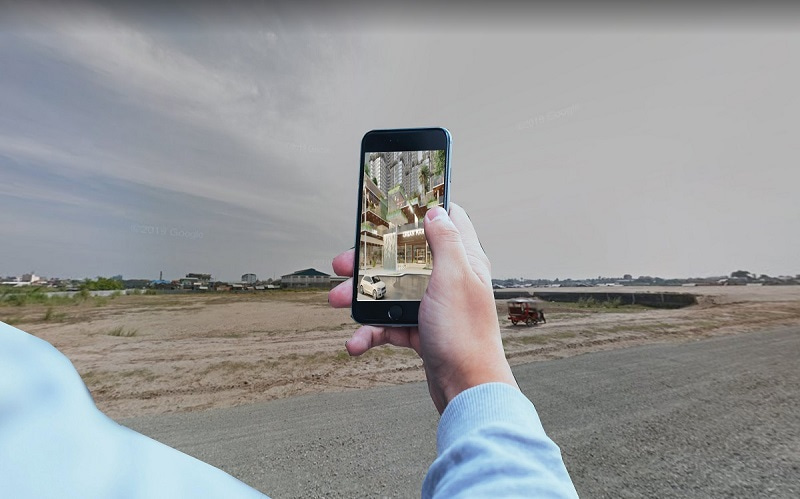 'I'll be back'
The first Terminator film gave us an idea of how the world could be overlaid with information. Now, more than 20 years on, the potential of augmented reality seems much more extensive. Companies like Earthmine are developing information-laden landscapes that show real-time information that help in planning city development.

Other films such as Inception and Assassins Creed show what could be possible with simple adaptations of our built environment, turning it in on itself, folding elements and facades. What does it mean if we can alter our existing cityscape virtually? Can we unshackle ourselves from the limitations of gravity and design elements without material consideration? Quite simply the answer looks like a resounding yes. But will this be a "modern utopia" or a "brave new world"?
'I choose you!'
The public's willingness to engage with augmented reality is there. The popularity of Pokémon GO has shown that those who can harness the potential of augmented reality can have profound effects on people's behaviour and encourage new engagement with otherwise overlooked landscapes.

Sure, there will be challenges. Who are the gatekeepers? How do we retain security and privacy? Soon, our environment could be adjusted and personalised to fit our own tastes.

The whole concept raises so many questions: How can we know where the real world ends and when augmented reality begins? Is it safe and how do we share experiences with others in such a personalised world? Will there be 'Laws of Augmentation' governing the use and locations of how it can be used? All are valid concerns, but they could be outweighed by the sheer scale of what "augmentecture" could mean to our world.

So how do architects, planners, designers, engineers and developers deal with this advance of the virtual into our world of bricks and mortar? Will buildings become plain and opt for virtual decorations instead? Think of your whole apartment using green screen technology.

My guess is we will see the rise of this phenomenon in isolated spaces at first such as arenas, music venues, or retailers. After this, it is the public realm where technology has the most opportunities to shape our experiences of the built environment.
Interested in green and public spaces in Cambodia? Read David Cole's last guest article on three offbeat ideas for improving Phnom Penh public spaces.

Article by: 

David Cole is the founding partner of Building Trust International and principal at COLE, an architecture and design practice with offices in Phnom Penh.