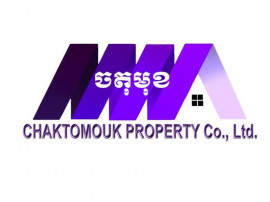 Chaktomouk Property
Company Profile
Whether you are buying or selling a home, business, commercial, land or farm, Chaktomouk Property is experienced and knowledgeable in all areas of real estate! We also specialize in relocation, new construction and villas as well. We are sure to make the Buy | Sell | Rent of your property should be the pleasant experience.
You can relax! We have educated brokers and agents on staff to answer all your questions. We serve in Wells country areas as well as the surrounding areas.
There are experienced agents waiting to find your perfect Property in your dream.
Vision / Mission
Chaktomouk Property is to be the most successful real estate firm in Cambodia. Chaktomouk Property incorporates proven, professional state of-the-art techniques specializing in the marketing, listing and selling of new and resale luxury homes, residential communities, condominiums, home sites, undeveloped land and commercial and investment opportunities.
To become a Professional real estate holding company specialized in real estate and related activities in locations where the company identifies an advantage in order to achieve consistently increasing returns and growth to our value clients & Owner.
Our Team
Working together is essential as a Standard Company staff. Harmony and a positive attitude are critical to success. Without synergy and devoted teamwork our goals will remain unattainable. Chaktomouk Property is highly appreciate talent and Global network, we continuously work to explore personal potential and to reward outstanding achievement.
Need help?