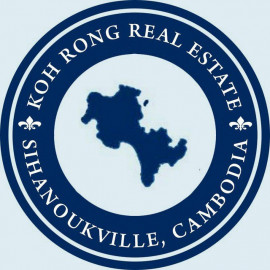 Koh Rong Real Estate Ltd.

Koh Touch, Koh Rong, Sihanoukville, Cambodia. Kaoh Rung Sihanoukville Sihanoukville
Welcome to KOH RONG REAL ESTATE. We are a well-established dedicated team of highly seasoned independent real estate professionals with more than 5 years of collective experience in servicing the Koh Rong, Koh Rong Sanloem and Sihanoukville property desires and needs of our valued clients.
KOH RONG REAL ESTATE provides a uniquely unbiased and impartial advisory service to our clients as we are in no way directly tied to any specific developers or sellers. Moreover, we are extremely meticulous in how we examine, qualify, and quantify each property prior to accepting it into our portfolio of products offered to ensure our discerning client's investment in a villa, condominium, apartment or land will be safe and secure with no "surprises" down the road.
So if you are considering buying, selling, or developing a Condo, Apartment, Villa or Land in Koh Rong, Koh Rong Sanloem and Sihanoukville please don't hesitate to contact property expert today at KOH RONG REAL ESTATE.
Welcome to KOH RONG REAL ESTATE and may the sun shine brightly upon you and your investments every day.
Need help?