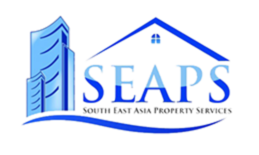 SEAPS (South East Asia Property Services)
169E0/154 Phsar Kandal I Daun Penh Phnom Penh
+85512828625 SHOW
About SEAPS (South East Asia Property Services)

South East Asia Property Services Co., (Seaps Cambodia) aims to help people feel educated and secure in their property portfolio in our region, South East Asia. Our Cambodia office offers a tailored service and portfolio of properties purely focused on the Kingdom. With offices in both Phnom Penh and Sihanoukville, and specialist agents in each of these destinations, Seaps can show investment options and rentals across the nation.
Seaps success has come due to their well trained, highly motivated and energetic team of realtors. With in-depth knowledge of market conditions, SEAPS is a real estate company that ensures customer confidence.
Seaps has a portfolio of rental properties, including landed homes, apartments and businesses, and also sells all kinds of properties and existing businesses - in both Phnom Penh and Sihanoukville. Seaps also has a targeted selection of new development condo offerings, for those looking for a strata titled investment property, or modern new home. And if you need to sell or rent your property, our team are ready to represent you - and make sure you get the best result for your property investment. They can also provide full valuation services.
Seaps t/a Limited liability Company is registered in the Kingdom of Cambodia: Cambodia2u trading limited Reg. 12/08/2011; which is a registered company with patent and registered as a commercial agent. For Residential and Rentals, South East Asia Property Services Co., Ltd has been formed, Co No. 2780 E/2014. Vat Registered No.104 021 306.
Throughout Seaps long experience in SEA and Cambodia they have worked with a wide-range of clients, all with unique needs and tastes. The company's extensive knowledge of Phnom Penh and Sihanoukville real estate markets is matched by their commitment to helping clients realize their dreams, throughout the buying and selling process.
Contacts Seaps in Phnom Penh or Sihanoukville for a free consultation, and experience world-class real estate professionalism in Cambodia.
SEAPS (South East Asia Property Services)
SHOW
SEAPS (South East Asia Property Services)
SHOW