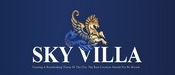 Sky Villa Condominium
Boeung Prolit 7 Makara Phnom Penh
+85517436756 SHOW
About Sky Villa Condominium
Sky Villa Tower is a luxury mixed used development conveniently located near the famous Olympic Stadium, in the heart of Phnom Penh. The development is not only set to attract international investors, but has been cleverly designed to appeal to the local Cambodian home owner.
The project comprises of 256 units, 4 levels of parking space spanning across 6,000 square meters. The generous units are perfect for inner city family living ranging from 300 - 450 square meters, every unit offers huge balconies allowing you to enjoy plenty of private open air green living space. Adjacent to the spectacular twin condominium towers isa 15 story office building overlooking Sihanouk Blvd.
The crowing highlight of the project will be the 360 degree pictures viewing platform which will include an infinity pool and an aerial sky walk. Crystal Orange Construction Plc, contracted CY Lee & Partners to design the buildings – the same architecture firm responsible for the iconic Taipei 101 tower in Taiwan.
Sky Villa Condominium
SHOW
Sky Villa Condominium
SHOW