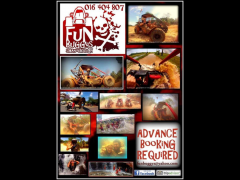 About Fun Buggys

A fantastic opportunity to own and run a unique fully operational and profitable, turnkey business in the highly desirable location of Sihanoukville Cambodia.
This ATV/Buggy tour company is well known and has a highly regarded business name and is the first and original of its kind in Cambodia. The sole purpose is to provide a fun packed experience via a tours in Hammerhead 150cc buggys to various beauty spots and play areas in and around the surrounding areas of Sihanoukville.
This superb and amazingly fulfilling business was created from a crazy idea, back in 2012, that we have built into a hugely popular and successful business and is solely ran by two ladies from England.
The business comes with an outstanding reputation and is featured in a promotional tourism video for Sihanoukville Cambodia, approved by local authorities and is available to view at http://YouTube.be/wBC-wKtgt04 . The company has a huge online and social media presence, with 1000's of photos and videos to be viewed. Tripadvisor and Facebook, being our main source of customers as well as word of mouth provided by hoteliers that we have worked closely with throughout our time in Sihanoukville. Our Tripadvisor account holds over 400 reviews with a 99.7% excellent rating and we have received a certificate of excellence every year since 2012. The business has a further presence on Google+, Twitter, Pinterest and such.
One fantastic highlight is that it is an all year round profitable business, with the rainy season just as busy if not more so, unlike the vast majority of businesses offered in Cambodia. Cambodia is the only country in SEA where you do not have to complete border runs in order to obtain your visas, making life simple and stress free. Furthermore the business is ran from one premises, meaning that HQ is also your rental home, therefore no extra costs and no travelling to and from work, pay once to live and the rest is yours.
Mechanical experience is not essential, however basic skills would be beneficial. We use a tried and tested mechanic that has worked alongside us for over 3 years and is just a phone call away, coming to HQ to complete necessary work.
So what's included?
The business comprises of:
7 hammerhead Buggys in total: 6 x 150cc Buggys, 1 x 260cc Buggy,
Suzuki convertible jeep,
made to measure trailer,
Yamaha Raptor quad 350cc,
3 dirt bikes,
Rental property:
Large fully furnished and equipped villa, 2 bedrooms and 2 bathrooms (1 used for customer shower),
Large garden to rear with various fruit trees.
Patio area. (All furniture is included in the sale)
Large garage and storeroom where all spare parts, tools, power tools, and dirt bikes etc are kept.
This is NOT a seasonal business unlike everything else offered in Cambodia, you choose when and what you work!
Asking price: $119.000 ONO
There is much more included in the sale and far to much to list. This business is relocatable if so desired.
For further details contact us: funbuggys@yahoo.com, with the following:
why you are interested in this specific business
approximate timeframe
Business experience
Please only serious enquirers only.