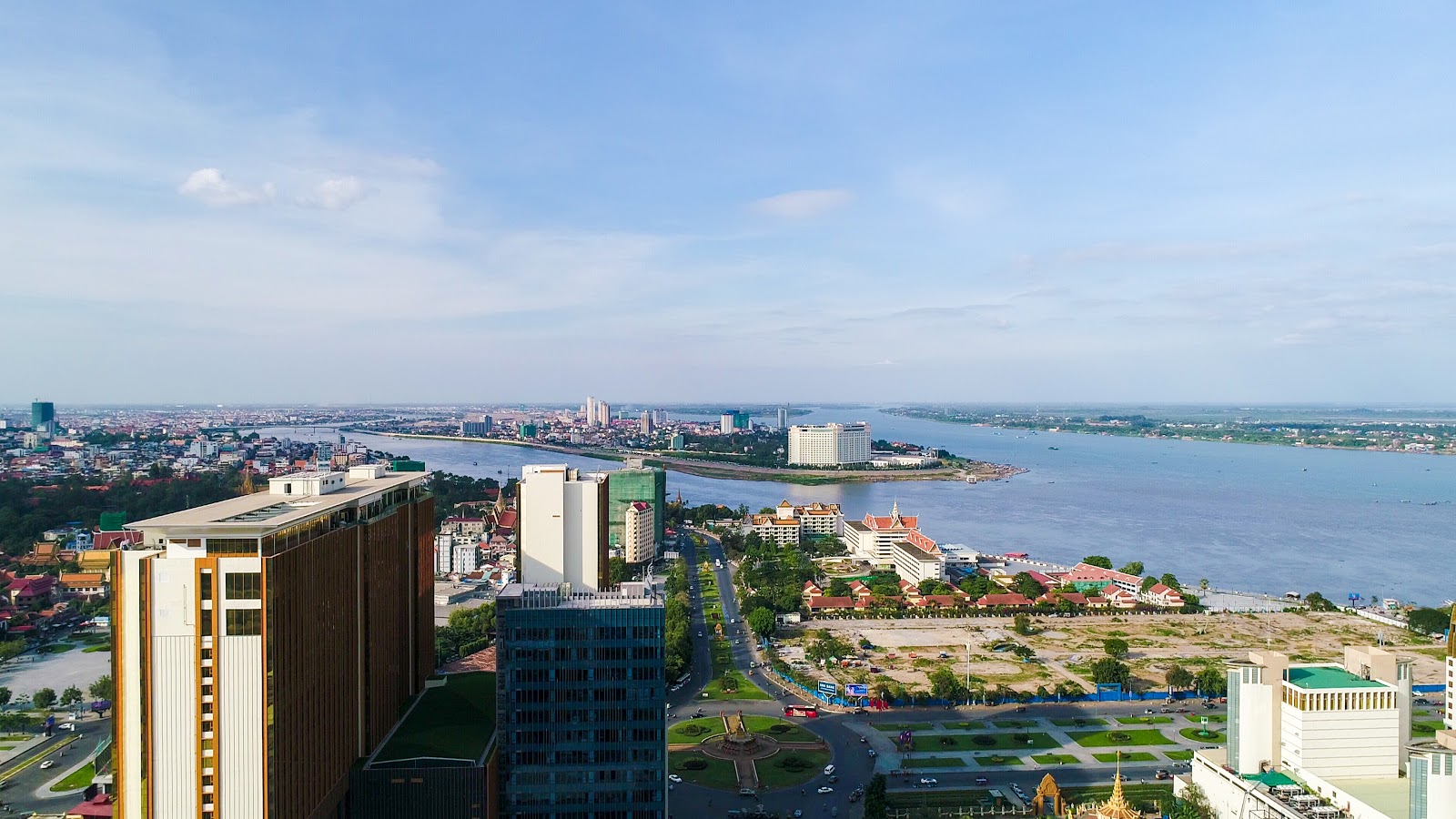 The city of Phnom Penh has come a long way from the trying times under the French and the dark days under the Khmer Rouge. It has grown to be a city where people from different walks of life congregate and share their culture, making Phnom Penh a cosmopolitan city where everyone can find a piece of the city they can call their own. For you to learn more about the Kingdom of Wonder, read this guide for a glimpse of Phnom Penh through its history, politics, economy, and the daily life within.
If you're an investor looking for a more business-oriented executive summary on Cambodia, you may wanna check out our Investment Guide 2019.
Otherwise, you might be interested in piecing a better picture of the Kingdom of Cambodia by reading other great resources on Realestate.com.kh such location profiles on Siem Reap & Sihanoukville. Learn more about Investing in Cambodia, Foreign Ownership in Cambodia & the Cambodia Expat Experience!
Overview
Situated where the Tonlé Sap and Mekong Rivers intersect, Phnom Penh has been the capital city of the Kingdom of Cambodia since the mid-1860s. Since these humble beginnings, Phnom Penh has grown to become the nation's unquestionable political and economic center, serving as the seat of government and hub for foreign investment. Phnom Penh is second only to Laos in Southeast Asia for the fastest rate of urban spatial extension, as indicated by the World Bank. An average growth rate of around 7 percent year-on-year for Cambodia continues to fuel an economic boom in Phnom Penh, and the city now offers all you would expect from an Asian metropolis. From expansive shopping centers and purpose-built retail malls, high-rise residential and commercial buildings, and five-star hotels, to a variety of eateries and eclectic F&B options, and a vibrant nightlife; Phnom Penh is drawing guests from all around the world.
Extravagant modern buildings across Phnom Penh are changing the capital into a playground where a new generation of Khmers from the country's emerging middle class rub shoulders with the local elite and international investors. Yet, wealth distribution remains wholly unequal in Cambodia, meaning local tastes are ultimately decided by associated costs. Nevertheless, as this middle class continues to grow, consumer products and services are growing at a rate previously unseen in the country, and more so in Phnom Penh than anywhere else.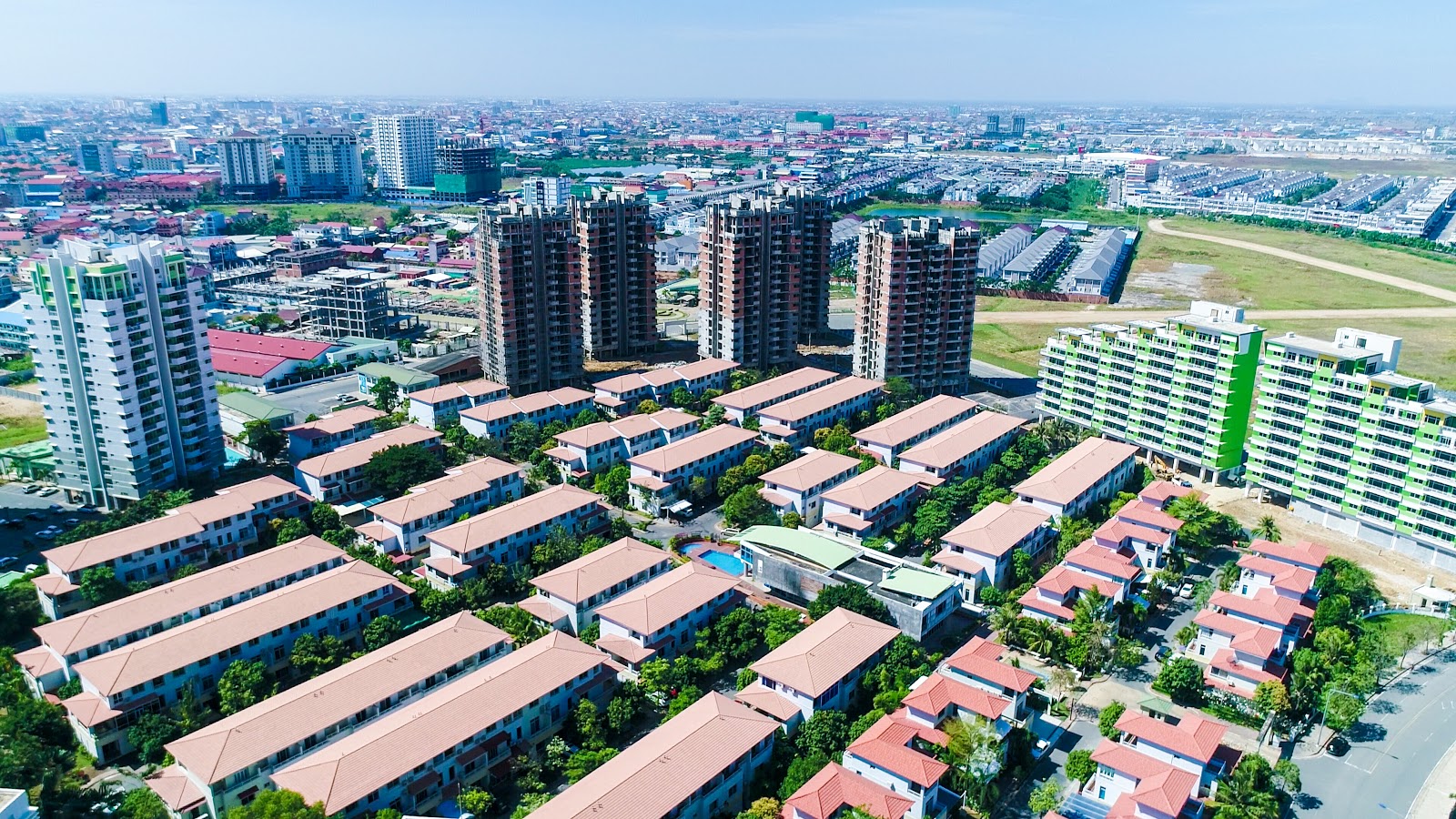 History
Phnom Penh, originally, was not the main urban centre of the Khmer people. That title sat majestically at the heart of the ancient Khmer Empire in Angkor near Siem Reap. That changed in the 14th century when the Khmer king at the time, King Pohea Yat, moved the capital after the Kingdom of Siam invaded Angkor. Legends tell that Phnom Penh took its name from a local lady, named Lady Daun Penh, who found 4 statues of the Buddha inside a tree floating on the Mekong River. She took her discovery to be a sign to build a new capital away from Angkor. She placed these sacred objects in a shrine on a small hill to keep them safe, now known as Wat Phnom.
Phnom Penh has been admired as one of the loveliest South East Asian cities because of its quaint appeal and vibrancy. Once a French colonial urban center, the city is characteristic of wide roads, pretty gardens, and exquisite stately homes. For these reasons, the city was titled "the Pearl of Asia" in the 1920s. Phnom Penh experienced rapid growth with the building of railways to Sihanoukville and the opening of the first international airport, Phnom Penh International Airport over the following decades. Phnom Penh's infrastructure saw major modernization under the rule of King Sihanouk for much of the early to 20th century. However, in the 1970s, within the shadow of the Vietnam War, this vibrant metropolis came under the tyrannical grip of the Khmer Rouge in 1975. To cut a long and complicated story short, the Khmer Rouge was finally driven out of Phnom Penh in 1979 by a combination of Cambodian and Vietnamese troops and people began rebuilding the city.
After the war, land titles for the entire country had been destroyed or lost, meaning those that returned to Phnom Penh essentially staked claims to property than was uninhabited. Later in the 1990s to early 2000s, with funding from various governments and international institutions, the land title system was reintroduced in Cambodia. The effects of the war impact land ownership rights and disputes continue to this day, however.
The US dollar was implemented as an official currency, providing an additional level of economic stability alongside the national currency, the Khmer Riel. This dollarization remains in place today; however, the National Bank of Cambodia has developed policies to encourage the use of the Khmer Riel with a view towards future de-dollarization as an attempt to eventually regain full control over monetary policy.
The 1998 census-estimated Phnom Penh's population at 862,000 and the results of the 2008 census show this had risen to 1.3 million. The much-awaited General Population Census 2019 was released and showed that residents have grown to a little over 2 million people. This figure does not include Phnom Penh's expatriate population, estimated to be over 150,000.
Main economic drivers
Phnom Penh's local economy is mainly driven by a range of commercial endeavours like mom-and-pop shops to medium-large local enterprises. These enterprises cover a wide range of goods and services which has turned Phnom Penh into a metropolitan city attractive to Western and even other Asian expatriates.
The city is also home to the Kingdom's biggest export: garments, textiles, and footwear. The garments, textiles, and footwear (GTF) sector contribute a significant portion of the country's annual GDP. The agricultural sector based around the plains of Phnom Penh (and other provinces) also contribute to Cambodia's GDP as the country's agricultural output allows it to be one of the top 10 global rice exporters and supply the international market with rubber, maize, cassava, and palm oil.
In the past few years, the flow of foreign investment has given way to a construction boom in the capital. As a result, real estate prices across Phnom Penh have been rising year-after-year. The boom in the construction throughout Phnom Penh has fed into the development of residential, retail, office, and industrial sectors in and around the city.
Tourism is also a major contributor to Phnom Penh's economy as more shopping centers and entertainment attractions open; complementing the multiple tourist spots in the city.
With Cambodia's integration into ASEAN, Phnom Penh is in a particularly enviable position as it is surrounded by robust regional economies that are increasingly outsourcing manufacturing operations. Cambodians are also more and more connected to the global community through access to technology via high mobile phone and internet penetration, with Phnom Penh being the epicenter of this evolution.
Since 2010, foreigners have also been allowed to own apartments and condominium units in Cambodia - but not land, and, accordingly, not the first floor of buildings. Immediately after the passing of the law, tax revenues from property transactions rose. The floodgates of a new market were opened and several developments, specifically targeted towards foreigners, are being built in Phnom Penh every year.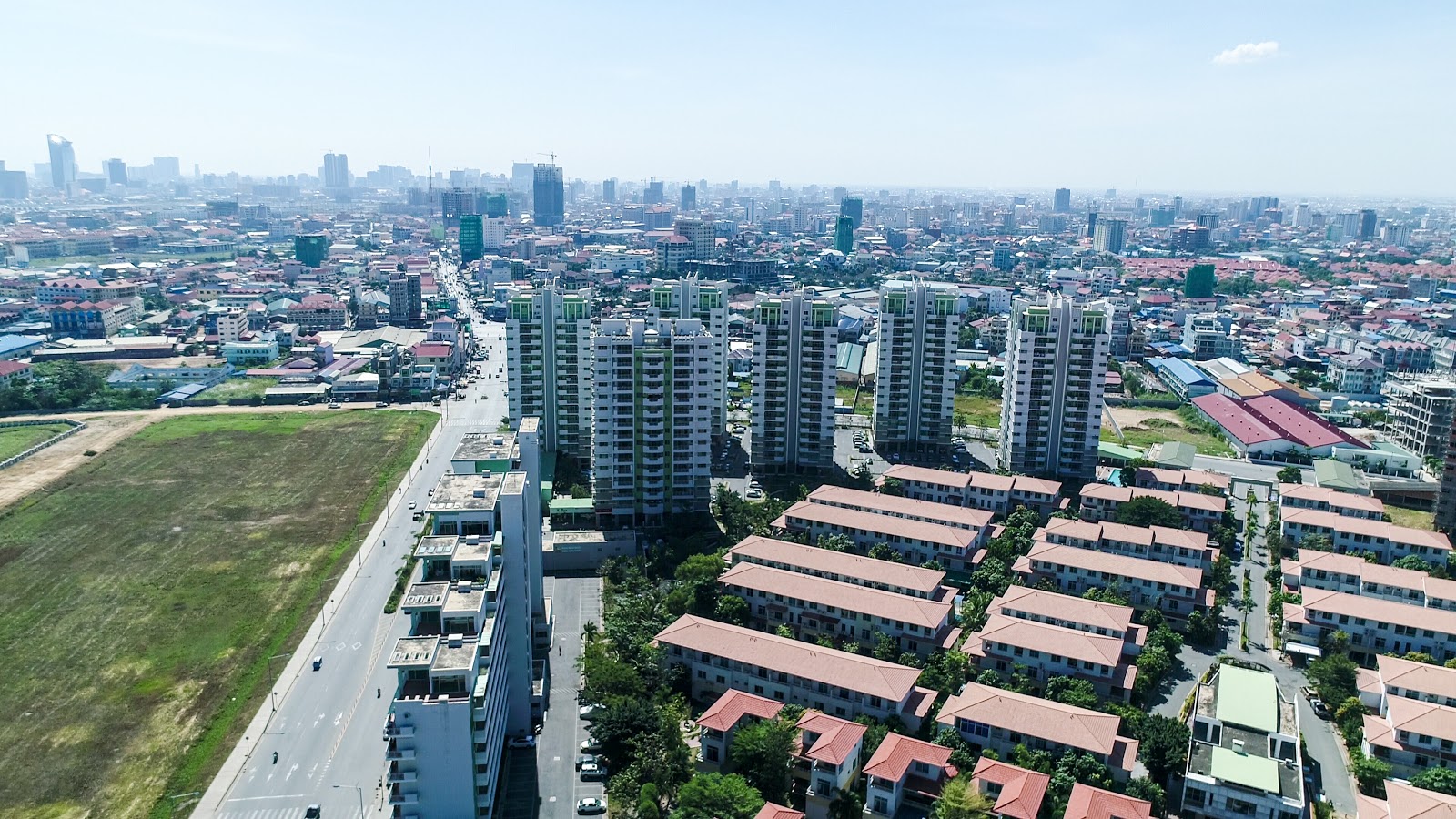 Weather, Climate, and Geography
Phnom Penh lies south of the country and is enveloped by Kandal Province. The city, however, operates as a separate, fully-independent municipality. The Phnom Penh municipality is situated where the waterways of the Tonlé Sap, Mekong, and Bassac rivers meet. For generations, these channels have served as an economic lifeline to the city and continue to do so today. 
Monsoonal flooding is a seasonable problem where the river sometimes overflows its banks. The cool season takes place in Cambodia during November and March (temperatures ranging from 22c to 28c); hot season, or summer, takes place between March and May (with temperatures ranging from 28c to 38c); and, finally, rainy season occurs between May and October (with temperatures ranging from 24 to 32c, with humidity up to 90%). The temperature in Phnom Penh can range from 15 to 38 degrees Celsius and the city experiences tropical monsoons intermittently.
Monsoons generally blow from the Southwest inland, bringing winds from the Gulf of Thailand and the Indian Ocean between May to October. The dry season lasts from November through to March. In short, the city of Phnom Penh experiences the most substantial rainfall between September to October, and its driest time is the two months of January through to February.
Population and Demographics
Phnom Penh City is a municipality in itself covering approximately 678 square kilometers. Its administrative government's status is equal to that of any other Cambodian province. The municipality is subdivided into twelve administrative divisions called Khans, meaning districts - all of which fall under the governance of the Phnom Penh Municipality. Of these twelve Khans, the districts of Dangkao, Meanchey, Por Sen Chey, Sen Sok, and Russey Keo are considered the outskirts of the city. These 12 Khans are then subdivided into 76 Sangkats (communes) and the city has 637 Kroms, meaning villages within communes.
The Phnom Penh metropolitan area, as of the General Population Census 2019 is home to around 2 million of Cambodia's total population of about 15.3 million. The Khmer makes up the majority of ethnic groups in Cambodia and in its capital city, comprising approximately 90 percent of the total population. The next three largest minor ethnic groups are the Vietnamese, Chinese Cambodian (Khmer Chen) and the Cham (Muslim).
Phnom Penh, along with Siem Reap and Sihanoukville, has remained significant global and domestic tourist destinations for Cambodia, drawing almost 7 million tourists per year. Meanwhile, the largest majority of Cambodia's 100,000+ ex-pat population reside in the capital city, making it the nation's cosmopolitan hub. These ex-pats are involved primarily in the private sector and NGOs.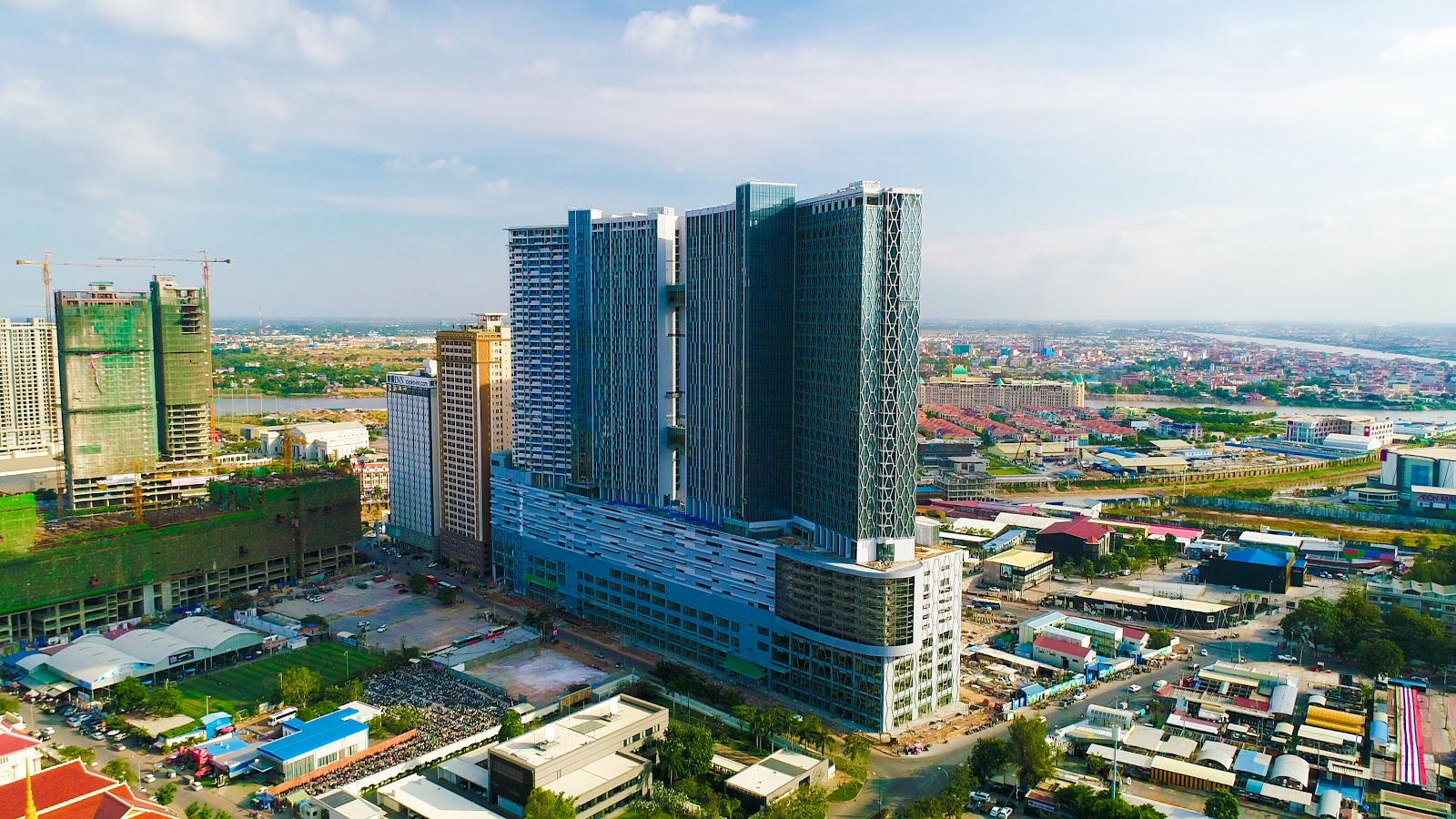 Things-To-Do
Shopping centers
Aeon Mall, Cambodia's premier chain of malls, sees many local shoppers flocking to see the foreign brands. The $200 million Japanese-built shopping center is only one of many new shopping complexes, hotels, township and condo projects springing up in Phnom Penh from the wave of foreign direct investments in recent years. As of 2019, Japanese mall operator AEON currently has 2 malls in Phnom Penh, with a 3rd one announced to be finished by 2023. Various other new development projects are also including ground floor shopping plazas and malls in their designs, meaning the Phnom Penh market will see plenty of new options for shopaholics in the near future. 
Landmarks
Phnom Penh is home to some of Cambodia's most iconic buildings and architecture.
The oldest structure in the city is Wat Phnom, a famous pagoda located at the center of the city constructed in 1373, which has existed in Phnom Penh since its original founding. The main tourist attractions are the Royal Palace, the Silver Pagoda, and the National Museum, which holds a vast collection of Khmer antiquities. The Independence Monument, although built in the 1950s, is also constructed according to ancient Khmer architecture.
Nowadays, most travelers also delve into the Khmer Rouge history, visiting sites such as S21 Prison/Tuol Sleng and the Killing Fields.
Food Selection
Phnom Penh has by far the widest selection of cuisines available compared to any other city in Cambodia. The city's attractiveness has made itself home to people from different backgrounds. As a result, a mix of tastes has been brought about by a history of influences upon the hub city, namely Khmer, Vietnamese, Chinese, Japanese, French, Thai, and various other cuisines.
Outside of the capital, it is fair to say the world of cuisine revolves around fish & vegetable cuisines, and rice.
Nightlife
Phnom Penh has a great selection for nightlife activities to suit all tastes. Bars and clubs are dotted all over the city, but given the compact size of Phnom Penh, it's never too far to hope between different bars and clubs on a single night out. For those that are particularly lazy though, there are some core bar streets and nightlife areas where bars, clubs and late-night eats are located together.
The riverside area along Sisowath Quay has a plethora of bars and restaurants with a great view of the Tonle Sap river. The riverside is more catered to tourists, but expect to see all range of bars and upmarket lounges hosting people from different walks of life from the Wat Phnom area to the Royal Palace. Up the side streets of the riverside, such as street 136, 110 and 104 expect to see bars of the hostess variety, but also some great live music joints and intimate neighborhood hangouts. Street 172 is also a popular lane for both tourists and ex-pats to drink and eat. Street 51 and Sorya Mall is another favorite nightspot of Phnom Penh, especially those who plan to stay out to the wee hours in the morning. Centered on two of the most famous of Phnom Penh's late-night offerings, Heart of Darkness and Pontoon, street 51 never sleeps.
The Boeung Keng Kang 1 (BKK1) area is also home to some great drinking venues, especially in the Streets 278/51, Bassac Lane & Street 308 area, and these bars are dominated by ex-pat patrons - with prices to match. The prices might be slightly higher than riverside and street 51, but the variety and quality of bars and restaurants in BKK1 are some of the best in Cambodia.
If you love live music, Phnom Penh is the Cambodian city for you. It offers an eclectic mix of the traditional and the imported hitting stages across the city every night of the week. The best place to find the latest gigs and information is the LengPleng music guide. Sign up to their fantastic weekly gig updates and you will never miss a beat of the Phnom Penh music scene.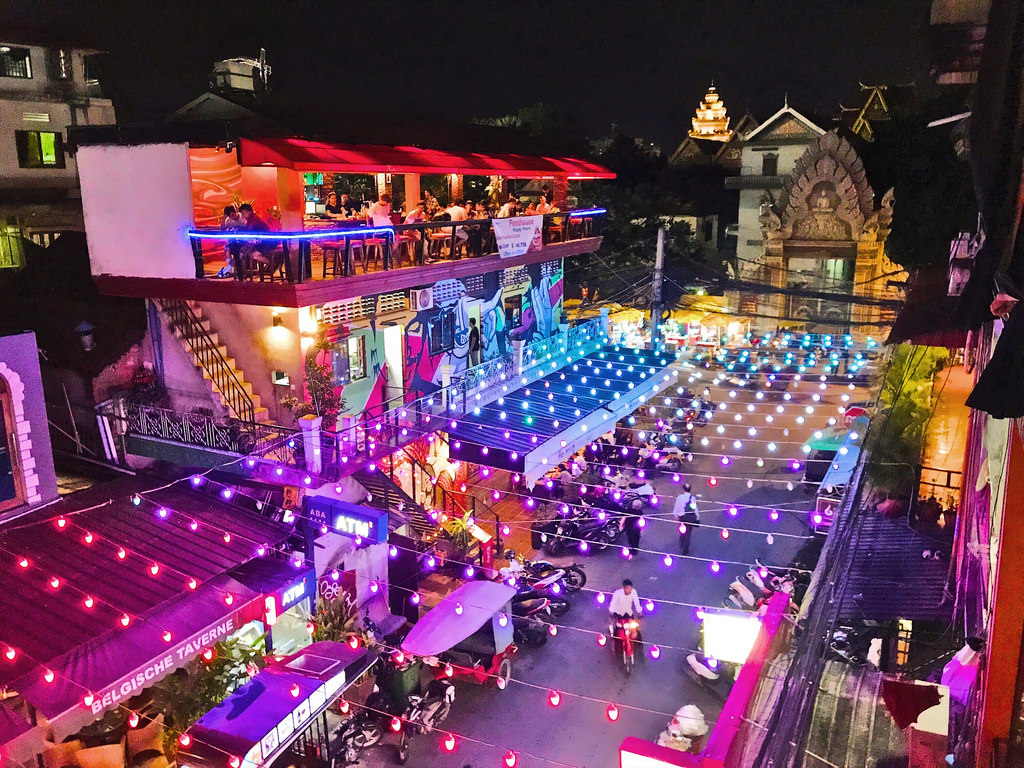 Schools & Educational Institutes
For those with kids, Phnom Penh offers the best range of educational institutes of any Cambodian city, and the selection of schools is growing every year. Many of these "international" schools are accredited internationally, meaning it is easy for kids to move between associated schools within and beyond Cambodia. But be wary that not all "international schools" are created equal, nor are international standards always reflected by all school brandings.
Some of the most well-known primary and secondary schools in Phnom Penh include the International School of Phnom Penh (ISPP), Nira International School, the Canadian International School, Zaman International School, and Northbridge International School.
For tertiary education, Cambodia has plenty of great institutions, but the core subjects tend to be limited in scope to professional degrees in many cases. However, options for new subjects and core disciplines are rising every year. Some of the top universities include the Royal University of Phnom Penh, Build Bright University, the Royal University of Agriculture, the Institute of Technology of Cambodia, the Royal University of Law and Economics and Paññasastra University of Cambodia.
Healthcare
Phnom Penh has a number of international standard hospitals and clinics offering tertiary care – including the publicly-managed Calmette hospital which is equipped to handle most medical issues, or the Thai affiliated Royal Phnom Penh Hospital, under the well-regarded Bangkok Hospital group. Other options include the International SOS clinic offering English-speaking primary care and evacuation services, Krema Clinic and Naga Clinic are healthcare providers hosting a broad range of medical care with multilingual doctors. There is a decent range of general dentistry clinics that are also available offering full dental services including the five-star Roomchang Dental & Aesthetic Hospital and the International Dental Clinic.
Key Transport Services
Air Travel
Phnom Penh International Airport is the main airport in the kingdom, located approximately 7 kilometers west of the central city. Cambodia has a few local airline companies. Cambodia Angkor Air is the national flag carrier, with its headquarters in Phnom Penh with an additional hub at the Angkor International Airport in Siem Reap province. Air Asia offers low-cost daily flights between Bangkok and Kuala Lumpur to/ from Phnom Penh. Jetstar Asia Airways also offers budget daily flights to/from Singapore. Qatar Airways flies to and from Phnom Penh, via Ho Chi Minh to a variety of destinations in Europe with a stopover in Qatar. New direct flight routes around the region and the world are being announced every month. 
Overland Trips
Motor-taxis (moto-dops), tuk-tuks, and taxis are readily available within the city of Phnom Penh A rapid bus transit network is present and as of 2018, 11 bus lines are currently operating in the capital. For a full map route, you may check tourismcambodia.com for the list of bus routes in Phnom Penh.
Taxis, minivans, and buses are available to reach most destinations throughout the Kingdom and beyond to Thailand and Vietnam. These overland forms of transportation have become more accessible due to the recent rehabilitation of national roads leading to other urban centers in the country.
Phnom Penh also houses the country's central rail station that serves the line stretching northwest towards Poipet in Banteay Meanchey province and the railway heading towards the southern coastal cities. 
Water/River Navigation
River ferries between Phnom Penh and Siem Reap are offered throughout the year, except for April, May, and June when the water levels are too low for passenger boats. These ferries usually depart at 7 am daily from the Phnom Penh Port on Sisowath Quay, with the trip taking around 8 or so hours. The long travel time is not ideal for tourists on a rush, but if you're taking your time, then traveling through the river offers its own unique set of sights.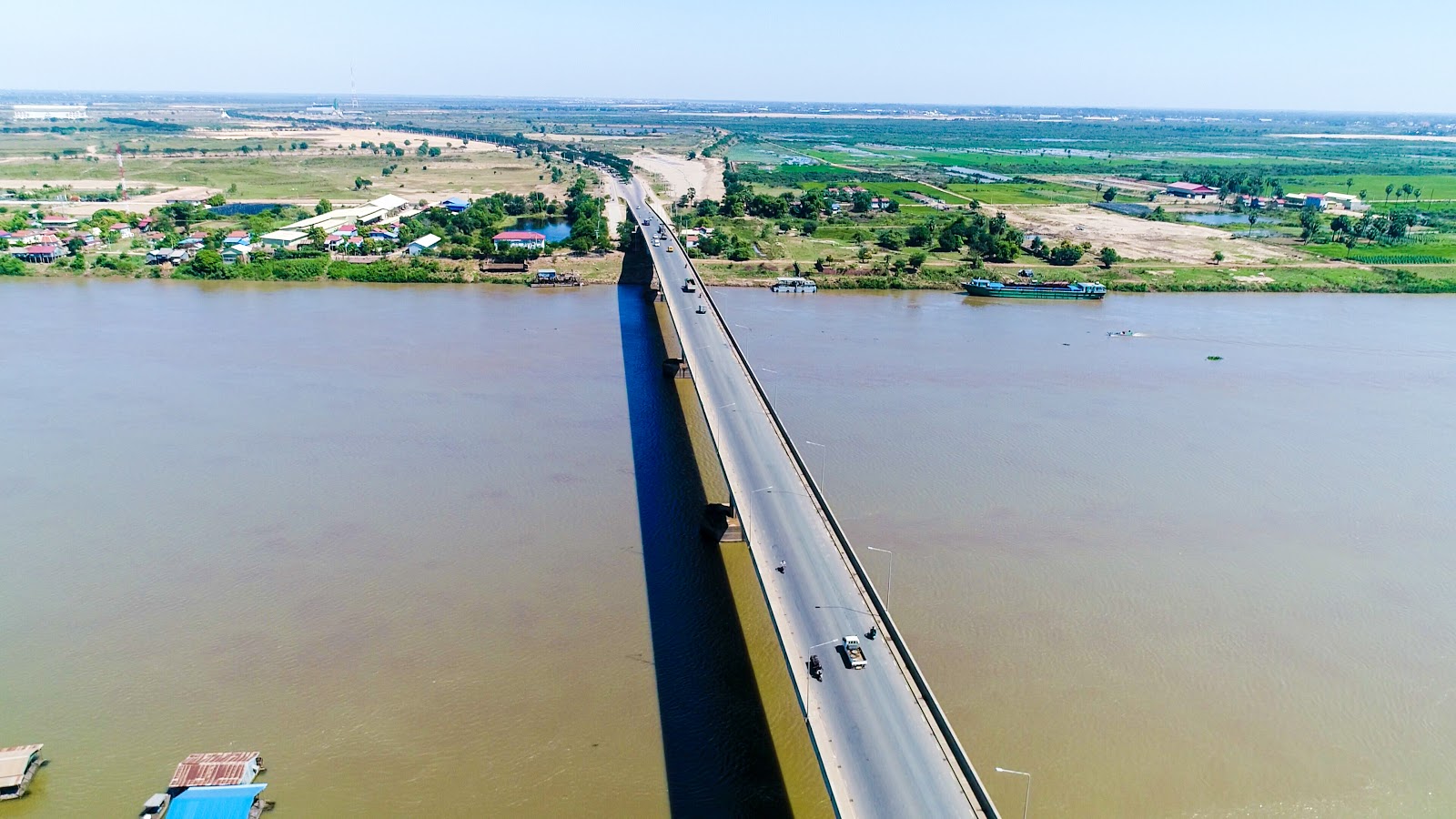 Key Areas of Real Estate Development
Cambodia's construction boom has reached the international newsrooms in the past couple of years. Anyone looking for a guide to Phnom Penh would be well-equipped to know about what drives the dozens of construction sites that line the city's skylines.
Beoung Keng Kang (BKK) district boasts the highest prices in Phnom Penh with land prices reaching up to USD $6,000 per sqm as of 2019. Previously, home villas in this area were sought after by families wishing to live in this district, but now most of these villas have either been demolished, sold to developers, or transformed into boutique hotels, restaurants, and even offices.
High-density living is becoming more common due to a lack of space within BKK with high-end condo developments, serviced apartments and hotels changing the skyline significantly. Other upcoming Phnom Penh residential property areas include the west (Por Senchey) and south (Meanchey) of the city, generally. These locations are very close to central Phnom Penh yet property prices remain considerably cheaper. In addition, growing congestion and a lack of parking in and around the city center, coupled with high prices, is disincentivizing potential residents from moving in.
The Phnom Penh Master Plan 2035 seeks to drive urban planning for the expansion of the city and construct new infrastructure to accommodate the growing population. Until now, the city has had no zoning regulations of note nor identifiable urban development planning.   
Commercial property and office space trends
In the past, in a city without a skyline, villas were the preferred type of property for office space. This has changed in the past few years as more businesses are looking for more suitable properties specifically designed for corporate operations. The demand for first-class and mid-level office space throughout Phnom Penh is growing, with a variety of new high-rise projects being available or due to be completed in the next few years. These new office complexes are often demolishing vintage villas, flats and other types of classical real estate. Grade B and C are popular choices for local entrepreneurs as Grade A office space is generally pricey.
The growth of the Phnom Penh commercial property market is only set to continue in the future, especially since Cambodia has joined the AEC, and many developers are aware of this emerging business class. 
Retail and shopping properties
The Phnom Penh retail property market is undergoing vast changes, and these changes are altering the face of the city. International brands are joining the burgeoning Cambodian market faster than ever. Some of these new brands are specifically chasing the increasingly available aspirational Khmer middle-class dollar; others are focusing on the local elite and ex-pat high-end retail market. Meanwhile, local retailers continue to grow and expand their operations in leaps and bounds.
The average Cambodian has more to spend on their daily needs. In conjunction with this growth, the Phnom Penh retail properties market is growing quickly and the demand for retail space in certain areas of the city is driving rental prices higher than ever before. Yet, inner-city congestion, lack of parking and lack of affordable housing options inside the CBD is redefining the preferred retail zones around town, adjusting the Phnom Penh's overall real estate market accordingly.
Corner spaces in BKK1, Tonle Bassac and Daun Penh are very popular for retail spaces, especially food and beverage because corner properties have the benefit of having a number of parking spaces which is usually hard to come by in the city. Demand from well-known brands for properties on corner locations, especially in the Chbar Ampov.
Parking is a real and growing issue in high-density areas of Phnom Penh. More vehicles get on the road and more people from the countryside move into the city's urban areas. Congested traffic is making it harder for consumers to come into central Phnom Penh to shop.
Similar retail development is happening for similar reasons in the western and northern parts of the city, around Sen Sok and Phnom Penh Thmey, next to central Tuol Kork. Another trend is in regard to the advent of high-quality shopping centers and malls.
Cambodia's first international shopping mall opened its doors in June 2014 from the Japanese mall giant AEON. The mall is full of shoppers every weekend, many of whom travel from the provinces to experience the nation's first international standard shopping center. AEON has since seen a high demand for retail space from both international and local retailers.
A new breed of international franchisers, who have for many years overlooked the Cambodian market now see the appeal of occupying retail units in places like Aeon Mall as it reflects international standards of retail space and retail space management.
The entry of the AEON group in Cambodia has convinced some of these franchisers that the market is ready for international brands and that there are viable spaces for them to establish themselves. Local brands have also seen the opportunity in Cambodia's maturing market and have put up malls such as the Chip Mong Noro Mall, a shopping center owned by the Chip Mong Group, a Cambodian food-and-beverage conglomerate.
Condominium Properties
Phnom Penh Condo and new development market trends: The condominium market in Phnom Penh continues to expand, with investors seeing anywhere from 5% to 8% annual returns as condominium development continues to expand from the high-end to mid-range offerings. The upcoming supply of condominium developments across market segments has ensured that this sector of the real estate market continues to grow and is made available to more people, particularly to middle-class Khmers who are beginning to demand condos for investment purposes, rentals returns, and/or as their new home.
It is also worth mentioning the introduction of mixed-use developments in Phnom Penh. These are developments that integrate residential and commercial (office & retail) units into one complex. A prime example of this is podium-style malls where the first few floors from the ground are built for commercial purposes while the tower(s) may be allocated for residential units. 
Types of Property
CONDOS & APARTMENTS
The latest breed of luxury sky rise condominiums is tailored to the demand of international investors, who are able to buy condos, apartments, and offices in Cambodia - as long as they are in a co-owned building and above the first floor. Increasingly too, budget options are available - and these are proving highly popular with local investors as live-in properties and rental earners. 
SERVICED APARTMENTS
Catering to the high-end ex-pat market primarily, Phnom Penh has all kinds of serviced apartments available. These properties are fully furnished, and come with a range of services designed to make life easier and more pleasant - for long or short term stays. 
FLAT HOUSES
Highly popular with locals, flat houses are the most popular kind of home in central Phnom Penh. They are affordable, able to be used for multiple purposes and usually include land ownership in the title. 
VILLAS FOR SALE
Phnom Penh also offers opulent French-inspired villas located throughout the city's hotspots, and many new Borey developments cater to this highly popular market for Khmer buyers with hundreds of newly built villas coming online every week. 
BOREYS
Borey homes are essentially homes within a township development, a type of gated community. They can be villas, flat houses or link houses. All infrastructure is supplied by the developer, and each buyer can buy a property within the borey with the individual hard titles over that land plot. Normally, boreys also offer community facilities for all buyers to use. Boreys are seeing huge demand from local buyers with developers
OFFICES
New developments are bringing increasing options for serviced and non-serviced office space throughout Phnom Penh. There are still good opportunities for real estate developments in the middle-end office market. The Cambodian market will continue to remain significant for investment consideration among the countries in this region in 2016.
RETAIL SPACES
There are lots of commercial opportunities in the capital to invest in established businesses such as bars, restaurants, and guesthouses. Land properties for big commercial developments such as purpose-built shopping malls and mixed-use properties are also available for investors who want to enter Phnom Penh's growing demand for retailers.
Contact number of emergency services in Phnom Penh
Fire: Toul Sleng Fire Department, Phnom Penh: 023 723 555 / 012 786 693
Call from Stationary Telephone (Firefighter): 666 / 118
Police: Call from Stationary Telephone (Police): 117 =
S.O.S Police: 012 999 999
Traffic Police: 012 896 628
Tourist Police: 097 778 0002
Emergency Healthcare: Ambulance (S.A.M.U): 119
Call from Stationary Telephone (Hospital): 023 723 840
Calmette Ambulance: 023 426 948 / 023 724 891 / 012 912 947 / 016 585 108 / 092 858 434
Russian Hospital Ambulance: 023 217764
Kossamak Hospital Ambulance: 016 909774
Blood Transfusion Center: 023 215 949
Royal Phnom Penh Hospital: 023 991 000 - full ambulance and medevac services are available.
Services: Water Supply: 023 724 046
Electricity (EDC): 023 723 871
Phnom Penh Municipality Info: Phnom Penh Capital Hall address: # 69, Preah Monivong Blvd., Sangkat Srah Chak, Khan Daun Penh, Phnom Penh; http://phnompenh.gov.kh/en/
Administration Division, Phnom Penh Capital Hall (General Information): Tel: (+855) 23 722 054
Fax: (+855) 23 725 626
Email: info@phnompenh.gov.kh
Public Relations and International Cooperation Office (For Foreigners): Tel: (+855) 23 430 681, Fax: (+855) 23 430 681
Email address: info@phnompenh.gov.kh
Need more guides? Check out other great resources such as Location Profiles and Investor Guides on Realestate.com.kh now!