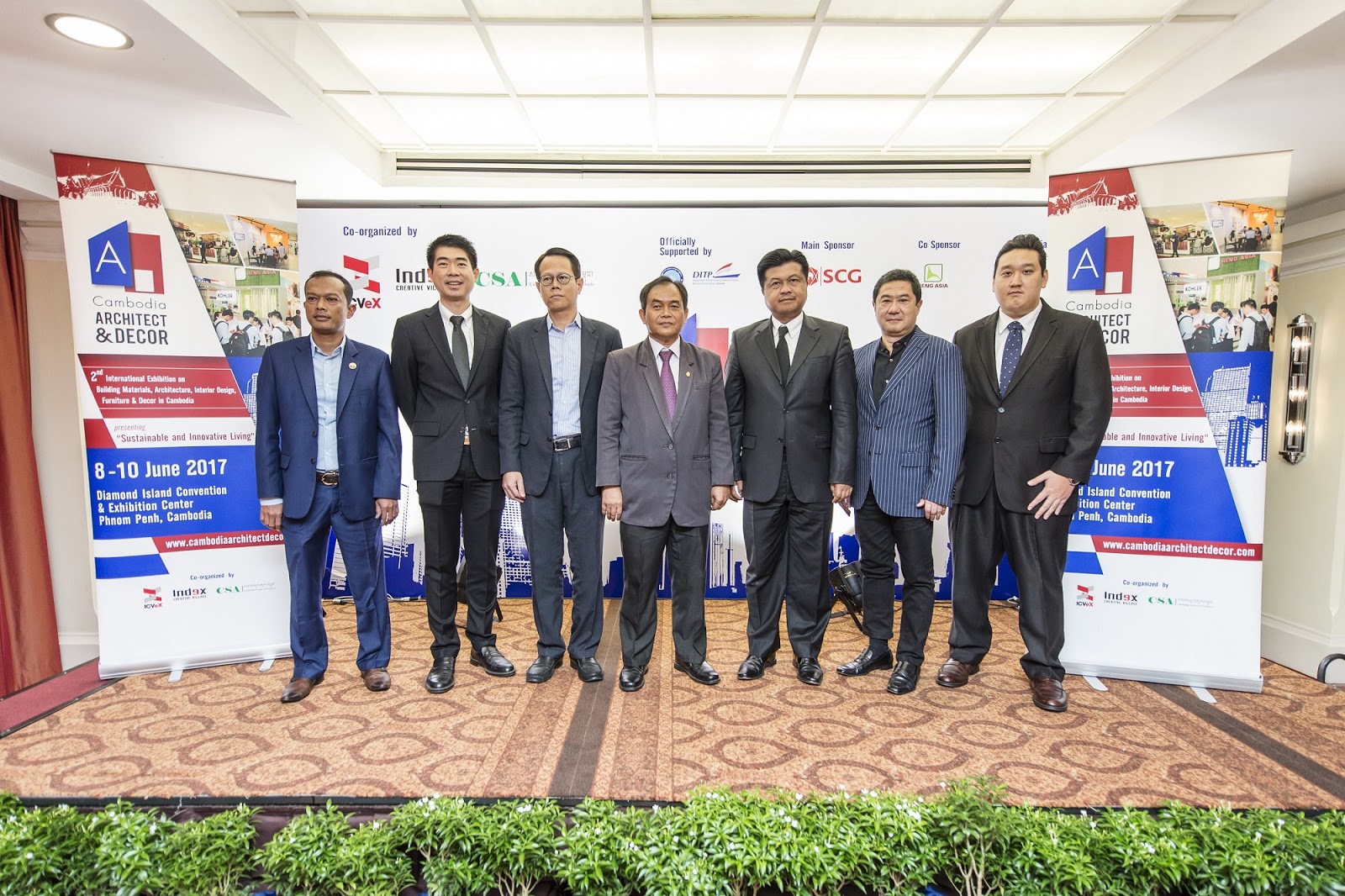 For its 2nd edition from June 8th to 10th, Cambodia Architect & Decor will welcome 150 local and international brands to showcase their latest innovations, seek new opportunities and exchange on the growing importance of design in Cambodia's booming construction market. The event will also host an educational seminar, a student design competition and a networking architect dinner, in addition to the exhibition.
Phnom Penh, May 18th, 2017
A must-attend event for architects, interior designers, property developers and construction professionals.
From June 8th to 10th 2017, Cambodia Architecture & Decor Expo will settle once more at Diamond Island Convention & Exhibition Center (Koh Pich). This unique trade show will gather architects, interior designers, property developers and building professionals to exchange about the latest innovations and trends in the sector. "We created Cambodia Architecture & Decor Expo to help professionals engage with targeted potential customers, meet new contacts and identify new opportunities on the market." says Ajinveat Vhongthong, project manager from ICVeX, the expo organizer. "According to our survey from last year's show, over $18 million business was expected to be generated from the exhibition in 2016".
A support to Cambodia's booming construction industry
In 2016, $8.5 billion worth of development projects have been approved in Cambodia. This intense growth leads to a rising demand in architecture and interior design. "We first created this event in 2014 in Myanmar, and it was a great success" develops Mr. Vhongthong. "We know that this platform can highly benefit to Cambodia. Our exhibitors, of which 70% are international, will showcase best-in-class innovations and products".
For example, Thai company SCG will be presenting eco-friendly building material products on its 210 square meters booth and visitors will be able to receive in-depth advice from SCG experts. Visitors will also get the chance to discover Gio Home Kitchen first water proof kitchen furniture, Modernform's customizable desks and ergonomic chairs, the first launch of Fibreglass Translucent Roofing Sheet by Ampelite, and much more.
An educational opportunity for Khmer students
To organize this expo, ICVeX has partnered with Cambodia Society of Architects (CSA) and together they will welcome among the most eminent local and international speakers. Among other conferences, Mr. Tim Beaumont - CEO of The Beaumont Partnership - will be sharing insights about the projects he developed in Southeast Asia and Mr. Adrianta Bin Aziz, from Malaysia Institute of Architects, will elaborate on the importance of continuing professional development. Other topics will include the development of Phnom Penh city, challenges encountered when developing Boreys or future Cambodian architects and designers. CSA will also take this opportunity to organize the CSA 2017 Design Competition that rewards the best ideas in Arts & Architecture in Cambodia. Selected candidates will be put on display during the expo and the award ceremony will take place during the Architect Networking Dinner on June 8th . Practical information 8-10 June 2017, 9AM to 7.30PM Diamond Island Convention & Exhibition Center (Koh Pich), Phnom Penh Free admission More information and full program available on www.cambodiaarchitectdecor.com