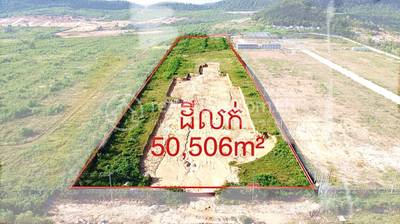 
ភូមិអូរតាសេក , Ou Oknha Heng, Prey Nob, Sihanoukville

Land area: 50506m²
50506m²
Updated: 1 month ago
How much does a land in Sihanoukville cost?
For land available for sale in Sihanoukville, we currently have 99 with prices ranging from $252,700 to $13,920,000, and the median property price is $2,804,865.
What are the most popular suburbs in Sihanoukville?
Out of all the locations in Sihanoukville the most popular suburbs are Sihanoukville, Prey Nob and Stueng Hav where you have a total of 92 properties.
The average bedroom count ranges from 0 to 41,225 bedrooms, with the most popular being 0 bedrooms in Sihanoukville. The majority of these properties also offers a bathroom range between 0 and 0.
According to our data the majority of the properties faces south-west.
Land in Sihanoukville have an average floor area of 1,349 with the lowest area being 56 square meters and the largest being 27,256 square meters.