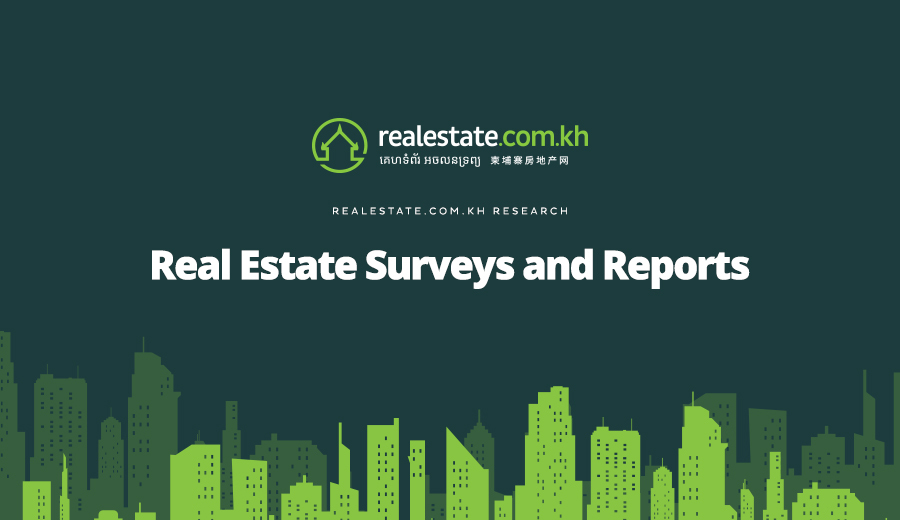 Realestate.com.kh's Real Estate Survey and Reports page is an archive of property market trends and observations in Cambodia since it was started back in 2018. Buyers, sellers, agents, and property developers can gain additional insights through discussions of:
Buying power and demographics of over 2,000 respondents
Sentiments from the local, expatriate, and overseas buyers
Performance and perception of sales & rental markets
Key areas for development & investments
Real estate market information & feedback
General market projections
The Cambodia Real Estate Survey and Reports page will be updated regularly to reflect Realestate.com.kh's efforts in providing the wider market with valuable information and insights into the Kingdom's continuously growing property market.
Cambodia Real Estate Survey 2022:


Cambodia Real Estate Survey 2021: A shift to local markets and prospects of a post-COVID-19 recovery

Like most other major sectors, 2020 was a challenge for the real estate market due to the impact of COVID-19, as has also been the case for the first half of 2021. The Real Estate Survey 2021 will give readers a glimpse of how the property market performed over the past year. Much of the property market was able to weather the economic headwind caused by the global pandemic and the Real Estate Survey 2021 offers readers key points that played a vital role in keeping the market afloat for as long as it has.

Cambodia Real Estate Survey 2019: Rise of the young generation

With the Real Estate Survey 2019, we saw an increasing number of respondents in their late teens and early twenties showing interest in the real estate sector not only in terms of residence but also as investments. As Cambodia urbanises, incomes grow and family sizes shrink. This means young families are routinely bringing in $2,000 or more per month in disposable income while simultaneously pursuing homeownership in a safe and well-located community. 

Cambodia Real Estate Survey 2018: Market confidence growth with middle-class expansion

Realestate.com.kh is excited to share the findings of our Cambodia Real Estate Survey 2018. One notable change can be seen when looking at the income of survey takers. Fewer people are earning less than $500 a month now than were two years ago. The group making $501-$10,000 a month grew considerably. This is a clear sign of an expanding middle class in the Kingdom.

Cambodia Real Estate Survey 2016: Projecting the rise of the Cambodian property market

Realestate.com.kh is pleased to release the results of the 2016 Realestate.com.kh Consumer Sentiment Survey. The survey reveals key information for investors, developers, retailers, financial institutions, insurers, and personal home buyers and sellers. The intention and scope of the this survey were to dig deeper into the hearts and minds of Cambodia-focused real estate consumers in regards to their perceptions of the market and their current spending and borrowing habits. By doing so, the survey allows us to predict future buying and selling trends in the market.

Are you an expatriate or foreign investor looking for a home loan or simply need help in looking for property? Let us know!