Sihanoukville Location Profile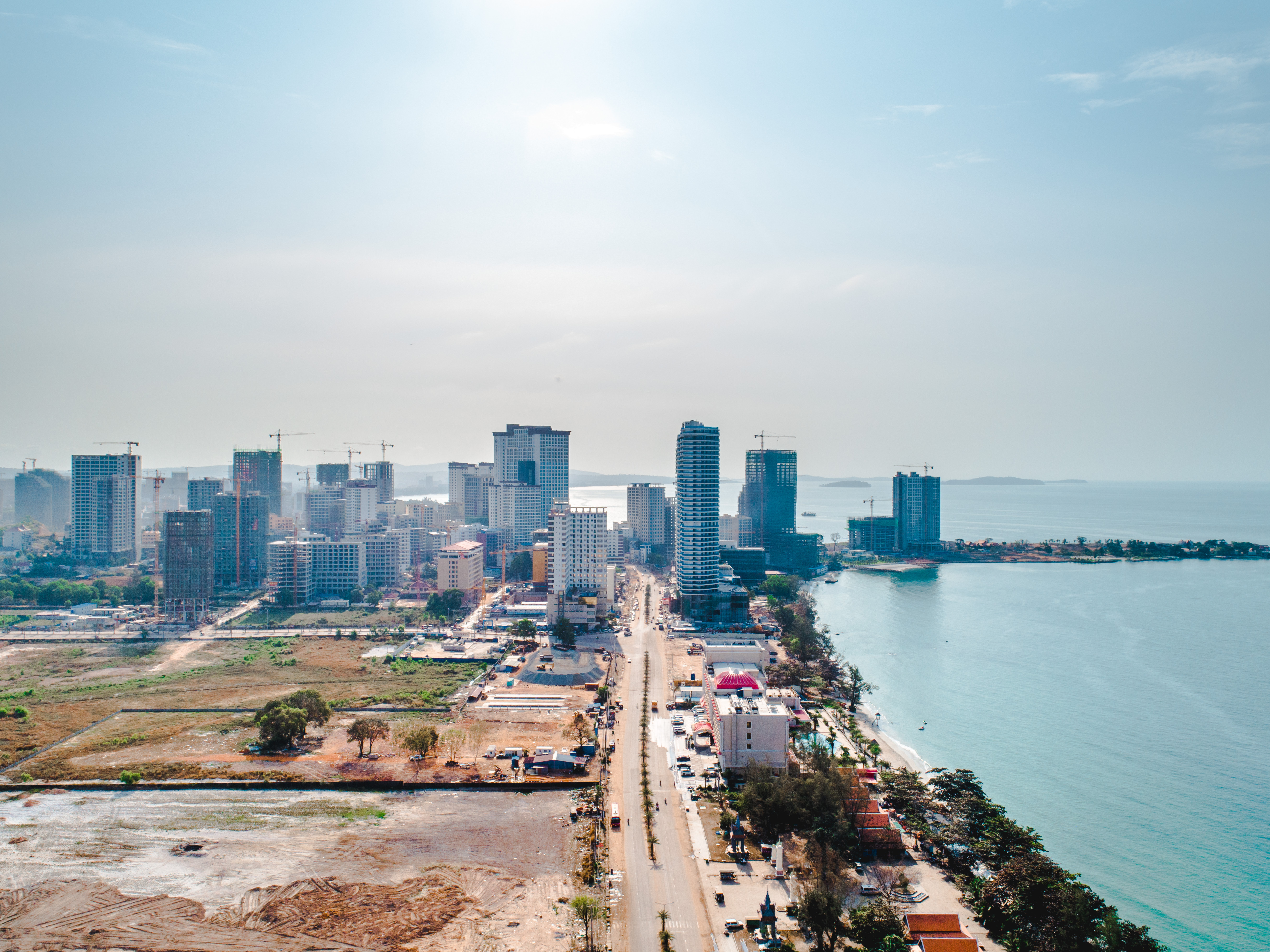 Overview
Sihanoukville, known as Kampong Som in Khmer, sits on the Kingdoms' peninsula of the pristine southern coast on the Gulf of Thailand. As the fourth-largest city in Cambodia, it is a key hub for trade, business and tourism and it has been undergoing massive development. The coastal city also is the capital of Preah Sihanouk province.
Since around 2017, Sihanoukville has seen rapid development, mainly due to skyrocketing tourism and foreign investment from China. The city is seen as a vital cog in China's One Belt, One Road initiative.
Continued demand for land has pushed up the prices, to a point where it was higher than sought after beachfront land prices in Thailand and Vietnam. Meanwhile, the tourism markets in Thailand and Vietnam are more developed than Cambodia although it is constantly being improved upon. Increase in tourism, trade and infrastructure improvements are driving an increase in rent of accommodation and commercial premises in Sihanoukville. This has caused some residents and business owners to relocate outside of the city centre while the huge development plan is in progress upgrading roads, drainage, access to amenities and at the international airport and seaport.
The city is earmarked as a city of the future and a potential jewel in the crown of Cambodia and SEA. With its coastal and serene landscape and easy access to the tropical island paradise, Sihanoukville's strategic development is of vital importance to Cambodia.
Things To Do in Sihanoukville
Explore the Area
Sihanoukville province is located in the southwest of Cambodia, approximately 232 kilometres from the nation's capital, Phnom Penh. It sits on a peninsula within the Gulf of Thailand and is the Kingdom's premier seaside destination with various beautiful beaches along the coastline and popular tropical islands scattered offshore.
Sihanoukville's location makes it a convenient getaway for the region. It's just a short flight away from Thailand, Vietnam, China, Korea, Japan, India and many other countries in Asia.
The city has its own international airport; the Sihanoukville International Airport has seen expansions and upgrades to cope with increasing demands and flights. In addition, the Cambodian State Secretariat of Civil Aviation (SSCA) is hoping to turn Sihanoukville into a major air freight hub.
Meanwhile, the Sihanoukville Autonomous Port (SAP) can also dock cruise ships and large cargo ships and is also undergoing an overhaul. Sihanoukville's port has the greatest capacity due to being a deep-sea port and is a direct feeder capacity to Singapore and other larger ports.
It takes about 6 to 7 hours to travel from Cambodia's capital, Phnom Penh, to Sihanoukville by road, but the first-ever expressway project in the Kingdom linking the two cities, started in 2020 and is due to be completed in 2023 as part of the Cambodian Road Development Masterplan. This will make a massive difference in terms of speed and safety for trade and tourism.
A commercial train service linking Sihanoukville and the capital via Kampot and Takeo was first launched in 2013 and is run by Royal Railways for passenger and freight services.
There are also four main beaches in Sihanoukville:
Serendipity

Independence

Occheuteal

Otres (Otres can also be broken down to Otres 1, 2 and 3.)
---
Real Estate in Sihanoukville
---
Price Trends for Properties for Sale in Sihanoukville
---
Price Trends for Properties for Rent in Sihanoukville