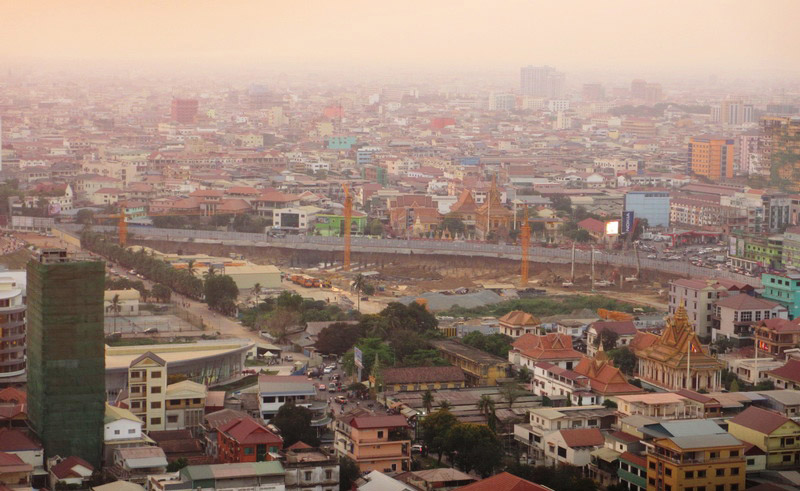 Want to start living in Cambodia? You should. Over 80,000 expats have already moved to the Kingdom and life is good! Realestate.com.kh has put together a guide for those considering joining us here in sunny Cambodia
Firstly, let's see what some expats currently living here in Phnom Penh have to say:
Daniel Santantoniou, an Insurance Broker originally from Geneva, Switzerland, who has lived in Cambodia for 20 months, says that "the best thing about living in Cambodia is the cost of living, business opportunities, overall growth in all sectors, proximity to the beach and the influence of Buddhist culture." Daniel lives in a one bedroom apartment, local Khmer style, with a view of Royal Palace and the National Museum. This costs just 430$/month, including water and cleaning once a week, which Daniel says is "good value for money given the location and view. However, we found serviced apartments way overpriced in Phnom Penh compared to Bangkok."
Alexander Evengroen, a Netherland's native and a business developer and motivational speaker by trade, has lived and worked all over the world, including China, Singapore, Thailand, Ghana, Malawi, and now Cambodia... "I have stayed in beautiful Cambodia for around 5 years. The best thing about living here is my beautiful Cambodian wife," says Alex. In terms of advice for new expat residences, Alex says that, "someone moving to Phnom Penh soon needs to be open-minded and go further than the tourist attractions. Dare to explore more provinces and meet the fantastic people of Cambodia. The amazing food, the culture and so much more. Meet other expats to share experiences and join events to learn from each other - but don't only hang around them! See and feel the beauty of this great country." Alex lives in a beautiful spacious 5 bedroom, 5 bathroom villa home with "all the needs and facilities you can dream of - Seldom do we get power cuts, and fully air-conditioned - in the Attwood area of Phnom Penh."
Filipino native Carmela Torres, a real estate marketer by day, band vocalist by night, has resided in Phnom Penh for 1 year and 3 months. She says, "The best thing about living in Cambodia is the affordable yet high quality of life (cheap cost of living). Also, the unique freedom to start a business and not get killed with taxes." "My advice for an expat moving here," says Carmela, "would be shop around to find the best deals on property and to always try to barter the price. Do not be overly anxious about safety and security when moving in Phnom Penh, and when it comes to healthcare I think the medical care facilities here have greatly improved, and many ailments can now be treated in Phnom Penh by foreign doctors and foreign-trained Cambodian doctors. Dental care is also professional and affordable. But have medical insurance in your home country in case of the worst! Finally, beware the heat!" Carmela lives in a stand-alone apartment in the BKK1 area, which she says is "definitely good value for money: Centrally located, easy access and very close to everything."
Haley Flack, a student instructor from London, has lived in Cambodia almost fourteen years. Haley comments that, "I enjoy my job and the easy going lifestyle of Phnom Penh. On weekends, the hardest thing is deciding where to eat - as there are so many great restaurants, and which gigs to go to. We are generally spoilt for choice. A piece of advice I would give is to stay calm and do not lose your temper. A smile will go a long way even when you get frustrated, which will happen." In regards to where you should live, Haley explains that, "I have lived in the same apartment for nearly ten years. The rent is very good and the landlord is very hands off, apart from when we need help. We live behind the University of Fine Arts. It is very good value for money. However, one thing I will say is the apartment next door and many others in our area lie empty. Why? Because the rent is more than double than ours. I don't understand why the landlords keep the rent high and therefore the apartments empty. I have had friends look at them and try to haggle the price, but they won't budge."
Adolfo Perez-Gascon, a Spaniard who has lived in Cambodia for 2 years already working as a journalist, thinks that, "the best thing about living in Phnom Penh is the fact that you have access to a big and vibrant community of expats, while also having the opportunity to interact with a very friendly and open local population. Living in Phnom Penh, you'll find that you have access to almost all western commodities and activities that you enjoy back home, but you are still in a foreign and exciting country; a country that you'll feel compel to explore and learn more about. In this regard, Phnom Penh strikes an almost perfect balance." Adolfo notes that, "a lot of people move to Phnom Penh without a plan; they don't really know what they want to do here, and, of course, do not have a job waiting for them. They are lured to the country by lax visa requirements and the prospects of an easy life. My advice to any person planning the move to Cambodia is to come here with a job. Do your research, find an employer that you'll like to work for, and don't board that plane until you are sure of what you are going to be doing. Having a concrete plan of action will help you enjoy your experience in the Kingdom a lot more. Starting work right away will help you integrate into the community. I shared an apartment (with 2 other people) on the second floor of a traditional Khmer building located in the vicinity of the Genocide Museum. Rent is extremely cheap (we pay 400$/month for the whole apartment). Compared to my home country, this is an amazing deal. Put bluntly, you'll never find such cheap accommodation in Spain. The apartment is nice, spacious and comfortable. We have all the amenities that you'd expect of a modern house, including Wi-Fi and aircon."
A Little History That Ex-Pats Should Know
Cambodia has a rich history going back at least five thousand years. However, it was an experiencing a Dark Age from the 1400s until 1863. This Dark Age ended when the French came in and established a protectorate. Over time, this situation changed and Cambodia became a French colony. In the early 1940s, events that occurred during World War II weakened the French Colonial Empire. In 1953, Cambodia established itself again as an independent kingdom.
Thus, from the 1940s through the 1960s, development in Cambodia was comparable to what was occurring in Vietnam and Thailand at the time. Unfortunately, the war in neighboring Vietnam negatively impacted Cambodia, resulting in sections of Cambodia being bombed by various parties, including the USA. This helped bring a group to power known as the Khmer Rouge. Most likely, you have heard the term "Khmer Rouge" and are aware that it has negative associations. They came to power in Cambodia in the 1970s, and, during their relatively short reign of terror, killed approximately a third of the country's population.
These events affected everyone in the nation and still do. But this era was particularly hard on educated professionals, such as doctors, lawyers, and teachers. They were targeted first. Although these events are history, they are not yet resolved. The country is still struggling to heal its wounds from these events. The trials of the Khmer Rouge leaders for their atrocities started relatively recently and are still ongoing in The Extraordinary Chambers in the Courts of Cambodia (ECCC) located outside Phnom Penh.
Additionally, the country developed the Tuol Sleng Genocide Museum and Choeung Ek Killing Fields in Phnom Penh. These are tourist sites aimed at educating the world, as well as a form of national therapy, helping the country to come to terms with these recent events.
History and the Ex-Pat Community
Modern Cambodia was established in 1993. Thus, it is a relatively young nation, yet it has a long and rich history. The recent events detailed above have some of the following impacts on the ex-pat community today: 1) The tremendous recent loss of so many educated people is the primary reason that Cambodia has such a thriving ex-pat community.
The country needs far more educated, skilled professionals to fill vital roles than it can supply internally. So, if you are an ex-pat living in Cambodia, you have been welcomed here to help with the recovery process that the country is still undergoing. 2) If you want to fit in and be comfortable in your interactions, it helps to understand the culture a bit.
One of the take-aways from this short history lesson is that there is a significant French influence in Cambodia due to the years that it was a French colony. Another is that Cambodia is right now undergoing a process not unlike The Nuremburg Trials from some years ago, when European leaders were similarly tried for war crimes from World War II. 3) The country still has a lot of landmines and other visible scars from being embroiled in conflict for decades. It is wise to be mindful of potential danger in some parts of the country when you travel.
Phnom Penh for Expats
As the capital and the largest city in the nation, Phnom Penh is a locus of the ex-pat community. Not only are there a lot of jobs here that are well-suited to attracting ex-pats, it has development more comparable to that of many western nations. This gives ex-pats the chance to find their comfort zone, anywhere from largely recreating a life similar to what they had in their country of origin to living much like a local for an especially broadening personal experience.
The ongoing influx of foreign investment and foreign workers living here has brought with it western style businesses and amenities, plus international school amenities geared to the needs of ex-pat families. As with any big city, more development tends to lead to higher prices. However, going local can give you an exotic experience on the cheap, if you so desire it. Western style luxury apartments with all the amenities and also serviced apartments -- such as a pool, gym and security -- can be had for $500-$3000 per month.
Alternately, more authentically Cambodian digs can be rented for less than $300 per month. If your comfort zone involves organic, upscale food stores, you can find that for prices comparable to what you would pay at home. Or you can shop the local outdoor vendors (similar to western Farmer's Markets) for substantially less, often about half price. A western style coffee from a foreign chain can be had for around $3, while a cup of coffee from a local stall is typically well under $1. In fact, the first Cambodian Starbuck's recently opened in the Phnom Penh International Airport.
If you just must have a taste of home, it can be found there at typical Starbuck's prices. There is plenty to do and see within the capital, including fine dining, live music, movies and other entertainment venues.
But, living in Phnom Penh also gives you easy access to the recently expanded international airport and bus services, making regional travel very do-able for the more adventure-minded types. All of this means that an ex-pat living in Phnom Penh can live what would be a very upper class lifestyle in most large western cities, but on a relatively modest income. A housekeeper can be hired for about $5 per visit, making it affordable to have one come once or twice per week.
A mid-price restaurant meal for two is approximately $15-20; about the same as or not much more than you would pay for fast food in many western cities. Plus, simply being here means that when you take a day trip or a weekend jaunt, it is invariably to see things that many westerners would only dream of visiting if they were incredibly rich.
The Ex-Pat Work Scene
Most ex-pats in Phnom Penh live on anywhere from $12,000 to $60,000 per year. They are employed in NGOs, the hospitality and tourism sector, education, tech and business. Some are hired to come here. Others choose to simply show up and look for work. Simply showing up is not as crazy as it might sound.
Cambodian visas have some of the most lax rules in the entire world, and being here allows one to find jobs via word of mouth that won't ever be advertised online. You can also check newspaper listings if you are here. Some people start by looking at online job listings. The two most popular Cambodian job sites are Bong Thom Dot Com and HRinc.
How to Get a Visa
There is a low bar to entry here. Many people get a standard E-class visa by simply showing up. Airports and border check points both allow you to get one by filling out very nominal paperwork and paying a few extra dollars above what a tourist visa costs. For about $300, you can extend it to a year.
However, in 2014, Cambodia passed a new law that requires foreign workers to have a government issued work book. This is really a responsibility of the employer, not the employee, and, so far, enforcement has not been stringent.
Currency
It may surprise you to learn that US Dollars and Cambodian Riel are the predominant currencies here. In fact, most ATMs dispense US Dollars only (unless otherwise noted). With the exchange rate in the neighborhood of 4000 Riel to $1 US, it is typical for transactions to be made primarily in dollars, with "change" given in the form of Riel instead of US coins.
Popular Ex-Pat Neighborhoods
A popular area for ex-pats is Boeung Keng Kang 1, 2 or 3. (Don't worry: Everyone just abbreviates this as BKK 1, 2 or 3.) The Russian Market and the Riverside area also have many ex-pats. BKK 1 and 2 are more upscale, with more amenities geared specifically towards foreigners. BKK 3 and the Russian Market both offer an attractive mix of western and local shops.
Learn more about these popular areas! Search for your new home away from home now!
The Riverside area is popular with tourists and has a number of bars and nightclubs. It is, perhaps, less family friendly than the other neighborhoods, but a good place to go if you love the nightlife. More recently, Tuol Kork is a neighborhood about 30 minutes out that is increasingly attracting ex-pats. As with other large cities, commuting to a suburb outside the densely developed downtown area is a good way to find places renting for much less money.
Learn more about expat rentals in Phnom Penh!
Housing
In addition to the aforementioned luxury apartments and local style rentals, Phnom Penh also has French colonial architecture and western style homes tucked away on tree-lined streets. Single ex-pats who choose to share an apartment can find accommodations for as little as $150 per month.
Those who choose to live on their own may pay up to $500 for an apartment, depending upon its size, location and amenities. Couples or families are typically looking at costs between $250 and $1000. Should i opt for a long or short term lease in Cambodia?
Here are some pros and cons. If you go through a real estate agency to help you find a place, it shouldn't cost you anything as they are typically getting paid by the landlords. They can help you understand what is available and what is in the lease. Just like you would in other countries, it is not uncommon to sign a lease for a set period of time, pay a security deposit and your first month's rent prior to moving in.
Here's how to choose the right Cambodian real estate agent for you!
Utilities
Although some landlords cover utilities for you, such as cable, water and trash, they typically charge you for electricity. The typical rate is around $0.25 USD/kilowatt. Read your contract before you sign. Some landlords may try to pad that. Make sure you understand your contract before you sign!
English is Common
As with many countries, a lot of the locals speak English. This makes it easier to shop, dine and make friends than you might expect. Many shops and restaurants can assist you in English, even with local goods.
Petty Crime
If you look like a well-heeled foreigner, you may find yourself the target of petty crime. This is pretty normal in less developed countries, but Phnom Penh is actually safer than Vietnam and Bangkok. Crime levels have gone up recently, but if you take reasonable precautions, this shouldn't be particularly more concerning than in any big city. Bag snatching is a minor issue in downtown areas at night, especially for western women. This also occurs from the side of Tuk Tuks at night, perpetrated by thieves on motorbikes. To be sure, make sure you keep your bag on the inside of you at all times.
Learn more about home and personal security in Cambodia.
The State of Medicine in Cambodia
Perhaps you have heard that you should "Go to Thailand" if you need medical care while in Cambodia. It was not that long ago that this was the standard wisdom in the ex-pat community, but medical care has come a long way in recent years. Increasingly, Phnom Penh has first rate doctors available, whether foreign doctors who came here to practice or Cambodian doctors who were trained abroad. Dental care is also comparable to that in more developed nations, while costing far less. None the less, some kinds of procedures may not be available locally.
Thus, it is not uncommon for people to go elsewhere if they require certain things. Thailand is still popular, followed by Singapore and Malaysia. Bangkok is particularly popular for OB care. However, even after you factor in travel expenses, you will find that medical care in this region will generally be less expensive than what you would pay in the USA. To give you a general idea of the price range: Visiting a local emergency clinic for stitches, plus two follow-up appointments, can cost less than $300.
Getting Groceries
Ex-pats can shop at modern grocery stores for many of the same amenities they would find in a western country, often at prices that are not substantially different, though there are certainly some notable exceptions. For example, apples and are not native fruits here. Since they are imported, they may be surprisingly expensive compared to the prices in your country of origin. However, many ex-pats enjoy checking out the numerous open air markets that dot the city. Similar to Farmer's Markets, these are a great place to get great prices on locally grown produce. Bonus: You may get a chance to learn some of the local language (Khmer) and it puts you directly in touch with local culture in a low risk, comfortable manner. You do not have to be too adventurous to partake of this ex-pat experience, while collecting charming stories to tell back home someday.
Ex-pats may love the local outdoor markets with their fresh, surprisingly cheap in season produce, but for more perishable items, like meat and dairy, many ex-pats prefer to shop at stores geared towards western sensibilities. These are western style grocery stores with air conditioning and refrigeration for perishables. Unsurprisingly, they are more readily available in some of the same neighborhoods where ex-pats tend to concentrate, such as BKK 1 and 2 or the Russian Market.
You may especially enjoy the lingering French influence that is clearly present at such places. Their bakeries routinely carry croissants, baguettes and other authentic French style baked goods. Most ex-pats can find all their familiar favorites, just like back home. If you are feeling a bit homesick, you can just stock up on all of your "normal" foods and cook at home, giving some of the local eateries a rest for a bit. Then dip back into Cambodian culture again at will, whenever you feel like it.
Wine and Spirits
If you are fond of good alcohol, it is surprising how readily available and affordable such things are in Cambodia. Many familiar brand names, such as Absolut Vodka, are readily available, usually for under $20. You can find wine shops and craft beers. There are bars and restaurants that will serve you cocktails. Happy Hour often means cocktails are half price. A can of local beer from a local shop is astonishingly cheap. You can also find experiences such as weekly rum tastings.
Local Transportation
Within Phnom Penh, ex-pats and locals mostly travel by hiring tuk-tuk and "motos" (local slang for motorbikes). Tuk-tuks are carriages pulled by a motorbike. Going across town via tuk-tuk should cost around $5. Shorter trips within the city will be less. If you are traveling alone, you can catch a ride for a small fee on a moto. This will be cheaper, but more of an adventure. They are not particularly regulated here, thus most drivers are engaging in a casual form of unregulated entrepreneurship. Pretty much anyone who owns a motorbike can hire themselves out.
They do not usually provide helmets for their passengers. Of course, they typically do not wear a helmet themselves either. Taxis can be found, but they mostly service the airport. If you really want a taxi, you should call and arrange one. They do not typically cruise the city looking for passengers, so it is not realistic to assume you can readily flag one down. In 2015, local bus service was established in the city. Unsurprisingly, given how new the system is, routes are limited and service is not yet reliable. This is something to look forward to for the future, but not something you should count on for basic transportation just yet.
Travel Outside of the Capital
Phnom Penh's International Airport is still being upgraded. Its ongoing expansion has added more international flights, both to and from the capital. There are multiple daily flights to Bangkok, Thailand, and Ho Chi Minh City, Vietnam for less than $100. For about $50, you can take an Air Asia flight to their Kuala Lumpur hub and from there go on to other parts of Asia.
Although the local bus service is in its infancy, regional bus service has been around for some time. Thus, it has had the opportunity to mature. Typically for less than $20, you can find air conditioned buses to most parts of the country via Giant Ibis. For not much more money, it is also possible to find buses that will take you to a bordering country, such as Thailand. If you wish to go someplace not on an established bus route or you wish to retain additional control over your schedule, for a bit more money, you can also hire a car and driver to take you anywhere you wish to go.
A Magnet for Foreign Nationals
Phnom Penh has much of the charm and opportunity that our parents found in so many places around the world, but which is nearly non-existent these days. This unusually low cost cosmopolitan city offers ready access to relatively obscure, exotic regional destinations. Plus, it has economic access to major markets, such as India, China and Australia. This makes it one of the few places left in the world where educated people from more developed nations can find abundant career opportunity while living like they are on a permanent vacation.
Retiree's Mecca
InternationalLiving.com's Annual Global Retirement Index has just named Cambodia as 1 of 3 top retirement destinations worldwide. The retirement index seeks to compare and contrast retirement destinations around the world – all of which are exhibiting relatively low costs of living by global standards. Retiring in weaker economies is becoming a global trend for expats from more expensive, developed economies, as the relative costs of living in cheaper retirement destinations guarantees a better quality of life for pensioners. In the past 10 years the Kingdom of Cambodia has become one of Southeast Asia's most up-and-coming destinations for tourists and expats looking to enjoy the exotic charm of a country that also offers the most attractive cost of living in Asia.
Cambodia has flexible visa requirements for citizens of Western countries who can obtain annual long-stay visas with a minimum of paperwork and a processing fee of just $285 per year. When you get there, everything from entertainment to renting is very affordable in Cambodia. Meanwhile, the Cambodian government looks set to make it even easier to retire in the Kingdom… Meanwhile, the government has released plans to increase Cambodia's attractiveness as a destination for foreign retirees, according to a draft policy from the Ministry of Tourism obtained by the Cambodia Daily. "The draft includes a range of proposals to extract more income from Cambodia's tourist industry by encouraging foreigners to buy property and stay longer in the country, with involvement from the ministries of tourism, finance and land management," said the Cambodia Daily report.
The proposed policies are said to include measures such as the development of "special residences" throughout Cambodia with commercial tourist properties and a wide range of useful facilities. "Special tourists" such as retirees would have the right to buy, rent or sell property in these special residences, and also be entitled to longer-term and more flexible vi­sas, according to the draft of the policy.