Do you plan to live in the Kingdom of Wonder? It is one of the best places in Asia to live as an expat. Over 100,000 expats are currently residing here, and life is good! To help you, Realestate.com.kh has put together a definitive Cambodia expat guide.
We'll take you on a complete tour with this guide, include quotes from long-time expats, and even give you some Khmer phrases to go with each section.
Cambodia Basics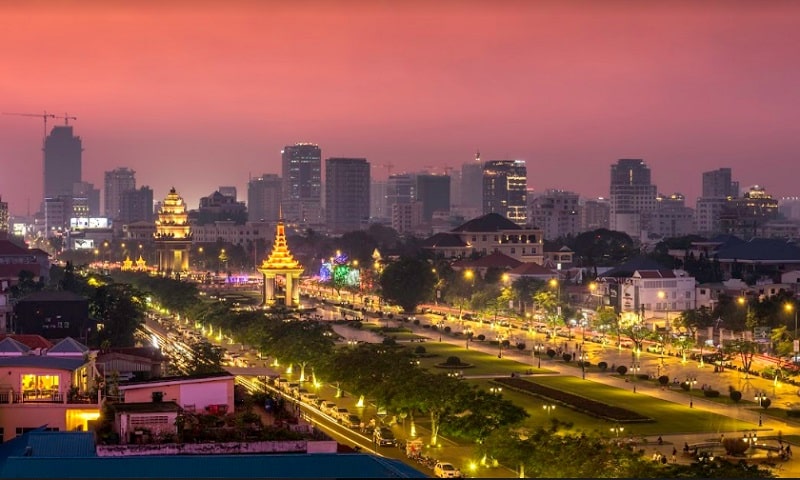 Before you come to Cambodia, it's good to know a little background information. We've got you covered. Consider the following section to be your crash course on where Cambodia is, its history, religion, government and language.
Where is Cambodia?
Cambodia is located in Southeast Asia. It is bordered by Thailand to the west and northwest, Laos to the north, Vietnam to the east and southeast, and the Gulf of Thailand to the southwest. The capital and largest city of Cambodia is Phnom Penh. The country has a rich history, with famous ancient temples like Angkor Wat in Siem Reap, which is a popular tourist destination.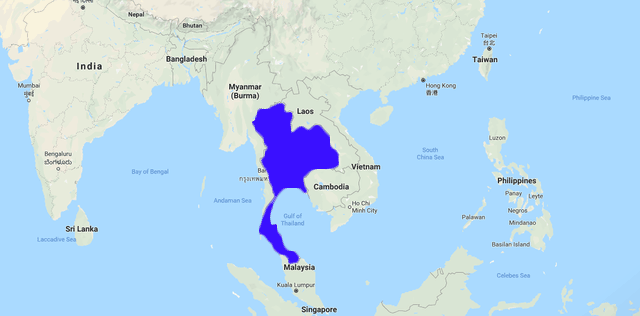 Cambodia History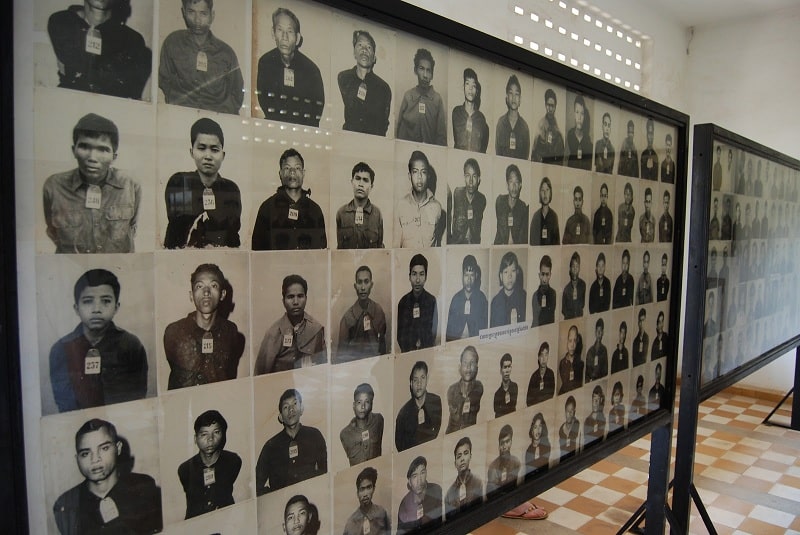 Between 800 and 1300 AD, the Khmer Empire dominated the majority of Southeast Asia, leaving behind a remarkable heritage exemplified by the magnificent Angkor Wat temples in Siem Reap, which stand as one of the world's most significant religious monuments.
During the period from 1867 to 1953, Cambodia was under French colonial rule as a "protectorate" in the region known as French Indochina, encompassing a considerable part of Vietnam and Laos. The profound influence of France's legacy can still be observed in Cambodia to this day.
However, one of the darkest chapters in Khmer history unfolded during the notorious Khmer Rouge era. From 1975 to 1979, this ultra-Maoist regime, led by Pol Pot, governed the country with a reign of terror, resulting in one of the most horrific genocides in human history. Nearly two million people, approximately a quarter of the country's population, tragically lost their lives during this devastating period.
Religion in Cambodia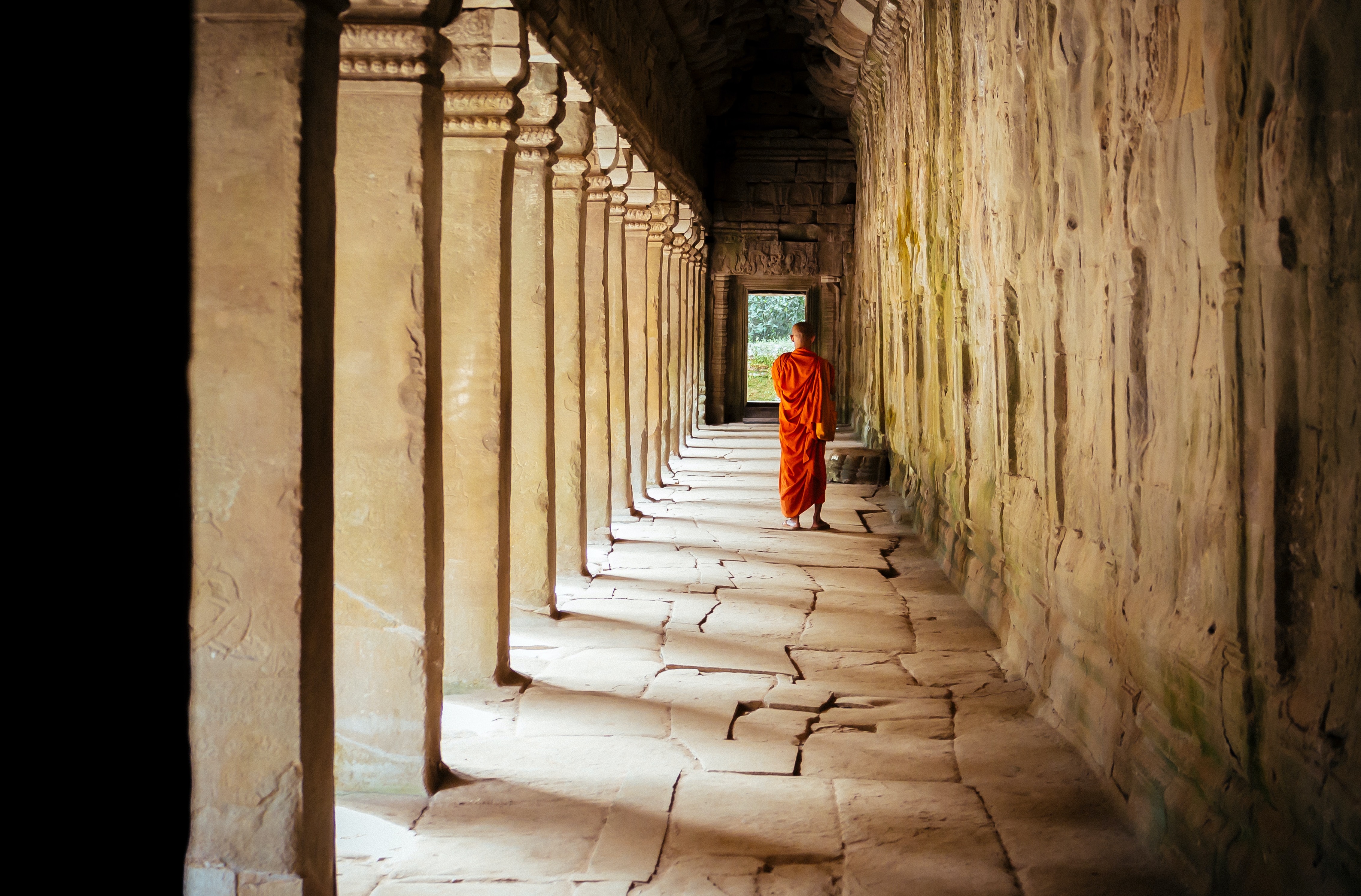 Approximately 97% of Cambodia's population follows Theravada Buddhism, which is also the official state religion. Nonetheless, echoes of the country's Hindu history can still be sensed, particularly at ancient sites.
About 2% of the population consists of the Cham ethnic group, who practice Islam. Besides, there are small Christian communities in the country, along with various ethnic-religious groups residing in the northern regions.
Cambodia's Government
Cambodia is, by definition, a constitutional monarchy. The King's power is mostly symbolic. In practice, Cambodia is a parliamentary democracy. Norodom Sihamoni is the current King of Cambodia. 
Hun Sen, the current prime minister, has presided over the National Assembly since 1985. His Cambodia People's Party won re-election in July of 2018 for another five-year term.
Cambodia's Official Language
Khmer is the official language of Cambodia. It is in the same language family as Vietnamese. However, unlike its cousin, which in the recent past converted to use the Latin alphabet, Khmer still uses a unique alphabet.
Basic English is widely spoken in Cambodia, and Mandarin Chinese is gaining momentum. Nonetheless, many foreigners coming to Cambodia learn at least a few simple phrases in Khmer.  
Key Khmer phrases: 
Hello (formal) - jum riab sua 
Hello (informal) – suos dei
Cambodia- Kampuchea
Khmer language – paisa Khmai
Yes (male speaker) - bat
Yes (female speaker) - jaa
No – ot tei

Moving to Cambodia: What to Expect
Now that you know a little bit about the country, it's time to lay out your plan for moving to Cambodia. Living in a new country can be disorienting at first. Chances are, you're moving to Cambodia from a country with a different culture. The following section is a practical guide to everything you'll need before moving to Cambodia. 
What to Pack for Cambodia
You might be tempted to bring a couple of huge suitcases or backpacks when you are moving to Cambodia. Sure, it's good to be prepared. But don't go overboard. Cambodia is a country with tons of cheap consumer goods. For example, you can buy a T-shirt here for a couple of dollars. So don't stress too much about what to bring. 
If you are concerned, there are many Facebook Groups created by expats living in Cambodia, some are for specific nationalities and discuss specific items they miss from their home country or discuss what items they might bring to the Kingdom.
Weather in Cambodia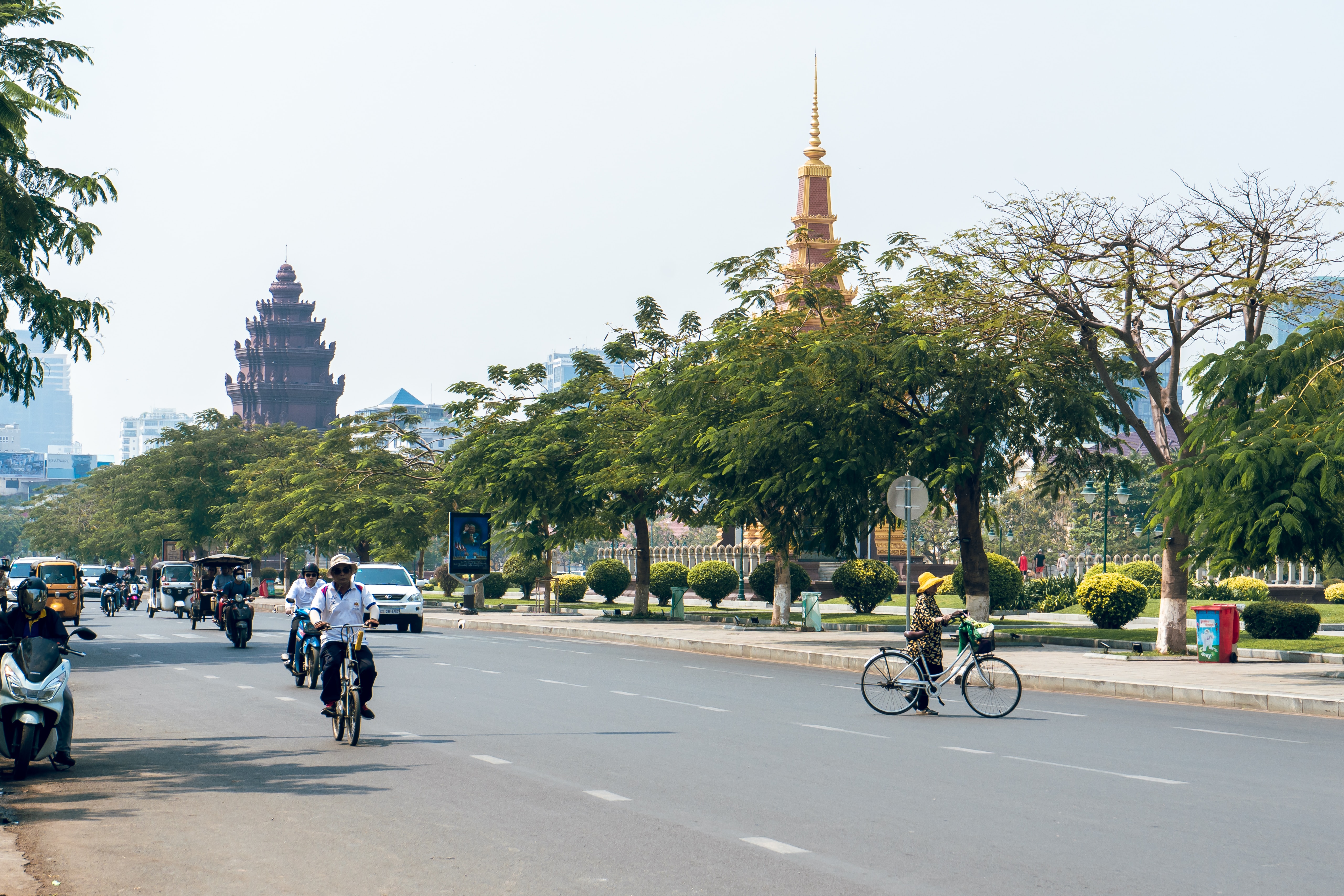 Cambodia is hot all year. However, there is a rainy season and a dry season. December to April is considered the dry season. The worst heat comes near the end of this period, just before the rains start to cool everything off in May. September and October are the peak rainy months. 
The heat can be sweltering in Cambodia. In the middle of the day, it can hit 40C+ (104F). Even in the coldest months of the year, it stays around 30C! 
The Currency in Cambodia
Cambodia uses both the US dollar and the Cambodia Riel. The exchange rate is 4,000 Riel to 1 USD, and there are no coins. More and more places are accepting credit cards and digital payments, but cash is still the default currency in Cambodia. 
The situation surrounding the currency in Cambodia is a bit peculiar. People tend to use USD for larger payments. However, vendors are very particular about the condition of bills. A $100 or $50 bill with a small tear will be refused. 
Riel, on the other hand, is generally used for smaller amounts. They come in denominations between 100 riels and 50,000 riels.
Since 2019 however, the National Bank of Cambodia has been pushing for the de-dollarisation which has been supported by businesses. NBC also launched Bakong, a central bank digital currency (CBDC) and encourage more digital payments since the global pandemic started in 2020.
ATMs are ubiquitous in the city, so it's usually not hard to get cash from your international bank account.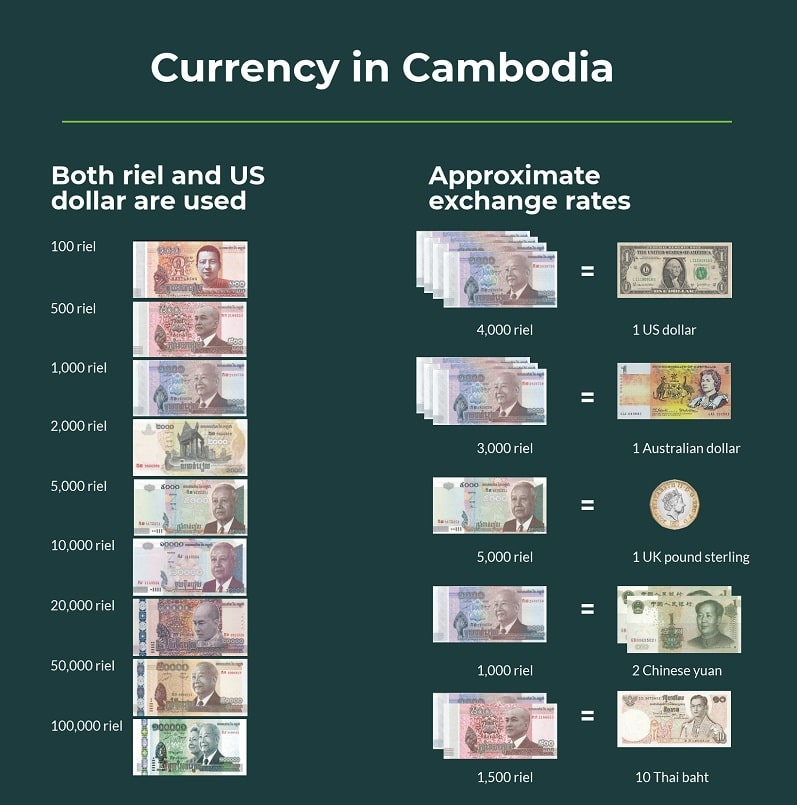 Wall outlets in Cambodia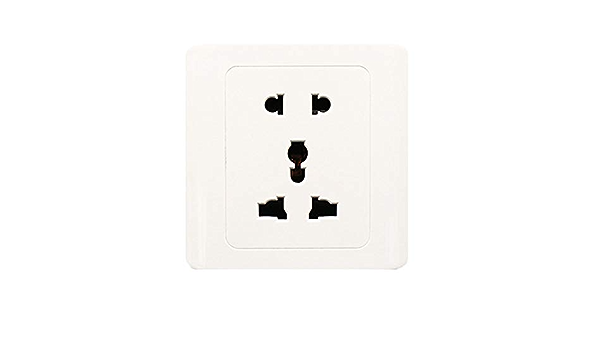 Thankfully, most buildings in Cambodia have wall sockets that accept Type A, Type C and Type G plugs. No matter whether you're coming from the US, Europe, UK, Australia, or South America, you won't need adapters. Even if you do, they are readily available. Anything between 220V and 240V is ok here.
Can you drink Cambodian water?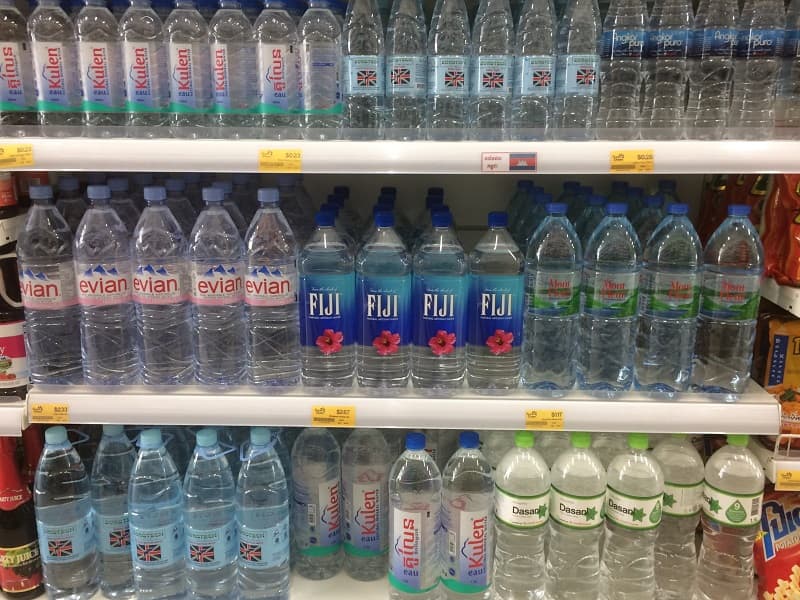 Tap water in Cambodia's bigger cities should be safe to drink. However, plumbing rules are spotty, so most people drink bottled or filtered water. Municipal water is safe for washing and brushing your teeth.
In rural Cambodia, most people still collect rainwater for daily use. It's best to stick to bottled water in this case. 
Phone service and Wi-Fi in Cambodia
Cambodia has some of the best Wi-Fi coverage in Southeast Asia. In the bigger cities, every restaurant, guesthouse, and hotel will have it often for free.
Mobile service is also, generally speaking, excellent. The leading providers are Cellcard, Smart, and Metfone. You can buy sim cards on every corner (you will need to present your passport), and data plans cost less than $3 a week.
Key Khmer phrases: 
Money - louy
Phone - touresap
Hot - kdau
Cold - rongea
Rain - pliang
Pants- khao
Shirt- au
Cost of Living in Cambodia
The cost of living in Cambodia is quite low. However, it all depends on your lifestyle. The three main expenses while living here will probably be rent, food, and entertainment. Let's break them down one by one: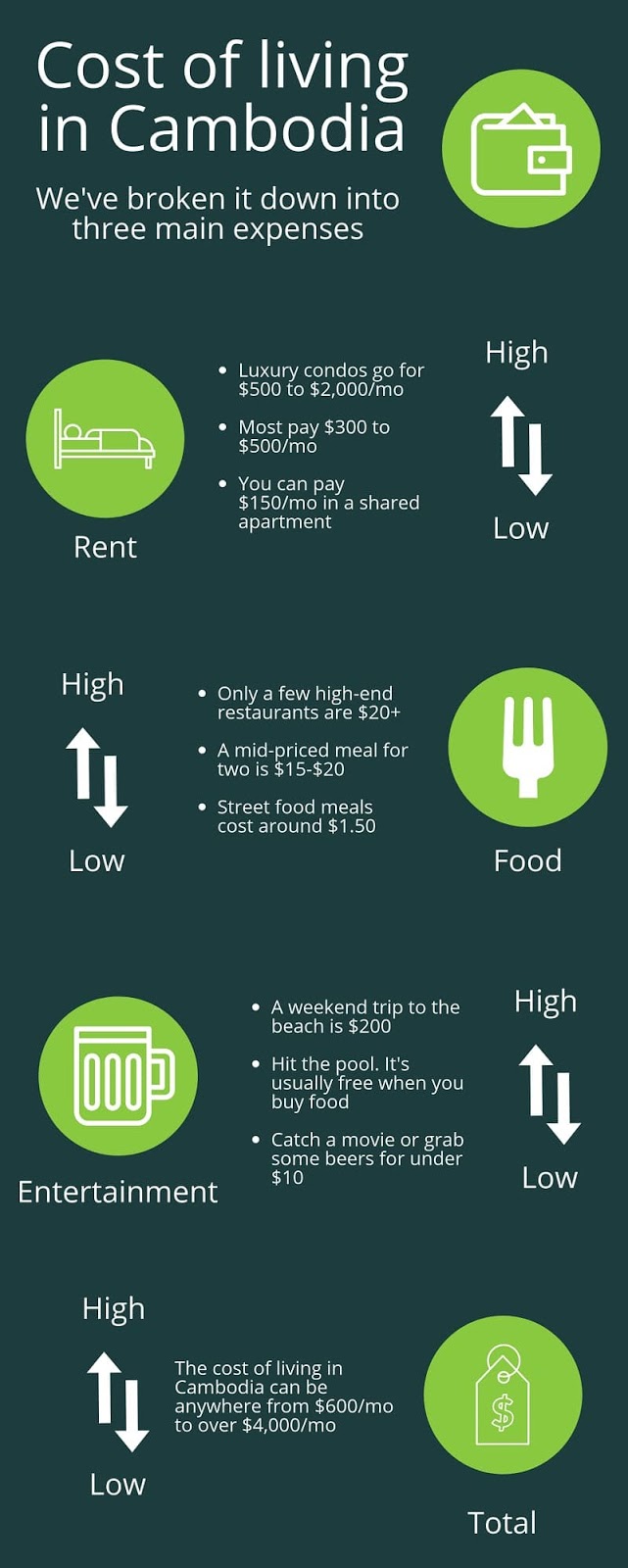 Rental Costs in Cambodia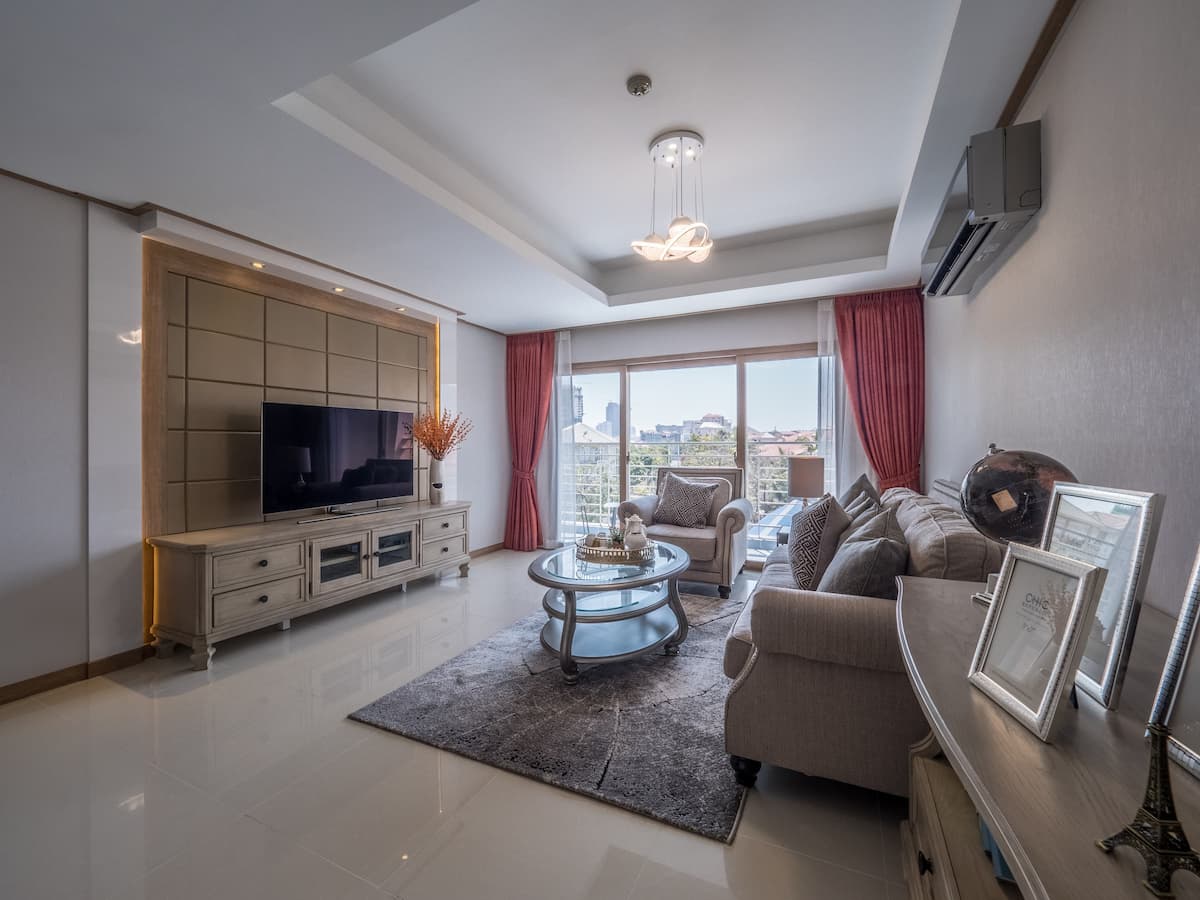 Rent fees can vary widely depending on where you live, what type of housing and whether or not you have roommates. 
You can get a place for as little as $150 per month in a shared apartment, or as much as $500 per month in a luxury building. On average, expect to pay between $300 and $500 per month for each bedroom. Our site has thousands of listings of apartments for rent in Phnom Penh from $300 to $500.
You can rent authentically Cambodian digs for less than $300 per month.
Western-style luxury apartments, called serviced apartments, are excellent. You can find them for $500-$2,000 per month. These usually come fully furnished and the buildings host pools, gyms and security. We've also got you covered here. Start browsing to find a condo for rent in Phnom Penh.
You can track the price trends using our Cambodia Real Estate Trends tool.
The official rate for electricity is 720 riel per kWh. However, many landlords will round this up to $0.25 for large buildings. The city's official water rate for residential spaces is between 550 and 1,270 riels per cubic metre. You should be paying between $20 to $60 per month for internet. If you pay for cleaning, you should look to spend from $30 to $100 a month, depending on the frequency.
Food Costs in Cambodia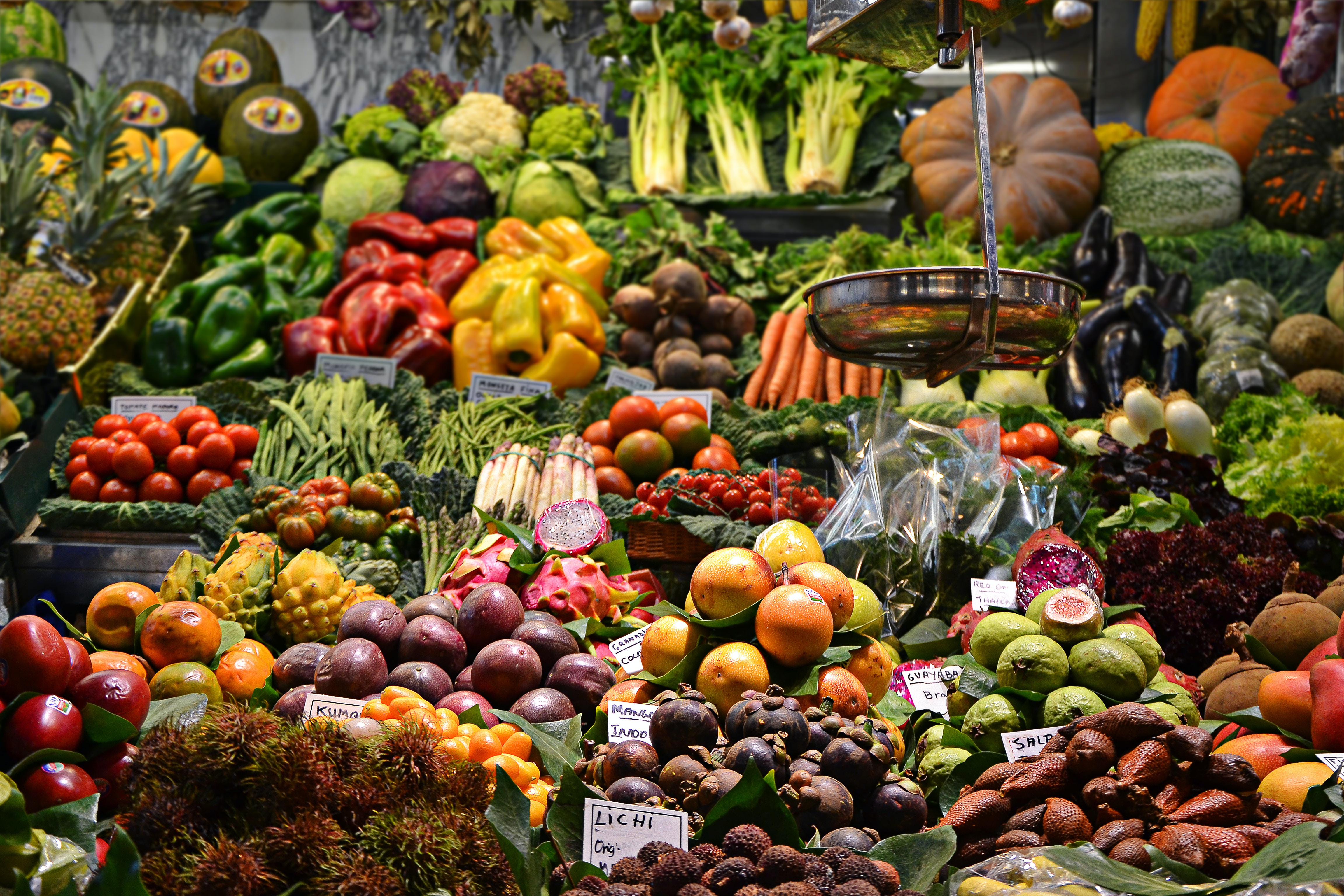 You can find food for as little as $1.50 per meal. Cheap eats can be located on almost every street corner in urban centres. This dining is bare-bones, however. You'll probably be outside on a plastic chair with some covering. 
A mid-priced restaurant meal for two is approximately $15-20. There are more and more places in this range popping up in the cities and the quality of food and the range of cuisine can be excellent. 
Some expats in Cambodia eat out almost every meal. Others choose to buy groceries and cook at home. Food delivery apps and home grocery deliveries have also improved massively. Skip down to read more about buying groceries in Cambodia. 
On average most people spend between $200 and $500 on food every month.
Cost of Entertainment in Cambodia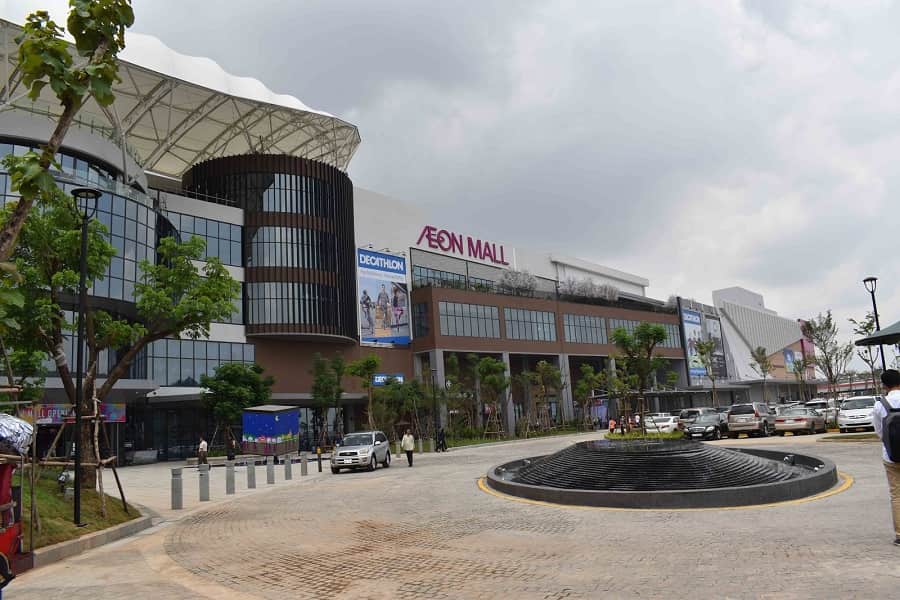 Cambodia is still a developing country. But in the city, there are more and more modern amenities being developed. Shopping centres are some of the hottest destinations in the capital. 
The most prominent malls in Phnom Penh are Aeon Mall, Exchange Square, Sorya Centre Point, City Mall and Aeon Sen Sok. But there are dozens more planned in the capital alone. Most of these malls host cinemas, restaurants, arcade games, bowling and other forms of entertainment.
Nightclubs and bars are also popular venues for expats to spend their time on the weekends. These tend to be in the central part of the city, near popular expat neighbourhoods. Pools are also popular places to hang out during the day. Check out our list of all Phnom Penh pools open to the public.
Taking short trips around the country is a popular activity for many living in Cambodia. Since prices are lower in rural areas, you can often head away for an extended weekend for less than $200. Popular destinations include Kep, Kampot, Sihanoukville, Siem Reap and Mondulkiri.
The final cost of living can be as low as $600 per month or up to $2,000 per month - it really depends on personal choice and budgets.
Key Khmer phrases: 
Watch a movie - mul kon
Swimming - hael tuk
Dance - roam
Drink - puk
Coffeeshop - haang cafe
Go on a trip - dal leng

Cambodian Visas for Expats
Getting a visa in Cambodia is pretty straightforward. Most people show up and get one on arrival. But Cambodian visas for expats can cover a few different types. Read through the following section to learn about the visa that is right for you.
Cambodia Airports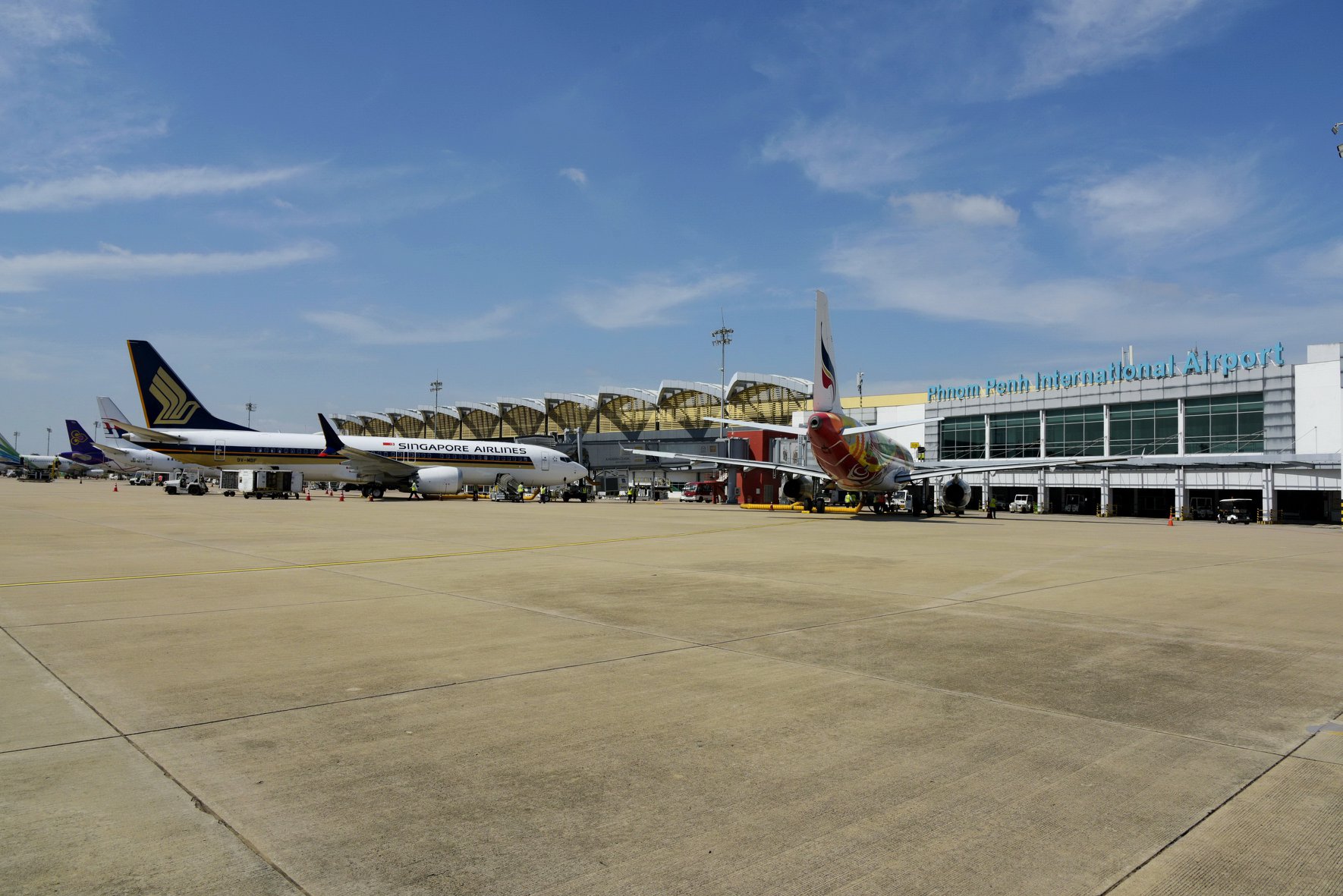 There are international airports in Phnom Penh, Siem Reap and Sihanoukville. If you're coming from far away, you will usually arrive by way of another regional hub like Kuala Lumpur, Singapore, Hong Kong, Bangkok or Taipei. 
Cambodia's airports are quite small, but that means getting in and out is simple. That said, more and more flights are being added each year as the number of tourist arrivals increases. As far as baggage and security, Cambodian airports are generally the same as any other country. 
The main airports also have seen several upgrades and new airports are being developed in Phnom Penh, Siem Reap and Koh Kong.
Crossing The Border Into Cambodia
Cambodia officially has 15 border crossings. There are eight with Vietnam, six with Thailand and one with Laos. 
The majority of traffic to Thailand passes through the crossing at Poipet. Most buses going between Ho Chi Minh City, Vietnam and Cambodia cross at Bavet. Meanwhile, any passage to Laos goes through the crossing in Stung Treng.
Cambodia Visas for Expats
Cambodia usually does visas on arrival*. This means you'll get them when you land at the airport or cross the border. All you'll need are your passport and a passport size photograph. If you don't have a photo, they will charge you $2 to scan the one in your passport. 
Most people arriving in Cambodia get either a T (tourist) visa or an E (ordinary) visa. E visa does not mean an electronic visa!
There are a couple of other types of visas, such as B-type for NGO workers and K-type for foreign-born Khmer, but most people get T or E visas. These are both valid for 30 days. The T visa costs $30, and the E visa cost $35.
Note: You can only extend the T visa once. You can get an additional 30 days for $45. Any travel agency can facilitate this in a few days. However, after that, you must leave the country and re-enter if you want to stay longer. 
E visas, on the other hand, are the better option if you plan to stay long-term. You can extend E visas indefinitely. There are four types of extensions:
EB for those with jobs in Cambodia
EG for those looking for a job
ER for those who want to retire in Cambodia
ES for students
You can get extensions that last one, three, six, or 12 months. The six and 12-month extensions are for multiple entries. Paying for one year gets you the best deal. It costs just under $300. Sounds expensive, but if you overstay your visa, you'll have to pay $10 per day.
*(Please note that since the COVID-19 pandemic, the visa situation has changed several times and it's best to visit the official Cambodian government websites' and embassy announcements for updates).
Key Khmer phrases: 
Airplane – yun hau
Day – tingai
One – muoy
Two – bpi
Three – bey
Four – buon
Five – bpram
Six – bpram muoy
Ten – dop
100 – muoy roi
1,000 – muoy bpoan
Living Conditions for Expats in Cambodia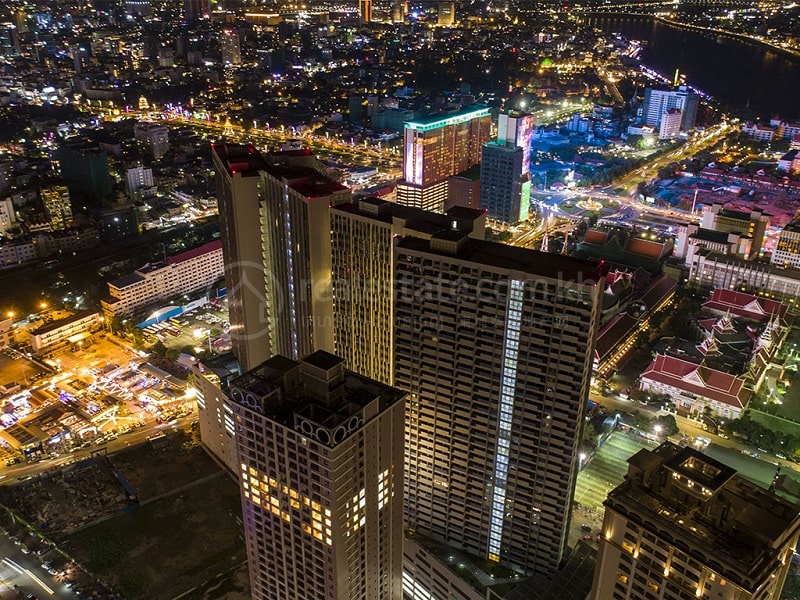 There's a reason that expats are attracted to the country: Cambodian living conditions for expats is pretty low-key. Cambodia is a developing country. Life moves at a slower pace, in general. But living conditions are still good, depending on how much you want to pay. 
The following section will take you through all the significant types of housing for expats in Cambodia. It will also give you instructions on how to find an agent and what to expect about Cambodian living conditions for expats.
Housing Types For Expats In Cambodia 
Choosing what type of accommodation you want to live in is a big choice in Cambodia. If you're only planning to stay for a short time, try getting a monthly rate at a guesthouse or hotel. Often, there will be a slight discount. 
If you're on a budget, living in a shophouse is the way to go. These are the long, narrow buildings that often have shops and stores on the ground floor. Rent out an upper level with one or two friends, and you could pay as little as $150 per month. 
Dedicated apartment buildings are becoming more popular in Cambodia. Most come fully furnished and are more or less what you'd find in any other big city. They usually have one or two bedrooms and go for between $300 and $700 per month depending on the location. We have a massive list of expat rentals in Phnom Penh that you can start browsing right now.
Serviced apartments are apartments decked out with luxury amenities. They have gyms, pools, and housekeeping services. They come in a range of sizes and can cost more than $1,500 per month. Most are in Phnom Penh, but you will find a few in Siem Reap and Sihanoukville.
Villas are freestanding houses that can have between three and 10 bedrooms. Most span two or three floors and have a parking area, and some even have pools. People can use these as residences or businesses. Prices vary widely. But you can scope them all out now and find the perfect villa for rent in Phnom Penh.
Hiring an Agent, Signing a Lease in Cambodia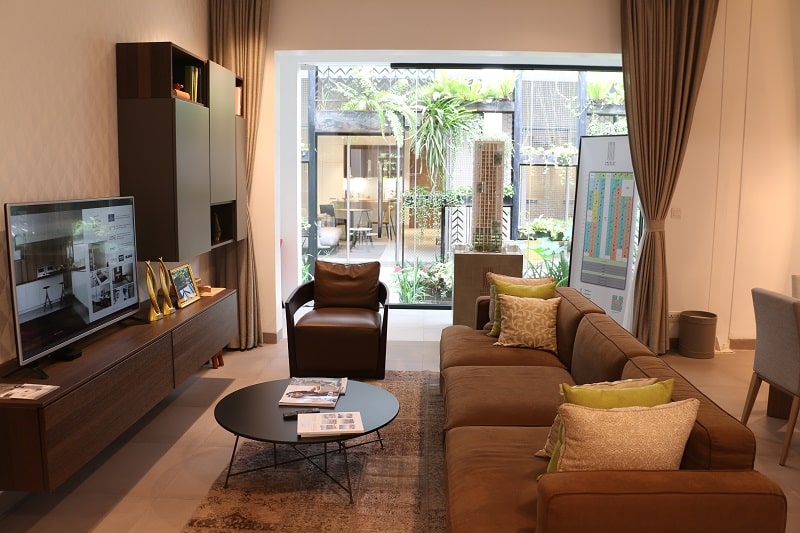 If you're new to Cambodia, using a real estate agent is probably the best way to find your perfect property. Here most agents get paid a commission by the building owner, so there's no extra cost to you. Just tell them what you're looking for, and they'll even arrange transportation to all of the viewings.
If you hire an agent, they can also help negotiate the rental price. Usually, you can get them to reduce the rate a bit. After all, many apartments in the big cities sit empty.
Make sure you get an English copy of the lease agreement, and you understand it before you sign. Usually, leases are for six months or a year. Deposits shouldn't be any more than one month's rent, electricity should be $0.25 per kWh or less, and water should be less than $0.50 per cubic metre.
You can check our guide to pre-agreement considerations for renting in Cambodia for additional tips!
Key Khmer phrases:
House – ptea
City – tikrong
Province – khaet
Bathroom – bantub teuk
Bedroom – bantub geeng
Floor___ - joan ti ________
Door – tvea

Best Place to Live in Cambodia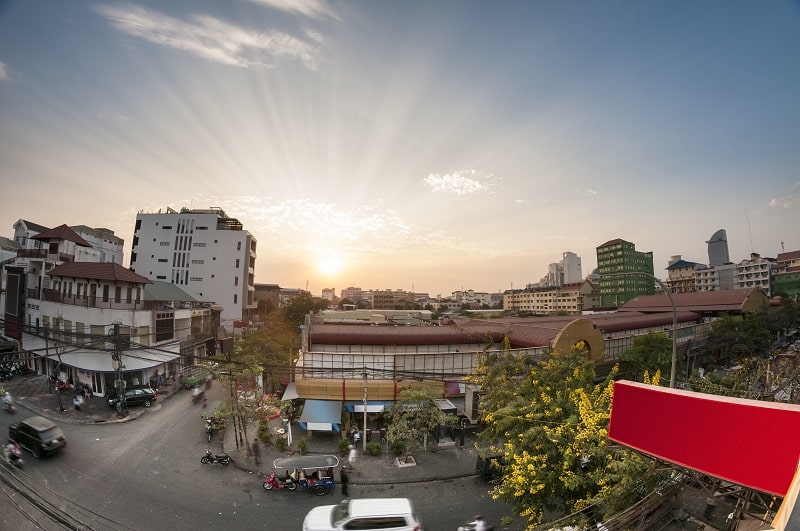 Most foreigners coming to Cambodia live in one of the three major cities; Phnom Penh, Siem Reap or Sihanoukville. There are a few smaller cities that attract both tourists and long-term visitors. Kampot, Kep, Battambang and Koh Kong are also popular.
Finding the best place to live in Cambodia is all about what you want. Do you want to be near the beach? Near the amenities of the city? 
If you like having some luxuries, Phnom Penh is probably the best place to live in Cambodia. However, if you want nature and art, Siem Reap is probably the place for you.
Are you looking to chill? If so, maybe choose Kampot or Kep. One of those towns is the best place to live in Cambodia for expats looking for a chill life with a cool sea breeze.
Expat Area In Phnom Penh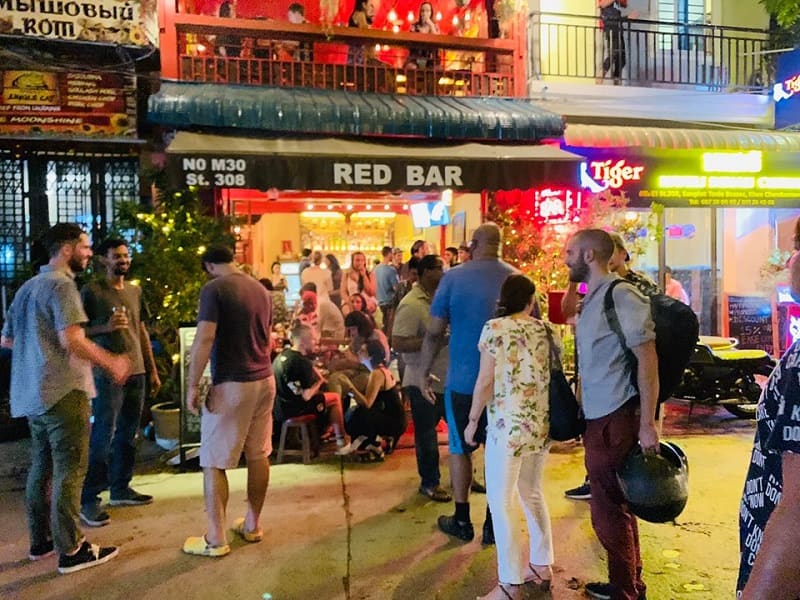 Generally, expats in Cambodia live near the centre of their respective cities. In Phnom Penh, BKK1 is probably the most popular expat area, along with BKK2, BKK3, Toul Tum Poung 1 (Russian Market) and Tonle Bassac.
BKK 1 and 2 are more upscale, with more amenities explicitly geared towards foreigners. Real estate for rent in BKK 1 can be a bit more expensive because of all the amenities. BKK1 is the best place to live in Cambodia if you are a Starbucks addict. If you want to learn more about the area, read our ultimate guide to BKK1. Or, watch this video that counts the top three reasons why ex-pats love BKK1:
BKK 3 and Toul Tum Poung 1 (Russian Market) both offer an attractive mix of Western and local shops. Real estate for rent in Toul Tum Poung 1 tends to be more local-style. But you'll find some great affordable places. If you love chill vibes, this is probably the best place to live in Cambodia.
The Riverside area is popular with tourists and has many bars and nightclubs. It is, perhaps, less family-friendly than the other neighbourhoods, but it's one of the best places to live in Cambodia if you love the nightlife. Our listings for real estate for rent in Daun Penh have tons of apartments right off the river. Find yours!
More recently, Tuol Kork is a neighbourhood about 30 minutes out of the city centre that is increasingly attracting expats. Just like in other large cities, commuting to a suburb outside the densely developed downtown area is an excellent way to find places to rent for much less money. Start looking at the prices of real estate for rent in Toul Kork. Or, if you want to learn more, read the ultimate guide to Toul Kork to get more information about this marvellous area.
Where to Stay in Siem Reap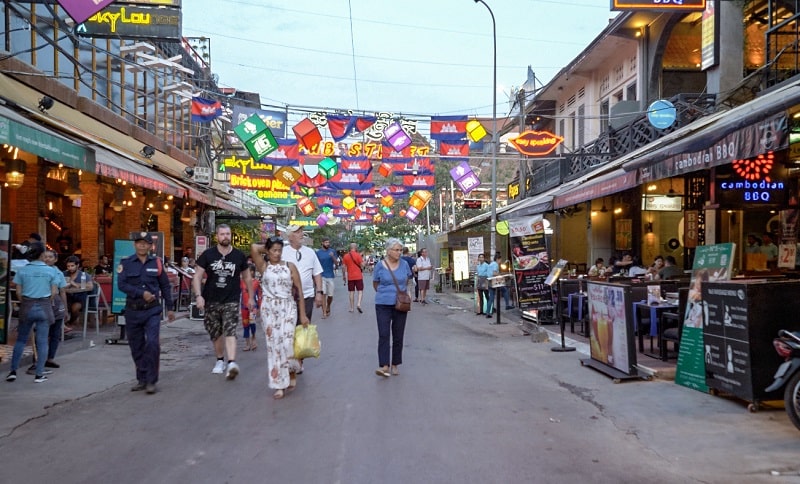 In Siem Reap, Wat Bo and Sala Kamreuk are two of the most popular areas for expats to live in. Here the primary industry is tourism, but many expats also come to work in the NGO sector. Do you have a heart of gold and a soft spot for ancient architecture?
If yes, this is the best place to live in Cambodia for you. Find your accommodations right now on our page of real estate for rent in Siem Reap.
Where to Stay in Sihanoukville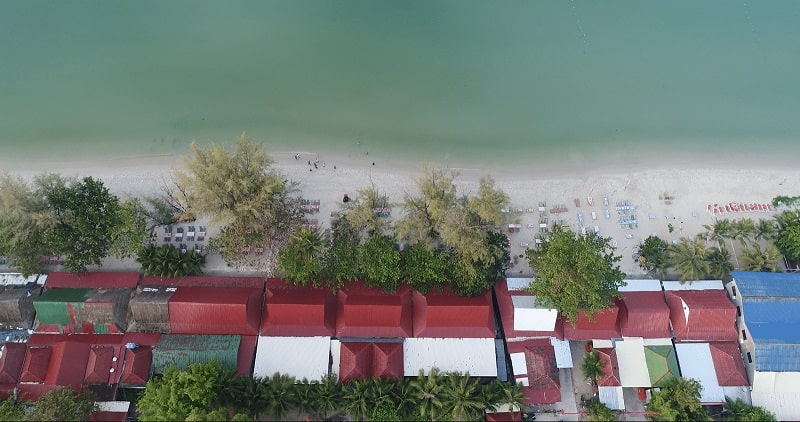 Down south in Sihanoukville, many ex-pats used to live near Victory Beach and near Otres Beach. Over recent years, Sihanoukville has been undergoing massive changes and is now seeing brand-new infrastructure, roads, refurbished sidewalks and beachside pathways as well as many new condos, hotels and grand mixed developments. Many people opt for apartments in these new developments.
Sihanoukville is the best place to live in Cambodia if you enjoy the seaside. Real estate for rent in Sihanoukville is also undergoing massive changes and prices are on the rise because of the city's growth. You can easily find a deal on our listings page.
Key Khmer phrases:
To go -Mov
Let's go - tos
Beach - sa mot
City - tikrong
Commune - sangkat
District - khan

How Many Expats Are There in Cambodia?
It's hard to say for sure exactly how many expats there are in Cambodia. Currently, between 150,000 and 200,000 foreigners live in Cambodia. In 2018, the government said that the total number of expats in Cambodia was 160,000, and with the introduction of the FPCS (Foreigners Present in Cambodia System) app in 2020, nearly 160,000 foreigners from 183 countries were recorded as living in Cambodia.
Asian and Western Expats in Cambodia
Expats from Asian countries make up most of the expats in Cambodia. These include Chinese, Vietnamese, Thai, Malaysian, Indian, Indonesian, Korean, Japanese and Filipino.
There are also plenty of Western expats in Cambodia. Most are French, British, Australian and American. However, many other European expats also live here. 
Retiring in Cambodia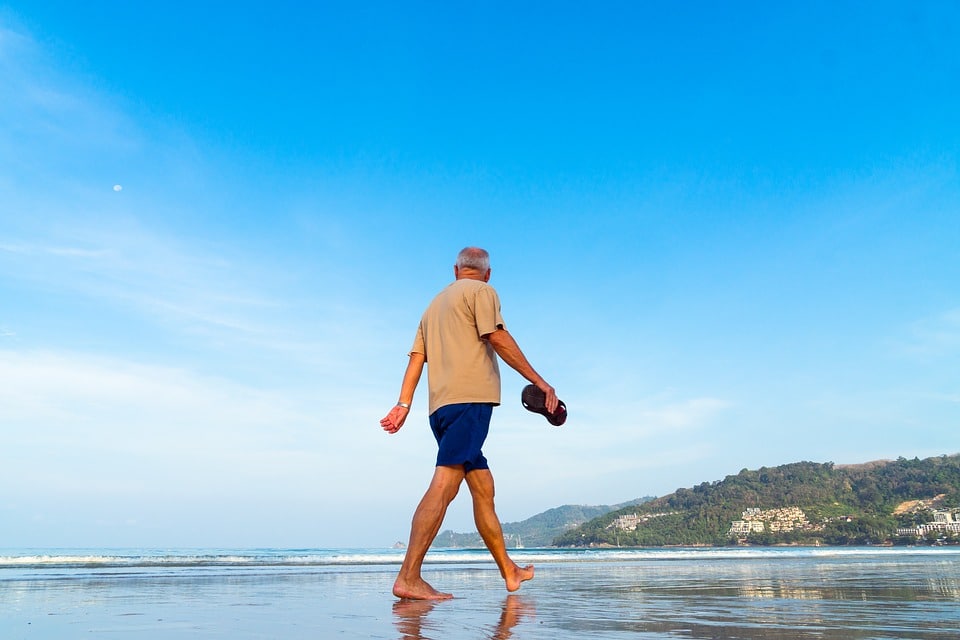 Cambodia is consistently in the top 20 on InternationalLiving.com's yearly index of best countries for retirement. Retiring in developing economies is becoming a global trend among heaps of expats.
Meanwhile, the government has released plans to increase Cambodia's attractiveness as a destination for foreign retirees. The proposed policies would give retirees the right to buy, rent or sell a property.
For more info about retirement in the Kingdom, read our guide to retirement in Cambodia.
Is Cambodia Expat Friendly?
Cambodia consistently ranks in the top five for most expat-friendly nations in the world. The local population is helpful and kind. Making friends is easy here. In less than a month, you'll probably be invited to a Cambodian wedding!
It is easy to make friends with both locals and expats. Becoming friends with coworkers is very common. Many offices have football teams or go out drinking together. To meet other expats, you can visit one of the many expat-geared bars or join an activity group. Dodgeball, volleyball, rugby, and badminton are a few common sports that have leagues around town.
Key Khmer phrases:
Foreigner - bora tey
Expat  - barang (literal translation means "French" but often used for all expats)
"I come from…" – knyom mau bpi
Sports - keila
Play - leng
Chinese - chen
Japan - japon
English - angle
Australian - australi
American - americk

Getting around Cambodia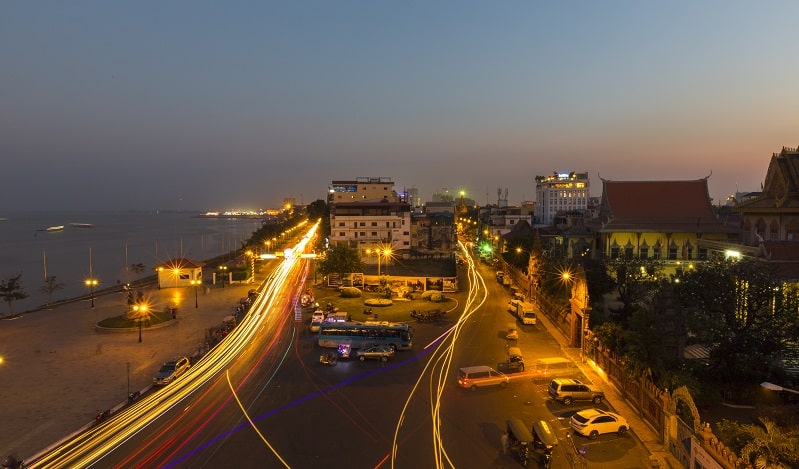 Getting around Cambodia can be tricky for the uninitiated. Traffic is a bit disorganised, but paying for transport is generally cheap and easy to find. Most expats use tuk-tuks or autorickshaws for getting around the cities in Cambodia. Ride-hailing apps are convenient because the price is fixed, and it's easy to map your route. 
On the other hand, some expats buy motorbikes or cars of their own to make getting around Cambodia more convenient. The following section will walk you through all these options for getting around.
Transport in Cambodia: Tuk-Tuk, Remorque, and Ride-Hailing apps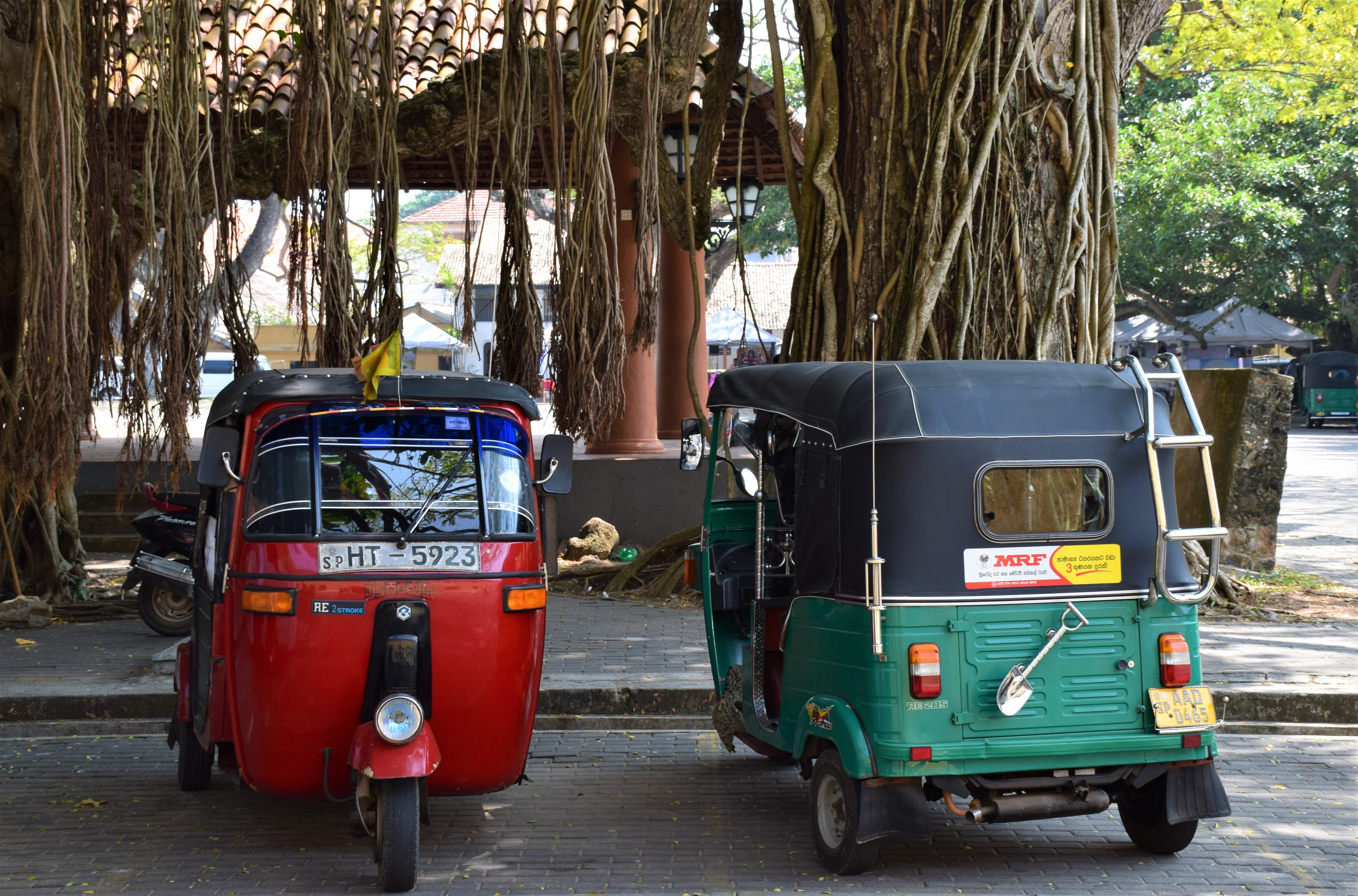 Most foreigners will catch rides around the area in tuk-tuks, autorickshaws or taxis. Tuk-tuks are carriages pulled by small motorbikes. They can usually fit up to four people. Don't worry about finding them, if you're in a busy area, they will find you! 
Going across a city like Phnom Penh via tuk-tuk should cost around $5 at the maximum. Shorter trips within the city will be less - for reference, trips around 2km are a little over $1 (4,400 KHR to 4,600 KHR).
Ride-hailing apps are growing more popular every day for getting around Cambodia. The most significant local player is called PassApp. There's also Grab, the Southeast Asian version of Uber. You can hail an autorickshaw for two or three people, or pay a bit more for a car. 
Buses and Trains in Cambodia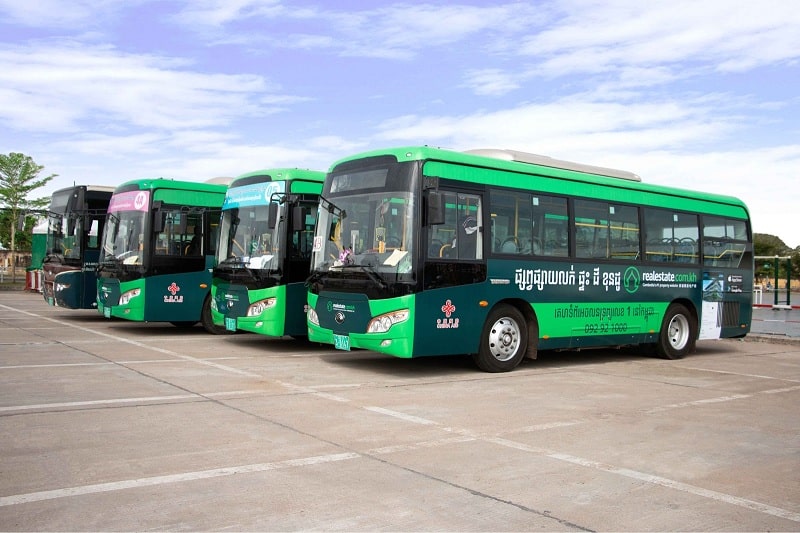 If you're travelling a longer distance, say from Phnom Penh to Sihanoukville, there are a few options open to you. Of course, you could take an aeroplane. Flights are fairly cheap if you manage to get a promotion for domestic flights. If you want to save a few bucks, however, the bus, train or minivan might be better.
There are tons of companies that run coach buses in all areas of Cambodia. Some are more comfortable than others. Giant Ibis is one of the more reputable names. 
The revamped train service between Phnom Penh, Kampot, and Sihanoukville costs $4 to go from the capital to Kampot or $7 to go to Sihanoukville. 
Buying a Car or Motorbike in Cambodia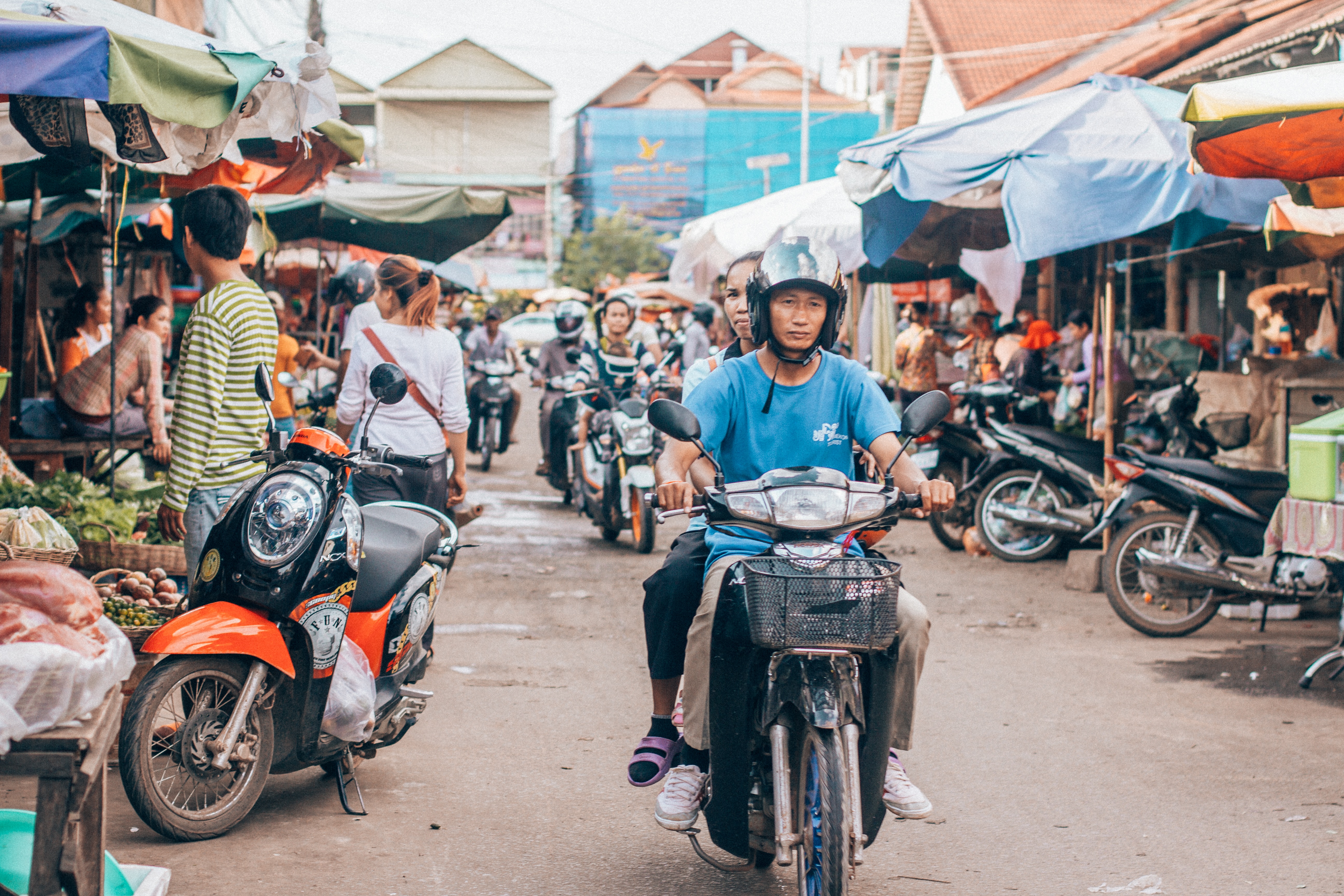 Some foreigners coming to Cambodia want to buy motorcycles or cars. Luckily, you don't need a licence to drive bikes smaller than 125cc. Always wear a helmet and make sure you can handle Cambodian traffic before driving.
To drive a car, you'll need to get a special permit for Cambodia. Thankfully, there is a driver's licence centre in Aeon 2 where you can apply for a permit. Just bring the driver's licence for your home country, two passport photos, a visa and 30,000 riels for the fee.
Key Khmer phrases: 
Motorbike – moto
Turn right – bat sdam
Turn left – bat chveng
Go straight – tov trong
Car – laan
Bus – laan krong
Train – roteh plung
Road – phlauv
Shopping for Groceries in Cambodia
After arriving, you'll need some food. Fortunately, Cambodia has a great variety of food. As you'll see, it's quite cheap to eat out, so some choose to go to restaurants almost every day. Others prefer shopping for groceries in Cambodia and cooking on their own.
While you're shopping for groceries in Cambodia, you have to keep a few things in mind. Imported foods are going to be expensive. On the other hand, local produce is guaranteed to be fresh and natural as there aren't massive factory farms like in more industrialized countries. 
This section will walk you through the steps to take when shopping for groceries in Cambodia. It will also tell you about restaurant etiquette, tipping, drinking culture and the types of cuisine in Cambodia.
Grocery Stores and Markets in Cambodia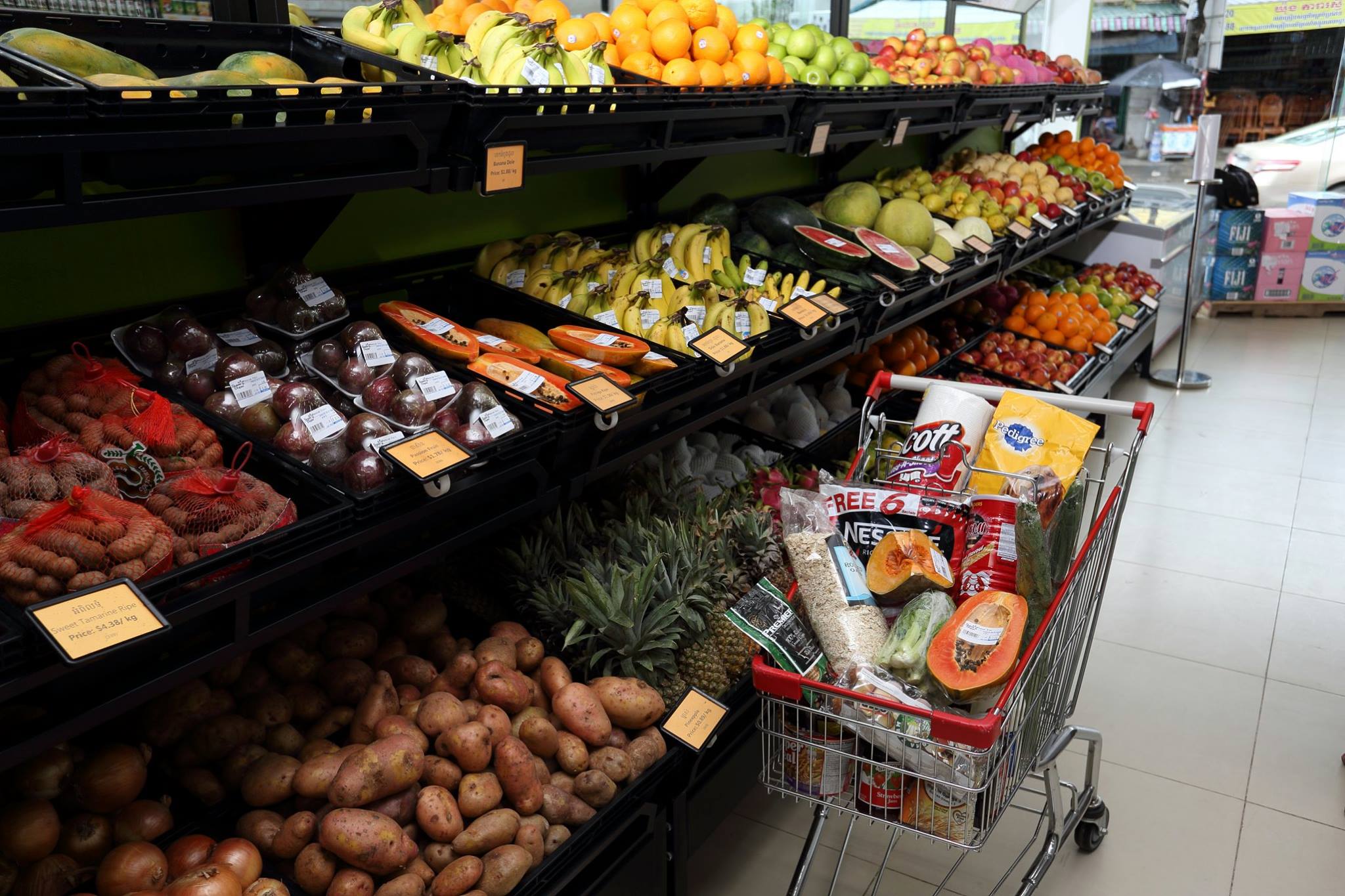 If you want to cook at home, there are plenty of places to buy food and ingredients. The cheapest option is to go to a local wet market. Markets can be tricky, but with a bit of Khmer language and some bargaining skills, you can come out on top. 
International-style grocery stores are growing in popularity. So are small convenience stores that sell dry goods. There's Lucky, Thai Huot and Super Duper as well as Aeon Maxvalu Express, Circle K and Kiwi Mart (with 7-Eleven due to open in 2021). Prices are more expensive, but they also have imported goods. More international and regional brands are also entering the market.
Unsurprisingly, they are more readily available in some of the same neighbourhoods where expats tend to concentrate in the cities, such as BKK 1 and 2 or the Russian Market in Phnom Penh. 
Do you tip in Cambodian restaurants?
Eating out at restaurants is very common in the Kingdom. Nearly every cuisine and price point is covered. Usually, the waitstaff can speak some English, but when in doubt just use the menu to point.
Tipping is generally not practised in Cambodia except in upscale restaurants. Even in that case, service fees will often be added. If you want to tip, leaving a few extra dollars is fine. 
Service can be a bit lax compared to what you're used to in restaurants in Western countries. Don't feel bad about waving down a waiter if you need something. That's just the way it works.
Drinking Culture in Cambodia
The drinking culture is quite widespread in Cambodia. Bars serve almost everything, but beer is the most popular drink for locals. The big names are Angkor, Anchor (pronounced ann-chore), Cambodia, Ganzberg and Tiger.
You can also find wine shops and craft beers which are on the rise. Many bars and restaurants will serve you cocktails and specialist bars for whiskies, cocktails and other beverages are increasing in popularity. Happy Hour often means alcoholic beverages such as cocktails can be half-price, and quite often happy hours run for several hours. 
Cafes in Cambodia
Coffee culture is a rapidly growing part of Cambodian society. The younger generation loves to drink coffee and hang out at the many cafes in the city. Read our list of the top 10 cafes in Phnom Penh to learn more.
What to eat in Cambodia 
Cambodian food shares some similarities with cuisines from neighbouring Thailand and Vietnam. However, it has many dishes of its own. In general, every meal comes with steamed white rice or fried rice. Fresh vegetables are common ingredients, as are lemongrass, lime, black pepper and herbs.
One of the most famous, or infamous, food in Cambodia is prahok, or fermented fish. Fish is one of the most common proteins in the country. It can be found grilled, boiled, fried and everything in between. Chicken, beef, pork, duck and seafood are all common as well.
Noodle soup is one of the most traditional breakfasts in Cambodia. Kuy teav is comparable to Phở in Vietnam and features rice vermicelli and beef. Pork with egg and rice is another popular breakfast, think of it as a version of bacon and eggs. Rice porridge is another popular dish, but people eat it at any time of day.
Num bahn chok is another signature noodle dish; this one is noodles served in curry. It can be eaten hot or cold and with your choice of meat. In general, food in Cambodia isn't as spicy as Thai food. But chili sauce is always available for heat lovers.
If you're looking for something quick and easy, many street vendors sell nompang or sandwiches. These are nearly identical to the famous Bánh mì of Vietnam. There are also vendors who sell all manner of fried noodles, fried rice or spring rolls.
If you're feeling adventurous, try pong tea kon, known elsewhere as balut, which is duck/chicken fetus. Also, give durian a try, or even fried crickets, which are a typical snack while drinking beer.
Key Khmer phrases: 
Food – mhob
Chicken – sach moan
Pork – sach chrouk
Beef – sach ko
Fish – sach trey
Vegetable – bun ley
Fruit – plech cheu
"Can I pay the bill?" – Som kut luy
Beer – bee yah
Cheers – chul muy

Jobs for Expats in Cambodia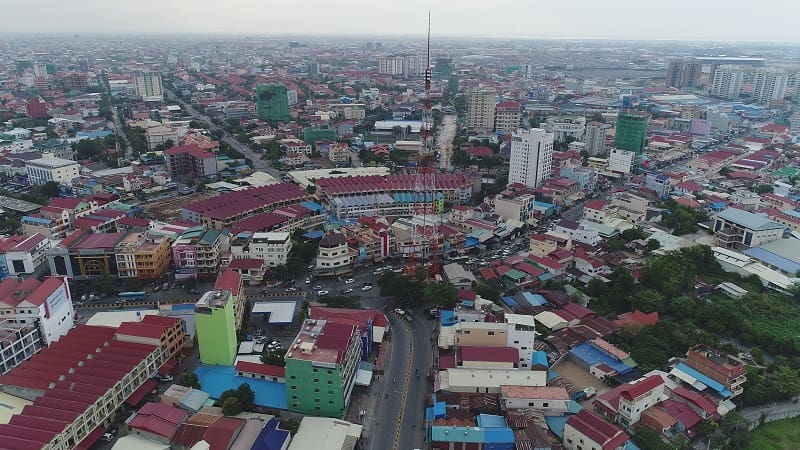 Finding jobs for expats in Cambodia can seem complicated. But several key industries are keen to hire those already in the country or ready to relocate. 
Most expats in Phnom Penh make anywhere from $12,000 to $60,000 per year. They work at NGOs, or in hospitality, tourism, education, tech or business. Some are hired to come here. Others choose to show up and look for work. Merely showing up is not as crazy as it might sound.
The two most popular Cambodian job sites are BongThom.com and HRinc. You can also look to targeted Facebook groups to find out about jobs for expats in Cambodia.
Teaching Jobs in Cambodia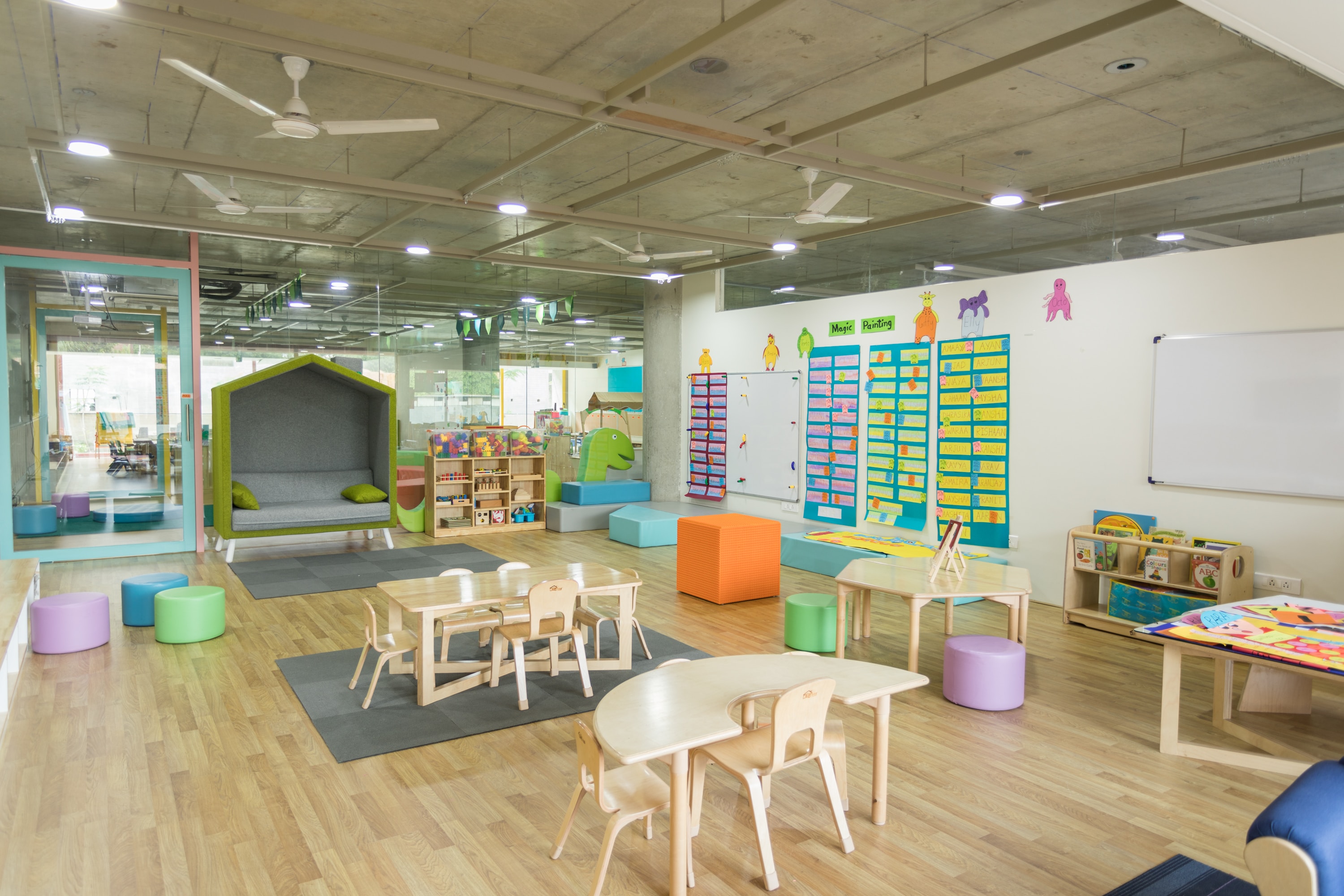 The first thing that many foreigners think of is English teaching. Lots of schools want to hire native English speakers to teach their students. Additionally, tons of tutoring gigs are available in both the English and Chinese languages. 
To help in your search, look through our complete list of Phnom Penh international schools and universities. 
NGO Jobs in Cambodia
Another important sector for expats is the NGO arena. Many foreign-backed non-profit organisations hire for a multitude of positions. 
There are also tons of international companies that hire foreigners. Many specifically target English or Chinese speakers.
Start your own business in Cambodia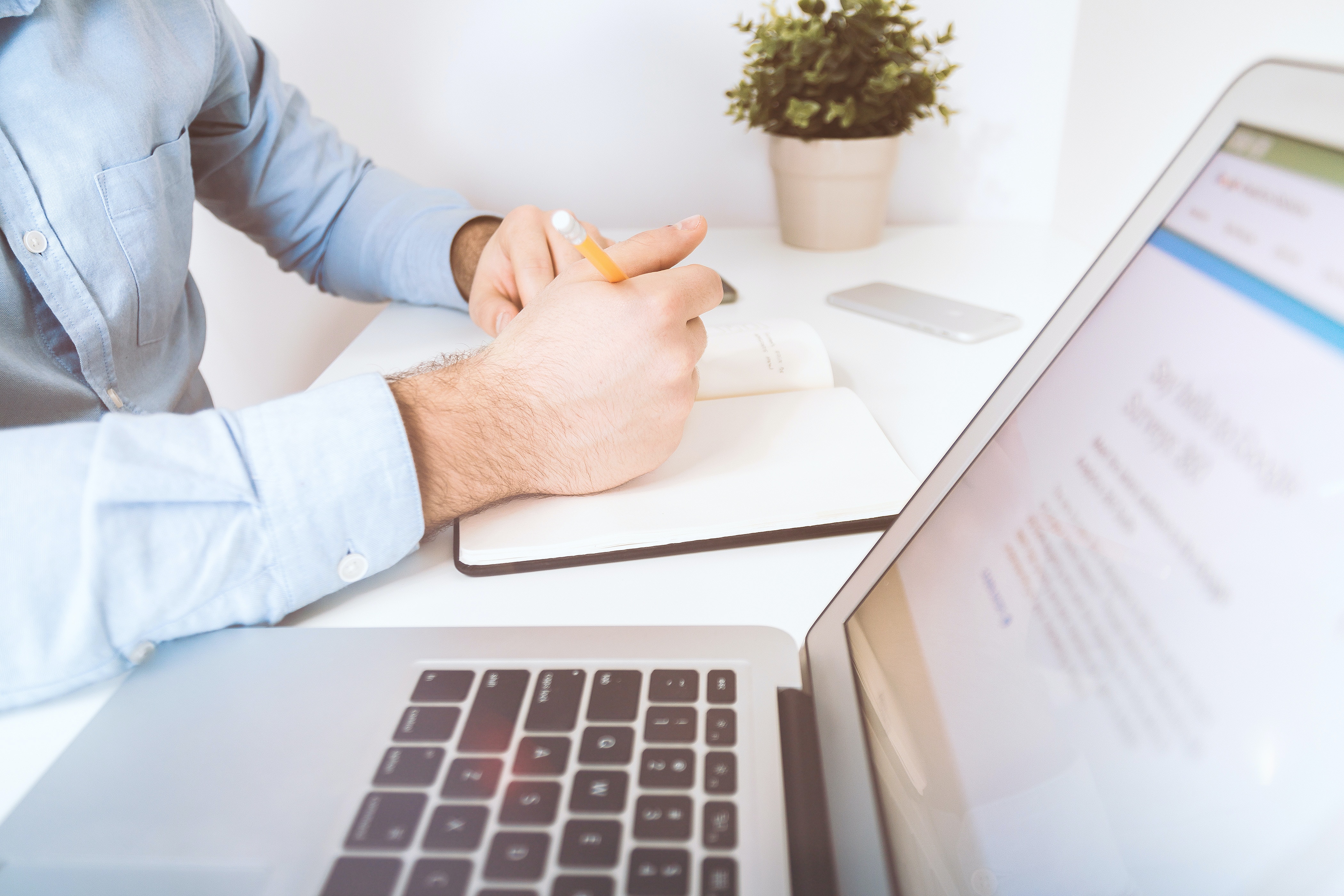 Many people come to Cambodia to start their own businesses. Overhead is low, and the market is growing fast. Many choose to open bars, restaurants, guesthouses or tour companies. There is also a growing market for tech companies. 
For more information about starting your own business, read our guide to starting a business in Cambodia. 
Salary in Cambodia
The next big question is about money: How much can foreigners make while working in Cambodia? The answer varies a ton. Expat salaries can range from $800 to over $4,000 per month. Keep in mind that the cost of living here is much lower than what you're used to, and the average salary for locals is less than $300 per month.
Foreigners' salaries are taxed at 15% by the state through payroll. Most employers will use specific banks and have direct deposit set up for all workers. 
The big banks in Cambodia are ABA Bank, Acleda Bank, Satthapana Bank, FTB Bank, Canadia Bank, ANZ Bank and many others. Most of these banks have numerous branches and ATMs throughout big cities.
You can check out the guide to banking for foreigners in Cambodia for more information.
National Holidays in Cambodia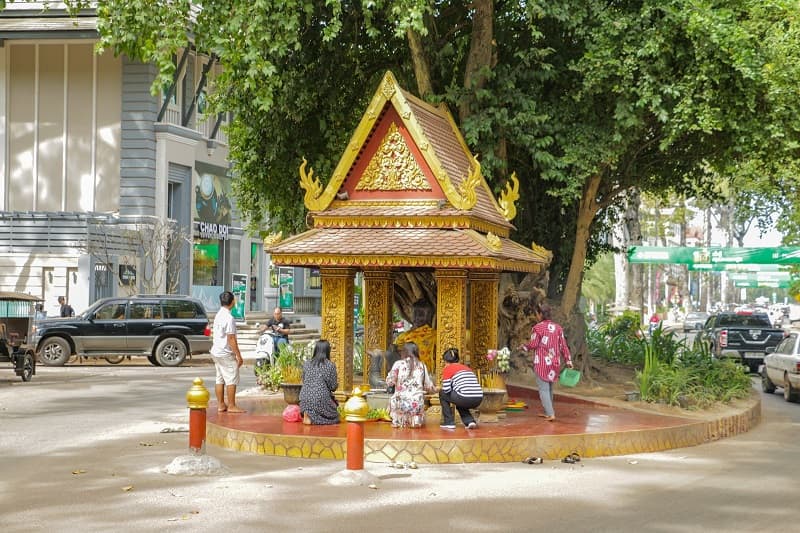 Until recently, Cambodia had the highest number of national holidays in the world, spanning 28 days of the year. These have been reduced to 21 starting in 2023. 
These are the official holidays for Cambodia in 2023:
January 1: New Year's Day
January 7: Victory over Genocide Day 
March 8: International Women's Day 
April 14, 15, 16: Khmer New Year 
May 1: International Labor Day 
May 14: The Royal Birthday of His Majesty King Norodom Sihamoni, King of Cambodia 
May 15: Vesak Bochea Festival 
May 19: Royal Plowing Ceremony 
June 18L Royal Birthday of Her Majesty Queen Norodom Monineath Sihanouk, the Queen Mother of Cambodia 
September 24: Constitution Day 
September: 24, 25, 26 Pchum Ben Festiva
October 15: a Day in Honor of the Late King Norodom Sihanouk, His Majesty the King Father 
October 29: Royal Ceremony of His Majesty King Norodom Sihamoni, King of the Kingdom of Cambodia
November 7, 8, 9: Royal Water Festival 
November 9: National Independence Day 
Medical Care in Cambodia
Healthcare in Cambodia doesn't always get the best reputation. Many suggest going to Thailand for any significant issues. There are many clinics, hospitals, and dental facilities, however, that do offer high-quality healthcare.
Refer to our guide to medical facilities in Cambodia to see all the best hospitals, clinics, and dental facilities. 
Key Khmer phrases:
Work – twerka
Company – krom hun
Organisation – angkar
Holiday – tingai somrak
Salary – brak kai
Bank – thnia kear
Hospital – monti bpet
Doctor – bpet
Dentist – bpet tmin

Expat Life in Cambodia
Expat life in Cambodia might not be for everyone. If you crave a unique experience in one of the most exciting parts of the world, you'll love it here. To be sure, life as an expat in Cambodia can be full of challenges. But the people you'll meet, the sights, sounds and smells you'll experience will be something you will take with you for the rest of your life.
We hope you are successful in finding your home in Cambodia. Make sure to come back here for all of your real estate needs and use this page as your guide while navigating life as an expatriate in Cambodia, the Kingdom of Wonder. 
Article by: