1: ABOUT CAMBODIA
1.4 CORE INDUSTRIES
Cambodia's traditional core industries have contributed to the continuous growth of the Kingdom's economy since the end of the civil war period. These are primarily manufacturing and agriculture, and more recently construction and tourism.
However, in recent years the economy is entering a phase of significant diversification by shifting towards the production of high-value assets and more skilled manufacturing practises.
1.4.1 Garment Manufacturing
Cambodia's manufacturing sector is dominated by garment and footwear manufacturing which accounts for 74% of annual merchandise exports. According to the General Department of Customs and Excise under the Ministry of Economy and Finance, the Kingdom exported garments and footwear products worth nearly US$ 8 billion in the first nine months of 2019, up by 13% compared to the same period in 2018. The vast majority of these exports are directed at the EU Single Market, the US, and Japan.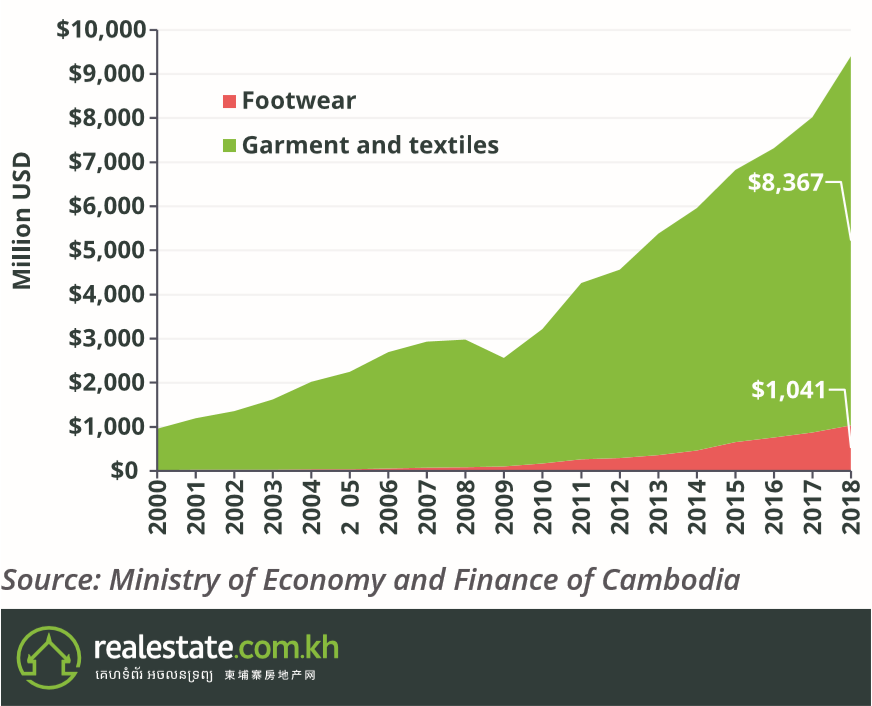 The continued growth is due to the nations' open economic policies, favourable trade relations with industrialized markets, strategic geographic location and an abundance of affordable labour, which continues to attract an influx of investment into the garment industry.
Furthermore, there have been initiatives implemented to train garment workers, giving a more specialised skill set that is integral to improving their incomes and efficiencies of the industry as a whole. The Garment Manufacturers Association in Cambodia (GMAC) is one such institution that provides training for factory workers and students on the operations side of the garment industry to improve working conditions and education levels moving forward.
In 2018, the minimum wage average for the sector sat at $153 a month which was increased to $182 in 2019. This increase makes the minimum wage in Cambodia higher than nations such as Bangladesh, whose economy also relies heavily on the garment manufacturing industry.
Regardless of recent reforms, wages for garment workers remain a balancing act for the industry and the nation as a whole, as attempting to improve wages and opportunities for workers has the potential to disrupt the economic efficiencies of the market. If costs of production rise too high in Cambodia, large scale manufacturers will look to new markets where overall costs of production are lower.
It is important to note that the European Union served a notice to the Royal Cambodian government regarding a withdrawal of its tariff-free and quota-free access to the European Single Market under the "Everything But Arms" regime.
The notice was served in October 2018 and discussions among representatives of the EU, the Royal Government of Cambodia, the International Labor Organization (ILO), and the United Nations (UN) officially started in February 2019. The discussion and investigation of the EU's allegations against the Royal Government of Cambodia's record on human rights will last for 18 months, at the end of which a report will be released by the European External Action Service (EEAS).
1.4.2 Agriculture
In terms of the local economy, agriculture plays a major role. The agricultural sector contributes 35% to Cambodia's gross domestic product (GDP). A majority of Cambodians depend on farming as a source of income. Rice is the principal farming commodity and overall production has been increasing by around 8% per annum resulting in Cambodia placing among the Top 10 rice exporters in the world in 2019. This sustained growth has been critical in securing the country's food security and overall economic future.
Although the primary focus of Cambodian agricultural production continues to be rice, the last decade has seen positive trends from more profitable crops, such as cassava, maize, mung bean, and soybean. This diversification is critical to reducing the vulnerability to shocks, like the impacts from the global decline of rice prices in 2016.

The establishment of agricultural side businesses (adding value to raw produce) has become more common among Khmer farmers in order to generate a more consistent income and secure farm livelihoods throughout the year.
One such example of diversification in the industry is a Memorandum of Understanding (MoU) signed between Cambodia's Ministry of Agriculture, Forestry and Fisheries (MAFF) and the Vietnam Cashew Association (VCA) in January of 2019. The MoU aims to grow the current cashew nut production of 100,000 tons per year to over 1 million tons, in the space of a decade.
Another such initiative which will drive the future of the agricultural industry is the Cambodia Horticulture Advancing Income and Nutrition Project (Chain) which will focus on improving current food security, nutrition education, and boost incomes for farmers and small scale entrepreneurs in the Kingdom's provincial areas. Chain has entered its second phase and project developers estimate that between December 2017 and December 2020, the project will invest $4.8 million in the local agricultural sector.
Despite the government encouraging investment in agriculture, and a variety of initiatives currently in place, there are still major budget constraints which limit the industry's growth. Irrigation and water control systems require major upgrades, as do key agro-processing infrastructure systems. In order to stay competitive on a global scale (particularly with the unit price of rice) addressing these issues is paramount, and doing so will solidify the Kingdom's agriculture industry growth in the future.
1.4.3 Construction
The construction industry in Cambodia has seen consistent growth over the last decade. According to a World Bank report in May 2019, Cambodia has exceeded projected figures in annual growth for 2018 with a 7.5% GDP growth. As a result, the World Bank, Asian Development Bank, and the ASEAN, expects a 7% GDP growth to continue for Cambodia. The World Bank expects that Cambodia's thriving construction sector will contribute significantly to this growth.
Investment in the Kingdom's construction sector already amounted to over $3 billion in the first 6 months of 2019, compared to $2.1 billion in the same period in 2018 according to the Ministry of Land Management, Urban Planning and Construction (MLMUPC). The key projects where investment funds were mainly funneled in were housing, factories, condominiums, hotels and office buildings. The MLMUPC has approved a total of 2,047 construction projects from January to June 2019.
The construction industry attracts the largest share of assistance from foreign investors, with 90% of this foreign direct investment (FDI) coming from Asian investors. The main foreign contributors in the construction sector are China, Japan, Korea, Taiwan, Singapore and Hong Kong. China contributed 40% of FDIs in the first half of 2019.
Foreign investors are particularly focused on infrastructure construction, with large investments from the Chinese government in particular, as well as the World Bank, and Asian Development Bank. It is anticipated that the total foreign investment in infrastructure between 2013 and 2022 will be in the neighbourhood of $14 billion to $16 billion.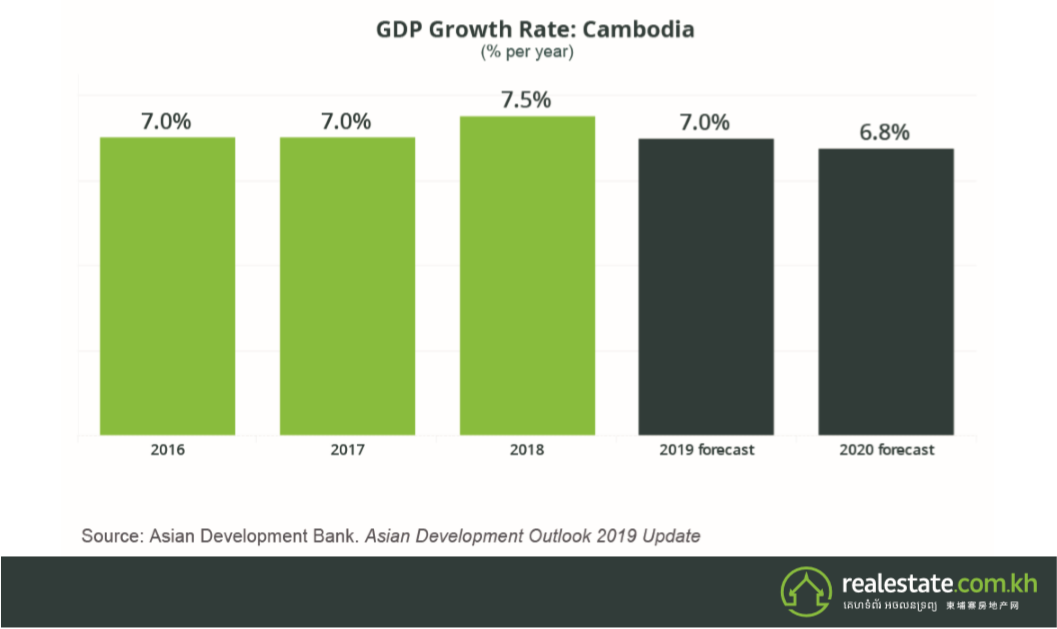 Moving forward, Cambodia's construction activities are likely to continue growing at a similar rate. The government and foreign investors are prioritising infrastructure development alongside the private construction industry. Further, demand for property developments, especially gated community developments known as boreys, remains high throughout the Kingdom due to a rapidly expanding population, particularly the local middle-class, in urban centres.
1.4.4 Tourism
The tourism industry continues to be one of the main pillars of annual growth in Cambodia, spurred by a huge influx of visitors to the Angkor Wat temples of Siem Reap, a United Nations Economic, Scientific and Cultural Organisation (UNESCO) attraction. Angkor Wat was dubbed the top tourist attraction in the world in 2015 by the Lonely Planet. This accolade has hugely contributed to Cambodia's international tourism boom.
International tourism figures show that 6.2 million international tourists came to the country in 2018. This year, 4.8 million tourists have already arrived in Cambodia by September 2019. The projected total tourists to arrive for 2019 is set to surpass the already impressive figures of 2018.
To put this level of growth in perspective, just a decade ago, annual tourist arrivals sat around the one million mark, demonstrating that Cambodia's true potential as a tourist destination is starting to be realized.
Siem Reap and Phnom Penh have remained the key centers for this growth, with Siem Reap leading the way in terms of tourist arrivals for the past few years. Interestingly enough, Phnom Penh edged out Siem Reap by almost 300,000 visitors by Q3 2019 for the first time in years, according to data from the Ministry of Tourism.
The same report from the Ministry of Tourism also indicates 70% of tourists in the country arrived by air through Cambodia's 3 international airports, namely: Phnom Penh International Airport (PNH) taking the majority of tourist arrivals at 32.6%. Siem Reap International Airport (REP) follows a close second at 26.5%. And last is Kong Keng, the airport in Sihanoukville (KOS), at 11.4% of tourist arrivals in Q3 2019.
The Sihanoukville International Airport Kong Keng (KOS) saw a 300% jump in tourists, from 134,663 visitors in 2018 to 549,481 by Q3 2019. Destinations such as Sihanoukville and its surrounding islands, Kampot, Kep, Kirirom National Park, Mondulkiri and many other iconic destinations are still only beginning to see early-stage tourism development.
Sihanoukville is especially notable as it is experiencing a rapid influx of growth and development and represents Cambodia's foremost seaside tourism destination. Heavy investment in tourism, gambling and related infrastructure is pouring into the coastal province. One of the major reasons for this growth is the expansion of the Sihanoukville International Airport to host more international flights from China, Vietnam, the Philippines and Malaysia.
Tourism and the Economy:
Tourism in the Kingdom of Cambodia collected a total revenue of $4.35 billion in 2018, about 18.7% of the nation's GDP that same year. This number is expected to rise to $5 billion by the end of 2019 largely due to economic activity generated by industries such as hotels, travel agents, tourist activities, and passenger transportation.
According to the World Travel & Tourism Council's Economic Outlook 2018, Cambodia's tourism sector directly generated 1,191,000 jobs in Cambodia in 2017. The report estimates that around 100,000 more jobs will have been added by the end of 2019. It is likely that tourism will continue to be a catalyst for the Kingdom's future economic development, particularly in terms of GDP and the employment of locals in the sector. With large infrastructure initiatives already underway (targeting both local and international accessibility) and the government's long term tourism policy, it is only a matter of time before Cambodia's full potential as a prime international tourism destination will be fully realised.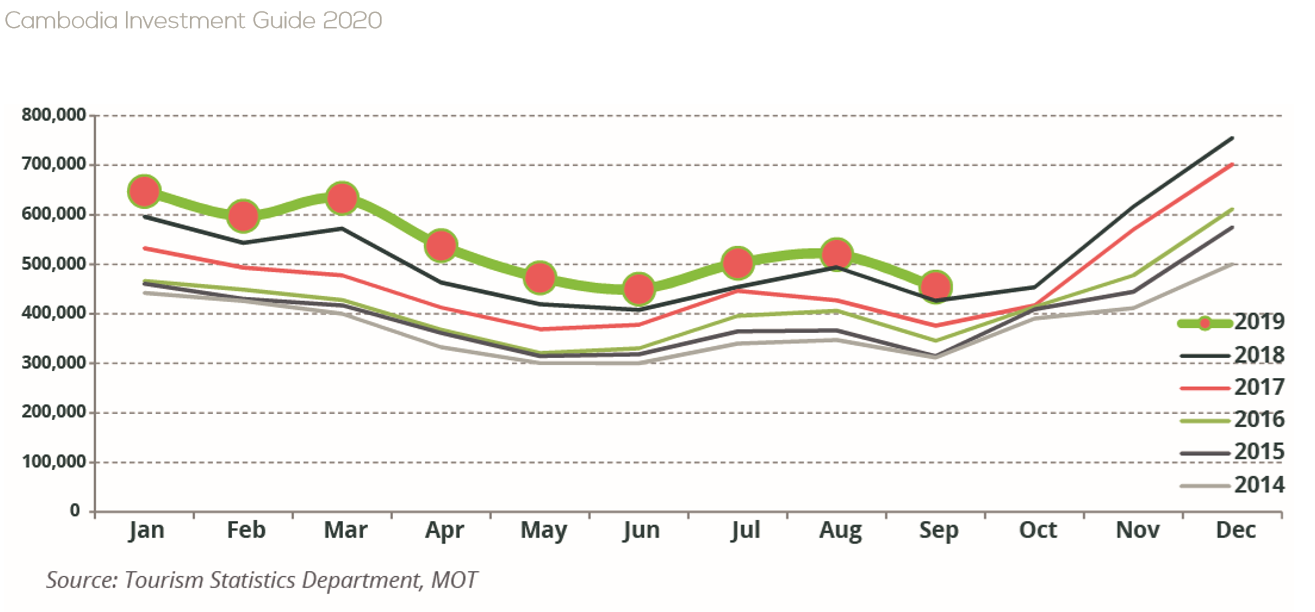 Demographics of Cambodian Tourism Arrivals:
Arrivals from Europe, North America, and Oceania, dropped in the first 9 months of 2019 compared to the same period in 2018, according to data from the Ministry of Tourism's Q3 2019 report. Overall international arrivals, however, continue to grow consistently each year. This growth has been predominantly fuelled by Asian tourists with China, Vietnam, and Thailand occupying the top 3 tourist arrivals by Q3 2019.
The increase in arrivals from China is particularly significant. From January to September 2019, tourist arrivals from China rose by 29.4% compared to the same period in 2018. Chinese tourists totalled 1,864,956 from January to September this year. The continuous, and expected growth of Chinese tourists to the Kingdom can largely be attributed to the government's "China Ready for Cambodia Tourism" policy.
The China Ready for Cambodia Tourism policy aims to bring the number of Chinese visitors to the Kingdom up to two million per year by 2020. It further outlines the initial steps to be taken by the Ministry of Tourism to facilitate Chinese tourism. These measures include boosting the use of China's yuan currency, tailoring food and accommodation choices, and providing Chinese signage and documents for visa processing.
Domestic Tourism
Based on the Q3 2019 tourist arrival figures, however, Cambodia is expected to break that milestone this 2019 - a year early from policymakers' target date.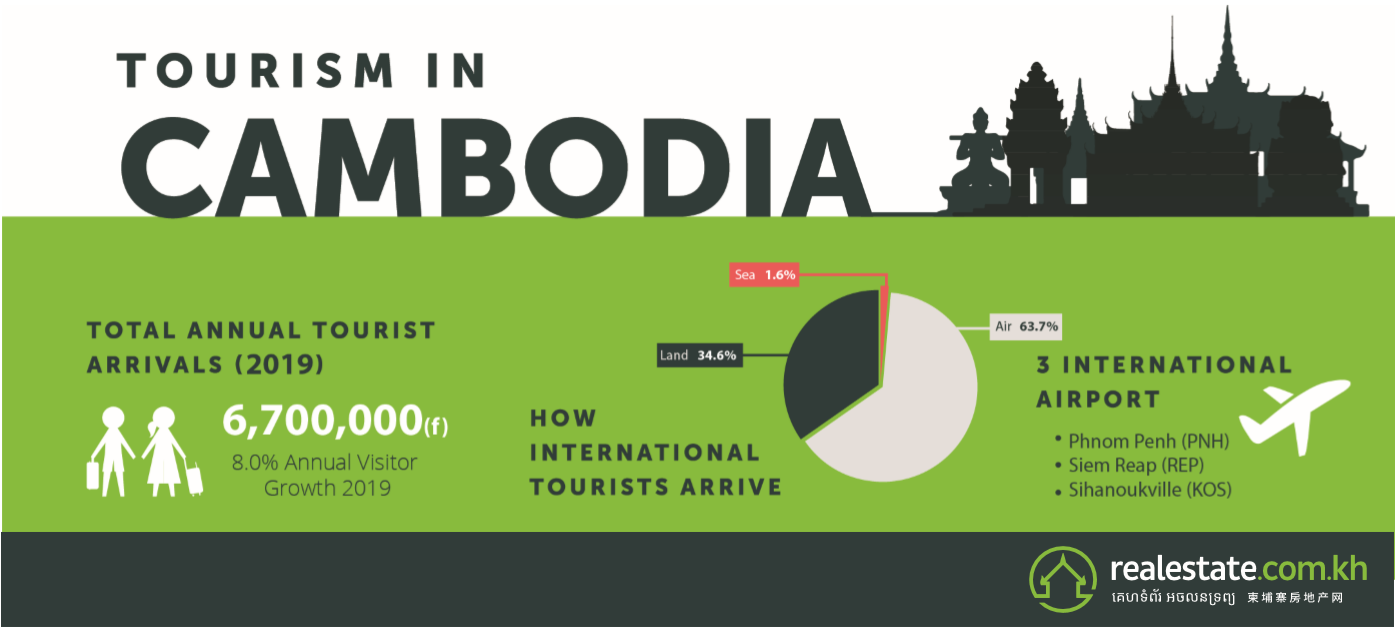 In January 2020, the People's Republic of China officially announced the outbreak of a novel coronavirus (Covid-19) in Wuhan city in the Hubei province. The government enforced a province wide ban on travel in and out of the affected province. But in the weeks prior to the ban, around 5 million residents from Hubei left the province headed toward the other parts of China and abroad. All provinces within China eventually reported confirmed cases in the tens of thousands. Public places and events across China, including the Forbidden Palace, were closed to curb its spread. The Chinese government ultimately enforced a ban on long-distance travel within China and barred its citizens from leaving the country.
Cambodia's tourism sector may face slowdowns since travel agencies and groups were prohibited from selling tickets and leaving the country, respectively. Considering that Chinese tourists comprise 35% of annual visitors in Cambodia, the travel ban will have a negative impact on the country's tourism in the first few months of 2020. The hotel sector and local travel agencies, especially those who rely on Chinese tourists, will likely see a significant drop in sales in Q1 and Q2 of this year. The challenges to be presented by the lack of prospective sales will also likely be exacerbated by requests for refunds from affected and concerned international tourists - not just from China.
Cambodia is also reaping benefits from domestic tourism, which has grown by an average of 5% to 7% in the last decade. Figures were boosted by Cambodians taking trips to Siem Reap, Sihanoukville, Kampot, Battambang, Koh Kong and provinces in the northeast. Improvements in infrastructure and road accessibility between the key provinces has been one driving force behind these domestic tourism increases.
1.4.5 Industrial Development Prospects
In 2015, The Royal Government of Cambodia launched the new Industrial Development Policy (IDP). The IDP is a 10-year policy guideline seeking to transform Cambodia's industrial legal framework outlining the steps to tackle the country's unsustainable reliance on low-skilled and low-value manufacturing and agriculture sectors by expanding the types of industrial activities conducted within the Kingdom. It seeks to overcome these issues through human resource development and technological advancement.
The government's aim is to create an industrial makeup that is more modern and focused on skills-driven industries as opposed to labor intensive work.
This policy is already taking shape, as an influx of Japanese, Korean, Thai, Vietnamese and Chinese corporations are shifting their light-tech production plants to the Kingdom. Special economic zones (SEZs) are also upgrading their facilities and services to accommodate these new industries.
Several SEZs are currently operating in the Kingdom of Cambodia, a few of the big ones in terms of capital being: Sihanoukville SEZ 2, Kampong Saom SEZ, Ratana SEZ, Kiri Sakor Koh Kong SEZ, and Zhong Jian Jin Biang Ji Te Qu SEZ.
The private sector remains the key driver in skills development. However, further educational reforms at a national level, which are currently in progress, are necessary to fully realise this policy.