1: ABOUT CAMBODIA
1.4 CORE INDUSTRIES
Cambodia's traditional core industries have contributed to the continuous growth of the Kingdom's economy since the end of the Civil War period. These are primarily manufacturing and agriculture, and more recently construction and tourism.
However, in recent years the economy is entering a phase of signifcant diversifcation by shifting towards the production of high-value assets and more skilled manufacturing practises.
1.4.1 Garment Manufacturing
Cambodia's manufacturing sector is dominated by garment and footwear manufacturing which accounts for 80 percent of annual merchandise exports.32 According to government fgures, the Kingdom exported garments and footwear products worth $5.6 billion in the frst nine months of last year, up seven percent compared to the same period a year earlier. The vast majority of these exports are directed at the North American and European markets.
The continued growth is due to the nations' open economic policies, favourable geographic location and an abundance of afordable labour, which continues to attract an infux of investment into this sector.
Furthermore, there have been initiatives implemented to train garment workers, giving a more specialised skill set that is integral to improving their incomes and efciencies of the industry as a whole. The Garment Manufacturers Association in Cambodia (GMAC) is one such institution that provides training for factory workers and students on the operations side of the garment industry to improve working conditions and education levels moving forward.
At the beginning of this year the minimum wage average for the sector sat at $153 a month which will increase to $170, later this year.36 This move will make the minimum wage in Cambodia higher than nations such as Bangladesh, whose economy also relies heavily on the garment manufacturing industry.
Regardless of recent reforms, wages for garment workers remain a balancing act for the industry and the nation as a whole, as attempting to improve wages and opportunities for workers has the potential to unbalance the economic efciencies of the market. If costs of production rise too high in Cambodia, large scale manufacturers will look to new markets where costs of labour are lower.
1.4.2 Agriculture
In terms of the local economy, agriculture plays a major role. Approximately 80 percent of people depend on farming as a source of income.37 Rice is the principal farming commodity and overall production has been increasing by around eight percent each year. This sustained growth has been critical in securing the country's overall economic future.
Although the primary focus of Cambodian agricultural production continues to be rice, the last decade has seen positive trends from more proftable crops, such as vegetables, cassava and corn. This diversifcation is critical to reducing the vulnerability to shocks, like the impacts from the global decline of rice prices in 2016.
The establishment of agricultural side businesses (adding value to raw produce) has become more common among Khmer farmers in order to secure farm livelihoods throughout the year, and generate a more consistent income.
One such example of diversifcation in the industry is a Memorandum of Understanding (MoU) signed between Cambodia's Ministry of Agriculture, Forestry and Fisheries (MAFF) and the Vietnam Cashew Association (VCA) in January of this year.41 The MoU aims to grow the current cashew nut production of 100,000 tons per year to over 1 million tons, in the space of a decade.
Another such initiative which will drive the future of the agricultural industry is the Cambodia Horticulture Advancing Income and Nutrition Project (Chain) which will focus on improving current food security, nutrition education, and boost incomes for farmers and smaller scale entrepreneurs in the Kingdom's provincial areas.42 Chain has entered its second phase and project developers estimate that between December 2017 and December 2020, the project will invest $4.8 million in the local agricultural sector.
Despite the government encouraging investment in agriculture, and a variety of initiatives currently in place, there are still major budget constraints which limit the extent of funds needed to support the industry's growth. Irrigation and water control systems require major upgrades, as do key agro-processing infrastructure systems. In order to stay competitive on a global scale (particularly with the unit price of rice) addressing these issues is paramount, and doing so will solidify the Kingdom's agriculture industry growth in the future.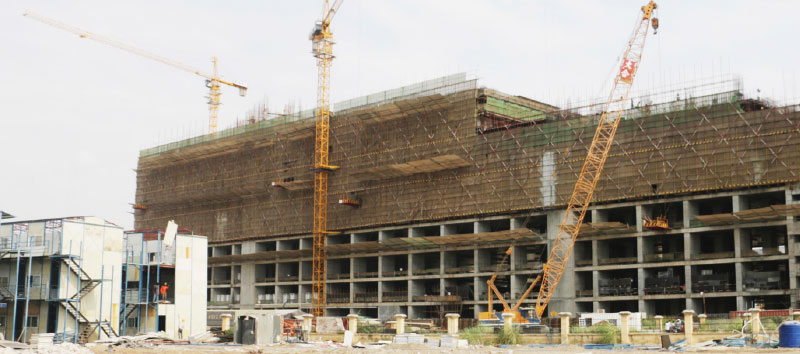 1.4.3 Construction
The construction industry in Cambodia encompasses both physical infrastructural and social needs including the construction of buildings (both residential and commercial), bridges, and public and private infrastructure. It further includes economic activities, such as renovation, maintenance and extension of existing real estate and assets, as well as land improvements, and other engineering.
The growth of the construction industry has been consistent over the last decade, and this is refective of investment from both the government and foreign investors alike.
Investment in the Kingdom's construction sector last year reached $6.8 billion, according to the Ministry of Land Management, Urban Planning and Construction (MLMUPC), spread across 3,418 approved projects. This equates to a 22 percent increase year on year. The key projects where investment funds were concentrated were housing, factories, condominiums, hotels and office buildings. Residential construction dominated throughout last year, accounting for 82 percent of approved project, with commercial construction accounting for eight percent.
The construction industry attracts the largest share of assistance from foreign investors, with 90 percent of this foreign direct investment (FDI) coming from Asian investors. The main foreign contributors in the construction sector are China, Japan, Korea, Taiwan, Singapore and Hong Kong.
Foreign investors are particularly focused on infrastructure construction, with large investments from the Chinese government in particular,as well as the World Bank and Asian Development Bank. It is anticipated that the total foreign investment in infrastructure between 2013 and 2022 will be in the neighbourhood of $14 billion to $16 billion.
Looking forward, Cambodia's construction activities are likely to continue growing at a similar rate. The government and foreign investors are prioritising infrastructure development alongside the private construction industry. Further, demand for property developments, especially gated community developments known as boreys, remains high throughout the Kingdom due to a rapidly expanding population in urban centres.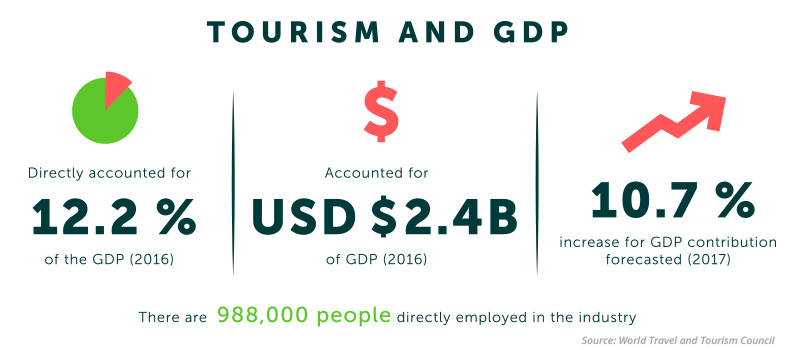 1.4.4 Tourism
The tourism industry continues to be one of the main pillars of annual growth in Cambodia, spurred by a huge infux in visitors to the Angkor Wat temples of Siem Reap, a United Nations Economic, Scientifc and CulturalOrganisation (Unesco) attraction. Angkor Wat was dubbed the top tourist attraction in the world in 2015 by the Lonely Planet. This accolade has hugely contributed to Cambodia's international tourism boom.
International tourism fgures at the end of last year showed that over 5.6 million international tourist came to the country that year. This year's numbers are posed to surpass the six million mark. To put this level of growth in perspective, just a decade ago annual tourist arrivals sat around the one million mark, demonstrating that Cambodia's true potential as a tourist destination is only beginning to be realised.

Siem Reap and Phnom Penh have remained the key centers for this growth. However, destinations such as Sihanoukville and its surrounding islands, Kampot, Kep, Kirirom National Park, Mondulkiri and many other iconic destinations are still only beginning to see early-stage tourism development.
Sihanoukville is especially notable as it is experiencing a rapid infux of growth and development and represents Cambodia's foremost seaside tourism destination. Heavy investment in tourism, gambling and related infrastructure is pouring into the coastal province. One of the major reasons for this growth is the expansion of the Sihanoukville International Airport to host more international fights from China, Vietnam, Philippines and Malaysia.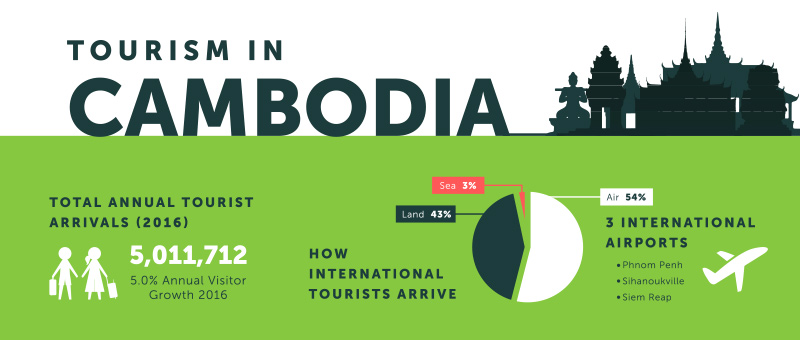 Tourism and the Economy:
Tourism directly accounted for 12.3 percent of Cambodia's GDP last year. This number is expected to rise by 10.7 percent by the end of this year and largely encompasses economic activity generated by industries such as hotels, travel agents, tourism activities and passenger transportation.
According to the World Travel & Tourism Council's Economic Outlook 2017, these types of economic activities generated 988,000 jobs in Cambodia in 2016. That fgure rose by 9.1 percent to hit 1,078,500 last year and accounting for 12.7 percent of the Kingdom's employment. It is likely that tourism will continue to be a catalyst for the Kingdom's future economic development, particularly in terms of GDP and the employment of locals in the sector. With large infrastructure initiatives already underway (targeting both local and international accessibility) and the government's long term tourism policy, it is only a matter of time before Cambodia's full potential as a prime international tourism destination will be fully realised.
Demographics of Cambodian Tourism Arrivals:
International arrivals nationwide continue to grow consistently each year. This growth has been predominantly fuelled by Asian tourists. However, arrivals from Europe, North America and Australia are also growing steadily. The number of tourist arrivals from China and Laos rose dramatically last year, while those from Vietnam, traditionally Cambodia's biggest international arrival nation, dropped to second place.
The increase in arrivals from China are particularly signifcant. From January to July last year, tourist arrivals from China rose about 42.7 percent from the same period the year before, accounting for 635,000 visitors to the Kingdom. The total soared past one million by the end of last year. Continuous increases can largely be attributed to the government's new "China Ready for Cambodia Tourism'' policy.
The China Ready for Cambodia Tourism policy aims to bring the number of Chinese visitors to the Kingdom up to two million per year by 2020. It further outlines the initial stepsto be taken by the Ministry of Tourism to facilitate Chinese tourism. These measures include boosting the use of China's yuan currency, tailoring food and accommodation choices, and providing Chinese signage and documents for visa processing.
Domestic Tourism
Cambodia is also reaping benefts from domestic tourism, which has grown by an average of fve to seven percent in the last decade. By the end of last year, the number of domestic tourists reached 15 million. Figures were undoubtedly boosted by people taking trips to Siem Reap, Sihanoukville and other holiday destinations. Improvements in infrastructure and road accessibility between the key provinces has been one driving force behind these domestic tourism increases.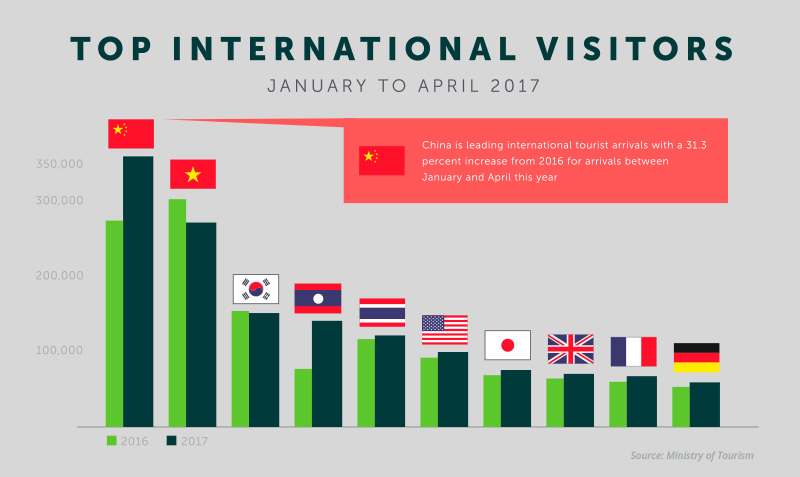 1.4.5 Industrial Development Prospects
In 2015, The Royal Government of Cambodia launched their new Industrial Development Policy (IDP). The IDP seeks to tackle the country's worrying reliance on low-skilled and low-value manufacturing and agriculture sectors by expanding the types of industrial activities conducted in the Kingdom. It seeks to remedy these issues through human resource improvements and technological development. The government's aim is to create an industrial makeup that is more modern, focusing on a skills-driven industry as opposed to labour-intensive work.
This policy is already taking shape, as an infux of Japanese, Korean, Thai, Vietnamese and Chinese corporations are shifting their light-tech production plants to the Kingdom. Special economic zones (SEZs) are also upgrading their services to accommodate these new industries.
The private sector remains the key driver in skills development. However, further educational reforms at a national level, which are currently in progress, are necessary to fully realise this policy.