3: CAMBODIA REAL ESTATE SECTOR OVERVIEW

Cambodia's real estate and construction sector has seen remarkable growth over the last decade thanks to nationwide economic development, an infux of foreign investment and a new generation of middle-class locals looking for homes close to key urban centres.
Furthermore, the continual strengthening of laws surrounding foreign ownership and the professionalising of real estate development frms and agencies has led to ongoing confdence in the real estate market as a whole.
The frst Realestate.com.kh Consumer Sentiment Survey, which surveyed over 5,000 property buyers and renters in December 2016, found that, of the 68 percent of respondents that were of Cambodian origin, 79 percent believed that they would buy or rent property over the following year. This year, 74 percent of all respondents planned to buy over the next year.
However, the survey also produced data that suggests many consumers perceive a series of weaknesses in the market, namely, the afordability of property, the need for fnancing of property purchases, and gaps in the market regarding professionalism and transparency in real estate sales and valuation professions.
In terms of investment in the construction and real estate sectors nationwide, this continues to be signifcant with a total of 3,418 projects approved last year, reaching a total of $6.8 billion. This consistent growth demonstrates investors' confdence, as both the economy and real estate market have shown consistent stability and minimal fuctuation since 2013.
While China leads the pack for investment in Cambodia, Japan, South Korea, Taiwan, Malaysia, Singapore and Hong Kong have also started putting money down for both construction and real estate developments, resulting in a diversifcation of the investor pool. These investments also extend to major infrastructure developments which are necessary for the real estate market to continue fourishing, particularly outside of the key centers of Phnom Penh, Sihanoukville and Siem Reap.
The nation has also seen a signifcant increase in the number of registered real estate frms, and a number of international players such as Knight Frank, CBRE, Century 21 and ERA have entered the market. These international frms and their established reputation play a vital role in giving current and potential investors more confdence in the real estate sector in Cambodia. In the market for new developments, the entry of international frms such as Hongkong Land, Oxley Holdings, Creed Group, HLH Group, Prince Real Estate, R&F Properties, Meridian International Holdings, Yue Tai Group, Graticity Real Estate Development (GRED), TA Corporation and many more indicate strong confdence in the potential of Cambodia.
3.1 PROPERTY TYPES EXPLAINED
There are a number of key property types which are available throughout the Kingdom.
Condominium
A condominium refers to a building or a complex of buildings that contains a number of individually-owned apartments. This term generally refers to developments constructed following the implementation of the 2010 Law on Providing Foreigners with Ownership Rights in Private Units of Co-owned Buildings, which was the frst law enabling foreigners to own property (namely condominium units) on a strata title, subject to certain conditions under the law.
Condominium developments are generally high-rise buildings that are newly constructed with a wide variety of modern furnishings and amenities. Many condo units in Cambodia are situated in mixed-use developments, meaning the complex might also house retail space, commercial offices and, in some cases, hotels.
Apartments generally difer from condominiums in Cambodia by few factors. Apartments are usually found in buildings built before 2010 and are not eligible for strata titles. Apartments generally are not as tall as modern condos and mixed-use developments. Additionally, apartments are, in general, not serviced. Condos, on the other hand, usually are, and feature common facilities such as pool and gyms. Nevertheless, the two terms often overlap and are used used interchangeably in the Kingdom.
Villa

Freestanding houses are referred to as villas, and usually have a garden or outdoor area. Villas are found across the country and are used to house both businesses, Cambodian families and expat renters. In the more central parts of Phnom Penh, well-maintained villas are in high demand. There are both newly built villas and restored colonial-era villas.
Traditionally, inner city villas were used for all purposes, such as retail, office and residential properties. However, with heavy property development in key districts of Phnom Penh, Siem Reap and Sihanoukville, many of these villas are being demolished to make way for new buildings and the supply of free-standing villas (outside of borey developments) has since dropped considerably.
Villas are also the premier property type within borey developments. Many borey developers ofer villas, twin villas and other variations within their projects. These types of properties generally carry the highest price tags. Villas are a particularly desired property type for wealthier Cambodia families, ofering a house and land investment with plenty of space for the extended family, pets and vehicles.
Traditional wooden Khmer houses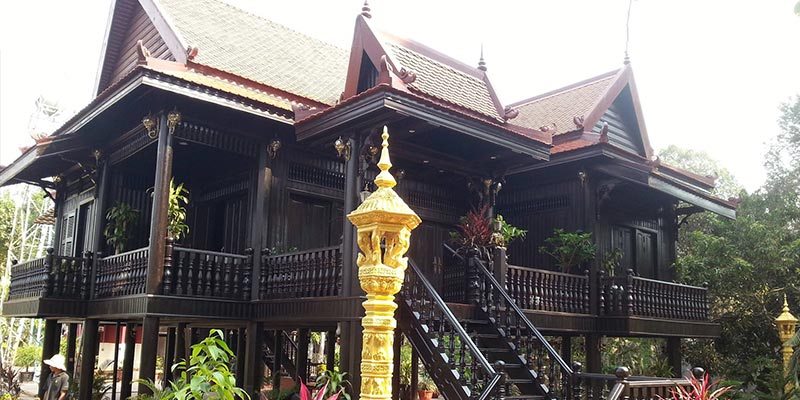 Traditional Khmer houses were originally made of wood and built on stilts to protect from foods. The area under the house is used as a family area or for keeping a family's livestock safe at night.
Due to the continuous growth of the real estate sector, the majority of wood houses in central areas have been renovated, and the areas underneath have been turned into ground foor structures made of concrete. Many have been also converted into restaurants or tourism operations.
Outside of the inner city, however, these traditional houses remain prevalent, especially in districts prone to fooding.
Shophouses and Renovated Shophouses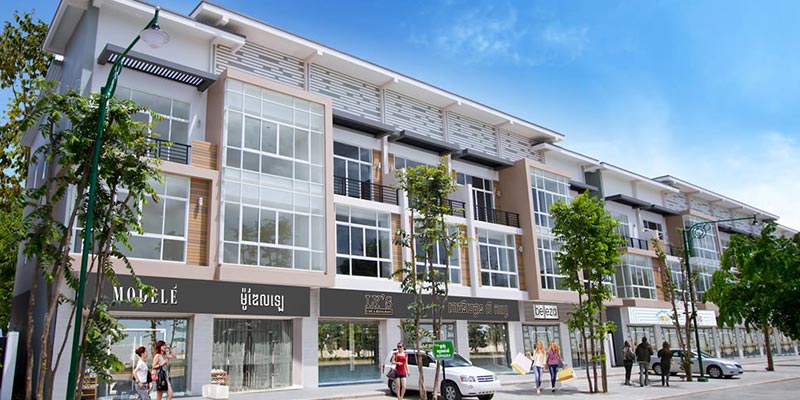 Khmer-style shophouses are still the predominant property type found in the Kingdom. They are generally a standard size of 4 meters by 16 meters (13 feet by 52 feet). Generally, these shophouses are two, three or four foors high, with a long and narrow layout. Shophouses sit in a row and share a joining wall with the neighbouring house.
Shophouses allow street access on the ground foor, meaning families are able to open small shops from their home. This house style is popular with Cambodia families for this reason, allowing an additional revenue stream, given the house is located in a trafcked area of the city or town. In some areas of Cambodian cities and key commercial streets it is also regulation that owners of shophouses use the retail space on the ground foor of their home and have some kind of shop, if they wish to reside there. Shophouses are rented either as individual units for each foor or as an entire house.
In terms of furnishings in the kitchen and bathroom, shophouses tend to be very basic. However, renovated shophouses are becoming increasingly popular. Renovated versions have the same size specifcations of the traditional shophouses, but include Western touches through the inclusion of modern amenities and interior design. Shophouses generally have mezzanine foors, which enable an extra bedroom space.
Serviced Apartments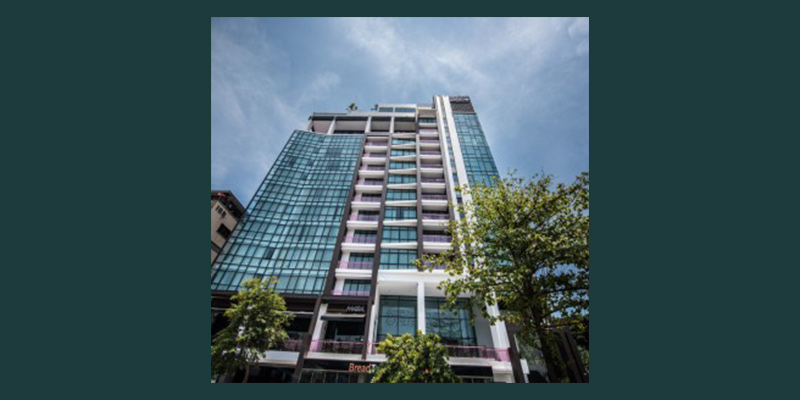 Serviced apartments vary widely in terms of size, style and price, depending on the location and quality of the apartment complex. The amenities found in Western-style serviced apartments are more comprehensive than other property types, and are designed for renters rather than buyers in most cases. Amenities include complete Western-style kitchens, air conditioning and bathtubs. Serviced apartments tend to include pools, gyms, laundry facilities, cleaning and 24-hour security.
With the new generation of condos in centers such as Phnom Penh and Sihanoukville, the supply of serviced apartments is rising as developers and investors seek to secure rental returns for completed projects. Increased supply is pushing down rental rates for these units.
However, as more foreign workers enter the Kingdom's cities, demand will also continue to rise for serviced apartments. Meanwhile, the level of professional property management is rising across the market, especially in Phnom Penh, ofering better services to renters.
Borey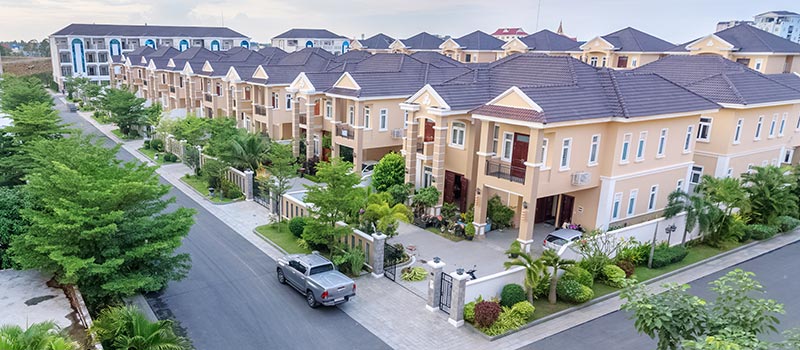 A borey development is known as a gated community. It consists of a mixture of single villas, twin villas, hybrid villas, linked houses, shophouses, fat houses and retail space. Borey developments have a variety of each property type and also include community areas such as shopping centers, eating venues, playgrounds and sporting facilities. These developments tend to be concentrated on the outskirts of cities, as developers are wary of land prices due to the limited spending power of their target market. There is a wide range of borey options across the country, with various levels of construction quality and property management.
Borey homes are the preferred choice of housing for the majority of Khmer families looking to invest in a new property, as they provide full infrastructure within the compound and a secure place for families to be raised.
Increasingly, expats seeking a home outside city centers are also attracted to renting borey homes, especially those with pets or families. However, technically a foreigner cannot buy in a borey development as they are landed properties.
3.2 CURRENT REALESTATE MARKET TRENDS
3.2.1 Affordable Housing
Last year was another defnitive year for Cambodia's property sector, particularly in terms of new development launches within the capital. While the capital's real estate sector growth over the past few years has mainly been attributed to rapid construction and sales of condominium projects, last year saw higher demand for afordable residential developments. Borey projects fell squarely into this category.
The total supply of housing, including all property types, soared to 149,700 units by the end of last year, representing an increase of 27 percent from the year before, according to VTrust Appraisal. The Housing Market and Outlook Report 2017, released by VTrust in December of last year, also stated that the nationwide supply of borey units increased by 11 percent. Nearly 14,000 units were launched that year, as opposed to 12,500 the year before. The report claimed that last year was the "biggest year for the completion of borey projects of this decade".
Preliminary signs this year show the growth of new borey projects will continue, as over 8,000 borey units have already been announced and slated to commence construction. The report further found that developers launching "afordable" residential borey projects, namely those in $30,000 to $40,000 bracket, performed much better in terms of sales than higher priced developments.
In light of this shift in demand, many developers have already begun constructing more afordable developments to adapt to the needs of the local market. To give an example, The Creed Group (Japan) and Prince Real Estate (China) both entered the Phnom Penh market with high-end condo oferings. After their early projects, their focus soon turned to the lower end of the market. Creed Group began to construct landed borey developments, such as Borey Maha Sen Sok and Arata Garden Residences, while Prince Real Estate launched Prince Modern Plaza, a central Phnom Penh condo project targeting middle-class Cambodians.
While the Cambodian condo market was originally dominated by foreign investors, Khmer buyers are beginning to demand condos, predominantly for investment purposes, second homes and rental returns. Additionally, domestic demand remains a key element of a successful condominium project for any developer in Cambodia, due to foreign ownership of an individual building (strata law) being restricted by law to 70 percent. This has led to a trend of local developers ofering lower-range condo development projects to the market. These types of developments range from $30,000 to $60,000 per unit, and are being bought primarily by local buyers. Knight Frank Cambodia noted in the frst half of last year that condominiums that are priced below $50,000 are recording strong sales, despite a slowdown in the high-end market.
The demand for afordable housing has also been recognised by the government. The MLMUPC has stated that the government will continue to implement the National Housing Policy, whose goals include providing afordable housing to Cambodians belonging to the lower-middle income bracket. One of the mechanisms the MLMUPC is using is a collaboration with the Ministry of Economy and Finance to establish afordable housing through tax incentives for both developers and end-buyers. The government believes that 55,000 new homes in urban areas are necessary every year to satisfy increasing demand. It is anticipated that by 2030 Cambodia will need an additional 800,000 homes nationwide as the population is expected to grow to over 19 million.
3.2.2 2018 Survey Summary
Purchasing Power

The average monthly income of respondents in Realestate.com.kh's annual survey was materially higher than last year. This is a refection of the emerging middle class in Cambodia, and ultimately means purchasing power and afordability is increasing. The proportion of respondents making less than $500 per month decreased to just 16 percent, compared to 28 percent last year. A quarter of poll takers said they make between $500 and $1,000 a month, which is up from 22 percent last year. A further 18 and 11 percent make $1,001-$2,000 and $2,001-$3,000 a month, respectively.

Affordability
Just like last year, house hunters generally believe property is afordable in Cambodia. Nearly 60 percent of respondents marked either very afordable, afordable or moderately affordable.
However, this year's poll found that the perception of afordability has decreased since last year. Only 10 percent said that property here is very afordable, as opposed to 15 percent last year.
With regards to budgeting for a home, the survey showed that nearly half of respondents expected to pay less than $50,000 for property. This number is up slightly from last year. A further 21 percent expected to pay between $50,001 and $75,000, 13 percent between $75,001 and $100,000, 14 percent between $100,001 and $200,000 and 3 percent expected to pay over $300,000.
In general, the survey results are in line with last year's and indicate that of the 74 percent of responders that intend to purchase property within the next year, 78 percent intend to buy for $100,000 or less.

Buying & Selling
Buyers have remained confdent and trends are consistent as 75 percent of the respondents declared that now it is a good time to purchase a property. This number is down by just one percent from last year.
Demand
The vast majority of respondents believe that now is a good time to purchase a property in the Kingdom and most intend to purchase within the next year. Seventy-four percent responded as such, compared to 73 percent who felt the same a year ago.
When asked, "are you more likely to purchase a property to live in or invest in," the results showed that most people have a positive outlook on property investment in Cambodia, with 62 percent of respondents intending to buy a property for investment purposes. Thirty-eight percent, meanwhile, intend to buy a property for living in.
This data is a drastic shift from last year when 54 percent planned to live on the property and 46 percent planned to buy for investment.
Location and Type of Property
When looking at the three main Cambodian areas, Phnom Penh, Siem Reap and Sihanoukville, the majority of respondents indicated that they were looking to purchase property in the capital. Seventy-four percent preferred Phnom Penh, followed by nine percent who preferred Sihanoukville and just over fve percent who noted shopping for property in Siem Reap.

Demand for other locations such as Kampot, Kep and Battambang rose from eight percent last year to 11 percent this year.
The biggest downward trend was seen in the capital's 7 Makara. Thirteen percent preferred property there last year and just three percent felt the same this year.
Sen Sok district, on the other hand, is the most sought-after capital district. Fourteen percent wanted property there as opposed to ten percent last year. The only other location to grow in demand by that much was Por Sen Chey district.

When asked whether they would buy an established or newly built property, 66 percent of people said they would prefer to purchase a new property in a borey, condo development or plot land project, while 34 percent would prefer to purchase an independent house, 25 percent of people prefer to opt for land in a plot land project (they want to build their own home). Nineteen percent are considering buying a condo or apartment in a new development, and 21 percent are intending to buy a home within a borey, a good sign for both existing developers and those considering launching a new project.