3: CAMBODIA REAL ESTATE SECTOR OVERVIEW
3.5 KEY INVESTMENT AREAS: SIEM REAP
Siem Reap is located about 314 kilometers northwest of Phnom Penh, connected by National Road 6. Siem Reap is divided into 11 districts with one central town and 13 sangkats, including 87 communes and 921 villages. The population of the province is approximately 200,000 permanent residents.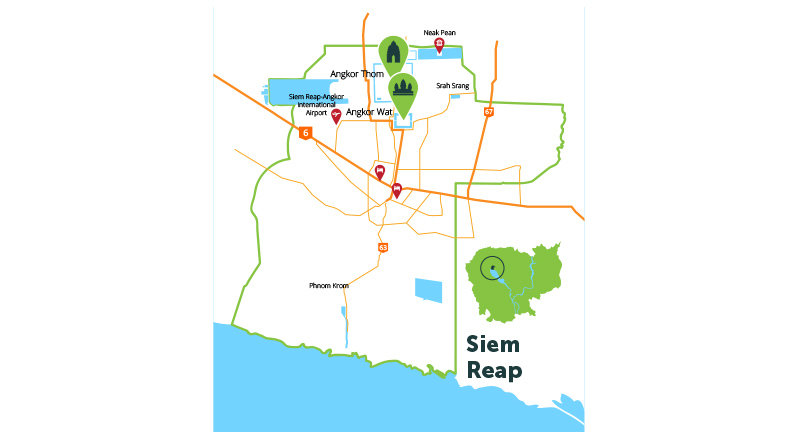 The province is home to the Tonle Sap Lake, the largest lake in Southeast Asia. This vast waterway was deemed the frst Biosphere Reserve by Unesco in 1997, due to its rich biodiversity and in order to promote sustainability in the region. This area is also home to many Vietnamese and Cham communities living in foating villages around the lake. Phnom Kulen National Park is also located in this province, approximately 48 kilometers from the city centre. It attracts visitors to its two waterfalls and the "river of 1,000 lingas", a carved riverbed abounding with unique insights into the 900 BC culture which created it.
The province's Angkor Wat temple complex has turned Siem Reap into a world-renowned travel destination, with over one million international visitors per year. The Siem Reap International Airport is the second biggest airport in the Kingdom. The frst four months of last year saw 682,480 arrivals (including both domestic and international), which is an increase of over 100,000 arrivals from the previous year. Direct international fights are primarily from other Asian nations, such as Vietnam, Singapore, Philippines, China, Thailand and Japan.
In October 2016, the Cambodian government signed an agreement with China's state-run Yunnan Investment Holdings to build a new $880 million airport to serve Siem Reap. Construction has already commenced, and approximately $500 million will be spent on the frst and second stages of the airport, while the fnal phase will cost an additional $300 million. Once fnished, the airport will have a maximum handling capacity of 10 million passengers per annum. It is anticipated that construction will take up to fve years to complete.
Therefore, one of the key drivers of the real estate market in Siem Reap is the tourism industry.
Some investors look for hotels or tourism ventures, others are looking for residential ownership for personal use. Major agricultural investments are also being made across the province, with fertile soils fed by the Tonle Sap Lake.
Although data remains scattered, it is estimated that there are almost 600 hotels in Siem Reap. International brands such as Hyatt, Softel and Rafes all have hotels situated in Siem Reap.
The Siem Reap residential market is substantially less dense than that of Phnom Penh. Villas, shophouses and low-lying apartment buildings remain the norm. Large scale apartment or condo construction is limited in Siem Reap due to protective caveats around airspace anywhere near the temple complexes. However this trend is beginning to shift with more launches entering the market this year. Borey development on the outskirts of the city is also an emerging theme, as more Cambodians move to live and work in the province, and Siem Reap locals move from homes in the downtown area to make the most of higher land prices.
Siem Reap retail property prices peak in locations around the Old Market and Pub Street area thanks to the constant stream of tourists passing through. Some tenants coming to the end of long leases in these popular areas have faced rent increases of over 300 percent. Limited lease lengths may mean higher risk exists for Siem Reap retailers when investing funds into rented buildings or land for retail or tourism purposes. New businesses sitting on fve to 10 year leases will naturally be reluctant to extend or dramatically refurbish current premises on rental property, due to concerns over rental increases once their contract lapses.
Land prices have increased by around 15 to 20 percent this year, according to industry insiders. This swift growth is attributed to the infux of Chinese investors entering the market and the launch of the new airport plans. Prime land in Siem Reap's center can fetch up to $1,500 per square meter, land along main roads up to $1,000 per square meter, and land on less trafcked, smaller roads averages around $500 per square meter.