1: ABOUT CAMBODIA
1.7 MAJOR TRADING PARTNERS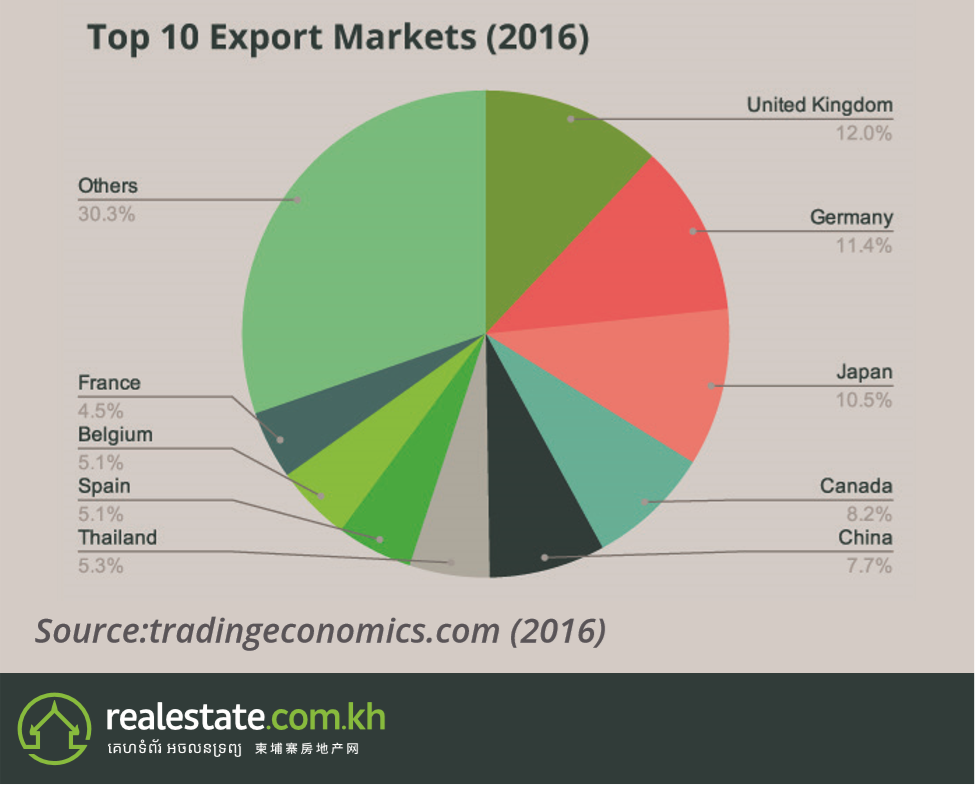 Since 1993, Cambodia has increased its international trade hugely and benefits from numerous trade agreements. Most significantly, Cambodia is a member of the World Trade Organization (WTO) and the Association of Southeast Asian Nations (Asean), the country entered into these groups in 2004 and 1999, respectively. Both of these schemes have already led to important tariff reductions, and facilitate further trade liberalisation both regionally and internationally.
What's more, Cambodia holds a status as both a Generalised System of Preference (GSP) nation and Most Favoured Nation (MFN), which enables privileged access to key markets such as North America, South Korea, and Europe. As a result of being a party to many international agreements, Cambodia is considered to be a fully integrated participant in international markets. Due to the Kingdom's status as a "Least Developed Country" (LDC), many key export markets worldwide have eliminated barriers to trade. LDC status is established by fulfilling four key criteria, namely, low income (below $745 per person, per year, on average), a population under 76 million, a vulnerable economy and primitive human resources initiatives.
Established schemes which allow the Kingdom duty-free access to their markets. This ultimately gives Cambodia an advantage over other regional competitors such as Singapore, Vietnam, and Thailand.
1.7.1 Cambodia and Asean
Cambodia joined the Association of Southeast Asian Nations (ASEAN) in 1999. This multinational organisation, composed of ten Southeast Asian countries, has joined forces with the substantial goal of building a strong economic bloc. Cambodia is located on the crossroads of the ASEAN economic community and is a key nation welcoming investments from neighbouring countries. Due to its membership in ASEAN, Cambodia has access to the ASEAN Free Trade Area (AFTA). Established at the Asean summit in 1992, AFTA is an agreement implemented to eliminate tariffs on trade between Asean nations. AFTA is an agreement implemented to eliminate tariffs on trade between ASEAN nations during the ASEAN Summit in 1992.
The ASEAN's purpose is to develop greater trade and industrial bonds among member countries, as well as encourage foreign direct investment (FDI). With ASEAN boasting a combined population of over 625 million, the creation of a free trade area has enabled for powerful economic collaboration among Southeast Asian nations since its establishment.
To put the size and potential of the bloc into perspective, the EU has a much smaller combined population than ASEAN nations, on the other hand, ASEAN has a comparatively less mature and industrialized market. This relative underdevelopment makes the region a major source of opportunities for growth. This is one of the primary reasons why the ASEAN region is currently considered one of the world's most dynamic markets.
In addition to the AFTA, Cambodia is also eligible for tariff reductions under Free Trade Agreements (FTAs) that ASEAN established with countries like South Korea, Japan, India, China and Hong Kong, Australia and New Zealand, although diff erent ASEAN states will implement the AFTA at diff erent times, particularly with Cambodia, Laos, Myanmar and Vietnam.
As of 2019, additional Free-Trade Agreements with Cambodia are under consultation and study of relevant parties. Some examples are: East Asia Free Trade Area (ASEAN+3), ASEAN+EU Free Trade Agreement, Comprehensive Economic Partnership for East Asia (CEPEA/ ASEAN+6), ASEAN+Canada FTA, and Cambodia-Eurasian Economic Union FTA. It is not yet clear when official negotiations will start for these proposed trade deals.
Negotiations for the Regional Comprehensive Economic Partnership (RCEP) are currently undergoing formal negotiations as of December 2019. This partnership includes the ASEAN, Australia, New Zealand, China, India, Japan, and South Korea. The RCEP will be built upon existing free trade agreements between each participating nation.
Investors in ASEAN countries continue to prioritise the Kingdom due to preferable investment terms, such as low land prices, low labour costs, tax incentives, ease of and a lower cost of living.
However, Cambodia improving its local labour productivity will be crucial in competing with a potential influx of highly skilled personnel from other ASEAN member states. Thus, sustainable development, skills training and further education of the workforce are important in order to keep productivity levels high and to ensure that the country remains competitive.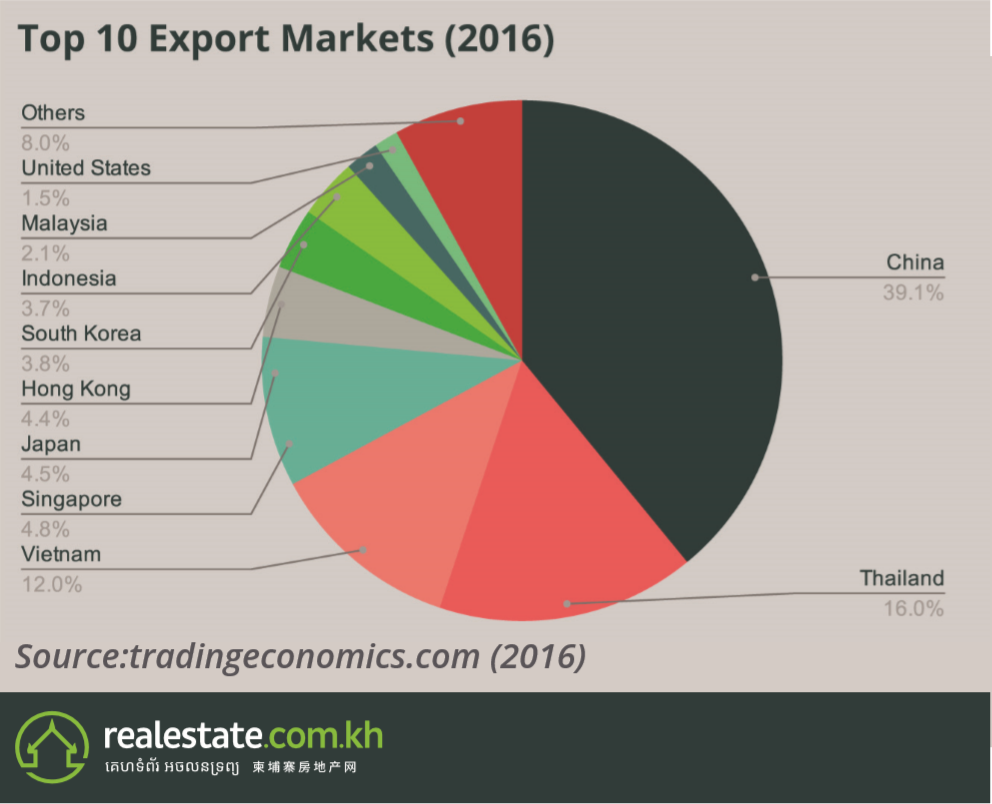 1.7.2 Cambodia's place in China's Belt and Road Initiative
The One Belt and Road Initiative, more popularly known as "One Belt, One Road" or "New Silk Road'', is a global development strategy announced by the Chinese government in 2013. The project, by its nature, aims to strengthen China's presence in the global economy by improving transport and logistics infrastructure, trade and finance, and socio-cultural exchanges with its partner nations across Asia, Africa, South America, and Europe.
Exact figures of how much China has spent vary wildly from hundreds of billions to trillions of dollars as of 2019. The Asian Development Bank, however, projects that the project would need a total of $26 trillion ($1.7 trillion per year) of investments in the Asia-Pacifi c region alone by 2030. While the Organisation for Economic Co-operation and Development (OECD) estimates that a total of $95 trillion ($4.4 trillion per year) of investment would be needed by 2040 for the project to come to fruition on a global scale.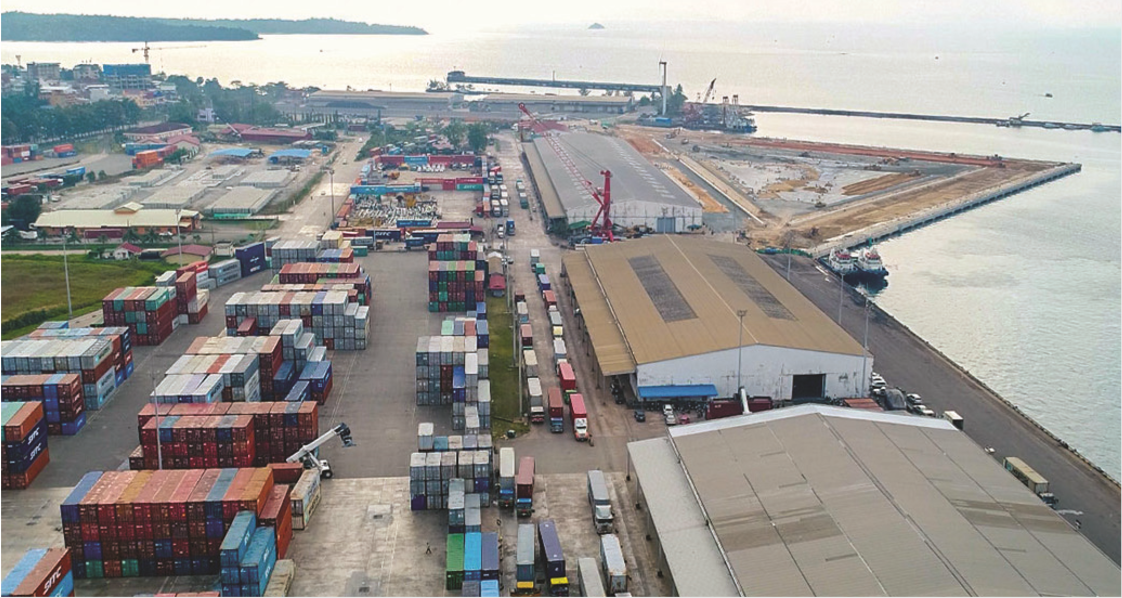 How does Cambodia fit into all of this? Cambodia's position in the Indochina mainland offers China both land and maritime trade routes. Several road projects are already underway, chief example of which is the development of a $2 billion motorway stretching 190km from Phnom Penh to Sihanoukville.
It cannot be understated how Sihanoukville's seaport - the only deep-water port in Cambodia - is serving as a nexus for the BRI's maritime endeavours. At present, much of the sea routes in South East Asia travel through the Strait of Malacca, making it the 2nd busiest maritime area in the world. Over 84,000 ships passed through the strait in 2017 handling anywhere from 15% to 20% of global trade and about 30% of global crude oil shipments.
his makes access to the Strait of Malacca vital to industrialized nations such as South Korea, Japan, and most important, China. As such, projects to increase the Twenty-Foot Equivalent Unit (TEU) capacity of the Sihanoukville Autonomous Port (PAS) - being in a strategic position within the Gulf of Thailand and close to the Strait of Malacca - is underway to meet the expected increase in ship traffic in the region.
A parallel urban development plan for Sihanoukville is currently being planned by the Shenzhen Urban and Design Planning Institute. The urban redesign project is expected to start January 2020. A road revamp costing $294 million also started in Sihanoukville covering 84km started in November 2019.
For Cambodia, the Belt and Road Initiative is a global transportation framework built across the AsiaPacifi c region that will not only act as a physical connector that pulls multitude of countries together, but also as stimulants for the local economy.
Due to these policies, and the strong political and economic relationship between the two governments, Chinese investment will continue to be a main contributor to Cambodia's overall economy, especially in the real estate sector.
1.8 INFRASTRUCTURE EXPANSION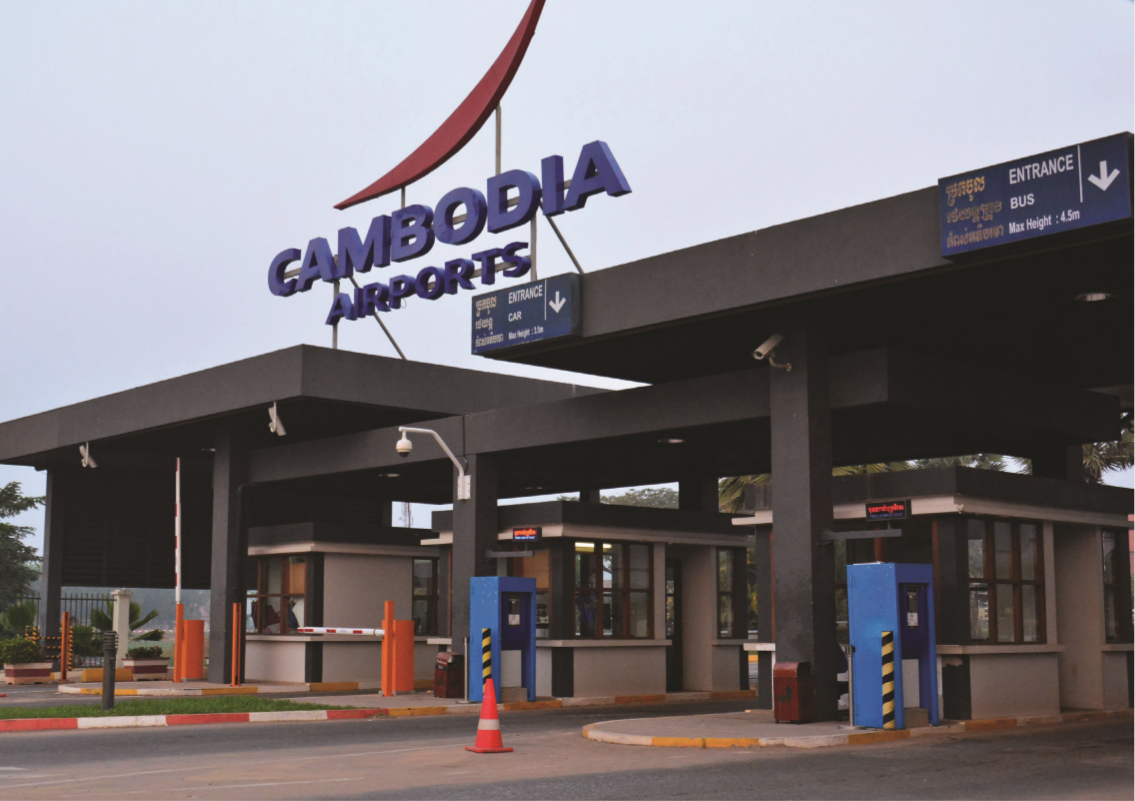 Cambodia is at a point where the necessary infrastructure for long-term development in key investment areas is being laid out. These expansions are aggressively supported by key trading partners and local enterprises, suggesting that people are seeing the vast potential that the country holds. Improvements in infrastructure have been identified as a catalyst for the future development of key industries such as tourism, and the continued drive for high levels of FDI.
Cambodia has increased the number of direct air routes which connect it to the rest of the world. According to the Cambodia Airports communications office, Cambodia's 3 international airports handle 760 direct flights per week from 8 ASEAN nations as of May 2019, namely: Singapore, Thailand, Laos, Vietnam, Malaysia, Myanmar, the Philippines, and Indonesia. An additional 500 direct flights per week were recorded by May 2019 from China alone.
As of Q3 2019, 70% of the 4.8 million tourists (approximately 3.3 million) that have arrived so far landed in Cambodia's 3 international airports. For comparison, 5.6 million international tourists were accounted for in 2017. This increased to 6.2 million international tourists in 2018 - a 10% jump from the previous year. The Ministry of Tourism expects international tourists in the Kingdom to reach 6.7 million by the end of 2019.
Domestic flights between Siem Reap, Phnom Penh, and Sihanoukville have been growing over the last few years as well, satisfying both international and local demand. Each of these cities hosts an international airport, and another is on the dock for coastal Koh Kong province. Agreements were signed and construction began for a new airport in Siem Reap in 2018. The new Siem Reap International Airport measures 51km southeast of downtown Siem Reap.
The project is expected to finish in 2020 with its completion allowing Siem Reap to accommodate up to 10 million tourists arriving in the Kingdom's top tourist destination per year. The new Phnom Penh International Airport in Kandal province officially broke ground in September 2019. The airport, and its supporting commercial and residential projects, will cover 2,600 hectares of land. The new airport is expected to open anytime between 2023 - 2025 and is set to accommodate the estimated 15 million tourist arrivals in Cambodia by 2030.
1.8.1 Air
Cambodia has increased the number of direct air routes which connect it to the rest of the world. This growth accounted for a total of 2,704,367 international arrivals into Cambodia's airports in 2016, which rose to 4.2 million last year. This fgure is anticipated to rise by 20 percent over the course of this year, breaking the threshold of fve million airport arrivals. An estimated 150 direct fights provide service to the Kingdom. Three years ago there were only 50.
Domestic fights between Siem Reap, Phnom Penh, and Sihanoukville have been growing over the last few years as well, satisfying both international and local demand. Each of these cities hosts an international airport, and another is on the dock for coastal Koh Kong province.
This year, agreements were signed and construction began for a new airport in Siem Reap. Completion of this project will enable up to 10 million tourists to arrive in the Kingdom's main tourist draw per year.
1.8.2 Road
The total length of roads in Cambodia measured 47,263 kilometres at the end of 2016, 74 % of which were classified as rural and provincial roads. The government has announced plans to upgrade and repair an additional 5,150 kilometres of rural roads by the end of 2018.
In 2018, a major MoU between Cambodia and China was signed regarding investment into a new 190km expressway between Phnom Penh and Sihanoukville. The new route will start from the intersection between National Road 4 and Phnom Penh's Tomnub Kob Srov road. The rest of the road will run parallel to National Road 4 which spans 240km. The route would be key for transit, linking the capital with the country's only deep sea port, and is reported to cost $2 billion. The construction of the major roadway is set to finish in 2023.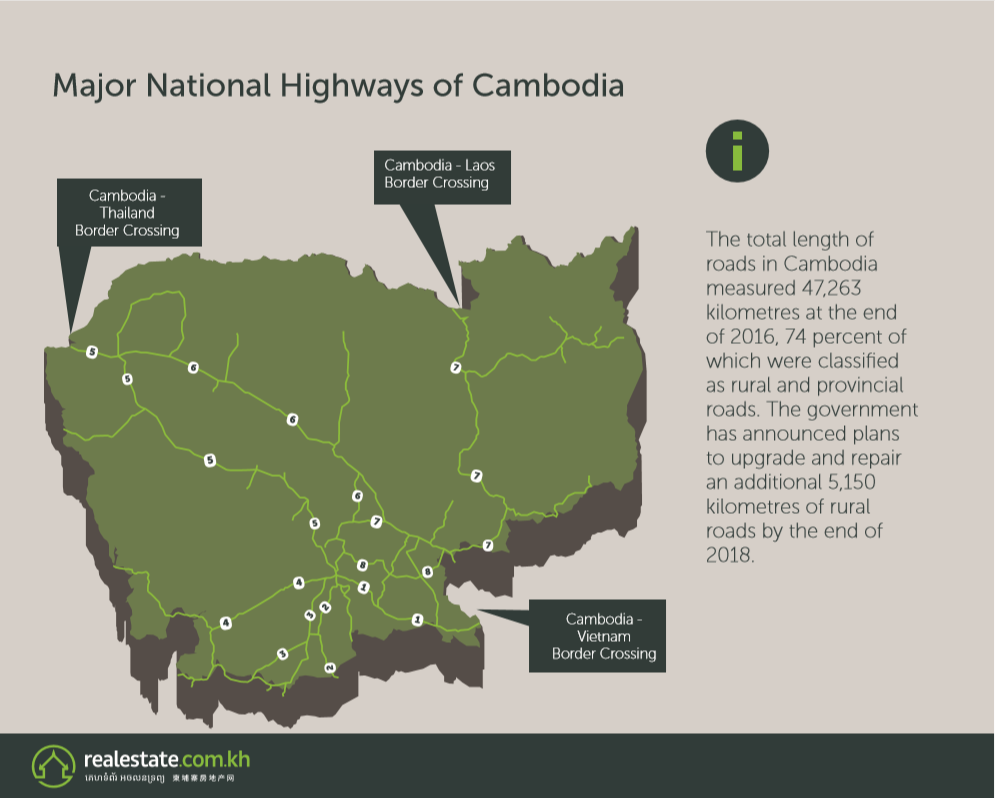 Rehabilitation of the National Road 3 which runs from Phnom Penh to Kampot province began in 2018. The road rehabilitation will focus on a 20km section that will be set aside for the upcoming two big events Cambodia is set to host, namely: Kampot's Sea Festival, the three-day event organised by the Cambodian government to promote the country's southern coast tourist attractions which will last from December 27 to 29, 2019, and the "1st World Cycling Tour of Cambodia Bay", an international cycling tournament where cyclists from around the world will race on Cambodia's coastal roads on January 2020.
Many other major road developments commenced construction in Phnom Penh, including a $57 million bridge project across the Mekong River, and the restoration of National Road 11, which runs from the Kingdom's Prey Veng province through Phnom Penh. These road developments, when completed, will be a major step in improving accessibility through heavily utilised road areas.
October of last year saw another major investment in roads from the Asian Development Bank, which approved a loan of $70 million to go towards improvements in Siem Reap, Prey Veng, and along the greater Mekong subregion "Southern Economic Corridor''.
1.8.3 Sea
Though other ports operate in Phnom Penh, Koh Kong, Sre Ambel, Okhna Mong, Stunghav, Kampot, and Kaev, the Sihanoukville Autonomous Port (PAS) is the biggest and only deepwater port in Cambodia.
The Royal Government of Cambodia designated the port as an industrial development zone. This port has seen great potential in expanding the trade between Cambodia and other countries in ASEAN, the Asia-Pacifc rim and the rest of the world.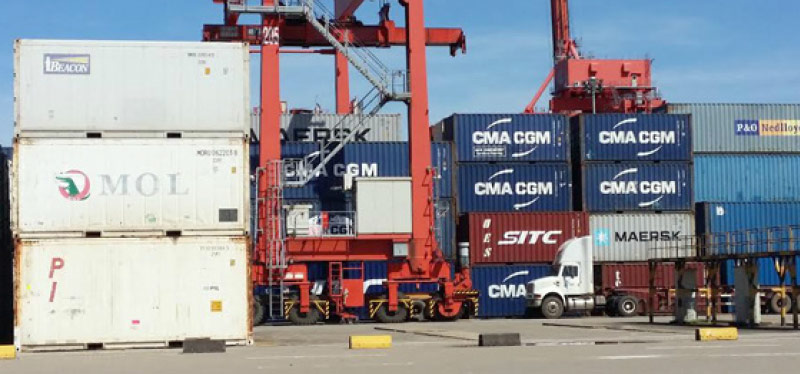 According to data from PAS, the gross throughput in 2018 increased by 22% from the previous year. Gross Cross Throughput in 2018 amounted to 5.3 million tons with about 1,451 vessel throughput in the same year. TEUs for the same year amounted to 540,000 - around 17% higher than 2017.
Occupying approximately 125 hectares, Sihanoukville Autonomous Port was constructed in 1956 and started operations in 1960. The port has eight terminals with a total length of 1,330 meters and is equipped with modern cargo-handling equipment. The port is currently undergoing expansion, funded by Japanese investors.
The first phase of the port's expansion will bring online a 350-metre terminal which will raise the port's container-handling capacity from the current 700,000 twenty foot equivalent units (TEUs) to 1.29 million TEUs by 2023. Three major port improvements are currently in the pipeline for PAS, namely: the Multipurpose Terminal Development Project, New Container Terminal Project, and the Tourism Terminal Project.
With the proposed new port upgrades in Sihanoukville, larger carriers are able to deliver goods directly to major economic centers and ship them abroad at a lower cost.
The direct port connection to Cambodia will be another catalyst for economic development as it greatly reduces costs of import and export, and will reduce reliance on neighbouring ports.
1.8.4 Rail
The total metre gauge of the Kingdom's railway only stretches a mere 612km. Built during the French colonial years, the train served a means of transport for raw materials, troops, and to a certain extent, atrocities, during the Cambodian civil war.
In May 2016, a passenger train service from Phnom Penh to Sihanoukville and vice-versa was reopened - with Prime Minister Hun Sen boarding its maiden trip from Phnom Penh to Sihanoukville. At present, the train offers a cheaper alternative for tourists at $7 one-way per adult compared to established transports such as buses, taxis, and airplanes. The train route also supplements the need for freight cargo to transport between the country's two major economic hubs.
The train track travelling between Cambodia and Thailand officially reopened after 45 years, which was destroyed during the time of the Khmer Rouge. In April 2019, Prime Minister Hun Sen, together with his Thai counterpart, Prime Minister Prayut Chan-o-cha, boarded the reopened train link from Klong Luek station in Aranyaprathet, Thailand to Poipet station in Cambodia.
The connection plays an important part in the development of the economies of Cambodia and Thailand and helps improve connectivity with other ASEAN and Greater Mekong Subregion countries, according to Prime Minister Hun Sen. Gross trade between Thailand and Cambodia amounted to $6 billion in 2018.
The reopening of the Poipet line marks the completion of the Kingdom's 612km national railway. The railway, spanning the northwest of the country down to the south is divided into two lines. The railway running from Phnom Penh to Poipet is called the Northern line while the railway from Phnom Penh to Sihanoukville is called the Southern line.
More modern train initiatives in Cambodia include the "Sky Railway'' which will connect downtown Phnom Penh to the international airport. Feasibility studies were completed in 2017 and officials state that the construction will begin sometime in 2020. The project is expected to finish in 2023 and will serve as a traffic alleviation solution Phnom Penh requires.
1.8.5 Oil & Gas
Cambodia's oil and gas endeavours are not new. Since 2004, energy conglomerates like Chevron have conducted exploration studies of oil and gas deposits within the Kingdom. But negotiations and development have stalled due to the lack of legal framework and necessary physical infrastructure to get things moving. The crash in oil prices back in 2016 (from $115 to $35) also led many companies to back out from exploring fuel extraction in the Kingdom.
But Cambodia's fortunes have recently turned with oil and gas exploration slated to start in 2020 off the coast of Sihanoukville, where substantial oil and gas reserves are believed to be present. This extraction is also set to boost logistics investment dramatically in the near future. Singapore-based KrisEnergy Group has signed an agreement with the Cambodian government in 2017, setting the framework for the long-awaited exploitation of the country's Block A oil field. The Singaporean firm holds a 95% stake in the contract area while the government maintains a 5% share.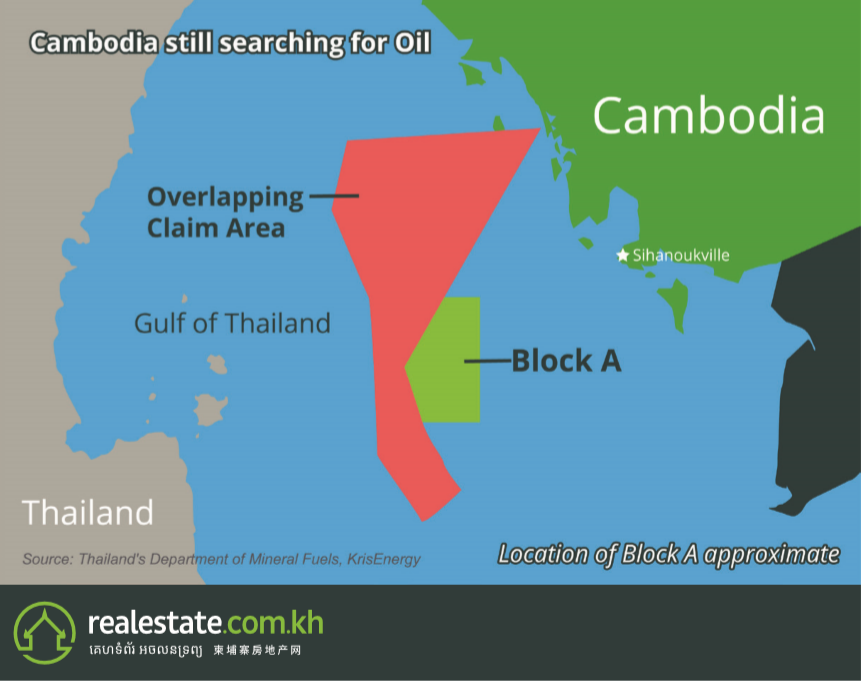 KrisEnergy predicts the oil field will produce somewhere near 8,000 barrels per day of crude oil, with the first barrel expected to be produced in October this year and transported by barge. It says 27 wells have been drilled in Block 1A, 13 of which have reportedly struck oil and gas. The company, however, will be selling the extracted oil directly to the international market as there is currently no oil refinery in Cambodia.
Exploration of Block A led to commercial discovery, meaning several viable petroleum deposits were found. Block A spans 4,709 square kilometres and is reported to contain an estimated seven million barrels of oil and three to five trillion cubic feet of natural gas.
Other international companies have also expressed interest in exploring fuel extraction in Cambodia. Mubadala Petroleum, one of the UAE's largest oil and gas companies, met with officials from the Ministry of Mines and Energy to discuss potential investments in Cambodia's fledgling oil & gas sector.
Cambodia currently has 4 offshore blocks and 18 onshore blocks for kerosene exploration, according to the Ministry of Mines and Energy.
1.8.6 Internet Penetration
Cambodians are joining the global community en-masse through technology, namely through dramatic dramatic strides in internet connectivity. As of 2019, Cambodia has almost 16 million internet users. This number combines both mobile users and fixed internet users, according to the Telecommunications Regulator of Cambodia.
Global trends and information are extremely quick to enter Cambodian society due to this fast uptake of technology. This is particularly relevant in terms of real estate, as Realestate.com.kh's Consumer Sentiment Survey showed 78 % of respondents looking for a rental, purchase or investment property would start their search online.
Social media has firmly entrenched itself into Cambodia's society, with Facebook as the leading platform. In the second quarter of last year, a total of 4.8 million people were active users, which is a growth of 1.4 million from the previous year.
1.8.7 Passage of Comprehensive Construction Law 2019
The much-awaited construction law was approved by the Cambodian National Assembly last October 2019. According to the DFDL, an international law firm specializing in South East Asian legal affairs, this law establishes a regulatory framework in order to ensure quality, security, and safety, and more generally to boost efficiency in this sector.
Under the law, the Ministry of Land Management, Urban Planning and Construction (MLMUPC) remains as the competent authority to oversee and manage the construction sector. The Construction Law will be further clarified by forthcoming Sub-Decrees and Prakas for its implementation.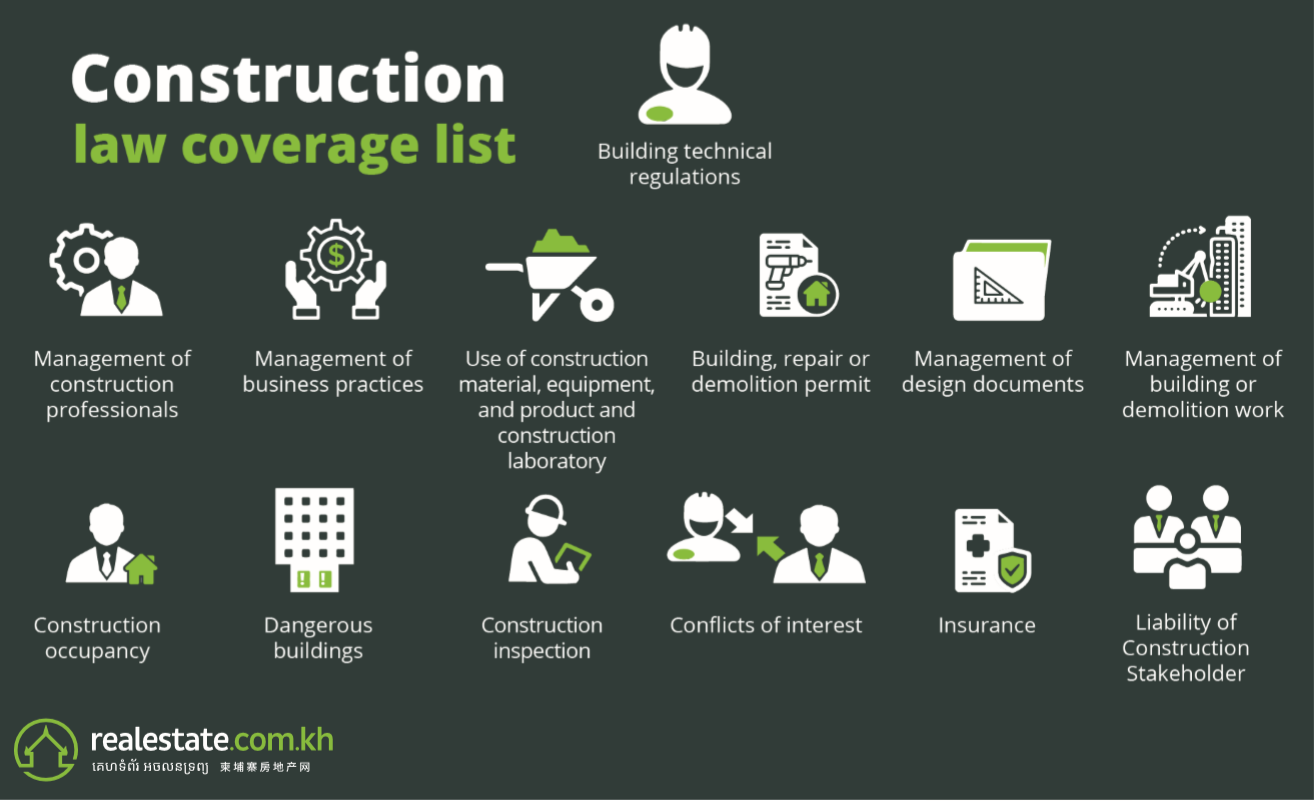 1.9 POLITICAL LANDSCAPE
1.9.1 Political History
Despite a tumultuous political history which included civil war and the horrendous Khmer Rouge era, the Kingdom operates as a constitutional monarchy. King Norodom Sihamoni is the head of state, despite not exercising any executive power over the country. The prime minister is appointed by the King as a representative of the party holding the majority of seats in the National Assembly. The Council of Ministers (Cabinet) is formed by members of the governing party.
Prime Minister Hun Sen has been serving in his post for over 30 years, and is the leader of the Cambodian People's Party (CPP). He is currently the longest standing non-royal leader in Southeast Asia. He retains a strong level of support from a large network of business leaders in the region due to the Kingdom's strong economic growth and his management of the nation's police and military which has led to relative political stability.
Despite the absence of the county's main opposition party, the Cambodia National Rescue Party, and the jailing of its leader Kem Sokha, the national election in July of 2018 saw a large turnout and the CPP managed to take all 125 seats in parliament.
1.9.2 Political Stability
After the national election in 2008, the Kingdom experienced something of an economic crisis. Any impacts of the ballot were exacerbated by economic troubles going on around the globe. It's no surprise that the local real estate industry took a hit. Many major international investors left the market and domestic property transactions declined as well. Luckily, the downturn didn't last long. Cambodia soon revived its domestic economy and growth has hovered around 7% nearly every year.
The vote in 2013 was accompanied by protest over the national minimum wage, especially for the garment industry, which employs the bulk of the country's labourers. After 2013, however, the minimum wage increased, as did FDI rates which stabilize the economy surrounding the previous two elections. 2018 was a steady year for investor confidence and overall stability. International media previously speculated about the impact of the election on the economy, but nothing out of the ordinary has been seen within the real estate market. In fact, the Cambodian economy surged to a better-than-expected 7.5% GDP growth in 2018.
From an investment perspective, the government has provided a predictable and supportive environment for foreign investors. Industry insiders have speculated that the CPP-led government will continue its streak of delivering economic expansion. Furthermore, land prices are expected to increase steadily in the months following the formation of the new government.