1: ABOUT CAMBODIA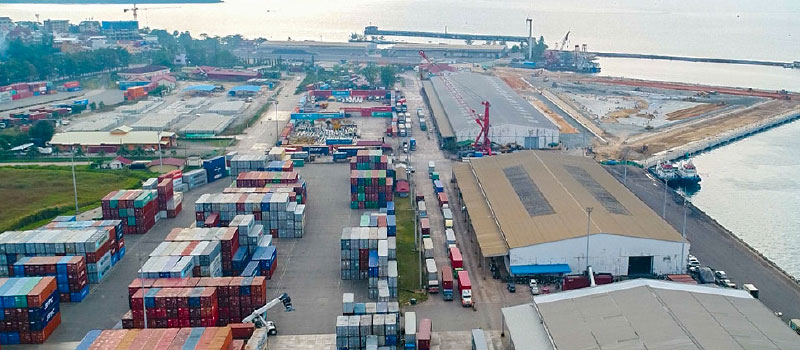 1.7 MAJOR TRADING PARTNERS
Since 1993, Cambodia has increased its international trade hugely and benefts from numerous trade agreements. Most signifcantly, Cambodia is a member of the World Trade Organization (WTO) and the Association of Southeast Asian Nations (Asean), the country entered into these groups in 2004 and 1999, respectively. Both of these schemes have already led to important tarif reductions, and facilitate further trade liberalisation both regionally and internationally.
What's more, Cambodia holds a status as both a generalised system of preference (GSP) nation and most favoured nation (MFN), which enables privileged access to key markets such as North America, Korea and Europe. As a result of being a party to many international agreements, Cambodia is considered to be a fully integrated participant in international markets. Due to the Kingdom's status as a "Least Developed Country" (LDC), many key export markets worldwide have eliminated barriers to trade. LDC status is established by fulflling four key criteria, namely, low income (below $745 per person, per year, on average), a population under 76 million, a vulnerable economy and primitive human resources initiatives.
Bestablished schemes which allow the Kingdom duty-free access to their markets. This ultimately gives Cambodia an advantage over other regional competitors such as Singapore, Vietnam and Thailand.
1.7.1 Cambodia and Asean
Cambodia joined the Association of Southeast Asian Nations (Asean) in 1999. This multinational organisation, comprised of ten Southeast Asian countries, has joined forces with the substantial goal of building a strong economic bloc. Cambodia is located on the crossroads of the Asean economic community and is a key nation welcoming investments from neighbouring countries. Due to its membership in Asean, Cambodia has access to the Asean Free Trade Area (AFTA).
Established at the Asean summit in 1992, AFTA is an agreement implemented to eliminate tarifs on trade between Asean nations.
The purpose is to develop greater trade and industrial bonds among member countries, as well as encourage foreign direct investment (FDI). With Asean boasting a combined population of over 625 million, the creation of a free trade area has enabled for powerful economic collaboration among Southeast Asian nations since its establishment.
To put the size and potential of the bloc into perspective, the EU has a much smaller combined population than Asean nations, however, Asean is comparatively a less mature and urbanised market. There are, therefore, major opportunities for growth. This is one of the primary reasons why Asean is currently considered one of the world's most dynamic markets.
In addition to the AFTA, Cambodia is also eligible for tarif reductions under Free Trade Agreements (FTAs) that Asean established with the likes of Korea, Japan, India, China, Australia and New Zealand, although diferent Asean states will implement the AFTA at diferent times, particularly with Cambodia, Laos, Myanmar and Vietnam.
Investors in Asean countries continue to prioritise the Kingdom due to preferable investment terms, such as low land prices, low labour costs, tax incentives, ease of and a lower cost of living.
However, Cambodia improving its local labour productivity will be crucial to competing with a potential infux of highly skilled personnel from other Asean member states. Thus, sustainable development, skills training and further education of the workforce are important in order to keep productivity levels high and to ensure that the country remains competitive.
1.7.2 Cambodia and the ''One Belt, One Road" Policy
One Belt, One Road, is a foreign policy initiative established by China in 2014. The policy is both economic and strategic in nature with the stated aim to link Eurasia with Africa and Oceania via two routes, one overland and another maritime. In a nutshell, the plan is a long-term strategy with the goal of enhancing infrastructure, trade, fnance and person-to-person connectivity.
As a result of the policy, Cambodia has seen, and will continue to see, major increases in investment due to China's commitment to developing infrastructure in Cambodia and adjacent countries.
China has earmarked $124 billion in investments to further develop the country's infrastructure and to expand trade links between China, Asia, Africa and Europe. China is now overwhelmingly the leader in FDI in infrastructural development in Cambodia.
Due to these policies and the strong political and economic relationship between the two governments, Chinese investment will continue to be a main contributor to Cambodia's overall economy, especially in the real estate sector.
Though infrastructure investment may not seem directly relevant to real estate, it is considered by experts to be one of the most critical factors for promoting FDI. Investors often consider long-term growth when evaluating a project. Without the development of infrastructure, connectivity and efciency in the Kingdom would remain limited.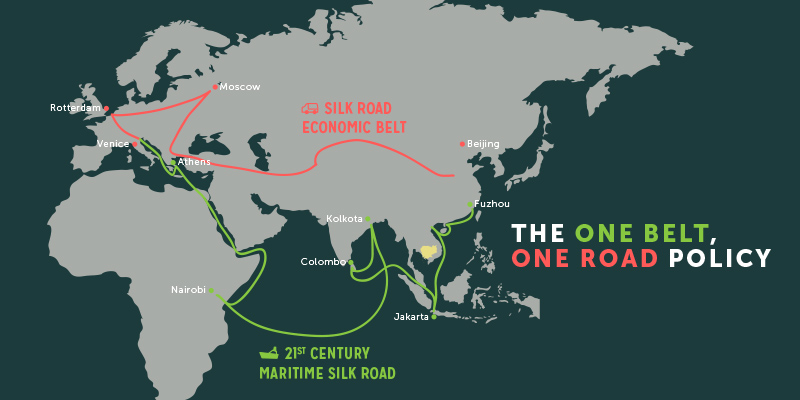 1.8 INFRASTRUCTURE EXPANSION
Cambodia is at a point where infrastructure is about to take great leaps forward. Preparation is being aggressively supported by key trading partners and political allies, suggesting that people are seeing the vast potential that the country holds. Improvements in infrastructure have been identifed as a catalyst for the future development of key industries such as tourism, and the continued drive for high levels of FDI.
1.8.1 Air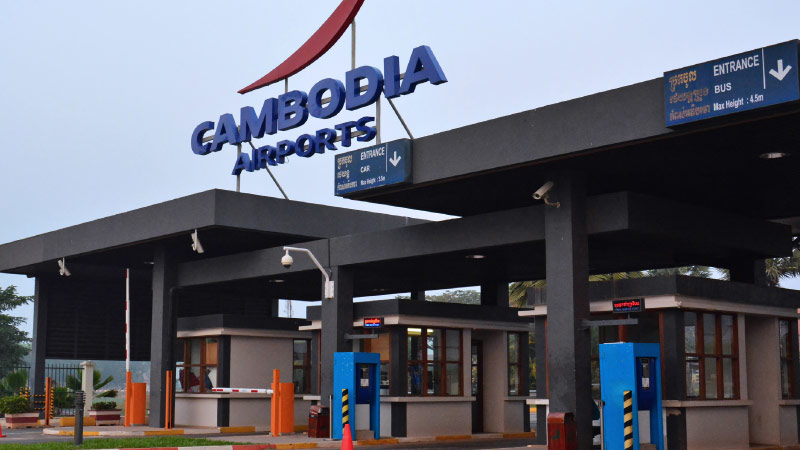 Cambodia has increased the number of direct air routes which connect it to the rest of the world. This growth accounted for a total of 2,704,367 international arrivals into Cambodia's airports in 2016, which rose to 4.2 million last year. This fgure is anticipated to rise by 20 percent over the course of this year, breaking the threshold of fve million airport arrivals. An estimated 150 direct fights provide service to the Kingdom. Three years ago there were only 50.
Domestic fights between Siem Reap, Phnom Penh, and Sihanoukville have been growing over the last few years as well, satisfying both international and local demand. Each of these cities hosts an international airport, and another is on the dock for coastal Koh Kong province.
This year, agreements were signed and construction began for a new airport in Siem Reap. Completion of this project will enable up to 10 million tourists to arrive in the Kingdom's main tourist draw per year.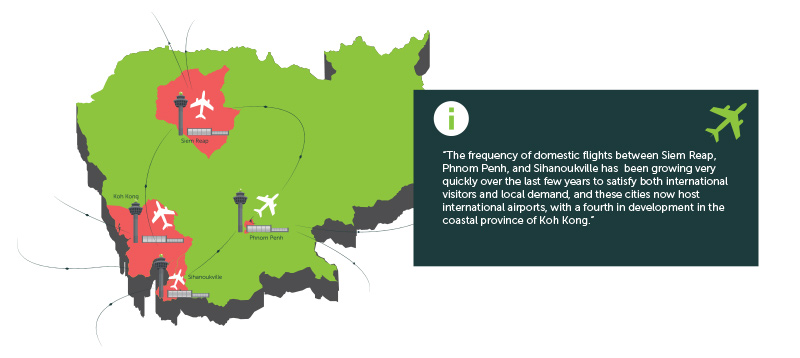 In January, the government also announced a $1.5 billion airport to be built in Kandal province, a mere 30 kilometres from the capital. The proposed airport is to span over 2,600 hectares which would make it the ninth largest airport worldwide. However, details relating to the airport are still emerging. As it stands, Phnom Penh International Airport sits on just 400 hectares. These upcoming airport developments demonstrate the recognition from both the government and investors of Cambodia's tourism potential.
1.8.2 Road
The total length of roads in Cambodia measured 47,263 kilometers at the end of 2016, 74 percent of which were classifed as rural and provincial roads. The government has announced plans to upgrade and repair an additional 5,150 kilometers of rural roads by the end of this year.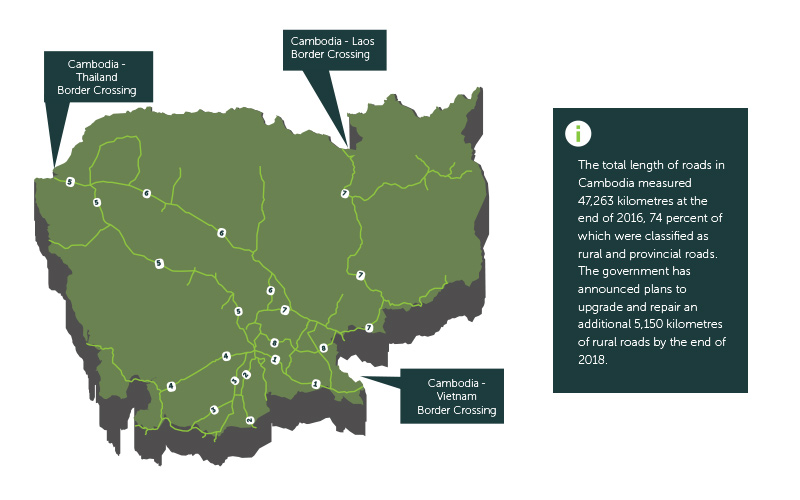 In January, a major MoU between Cambodia and China was signed regarding investment into an expressway between Phnom Penh and Sihanoukville. The route would be key for transit, linking the capital with the country's only deep sea port. It seems that infrastructure upgrades are a priority for investment partners such as China.
Many other major road developments commenced construction in the capital last year, include a $57 million bridge project across the Mekong River, and the restoration of National Road 11, which runs from the Kingdom's Prey Veng province through Phnom Penh. These road developments, when completed, will be a major step in improving accessibility through heavily utilised road areas.
October of last year saw another major investment in roads from the Asian Development Bank, which approved a loan of $70 million to go towards improvements in Siem Reap, Prey Veng, and along the greater Mekong sub-region's "Southern Economic Corridor''.
1.8.3 Sea
Sihanoukville hosts Cambodia's only deep sea port, however a major river port also exists in Phnom Penh. Other passenger and freight ports are under construction in Kampot, Kep and Koh Kong provinces.
Occupying approximately 125 hectares, Sihanoukville Autonomous Port was constructed in 1956 and started operations in 1960. Currently, the port has eight terminals with a total length of 1,330 meters and is equipped with modern cargo-handling equipment.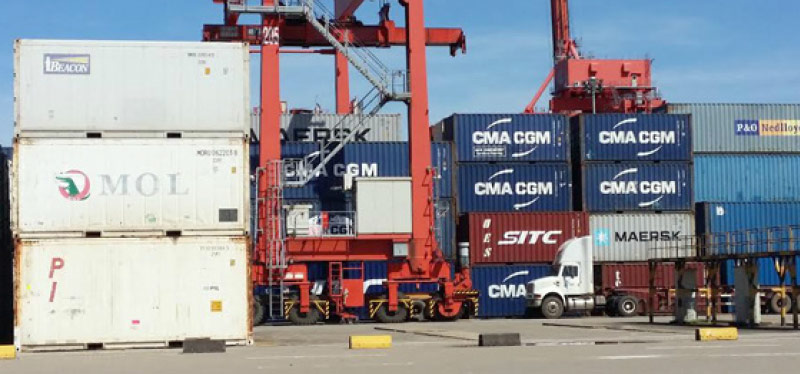 Over the last fve years, the amount of container throughput increased by an average of 11 percent per year. In 2015, the port generated a total revenue of $49 million, an increase of almost 18 percent from the $9 million generated the year before.
The Royal Government of Cambodia has recently designated the port as an industrial development zone. This port has seen great potential in expanding the trade between Cambodia and other countries in Asean, the Asia-Pacifc rim and the rest of the world.
Sihanoukville Autonomous Port's initial public ofering netted nearly $27 million for the purchase of land and equipment to expand and upgrade port facilities and infrastructure.
Three major port upgrades are currently underway, namely: the Multipurpose Terminal Development Project, New Container Terminal Project and the Tourism Terminal Project.
With the proposed new port upgrades in Sihanoukville, larger carriers are able to deliver goods directly to major economic centers and ship them abroad at a lower cost. The direct port connection to Cambodia will be another catalyst for economic development as it greatly reduces costs of import and export, and will remove reliance on neighbouring ports.
1.8.4 Rail
Further infrastructure initiatives such as the "Sky Railway'', linking downtown Phnom Penh to the international airport, will be a frst in the nation after it is constructed in the coming years. This should also assist with a growing issue of trafc congestion across the city.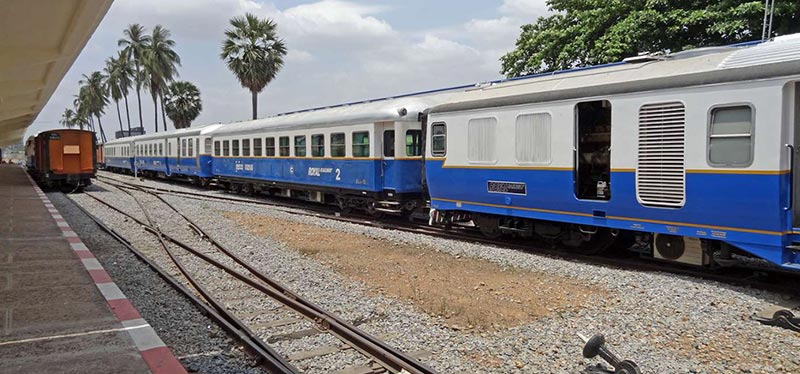 Recently, a passenger train service from Phnom Penh to Sihanoukville has been reopened. These routes are supplementing the industrial lines that are already fully operational.
Train links to Bangkok via Poipet border are also nearing completion, under the contract of Royal Rail, a part of the Royal Group of Companies.
1.8.5 Oil & Gas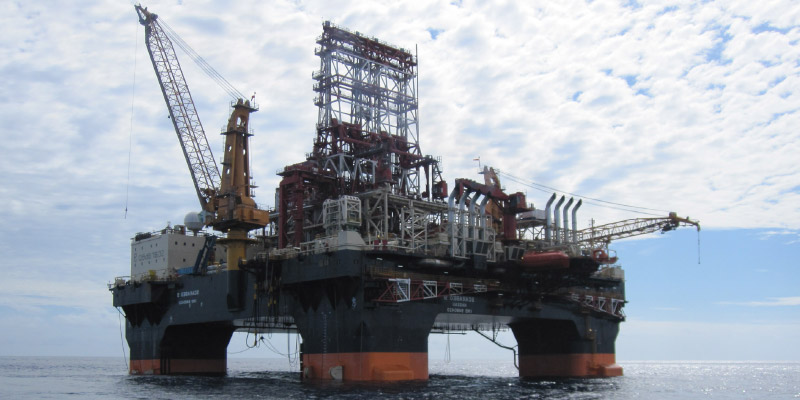 Oil and gas exploration in Cambodia is slated to start next year of the coast of Sihanoukville, where substantial oil and gas reserves are believed to be present. This exploitation is also set to boost logistics investment dramatically in the near future. Singapore-based KrisEnergy Group has signed an agreement with the Cambodian Government setting the framework for the long-awaited exploitation of the country's Block A oil field.
Exploration of Block A led to commercial discovery, meaning several viable petroleum deposits were found. Block A spans 4,709 square kilometers and is reported to contain an estimated seven million barrels of oil and three to five trillion cubic feet of natural gas.
1.8.6 Internet Penetration
Cambodians are also entering the global community en-masse through technology, namely through dramatic strides in internet connectivity.
Currently, Cambodia has over seven million internet users, which amounts to nearly half the population. This is growing dramatically year after year.
Global trends and information are extremely quick to enter Cambodian society due to this fast uptake of technology. This is particularly relevant in terms of real estate, as Realestate.com.kh's Consumer Sentiment Survey showed 72 percent of respondents looking for a rental, purchase or investment property would start their search online.

Social media has frmly entrenched itself into Cambodia's society, with Facebook as the leading platform. In the second quarter of last year a total of 4.8 million people were active users, which is a growth of 1.4 million from the previous year.
1.9 POLITICAL LANDSCAPE
1.9.1 Political History
Despite a tumultuous political history which included civil war and the tragic Khmer Rouge era, the Kingdom operates as a constitutional monarchy. King Norodom Sihamoni is the head of state, despite not exercising any executive power over the country. The prime minister is appointed by the King as a representative of the party holding the majority of seats in the National Assembly. The Council of Ministers (Cabinet) is formed by members of the governing party.
Prime Minister Hun Sen has been serving in his post for over 30 years, and is the leader of the Cambodian People's Party (CPP). He is currently the longest standing non-royal leader in Southeast Asia. He retains a strong level of support from a large network of business leaders in the region due to the Kingdom's strong economic growth and his management of the nation's police and military.
Despite the absence of the county's main opposition party, the Cambodia National Rescue Party, and the jailing of its leader Kem Sokha, the national election in July of 2018 saw a large turnout and the CPP managed to take all 125 seats in parliament.
1.9.2 Political Stability
After the national election in 2008, the Kingdom experienced something of an economic crisis. Any impacts of the ballot were exacerbated by economic troubles going on around the globe. It's no surprise that the local real estate industry took a hit. Many major international investors left the market and domestic property transactions declined as well. Luckily, the downturn didn't last long. Cambodia soon revived its domestic economy and growth has hovered around seven percent nearly every year.
The vote in 2013 was accompanied by protest over the national minimum wage, especially for the garment industry, which employs the bulk of the country's labourers. After 2013, however, minimum wage increased, as did FDI rates which stabilised the economy. surrounding the previous two elections, 2018 was a steady year for investor confdence and overall stability. International media previously speculated about the impacts of the election on the economy, but nothing out of the ordinary has been seen within the real estate market.
From an investment perspective, the government has provided a predictable and supportive environment for foreign investors. Industry insiders have speculated that the CPP-led government will continue its streak of delivering economic expansion.142 Furthermore, land prices are expected to increase steadily in the months following the formation of the new government.