CAMBODIA: A FINAL FRONTIER
THE OPPORTUNITY IN SUM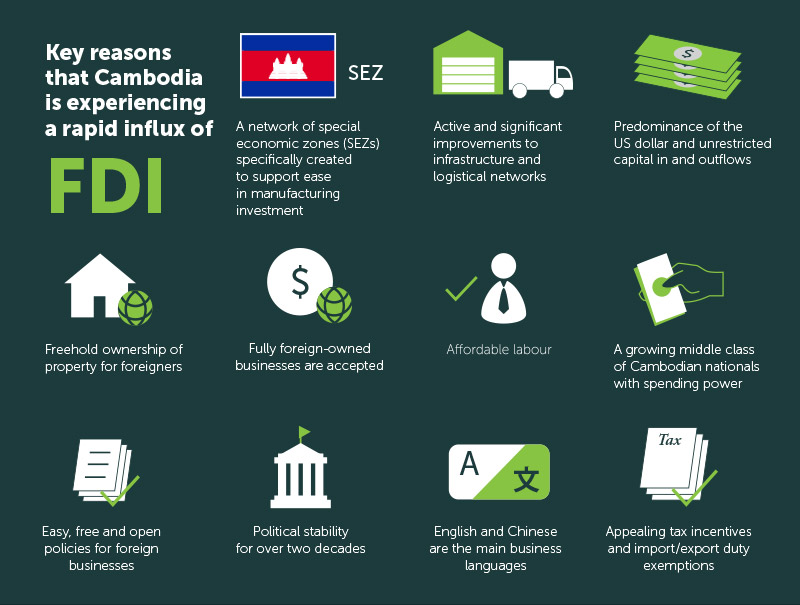 Real estate investments in emerging markets such as Cambodia are typically seen to have higher risk, yet they also come with higher potential returns and more attractive capital growth rates than developed market investments. In the case of Cambodia, however, the market is offering an increasingly safe investment environment without the level of risk of other frontier markets.
This year, investors in many developed areas find themselves in slowing real estate markets. This causes them to question their expected capital growth and yields, especially compared to the intense pace of economic growth that developing countries like Cambodia can achieve.
Over the past decade, Cambodia has held a constant yearly GDP growth of around 7%. This growth shows no sign of slowing, in fact, it is attracting a new generation of investors from around the globe. Furthermore, Cambodia offers little-to-no restrictions on capital inflows and outflows. The Kingdom also has firm and well tested legislation surrounding foreign ownership rights.
Pricing in Cambodia remains a fraction of the cost of comparable properties in developed markets and this stands even in the case of neighbouring nations such as Thailand and Vietnam. The Kingdom's properties have a high potential to yield greater returns on investment as a result. This potential is backed by aggressive population growth in urban centres, consistent annual economic growth, key improvements in infrastructure and a boom in tourism.
Realestate.com.kh's own traffic and inquiry data shows marked quarter-on-quarter increases in interest and listing inquiries from nations such as China, the US, Singapore, Malaysia, Hong Kong, Japan, Korea, Indonesia, France, Australia, Thailand and India, among others. This growth depicts an increasing interest in Cambodia and a growing trust in the political, judicial and financial prospects of the country.
With this in mind, the Realestate. com.kh Cambodia Investment Guide offers the necessary and unbiased information to begin your exciting and lucrative journey into Cambodia property investment.