3: CAMBODIA REAL ESTATE SECTOR OVERVIEW
3.6 PROPERTY INVESTORS TOOLBOX
3.6.1 Property Management and Regulations
Property development in Cambodia has grown exponentially in the past 10 years, alongside the nation's overall economic growth. Efective property management plays a critical role in maximising the lifestyle, common areas, assets and the all-around aesthetics of a building.

Property management, which deals with cleaning, security, insurance and accounting for co-owned buildings or developments, is becoming increasingly important for Cambodia's fast-growing real estate sector, especially serviced apartment and condominium sector.
The market has been traditionally managed by owners, regardless of qualifcations or particular expertise, meaning property management experiences are diverse. Meanwhile, the regulatory framework remains vague, meaning buyers need to place more trust in the particular developer or property manager that they decide to invest with.
A 2009 sub-decree on the management and use of co-owned buildings states that "in order to manage a co-owned building, the co-owners shall establish a management board or an executive committee as agreed among themselves following the prescribed internal regulations."
It also states that "for the co-owned building composed of at least fve co-owners, there should be a co-owned-building management organization through the establishment of a management board or an executive commission in charge of the co-owned building". Unit owners can decide either to assume the management functions themselves or appoint a third-party property manager who will manage on their behalf. The sub-decree, however, doesn't go into much detail regarding how to form the management board for the co-owned building, nor the respective roles for this management board.
In any case, investors can limit the risk by looking into the developer's reputation, the property management agent's reputation, the property management budget, building regulations, internal regulations, service charges, the property management registration and structure and the sinking fund.
Asking for the developer's fnancial and development plans will show the investor the longer term considerations for property management. Investors must consider the developer's exit plan and property management considerations; and if the developer can't present these on request, chances are they have yet to consider them. This should raise a red fag for potential buyers.
Nevertheless, many international and even local developers in Cambodia are beginning to confront issues of property management from the outset of their projects, and are importing world-class mechanisms to ensure the value of that property is maintained after completion. Investors should look toward these types of operators in order to fnd a sustainable asset.
3.6.2 Tax Considerations for Property Investors
It is paramount that investors consider property taxes when planning to buy, sell or rent property in Cambodia. Property taxes are a requirement regardless of whether the investor is a Cambodian national or a foreign investor.
Once an investor obtains ownership of what is considered "immovable property" tax is to be paid annually by September 30 of each year. Immovable property constitutes any type of structure, whether it be a condo, apartment block or office building, and includes the land itself. This tax only applies when the value of the property or the land is over $25,000.
Once an investor obtains ownership of what is considered "immovable property" tax is to be paid annually by September 30 of each year. Immovable property constitutes any type of structure, whether it be a condo, apartment block or office building, and includes the land itself. This tax only applies when the value of the property or the land is over $25,000.
There are separate taxes for the ownership of the land and the property that it resides on, even if they are owned by the same investor or entity. Tax is determined by taking 80 percent of the value of the property or land and deducting $25,000 from this fgure (as properties valued below $25,000 are exempt from this tax). This new fgure, multiplied by 0.1 percent, will show the amount of annual tax that is due on the given property or land. Not all land is subject to annual property tax. Exemptions include agricultural land, state-owned land and some industrial zones.
There is also a four percent tax on the acquisition and transfer of registration of property, based on the value of the property.
For rental properties, there is a rental tax of 10 percent for Cambodian locals and 14 percent for foreigners, per year. It is critical that these taxes are paid to avoid penalties for lack of tax compliance.
A regulation imposing a capital gains tax of 20 percent has been drafted, but is yet to be implemented. For the time being, all profts realised by a company (including capital gains on the sale of real estate) are taxed at the prevailing proft tax rates.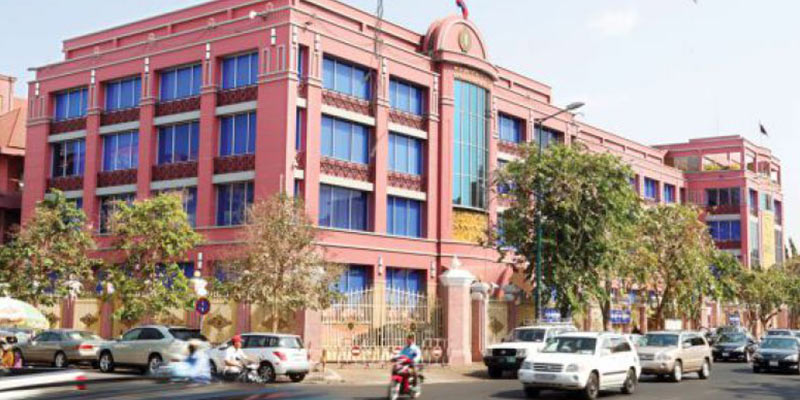 3.6.3 The Banking System and Lending for Property Purchases
Opening a bank account in Cambodia is extremely easy for foreigners, and is often free. Deposits and withdrawals can be made in USD or KHR. ATM networks are extensive across the country.
All major banks ofer home loan options to Cambodian citizens, subject to eligibility criteria. Although obtaining a loan for a property purchase as a foreign investor is possible, it is not a service that is ofered across the board by lending institutions and the eligibility requirements can make it much more difcult for foreigners to acquire fnancing to buy property.
For the major banks that do ofer home loans to foreigners, the initial requirements and interest rates are generally competitive with each other. The difculty arises when in order to qualify many banks will require "hard title collateral''. Hard title collateral is an existing hard title property that a borrower ofers as collateral for a lender to secure the loan. It also remains particularly hard to gain fnancing for of-plan properties in Cambodia, due to a lack trust in banks to lend on incomplete properties.
This is an area of the fnance market that is evolving quickly, and it is expected that foreigners will have greater access to capital for property purchases in the coming years. For now, many foreign investors leverage fnancing from their home country to purchase property in Cambodia. Or, alternatively, raise funding through multinational banks present in both Cambodia and their nation of origin. A fnal mechanism that is available is fnancing directly through the development company, a tool many established developers in Cambodia are ofering.
3.6.4 Developer Due Diligence
Due to weaknesses in legislation and enforcement surrounding property development in Cambodia, some developers (local and international) are operating with little transparency and accountability for end-buyers.
In short, it is extremely important to practice due diligence with regards to the particular development company you are intending on buying from if you are to avoid problems down the line.
There are four crucial legal documents buyers need to check with developers before agreeing to any Sales and Purchase Agreement. These documents include:
• A hard title for the land of the project as a whole, and subdivided hard titles (with regards to strata-titled properties)
• Development company registration
• An approved master plan
• Construction licence.
These documents can be cross checked with the same documents registered at the MLMUPC. With regards to strata-titled properties, the Sales and Purchase Agreements should also reference strata titles and co-ownership details clearly.
Buyers should also look at developer's fnancial strength. Some developers do not have strong fnancing to support their project, and some are even borrowing to purchase the land on which the development will be erected. Others have a construction schedule that is fexible to overall sales income. Purchasing from a developer like this creates the danger of them exiting the market with your downpayments having run out of funding to complete the project, or postponing their project due to insufcient capital.
Cambodia now has a host of developers with listed parent companies on their home market stock exchanges. These types of developers are a safe bet for end-buyers as their fnancial records and standards of practice are open and predictable as per their obligations as a publicly-listed company. Meanwhile, various local development frms have exhibited strong track records of fnancial predictability and standards of quality in their projects. Look for these types of developers for a predictable result.