3: CAMBODIA REAL ESTATE SECTOR OVERVIEW
3.4 KEY INVESTMENT AREAS: SIHANOUKVILLE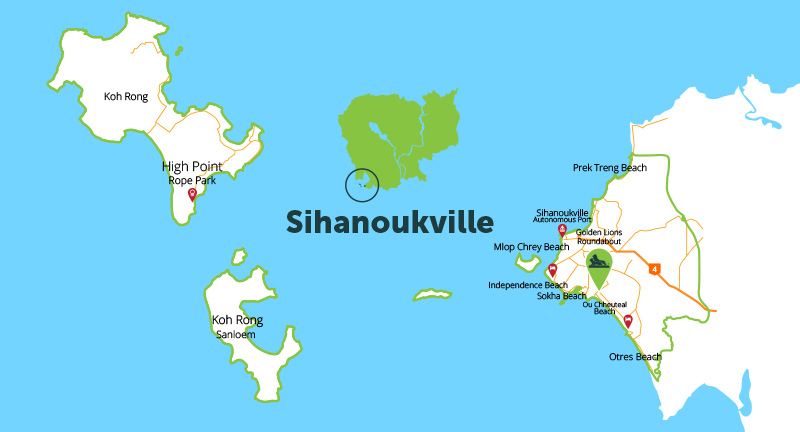 Sihanoukville is a coastal city located at the southwest corner of Cambodia and serves as the capital of the Preah Sihanouk province. It is 230 kilometres from the capital city Phnom Penh. The province covers a total of 868 square kilometres, where two thirds of the total area is made up of hills and plateau. It is bordered by Koh Kong province to the north, by Kampot to the East, and is surrounded by the Gulf of Thailand to the West and South.
Sihanoukville has become a significant part of the country's economic growth due to the rapid flow of foreign direct investment into the province, particularly from Chinese investors. Most of these investments revolve around the industries of tourism, construction, transport infrastructure, and up until recently, gambling.
Foreign investments, from mostly Chinese investors, have led to the much-publicized construction boom in Sihanoukville. Hundreds of buildings have been built over the years ranging from office buildings, hotels, and residential housing projects to accommodate the growth of businesses, tourists, and expatriate workers in the city. According to the Provincial Department of Land Management, Urban Planning and Construction, a total of $1 billion dollars was invested in Sihanoukville's construction sector during 2018 with licenses granted to 297 projects.
According to Knight Frank, the cumulative supply of condominiums numbered only at 537 units as of the first half of 2019. This pales in comparison to the 17,000 units scheduled to be completed by the end of 2019 and 2021. These units are spread over 27 on-going projects. Additionally, of these 27 projects, 18 are considered large-scale with 71% of total units in these projects considered as High-end. The remaining 29% are classified as Mid-Tier by Knight Frank.
All condominium projects, by 2021, in Sihanoukville are distributed in the following sangkats: Sangkat Bei (77%), Sangkat Boun (20%), and Sangkat Pir (3%). If all of these condominium projects are completed by 2021, condominium growth rate would be measured at 245% per annum. In terms of retail market, Sihanoukville is about to see its first major shopping mall in the form of Furi Times Square.
The project is a $10 million joint venture Furi Real Estate and other international investors. It is expected to provide 12,000 sqm NLA and it is scheduled to be finished by the end of 2019.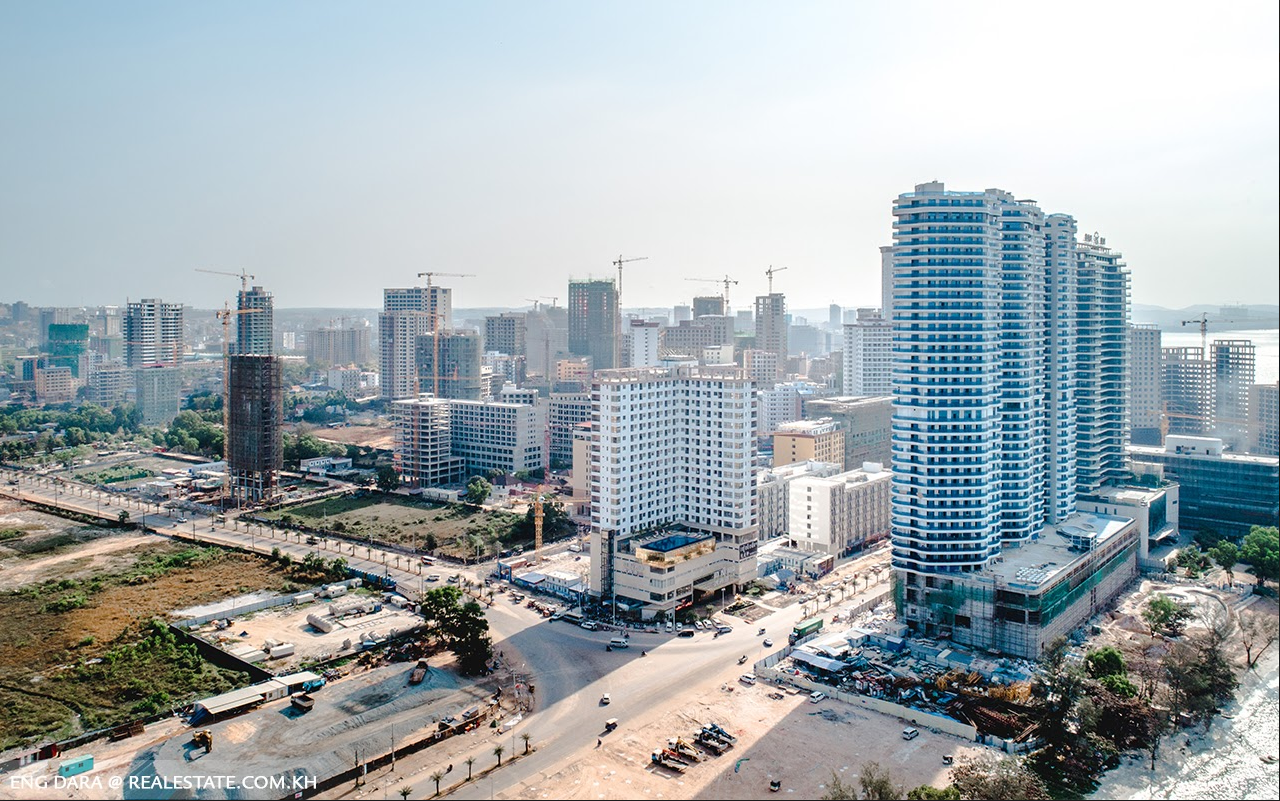 Other large-scale developments including 8 retail podiums are also underway in Sihanoukville. Supposing that these projects are finished on time, Sihanoukville would have a total retail space of 98,711 sqm NLA. However, the recent announcement of the online gambling ban has caused droves of Chinese expatriates to leave the city. The retail space, which relies on the number of consumers, may heavily rely on tourists visiting these malls.
In 2018, about 230,000 tourists were recorded to have arrived in Sihanoukville International Airport (KOS). By Q3 2019, this number jumped to almost 550,000 arrivals, according to data from the Ministry of Tourism. The increase in direct flights to the Sihanoukville International Airport has directly contributed to the steep rise in tourist arrivals to the province, including flights from Vietnam, the Philippines, Malaysia, and most important, China. Final figures are yet to be released but it can safely be assumed this number will rise by Q4 2019.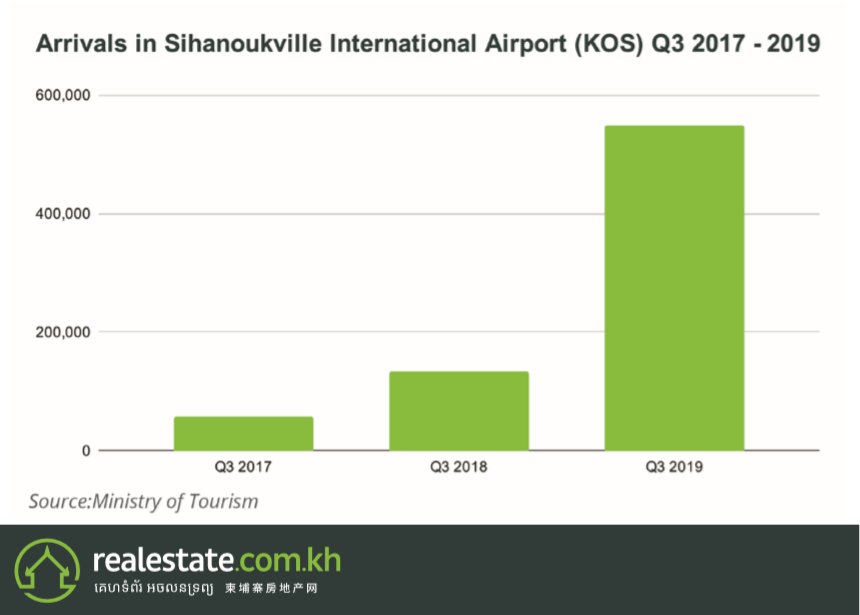 It has to be noted that the government announced in August 2019 that it will no longer be renewing online casino licenses in Cambodia. The decree specifies that currently registered online casino operators will be allowed to operate until their licenses expire in 2020. The announcement has already prompted most online casinos to move their operations elsewhere, with over 400,000 Chinese workers leaving the province by December 2019, according to the General Department of Immigration.
The government, through a multi agency operation, will strictly be enforcing the ban throughout the country starting January 1, 2020.
Property and rental prices have been skyrocketing in the city prior to the announcement. At its height, it was reported that bare plots of land cost as much as $4,000 per sqm. While rental prices skyrocketed from $100 per month to $350 per month. After the announcement of the ban, the same plots of land slid down to ~$2,500 per sqm in the following weeks.
Most Chinese renters have also left, forcing landlords to severely slash rental prices to attract new tenants. While it is widely expected that further drops in prices and transactions will result in a slowdown in Sihanoukville's property market, industry experts agree that its effects will not spillover in adjacent provinces considering the relative amount of Chinese investment in these areas.
Government agencies and real estate experts have already alluded to the interest of other foreign investors in the province. It can be safe to assume that the slashed property prices in a booming town is helping to attract a more diverse set of investments.
In addition to a slow-but-surely growing renewed confidence in Sihanoukville, the government has initiated a $294 million road rehabilitation project in the city. Sihanoukville's roads were left dilapidated, ridden with cracks, and awash with trash as the city's infrastructure was not able to keep up with the breakneck speed of new construction. A Chinese design firm has also been commissioned to redesign Sihanoukville in order to properly accommodate and sustain development in the city.
A $2 billion four-lane expressway connecting Phnom Penh and Sihanoukville is currently being built close to National Road 4. This is aided by a loan from the Chinese government outlined from an MoU signed in January 2019.
Sihanoukville also serves as a major trade hub, connecting Cambodia-based manufacturers to the world. The Sihanoukville Autonomous Port (PAS) is set to build a new $200 million container terminal as part of an expansion project which is due to be completed by 2022.
This multipurpose port will serve imports and exports of garments, coal, steel, fertilisers, rice and oil, and will improve the efficiency of cargo shipments and larger passenger vessels entering and exiting Sihanoukville. This will lower costs of logistics for Cambodia-based traders. And as discussed in the previous parts of this guide, the Sihanoukville Autonomous Port (PAS) will play an important role in expanding China's access to the increasingly busy Strait of Malacca
The Sihanoukville real estate market has witnessed a rapid rise of fortunes, with investment into manufacturing and real estate coming as a result of these improvements to infrastructure, and growing numbers of tourist arrivals. Total investment value into the Kingdom's coastal province has reached more than $2 billion in 2019 alone. The presence of the Chinese-operated Sihanoukville Special Economic Zone (SSEZ), along with the Sihanoukville Autonomous Port, has established Sihanoukville as not only a destination for tourism, but an economic hub for international businesses.