3: CAMBODIA REAL ESTATE SECTOR OVERVIEW
3.4 KEY INVESTMENT AREAS: SIHANOUKVILLE
Sihanoukville is located at the southwest corner of Cambodia. It is 230 kilometers from the capital city Phnom Penh. The province covers a total of 2,537 square meters, where two-thirds of the total area is hill and plateau.
Sihanoukville has become a signifcant part of the country's economic growth due to the rapid fow of foreign direct investment into the province, particularly from Chinese investors. Surrounding areas of Ream National Park, Koh Kong and the second largest island of the shores of Sihanoukville, Koh Rong, have also been subject to major infrastructure, tourism and property developments.
Last year, Sihanoukville hosted over one million local arrivals and 470,000 foreign visitors. Of these international visitors, Chinese accounted for 120,000. One of the major reasons for this tourism growth is the opening of Sihanoukville International Airport to include ongoing international fights from China, Vietnam, Philippines and Malaysia, among other destinations. Domestic fights also increased their frequency throughout this year, which lead to an overall passenger trafc increase of 182.2 percent from the previous year. The construction of a new airport terminal promises to increase capacity to 500,000 passengers per year. The expansion plan is on track to be completed by the end of this year.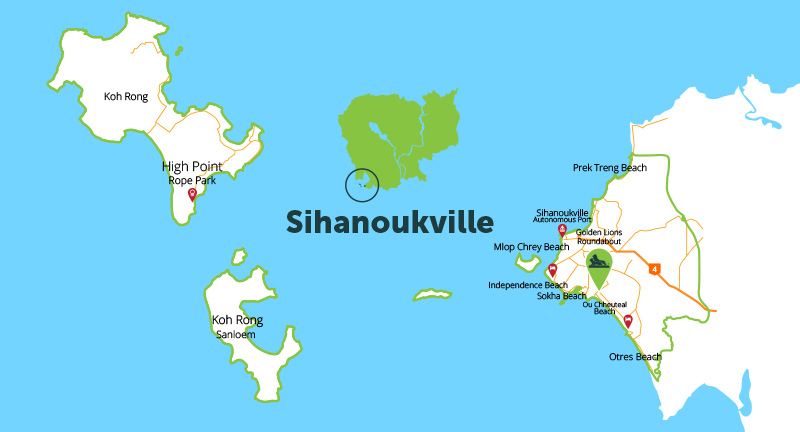 It is anticipated by the Sihanoukville Tourist Department that the infux of tourists, in particular Chinese tourists, will continue to increase dramatically over the coming years, due in part to the expected growth of the casino industry. The seaside province hosts over 24 registered casinos.
Further to this, the Grand Union Group received permission last year to build another airport in Koh Kong province. Although this is not directly in the province, it still represents another key point of access which is within a few hours driving distance. The project is set to have a total investment of $500 million.
A four-lane expressway connecting Phnom Penh and Sihanoukville is set to be built this year, following a major MoU signed in January, outlining a loan from the Chinese government.
Sihanoukville is also a trade hub, connecting Cambodia-based manufacturers to the world. The Sihanoukville Autonomous Port (SAP) is set to build a new $200 million container terminal as part of an expansion project which is due to be completed by 2022. This multipurpose port will serve imports and exports of garments, coal, steel, fertilisers, rice and oil, and will improve the efciency of cargo shipments and larger passenger vessels entering and exiting Sihanoukville. This will lower costs of logistics for Cambodia-based traders.
The Sihanoukville real estate market has witnessed a rapid rise of fortunes, with investment into manufacturing and real estate coming as a result of these improvements to infrastructure, and growing numbers of tourist arrivals. In recent years, total investment value into the Kingdom's coastal province has reached $310 million. The presence of the Chinese-operated Sihanoukville Special Economic Zone (SSEZ), along with the Sihanoukville Autonomous Port, has established Sihanoukville as not only a destination for tourism, but an economic hub for international businesses.
Condominium development is relatively new for Sihanoukville but it is a trend that is growing quickly. The frst major projects were launched in 2015, equating to around 1,400 condo units. During the frst half of last year, six more residential condominium projects comprising a combined total of 5,700 units were announced. New launches continue with no sign of slowing. Many of these projects are also mixed-use, meaning a signifcant supply of retail space is also being created.
Rental and sales prices in the region have seen dramatic increases over the last two years on the back of Chinese investment, and these prices continue to rise. As a result, many local and European investors are looking to nearby areas such as Kampot and Kep which are less infuenced by the Chinese spending power.