Sihanoukville, or Kampong Som in Khmer, is the fourth-largest city in Cambodia. It sits on the southern coast and is a hub for trade, business and tourism. The coastal city is the capital of Preah Sihanouk province. 
Over the last few years, Sihanoukville has exploded with development. This is mainly due to skyrocketing tourism and foreign investment from China. Indeed, Sihanoukville is a vital part on China's One Belt, One Road initiative.
Realestate.com.kh has put together this guide which covers Sihanoukville from A to Z; everything from the biggest industrial developments down to the layman's needs are all covered here.
Sihanoukville basics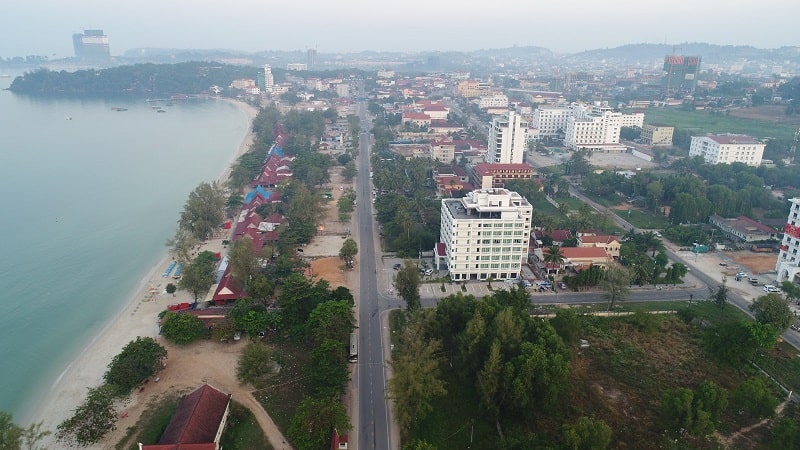 First, let's start with a bit of basic information about Sihanoukville. The following section will tell you where Sihanoukville is, the history of the area as well as the weather.
Where is Sihanoukville located?
Sihanoukville province is located in the southwest of Cambodia, approximately 232 kilometres from the nation's capital, Phnom Penh. It sits on a peninsula within the Gulf of Thailand and is the Kingdom's premier seaside destination with various beautiful beaches along the coastline and tropical islands scattered about offshore.
Sihanoukville's location makes it a convenient getaway for almost anyone in the region. It's just a short flight away from Thailand, Vietnam, China, Korea, Japan, India and many other countries in Asia. 
The city has its own international airport and seaport that can also dock cruise ships. It takes about 6 to 7 hours to travel from Cambodia's capital, Phnom Penh.
Weather, climate and geography of Sihanoukville, Cambodia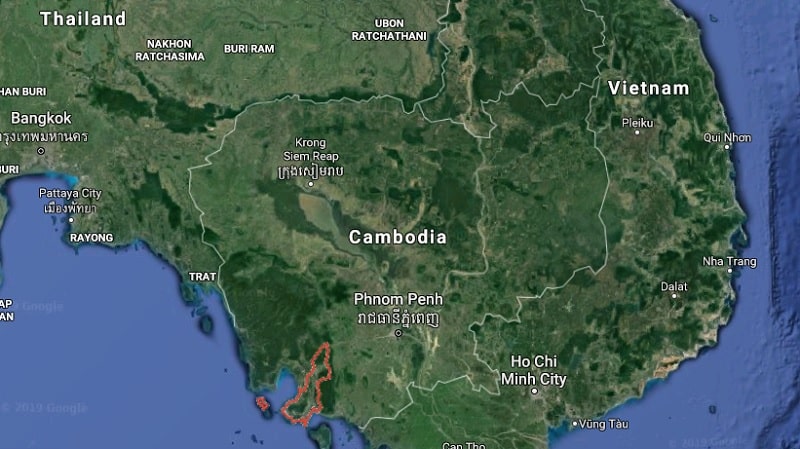 Sihanoukville spans approximately 868 square kilometres in the surface. Preah Sihanouk province borders Kampot province to the east, Koh Kong province to the north and the Gulf of Thailand to the south and west.
Sihanoukville, like the rest of Cambodia, experiences a dry season and monsoon season each year. The dry season is from November to April, and the monsoons come starting in May but peak from August to September. The total annual rainfall average ranges between 100 and 150 centimetres.
The average temperature in Sihanoukville fluctuates between 30°C and 24 °C. Sometimes it gets as hot as 38°C. Here is what the weather is like in Sihanoukville right now:
History of Sihanoukville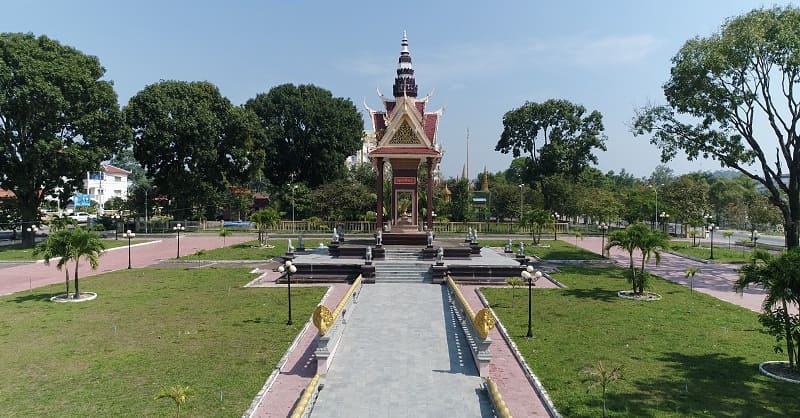 Sihanoukville was carved out of the jungle by the French in the 1950s. After a short period of growth, the coastal city became entangled in the Vietnam War and subsequent Civil War which precipitated a period of decline that only ended after the signing of the 1991 Paris Peace Accords.
Cambodia's international sea trade was originally carried out through the Mekong delta until the mid-1950s. After the Mekong came under the control of the Vietnamese, a decision was made to construct a new port for continued access to sea trade routes.
Sihanoukville (in Khmer "Kampong Som or Kampong Saom") was established in 1964 in order to create Cambodia's one and only deep-water port. It was chosen as a port city for its depth of water, protection from the elements and accessibility. Since the initial establishment, the province has experienced steady growth. Lately, that growth has exploded in terms of real estate development and tourism.
The provincial capital, Sihanoukville was chosen in honour of King Norodom Sihanouk, who fought for the independence of Cambodia from the French and later on rallied the Khmer people after the time of the Khmer Rouge.
Today, Sihanoukville is an economically vibrant city filled with tourists and foreign workers. It has earned the moniker "Rising Star of the Southwest".
Economy and industries in Sihanoukville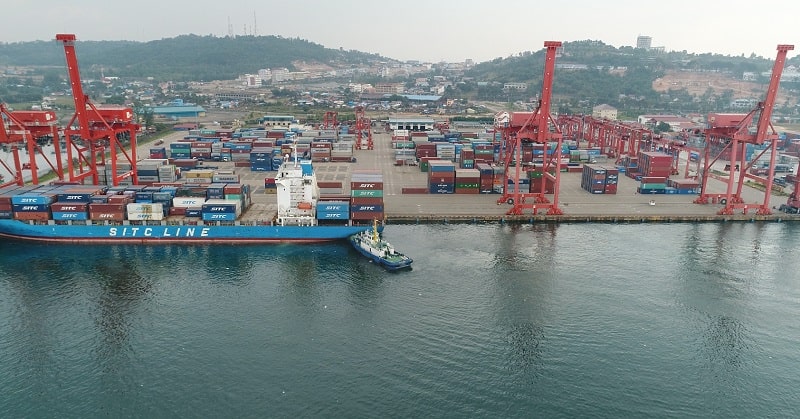 Home to the Kingdom's only deep-water port, Sihanoukville is an economic corridor and hotspot for several trades. Main industries include transportation and logistics, tourism, fisheries and manufacturing. Sihanoukville has been on the government's development agenda to expand the regional coast to become the kingdom's next tourism hub after Siem Reap.
Sihanoukville has become a significant part of the country's economic growth due to the rapid flow of foreign direct investment into the province, particularly from Chinese investors. 
Sihanoukville is now viewed as the next big investment hotspot and prime land for development is being snapped up quickly. The province contains the Sihanoukville Special Economic Zone (SSEZ), which is 3 kilometers from an international airport and 12 kilometers from a deep water port. The SSEZ's proximity to international transportation hubs make it an attractive area for companies looking for easy access to South East Asia's busy trading routes.
Sihanoukville's current economic renaissance is mainly due to its strategic location and presence of important businesses and industries.
Preah Sihanouk province natural resources
Significant reserves of offshore oil have been prospected near Sihanoukville and are currently being sold by the Cambodian government to various international extraction companies. 
KrisEnergy, a Singaporean company, is set to begin oil extraction in late 2019 or early 2020. 
Sihanoukville special economic zones (SEZs)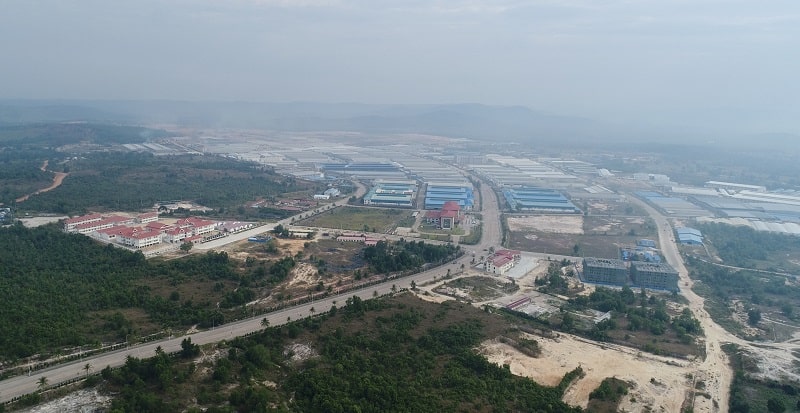 Preah Sihanouk province has eight special economic zones. They are:
Kampong Saom SEZ which sits on 255 hectares and was backed by developer Kith Meng
SNC SEZ on 155 hectares in Bet Trang commune
Stung Hav SEZ in Otres commune spanning 192 hectares
Sihanoukville SEZ 1 developed on 178 hectares by Lav Meng Khin
Sihanoukville SEZ 2, the largest in the province spanning 1,113 hectares, also developed by Lav Meng Khin
Sihanoukville Port SEZ, which encompasses 70 hectares and was developed by Sihanoukville Autonomous Port (PAS
HKT SEZ on 345 hectares in Teuk Thla commune
Cambodia-Sino Metallic Material SEZ in Keo Pos commune spanning 55 hectares
Sihanoukville SEZ 2 is one of the largest SEZs in the country. It is currently owned in majority by Chinese investors. What's more, it is currently pursuing having itself listed on the Cambodia Securities Exchange (CSX). 
Map of Sihanoukville SEZs
Sihanoukville Autonomous Port (PAS)
The Sihanoukville Autonomous Port (PAS) is Cambodia's only deep water port. First opened in 1960, the port is perhaps one of the most important places of business in Preah Sihanouk. The port currently has nine available berths and employs over 1,000 workers.
In 2018, the Sihanoukville port handled 541,228 TEUs (twenty-foot equivalent units) of cargo. Port authorities expect traffic to surpass 1 million TEUs by 2023. 
The port's newest berths are 400 metres in length and can accommodate ships with up to 8.5-metre drafts. Read more about the port facilities on the official PAS website.
In addition to sitting in the Sihanoukville Port SEZ, PAS is also listed on the Cambodia Securities Exchange. 
Foreign investment in Sihanoukville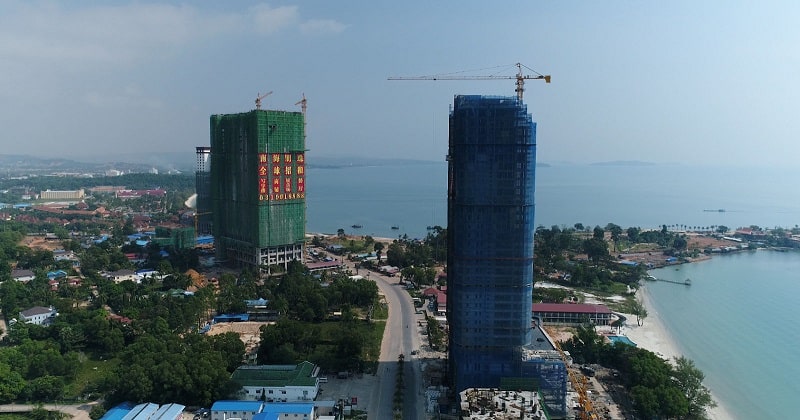 Although investment in the province has traditionally flowed from westerners, Chinese investment in Sihanoukville has seen an influx and has thus dominated Sihanoukville over the last few years. 
Mr. Thim, the sales and leasing manager of Sihanoukville Property, explained the reasons for this dominance, stating:
"Currently, Chinese investors are dominating the real estate market in Sihanoukville with the goal of turning the province into a prime destination for Chinese tourists and expats in the future." 
Casinos, condominiums and hotel complexes are the major focus of Chinese investors. To learn more about casinos in Sihanoukville read our guide to casinos in Cambodia. It's got a full list of all the major gaming venues in the country, maps information and more.
Sihanoukville tourism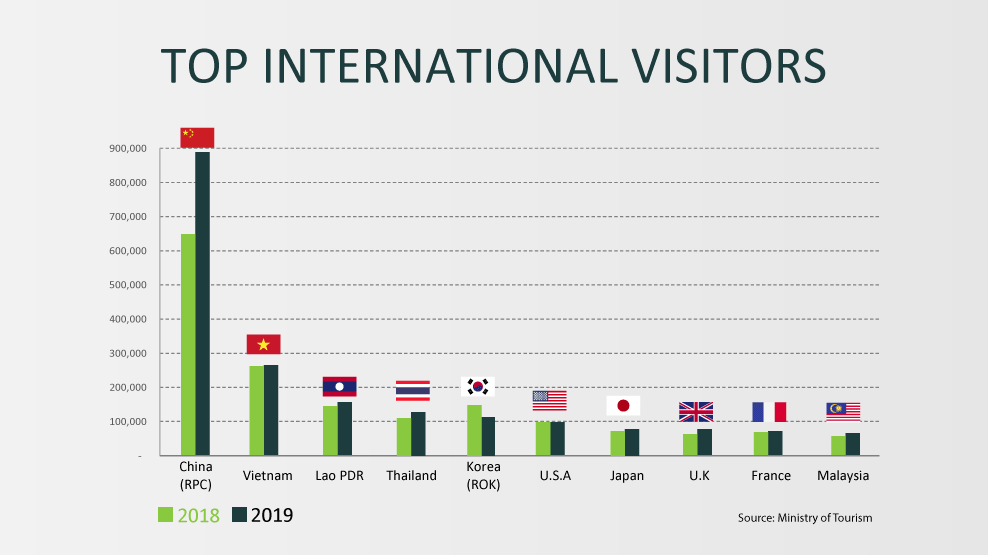 In the last few years, Sihanoukville has emerged as one of the most popular travel destinations in Cambodia. Millions of visitors from all over the world visit every year. People from China, Korea, Japan, the US and Europe savour its pristine beaches, historic temples and coterie of casinos.
The province's popularity grows year after year because it offers white sand beaches, eco-tourism spots, islands, marshlands, waterfalls and the Ream National Park. Sihanoukville's potential as a tourist destination has been recognised at a global scale, and in January of 2018, the New York Times ranked the beaches of Sihanoukville number 13 out of 52 for international tourist destinations to travel to in 2018.
Sihanoukville developed into a hot tourist destination in a relatively short space of time. What was once a city defined by scattered bungalows is quickly becoming a place filled with high-end resorts and beachfront condo developments, casinos, world-class golf courses and mass tourism networks.
Most tourists opt to visit Sihanoukville during the dry season, avoiding the local monsoon season. The high season for tourists begin in November and ends around March. Sihanoukville is generally is sunny but is relatively cool in the mornings and evenings due to the fresh sea breeze. The afternoon heat will still have you craving a dip in the ocean, however.
Over the course of 2018, over 6,200,000 tourists came to Cambodia and stayed for an average of seven days. Total visitors have been increasing by between 5 percent and 25 percent every year since 2008.
Where to stay while visiting Sihanoukville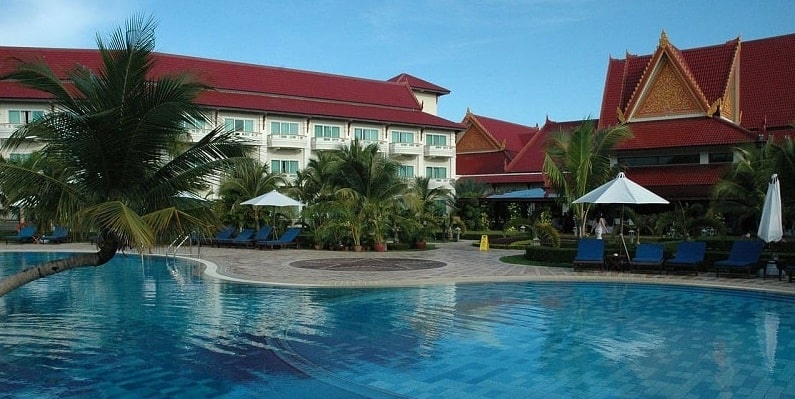 As a leading tourist destination, Sihanoukville has tons of places to stay for local and foreign visitors. The type of accommodations available in Sihanoukville can be divided into luxury, mid-range and budget categories.
Sihanoukville keeping it classy
There is a coterie of luxury hotels and resorts in Sihanoukville. Most of these accommodations are located within the city, though a few are situated in some of the islands off the coast. These usually have amenities like swimming pools, gyms, saunas and jacuzzis.
Among these are Song Saa Private Island, Sokha Beach Resort, Moha Mohori by Sokha Beach Resort, and Lakeside by Sokha Beach Resort. Staying at places in this category can set you back between $120 and $900 a night.
The middle path
Dominating the mid-range accommodations in Cambodia are boutique hotels, which first appeared on the scene in the 2000s. Sihanoukville currently hosts more than 80 hotels, most of which are boutique hotels or similar accommodations.
While prices and amenities vary, a typical boutique hotel in the Kingdom has a rooftop bar, a swimming pool, and a restaurant. Boutique hotels here are known for their luxurious rooms and facilities, a wide variety of fine dining options, excellent in-room service with a personalized touch, and way cheaper than similar accommodations in other countries.
In Sihanoukville, hotels and other accommodations falling under this category include Venice Resort, Deluxx Boutique Hotel, Queenco Hotel, Naia Resort, Legacy Hotel & Resort, and Mary Beach Hotel & Resort.
Staying at these accommodations will cost you approximately $60 to $120 per night.
Budget stays in Sihanoukville
Sihanoukville does not lack in budget accommodations. As of 2019, the city hosts more than 300 guesthouses and similar accommodations.
There are dorm-style shared rooms favoured by many backpackers and other budget travellers that can be rented for $10 or less a night.
For a better and more comfortable stay, there are private rooms available in many guesthouses. Prices here range from $12 to $40 a night. You can choose the number of beds, air conditioning or fan and other amenities. Popular spots include Onederz Hostel, Wish You Were Here Backpackers and Mushroom Point.
The Sihanoukville real estate market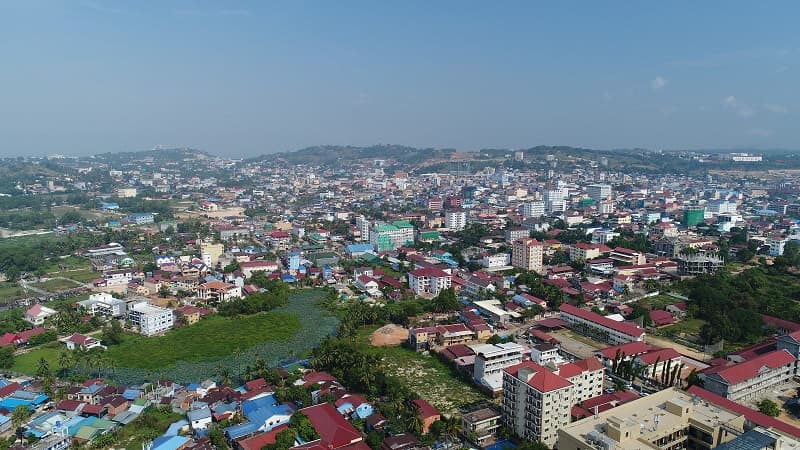 Sihanoukville city is growing rapidly and is an increasingly important Cambodian economic center. The real estate market is diversifying as a result of the boom. Fortunately, in contrast to the neighboring beach/port areas in Thailand and Vietnam, Sihanoukville does not suffer from the threat of major flooding, typhoons, tsunamis or earthquakes.
Preah Sihanouk province is made up of four districts:
Preah Sihanouk Municipality also known as Mittapheap district
Stung Hav district
Prey Nob district
Kampong Seila district
Note: It can get a bit confusing as simply saying "Sihanoukville" can variously refer to either the city, the district or the entire province.
In 2019, Koh Rong and Kong Rong Sanloem islands were established as their own combined municipality made up of two communes. Previously, they were classified as communes within Mittapheap district. Read the whole story of the Koh Rong islands forming Kingdom's newest city.
Mittapheap district is where most of the development is going on. In turn, it is the area with the highest demand from developers and buyers alike. Communes within the district are numbered. Sangkat Buon, or commune 4, is home to Ochheuteal Beach and is arguably the most popular area in the city.
Popular areas of Sihanoukville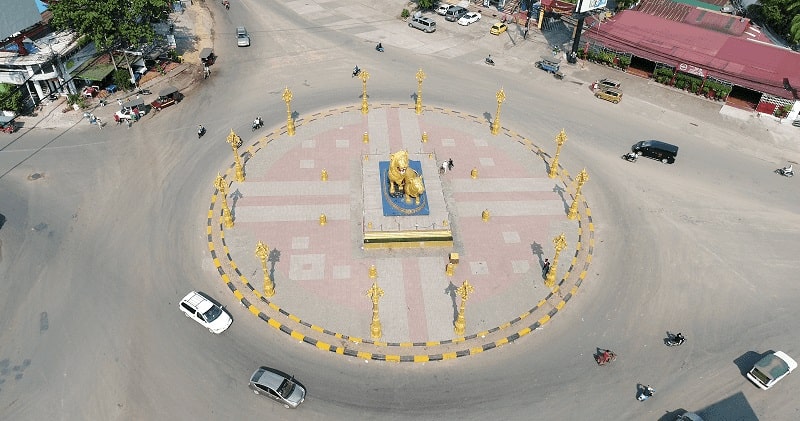 There aren't as many housing options in Sihanoukville as in Phnom Penh, however, residences are growing bigger and better by the day. The main areas foreigners choose to live are:
Victory Beach might be most reminiscent of old Sihanoukville. Things have grown, of course, but the vibe is still similar.
Central Sihanoukville (near Gold Lion statue). Just off Ochheuteal Beach, this area has tons of backpacker hostels and casinos. Live here to stay close to the action.
Otres Beach is a 20-minute ride from the Gold Lion Roundabout. Aspiring beach bums will want to live here. 
Koh Rong is an island connected to Sihanoukville by ferry. This is mainly a backpacker island. Many expats have been known to lay down roots there. If you want to start your own hostel or bar, this is a great place to do it.
How much is rent in Sihanoukville?
Though rents have been rising over the last few years it's still easy to find an affordable place that meets all of your needs. Rental fees usually vary between:
Around $300 or $400 on the low end for either an apartment or one room in a small villa with roommates.
Up to $800 per month for a more luxurious apartment or a room in a larger villa with roommates.
Keep in mind that rent will decrease the further away from the centre you are. It is possible to find rooms for as little as $200 per month.
The official electricity rate for Sihanoukville is 720 riel per kWh. Some landlords will try to tack on extra charges here. Internet fees are usually around $30 per month. 
Water rates are between 1,500 and 2,000 riel per cubic metre, depending on usage. This shouldn't be higher than $5 or $10 per month, normally.
Types of housing in Sihanoukville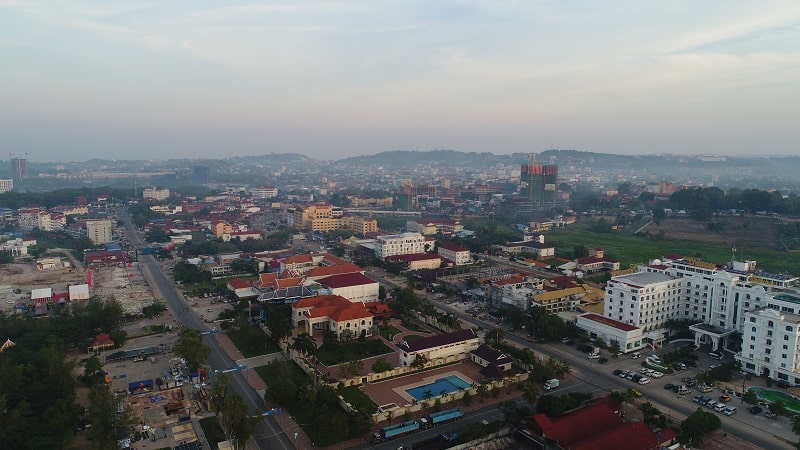 Your experience in Sihanoukville can depend a lot upon what type of housing you choose. You can get a head start on your search by browsing on our page for real estate for rent in Sihanoukville.
Or maybe you want to narrow down your search a bit first. Choose what type of housing you want to live in. Here are the main kinds of accommodation in Sihanoukville:
Long-term stay at a Sihanoukville hotel or guesthouse
It's common to hear expats say they came to Cambodia just for a visit then ended up staying for years. Maybe this is why so many guesthouses in Sihanoukville offer their rooms up for monthly rates.
You can usually find rooms or even bungalows for around $300 a month. This includes cleaning, too. It can be a good option if you are still deciding whether you want to move here long term.
Villas in Sihanoukville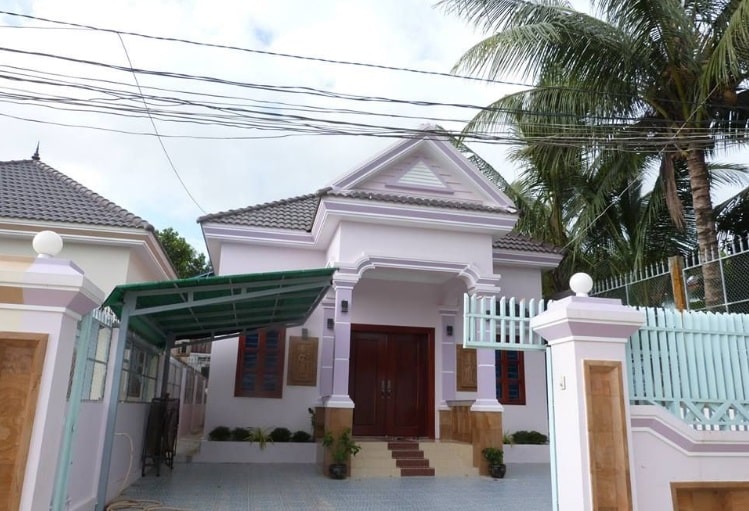 Villas are freestanding concrete houses located on their own plot. They are usually fenced in by a wall and sometimes even have trees and a pool.
If you need more than three bedrooms and want a bit of privacy, villas are great. They are especially great for hosting barbeques or other functions. Smaller villas can be rented for between $1,000 to $2,500 per month. 
Bigger villas with more than six bedrooms and luxury features can go for as much as $9,000 per month. If this is the way you want to go, just click over and start searching for villas for rent in Sihanoukville or villas for sale in Sihanoukville.
Sihanoukville apartments
For most expats, apartments for rent in Sihanoukville are the gold standard. These can be found in a wide range of setups. Most have either one or two bedrooms, a kitchen, and, most likely, a balcony.
Simple spaces can be found for as little as $400 per month. For a building with more amenities, you will pay more, of course. A luxury two-bedroom can be rented for between $1,500 and $2,000 per month.
Houses in Sihanoukville
Main roads have tons of shophouses for rent in Sihanoukville. They are the tall skinny buildings that are often used as shops on the ground floor. Landlords often rent them out by floors. 
If you want to live in a place with two or three bedrooms, this could be the option for you. Full shophouse buildings are three to four floors high. The whole property can be rented for $8,000 to $10,000 per month. 
Of course, it will be a fraction of this if you are just renting one floor. Is this the option for you? If so, start searching for houses for rent in Sihanoukville. If you want to put down roots, look at the houses for sale in Sihanoukville.
Condominiums in Sihanoukville
As development progresses in Sihanoukville, more and more condo complexes are sprouting up. These types of properties are usually on the high end of the market. They tend to have all the bells and whistles included. Buildings usually have pools, gyms, cleaning service and more.
Most of these buildings are currently being marketed toward buyers, but renting them is not out of the question. If you're a buyer you can start scoping them out on our page for real estate for sale in Sihanoukville. Otherwise, we chose a few of the ones we think are the best in Sihanoukville right now.
Prince Golden Bay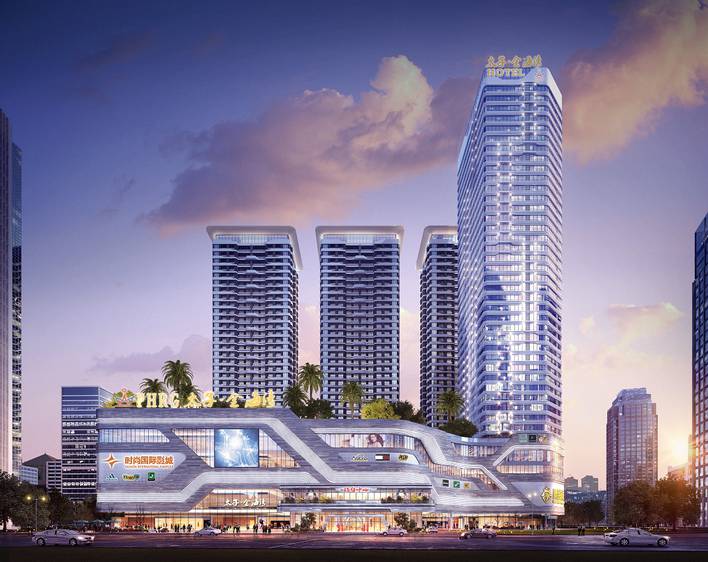 The Prince Golden Bay complex is nearly finished and sits right off Sokha Beach. There are a whopping 2,000 units here in addition to shopping areas and entertainment venues. Condos here range from 45 to 72 square metres. Of course, the buildings feature all the amenities you could want such as fitness centres, parking, gardens, pools, and amazing ocean views.
The Blue Bay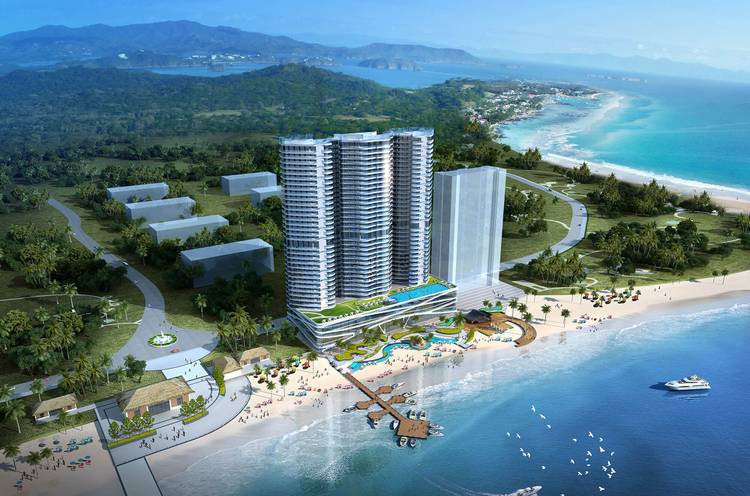 Blue Bay is right off Independence Beach in Commune 4. Five buildings make up this complex. This is another mixed-use complex that hosts residences, hotels and retail space. Handover of completed units began in late 2019. Nearly 1,500 units make up Blue Bay. They range from 55 to 142 square metres each.
New Landmark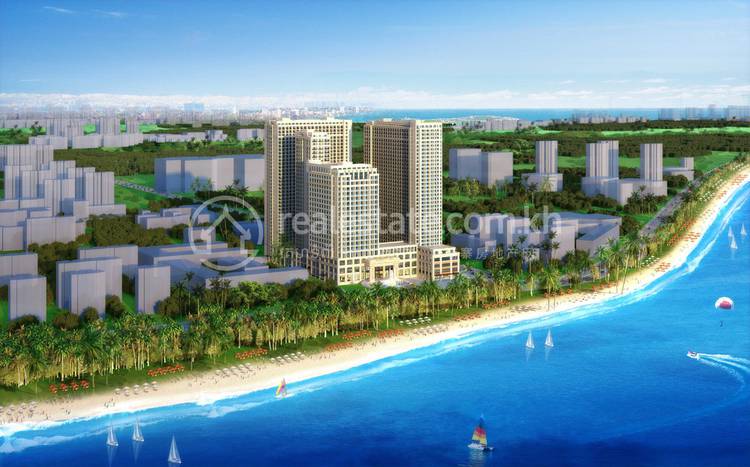 New Landmark is a new mixed-use complex that spans 200,000 sqm just two minutes from Ochheuteal Beach. There are over 3,000 units in this complex that range in size from 31 to 106 square metres. The development boasts a rooftop pool, cultural activity centre, tennis court, mini-golf course and a public meeting room.
Attractions and activities in Sihanoukville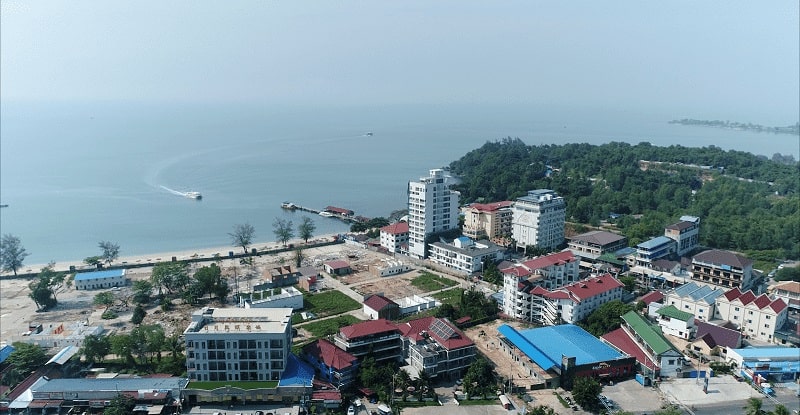 Being the tourist Mecca that it is, Sihanoukville has tons of amazing places to explore, relax, celebrate, and more. Of course, most activities in Sihanoukville centre around the ocean or the beautiful landscape.
Here are the top attractions in Sihanoukville, starting with the seven most popular beaches:
Ochheuteal Beach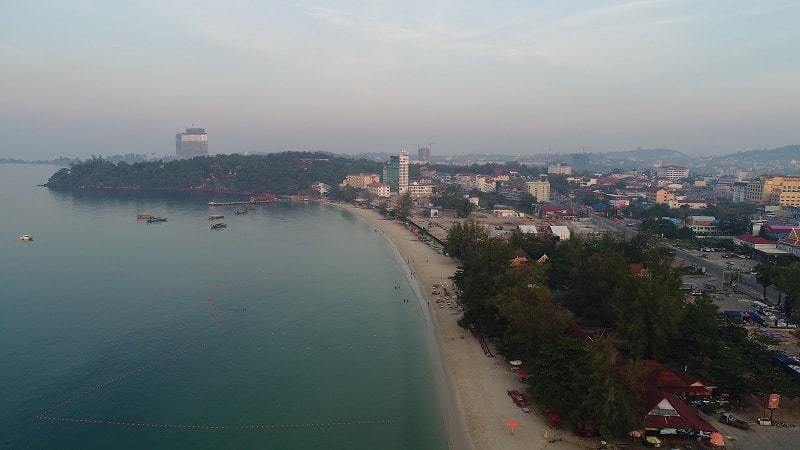 Ochheuteal Beach is often considered the most popular oceanside spot in Sihanoukville. Expats from Phnom Penh and holidaymakers flock there on weekends and holidays. 
It's roughly four kilometres long and sits adjacent to tons of hotels, bungalows, restaurants and bars. This beach is very busy and seems to be the most popular in the area. The northern part of the beach serves a number of well-established mid-range hotels and high-profile residences.
Serendipity Beach
Serendipity Beach sits on the northwest end of Ochheuteal and is the location of the main ferry pier. There are several backpacker bars and guesthouses right off this beach. It's just a short stroll down the road from the Gold Lion Roundabout.
Otres Beach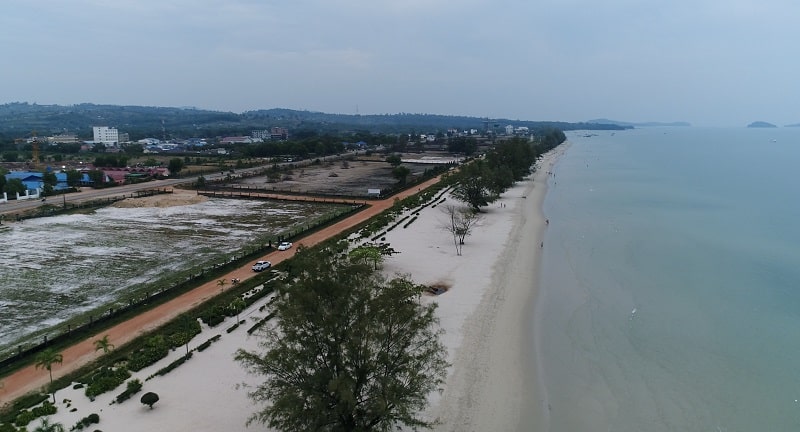 Considered one of the most beautiful beaches in the country, Otres was once ranked by Forbes among the top 22 beaches in Asia. Otres is almost five kilometres long and sits south of Occheuteal. It's just a ten-minute ride from the centre of town.
Previously an undeveloped bohemian oasis, Otres is now exploding with boutique hotels and huge resort complexes. However, it still has some of that beach bum flavour. 
Sokha Beach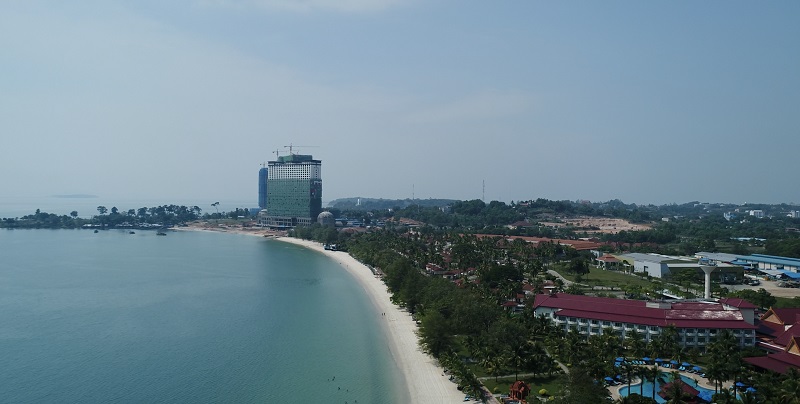 Located north of Serendipity and Ochheuteal is the 1.2-kilometre Sokha Beach. Sokha Beach is privately owned and occupied by the luxury Sokha Beach Hotel group, the first five-star coastal hotel in Cambodia. The area is secluded and beach hawkers are not permitted.
Independence Beach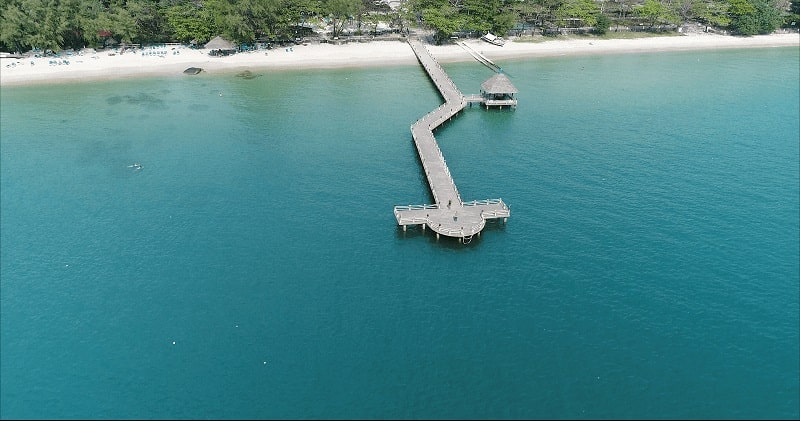 The 1.3-kilometre Independence Beach is situated at the northwest end of Sokha Beach. The beach takes its name from the Independence Hotel, which towers on top of a rocky cliff at its northern end. 
Despite a large portion of it taken over by massive new property developments, Independence Beach is still one of the best beaches in Sihanoukville. 
Victory Beach
Situated in the most northern tip of the peninsula is the 300 meter long Victory beach. A favourite with budget travellers, it's also located right near the Sihanoukville port.
Ream Beach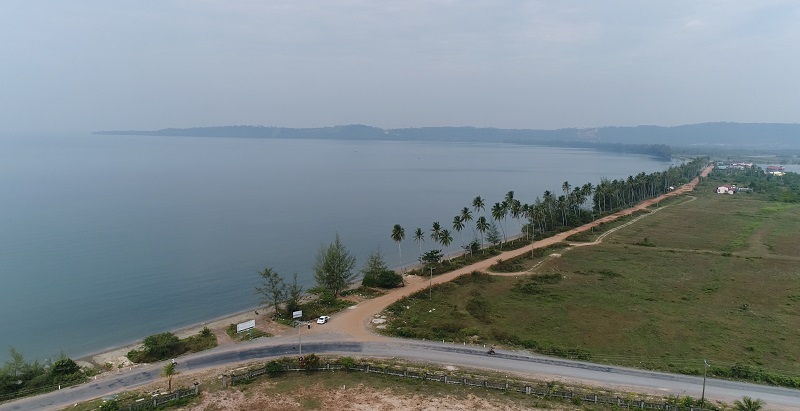 To the south of Otres beach lies Ream beach. At 7.7 kilometers long, this extensive stretch is composed of several parts with portions containing rocks and vegetation. Ream Beach is without a doubt the most untouched beach in the area. It's perhaps one of Sihanoukville's best-kept secrets for now.
Ream Beach is about an hour's drive from the centre of town, but it's totally worth it if you're looking for Sihanoukville's natural beauty. Plus, if you're just visiting you'll probably be the only tourist there.
Islands off Sihanoukville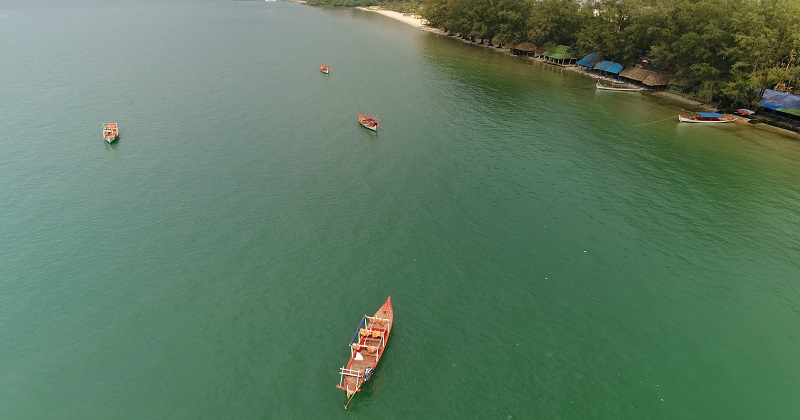 Off the coast of Preah Sihanouk province sits 22 islands. Many of these islands are at some stage of development. Koh Rong and Koh Rong Sanloem have undergone the most development and are two of the most popular islands in the region. 
Here are Sihanoukville's most popular islands:
Koh Rong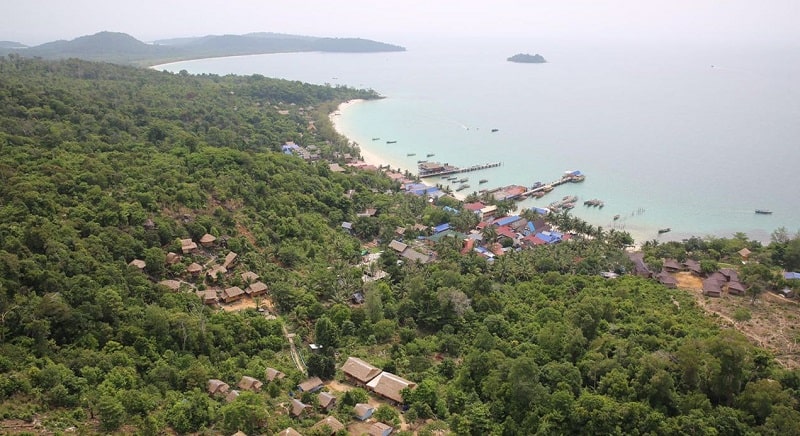 Koh Rong is an island 25 km off the coast of Sihanoukville, in the Gulf of Thailand. It spans 78 square kilometres and is the second largest island in Cambodia. Its permanent population is just over 1,100. However, it has a booming tourism industry.
There are tons of restaurants, bars and guesthouses just off the ferry pier on the south end of the island. It also has regular shops, laundry service, ATMs and pharmacies.
Most people take one of the speedboat ferries to the island. These services run multiple trips a day and cost around $25 per person for the 45-minute trip from Sihanoukville.
Koh Rong Sanloem 
Similar to Koh Rong, nearby Koh Rong Sanloem has developed rapidly in the last few years. While the interior is mostly covered by dense jungle, the coastline features an array of beautiful beaches. The crescent-shaped Saracen Bay is the leading tourist attraction of Koh Rong Sanloem. Other notable tourist spots in the area include Lazy Beach, Sunset Beach, and the village of M'pai Bai. 
The island boasts of more than a dozen guesthouses, private beach bungalows and villa resorts.  Lovers of luxury can rent villas with full amenities, while shoestring travellers can easily find dorm beds.
The ferries that go to Koh Rong stop at Koh Rong Sanloem first. So, tickets there are just $20 round trip.
Koh Puos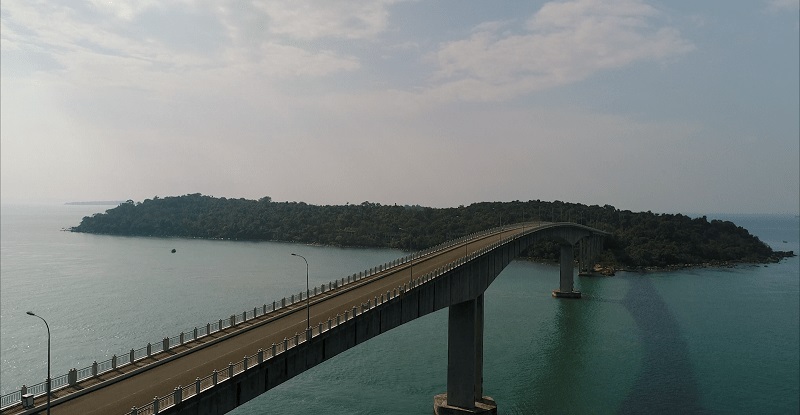 This translates in English to Snake Island. It's less than a kilometre off of Sihanoukville and is connected by bridge.  
One of the few buildings on the island is Treasure Island Seafood where you can get heaps of crab, fish, shrimp, lobster and squid.
Koh Touch
Koh Touch, or Small Island, is a small and picturesque island off Koh Rong's main beach. It offers some nice snorkeling areas due to clear and shallow sea water. There is an interesting pagoda on the island. This makes Koh Touch a great day trip from Koh Rong.
Koh Tang
This largely uninhabited island is just three square kilometres and sits four to five hours off the mainland. Though it has limited tourist facilities there are plans to develop it. Several tour companies operating out of Sihanoukville run overnight trips to the island.
Koh Song Saa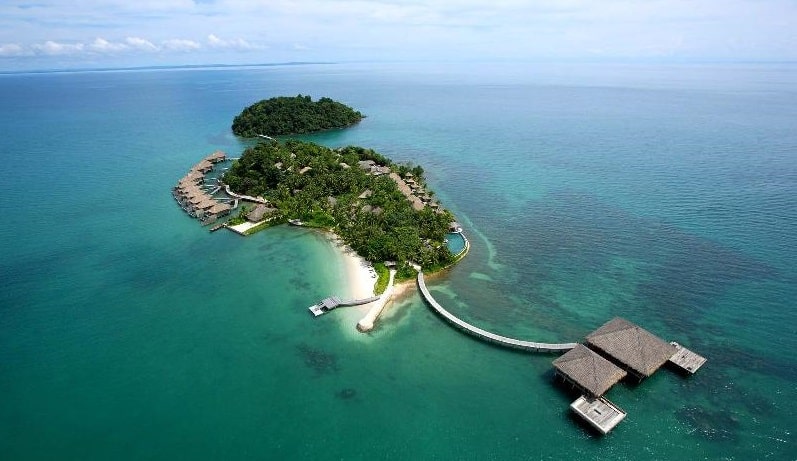 Koh Song Saa, or Lover's Island, sports petite atolls northeast of Koh Rong. The island is home to the exquisite private Song Saa Resort. This resort offers an exclusive hideaway just 35 minutes by boat from the mainland harbour - which takes luxury to a whole new level in Cambodia.
Additional Sihanoukville attractions
Sihanoukville has great beaches, sure. But it's not all about the ocean. Here are some of the other great attractions in the area:
Wat Leu
Wat Leu is a famous Buddhist temple located in a forested area atop Sihanoukville Mountain 1.5 kilometres from the centre of the city. Many visitors looking for peace and solace trek up the mountain to make the pilgrimage to this sacred site. Wat Leu is visited a lot by photographers hoping to capture the magnificent view it offers of Sihanoukville.
To reach Wat Leu you can take a moto or tuk-tuk. A moto ride from the city centre costs around $2. A more scenic tuk-tuk ride costs a bit more, however.
Ream National Park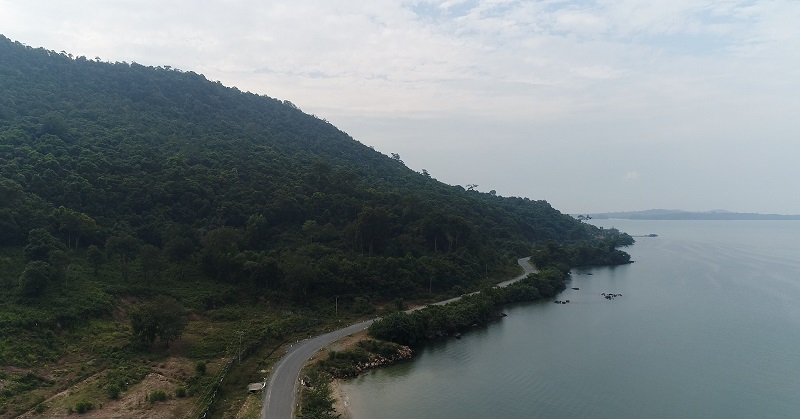 This vast area is a paradise of exotic flora and fauna. Located around 18 kilometres east of Sihanoukville, Ream was established on 210 hectares by the King in 1993. The park hosts pangolins, sun bears, dugongs, dolphins, deer, wild boars and birds. Tour agencies offer full-day tours that cost around $15 to $20 and include transportation, food and a guide.
Ream National Park is a popular tourist destination. Easily accessible from the Sihanoukville town center, the park offers a diverse landscape with marsh plains and waterfalls, and with pristine mangroves, wildlife and beaches. This is a haven for keen birdwatchers with almost 200 different bird varieties living within the park. Take a cruise on the Prek Tuk river via the many tour operators in Cambodia and check out lush mangrove forests and all kinds of wildlife.
Sihanoukville food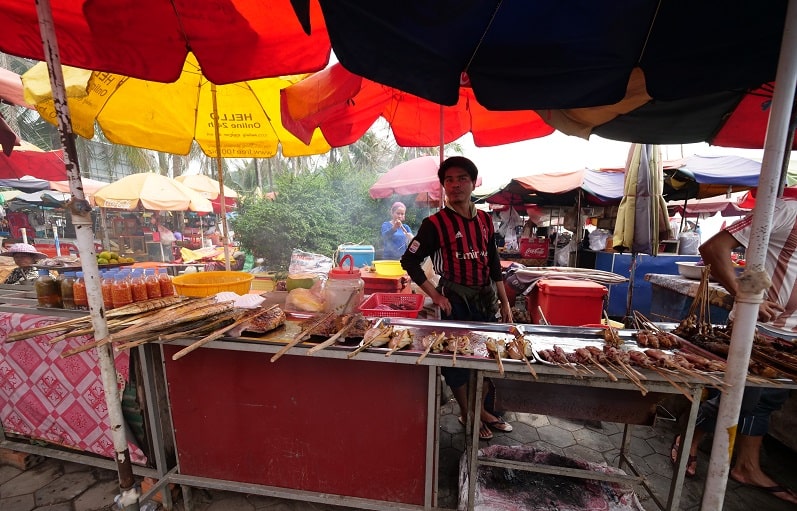 Sihanoukville has excellent dining options. Both Khmer and international food are abundant. Indeed, restaurants run the gamut from budget eats to luxury dining. You'll surely want to try the seafood at Treasure Island. Ernie's Burger is purported to be amazing and Douceur du Cambodge offers up loads of French pastries.
If you want to dine while also supporting a humanitarian cause, head to Sandan. Part of the Friends International Group, the restaurant serves local fare and trains underprivileged youth to be food industry stars.
Want to take a culinary journey? Try falafel at Sok San Village, Mediterranean food at Olive & Olive, Kamasutra's Indian food or the pizzas at Papa Pippo's on Otres.
Sihanoukville is best known for its fresh-caught seafood with a plethora of eateries to enjoy these local flavours - from seafood shacks that line the beach, to more upmarket restaurants aimed at holidayers. On the beaches, you will find excellent value for money on popular evening BBQs, and the freshest seafood in Cambodia.
Shopping in Sihanoukville
Compared to the capital, Sihanoukville shopping options are a bit limited. Though there are no international-grade shopping centres there similar to Aeon Mall, that could soon change. Construction of Furi Times Square Mall is currently underway. It is expected to be completed before the end of 2019. 
For now, the best shopping options are Samudera Market, Orange Market and Lucky Ocean Supermarket. Orange Market has a wide selection of imported goods, as does Samudera. Want to pick up some souvenirs? Stop by Unique, or M'Lop Tapang. 
If you want to truly shop like a local make sure to visit either Phsar Leu or Central Market. 
Sihanoukville nightlife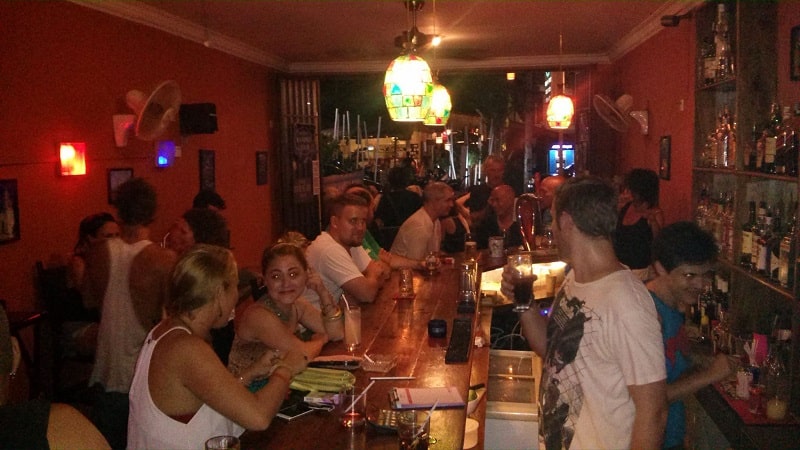 Sihanoukville is a town that knows how to party with no shortage of bars and night spots. There are a variety of beach bars and off beach options, including live music venues and hostess bars. Alcohol is highly inexpensive.
Sihanoukville has one of the best nightlife scenes in all of Cambodia. Many beach bars host all-night parties. Foreigners seem to congregate there nightly.
Five Men Fresh Bar is modeled after German beer halls. They make all the beers on site. Other popular haunts include Moonlight Bar, The Big Easy and Otres Corner Beach Bar. 
Some of Sihanoukville's main attractions are casinos. Currently, there are more than 30 with a whopping 70 more in the works. The Holiday Palace Casino sits near Victory Beach while Fortuna is adjacent to Serendipity and New Macau by Ochheuteal.
Map of Sihanoukville beaches, islands, restaurants and attractions
Transport in Sihanoukville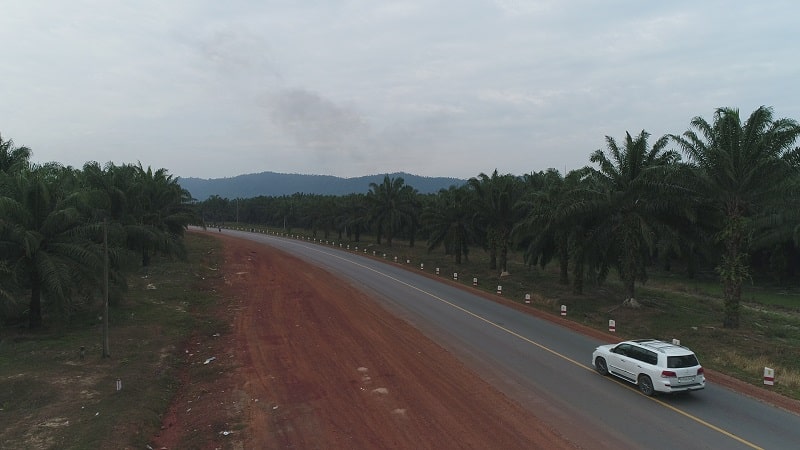 Transportation options in Sihanoukville are surprisingly diverse. You can get there by plane, train, bus or even boat. For getting around town most people stick to the roads, or boats if you're heading to one of the islands
How do I get to Sihanoukville?
There are many buses, minibuses, and minivans that travel to and from Sihanoukville. Capitol Bus, Mekong Express, Giant Ibis, Mey Hong, and Larryta Express are among the companies plying the Phnom Penh-Sihanoukville route daily. On average, foreigners pay around $10 for the trip, while Khmers are charged less.
For between $45 and $60, you can hire a private taxi to bring you to Sihanoukville from the capital. These taxis can usually seat four people with luggage. There are also shared taxis you can get at the Central Market in Phnom Penh and Sihanoukville's old bus station. These are usually cars that charge $7 to $10 per seat.
A bus, minibus, taxi, or minivan ride from Phnom Penh to Sihanoukville and vice versa takes anywhere between 3.5 and six hours.  
Trains on the Phnom Penh-Sihanoukville line run three times a week (Friday, Saturday and Sunday). The train trip, which costs $7, usually takes seven hours. In Phnom Penh, the trip starts from the Cambodia Railways Station and makes stops in Takeo and Kampot.
Flights to and from Sihanoukville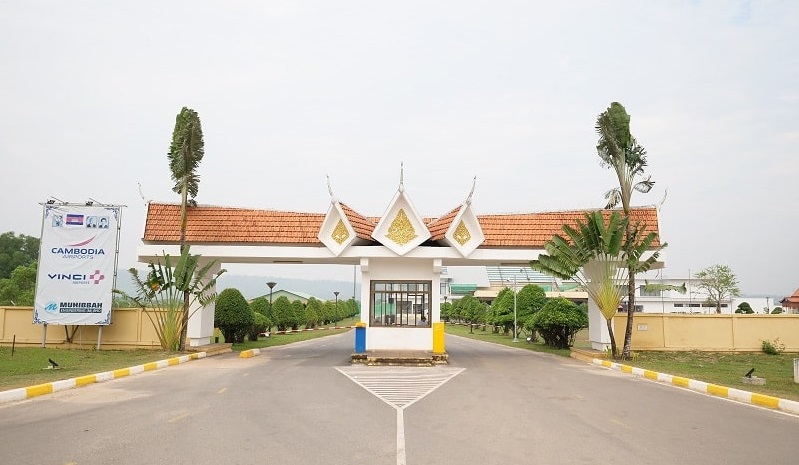 There are regular international flights to Sihanoukville from China, Vietnam, the Philippines and Malaysia. Local carriers Sky Angkor Air, JC International Airlines, Cambodia Angkor, and Bayon Airlines have regularly scheduled domestic flights to Sihanoukville from Siem Reap and vice versa. 
Meanwhile, the Phnom Penh to Sihanoukville air route is served by Bayon Airlines which flies to the port city three times a week.
Sihanoukville International Airport has been undergoing major renovations, whilst the construction of a new terminal promises to increase capacity to 500,000 passengers per year. Once completed, Sihanoukville Airport is set to be the Kingdom's largest airport. Already new flight routes have been added, with additional ongoing international flights from Vietnam and Malaysia.
To scope out the carriers making daily trips to Sihanoukville, check out the arrivals and departures page of the Sihanoukville airport's website.
Further to this, Grand Union Group, the developer of Dara Sakor Seashore Resort Casino in Koh Kong received permission in 2017 to build another airport. Read our full story about the proposed Koh Kong airport.
How can I get around Sihanoukville?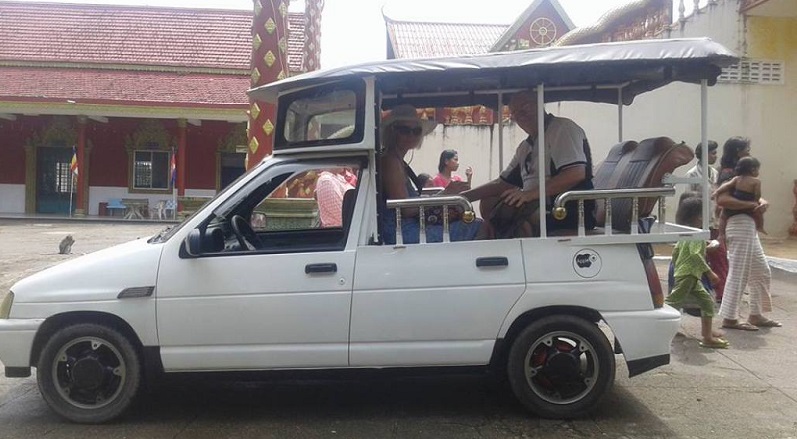 There is a wealth of transport opportunities in the city. The traditional remorques and converted trucks are still the most common. Stiff competition is coming in the form of auto rickshaws and motorcycle taxis, however. These moto taxis usually charge $1 to take you from the city centre to any of the beaches. If you have more people a remorque will cost around $2.
Interestingly, the local ride-hailing service PassAp is now being used in Sihanoukville. This is a local equivalent to Uber or Grab. Using the app you can map out where you want to go and choose anything from SUV to a moped. The fare is all calculated for you as well, so there's no need to negotiate the price.
If you love the freedom of the road, renting your own motorbike is a great option. Traffic isn't as hectic as the big city so adventurous visitors often do this. Stray Dog Adventures, Mr Yeat's, Mottah Cambodia, DH Cambodia, Lim Henghoo and Wonderful Travel and Tours all have motos on offer. Guesthouses can usually arrange rentals for you and fees are between $4 and $7 per day.
Getting around by boat
Koh Rong and Koh Rong Sanloem islands have daily ferry services. Access to smaller islands is generally provided by local holiday resorts, dive operators or private operators. Additionally, small long boats and medium-sized cruise boats can be hired privately for sightseeing, fishing, and diving at guesthouses, travel and transport agencies and diving operators.
Schools in Sihanoukville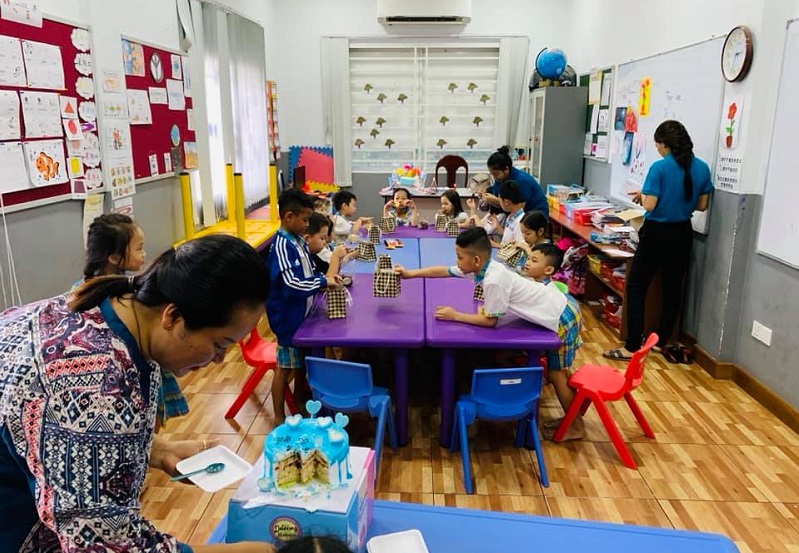 Sihanoukville's educational facilities still remain somewhat limited with the concentration of quality international schools still in Phnom Penh. However, as the population grows the offerings are becoming more and more diverse as the years go by. In this section, we'll give you a full list of all the international schools, universities and technical schools in Sihanoukville.
List of Sihanoukville international schools, universities and technical schools
| School | Location | Type | Curriculum | Tuition (per month) | Phone | Summary |
| --- | --- | --- | --- | --- | --- | --- |
| Build Bright University | Street 810 | Private University | General research |   | 034 934 024 | Build Bright has schools across the country including this branch in Sihanoukville. |
| Don Bosco Technical School | Mitta Pheap Street | Vocational school | Technical education |   | 092 769 287 | Don Bosco Technical School one of the only vocational and technical training schools for disadvantaged Cambodian youth |
| Ecole Francaise de Sihanoukville | Santepheap street | French school | French curriculum | $200 | 097 745 646 | This is an official French language school in Sihanoukville similar to Phnom Penh's Rene Descartes. |
| Excellence International School | Street 214 | International School (Primary) | Mixed curriculum | $25 to $100 | 010 222 400 | Excellence International School provides primary education across subjects such as English, Chinese, Khmer, math and more. |
| Idea Source School | No 206, Sereypheap st | International School (Primary) | Mixed curriculum | $100 to $270 | 081 916 932 | Idea Source is a school that covers a range of subjects for youngsters in Cambodia. |
| Life University | Map | Private University | Various majors | $500 to $2,000 for full degree program | 034 934 498 | Life University is a private Christian university in Sihanoukville. It offers a wide range of majors. |
| Regent School | Building 093, Ekareach Street | International School (Primary) | Mixed curriculum |   | 012 824 545 | Regent School is a primary-level school offering a mixed curriculum. |
| Singapore Amicus International School (SAIS) | Mittapheap st. | International School (Primary and language school) | Singaporean curriculum | $25 to $120 | 015 588 598 | In addition to offering Singaporean-style primary education, SAIS offers part-time classes in English and Chinese for all levels. |
| Sovannaphumi School | 7 Makara St | International School (K-12) | Mixed curriculum | $20 to $50 | 015 838 068 | Sovannaphumi operates schools all around Cambodia. |
| University of Management and Economics | 216, street 210 | Private University | Management |   | 034 933 909 | This university offers courses that cover business, tech and finance. |
Many people in Sihanoukville opt to send their children to school in Phnom Penh. If that's the option you're taking, read out full comparison and list of Phnom Penh international schools and universities.
Map of Sihanoukville international schools, universities and technical schools
Sihanoukville hospitals, clinics and pharmacies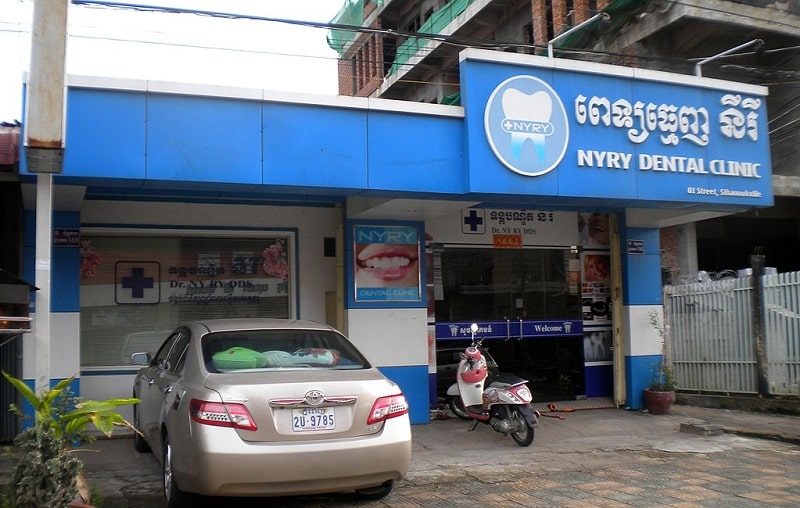 Hospital and medical service in Sihanoukville have markedly improved in the last few years. However, facilities in the province are still relatively limited. For anything more than a routine visit, most people suggest either going to Phnom Penh or even off to Bangkok. If you're searching for the best medical facilities in Cambodia look at our guide to Phnom Penh hospitals, clinics and pharmacies. 
If you want to find a local place, however, keep reading.
Here is a list of the best hospitals, clinics and pharmacies in Sihanoukville:
Note: Facilities marked with a + are open 24 hours.
Map of Sihanoukville hospitals, clinics and pharmacies:
Government Authorities & Emergency Services
Police
The Sihanoukville police's main headquarters are located 1.5 kilometres from the town centre, near Victory Hill. The smaller Sangkats in each district also have a police station. Tourist Police (speak English etc.): + (855) 011 683 307; + (855) 068 640 416. Emergency Hotline, 24hour: + (855) 097 778 0008.
Post
There are two post offices in the center of the municipality of Sihanoukville. The main office is situated on Ekareach Street, just outside of Victory Hill, and a small office near the central market. Tel: + (855) 034 933 539 or 034 933 426.
Sihanoukville is like nowhere else on earth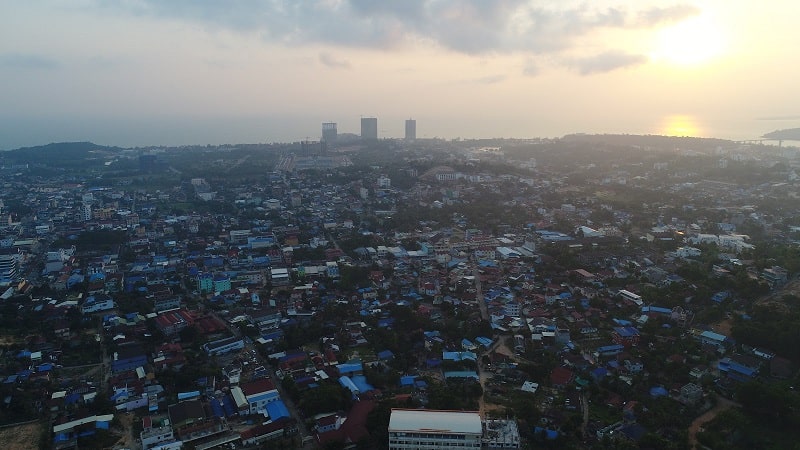 There's a reason that Preah Sihanouk province was originally named after the King. There's definitely something magical about the enchanting landscape. Indeed, the lifestyle in Sihanoukville is one of leisure and calm. You really have to experience it to truly understand.
If you find this guide useful you may like our other guides for areas like the ultimate guide to Chroy Changvar district or the ultimate guide to Toul Kork district in Phnom Penh.

 Article by: